The last time we checked, Miles Nazaire and Ella May Ding were set to feature on a podcast together in order to share their truths about what the hell happened in their not-quite-relationship. But after a recent turn of events, alas it is not to be.
The Married at First Sight Australia star took to her own podcast, Sit With Us, that she hosts with BFF Domenica Calarco and had a few choice words to say about the Chelsea lad.
Once released, Miles gave the chat a listen and was not a happy chappy in regards to what Ella had said about him, Made in Chelseaand the messy situation in general.
On his podcast Playtime, Miles took the opportunity to let everybody know that there was no way he would be sitting down with Ella after her scathing remarks. He even messaged his ex telling to tell her, "I'm really sorry but I listened to your podcast and I don't really want to have this open, honest raw chat with you."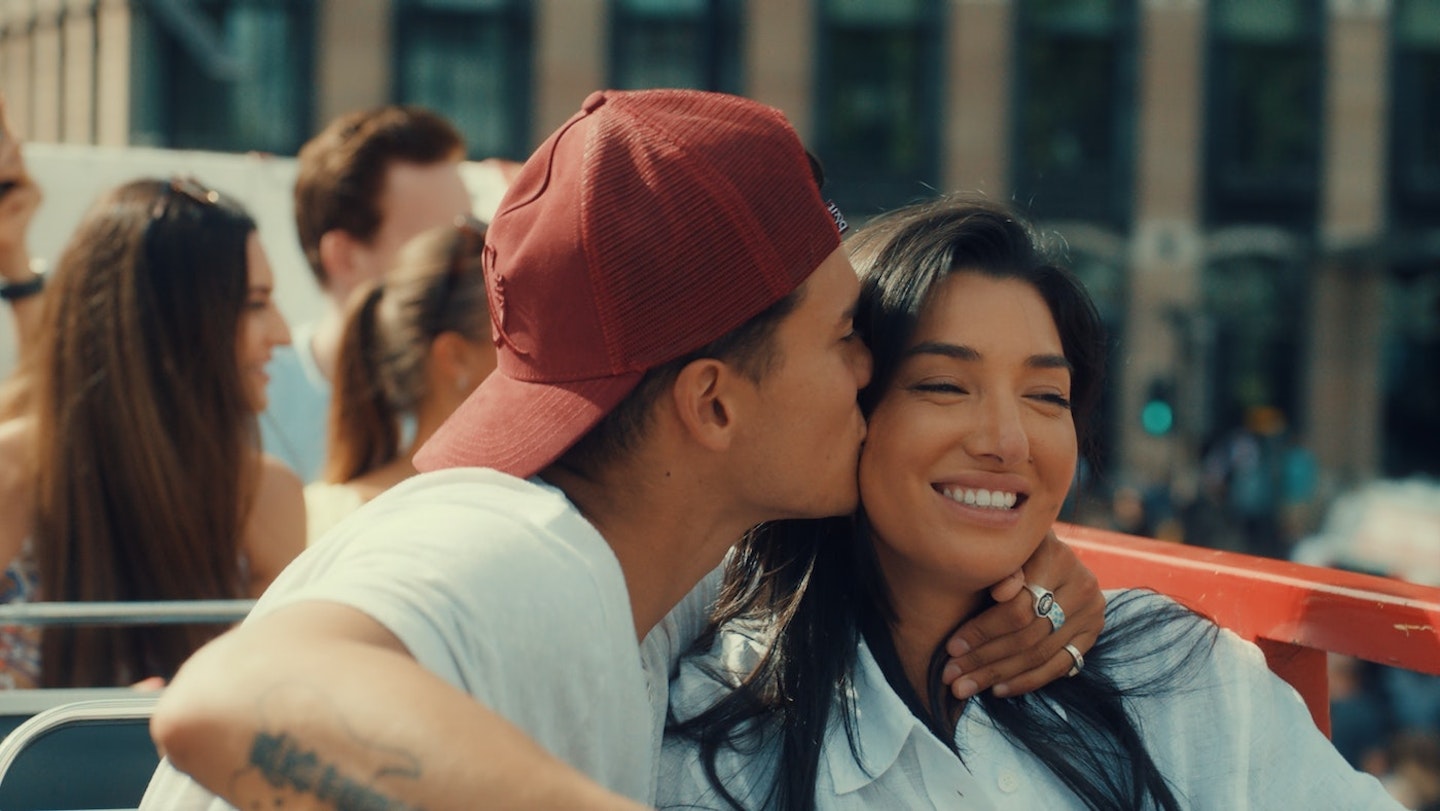 Emily Blackwell and Charlie Radnedge were on hand to offer Miles' support and Charlie admitted to taking notes, we appreciate the dedication there Charlie. Miles' co-host told Emily and the listeners, "One point they compare Miles to Putin."
Miles goes on to voice his thoughts on Ella's podcast, "The disrespect and how horrible and savage - more Dom, her co-host - was really just, like, I found it really immature."
Clearly upset by the whole ordeal Miles confessed, "I feel like I got misrepresented on the show and I wanted to speak my truth and that's it."
Unfortunately, Miles won't be speaking his truth alongside Ella anytime soon, but he certainly gave us lots of gossip on Playtime and we are sure he'll continue to keep spilling the tea.
When we first heard Ella was joining the Made in Chelsea cast this summer, via a cheeky romance with MiC playboy Miles, we couldn't wait to see her flirtation with this notorious lothario unfold on screen. Little did we know it would all go south so quickly.
As a few short weeks later we got wind that Ella May had already returned to Australia (for good), leaving us asking – did Miles have more of a fling with Ding than a full-blown romance?
Fast forward to November 2022 and we got our answer. Ella touched down in SW3 to visit Miles after some DM-sliding and FaceTime fun (hard relate) over the summer, only to realise that – according to what viewers saw on the show – Miles wasn't that keen/not ready for anything serious.
That's the funny thing about reality TV. You can watch human interaction unfold with your own eyes and said humans can then turn around and say something like, "That's not how it happened"; it's your classic 'blame the edit' narrative, and Miles is calling bullsh*t.
If you've watched Ella's MiC cameo, you'll know her brief love story didn't shine Miles in the most flattering of lights and in the wake of her departure from London in last week's episode, he's now keen to "speak his truth". The way he often likes to do...
He shared an official MIC video of Ella telling him how it is (according to her) and wrote, "Do you want answers about this on @playtime.podcast? I want to say what actually happened as I'm sick of the sh*t comments I'm getting I need to speak my truth now."
While coincidentally plugging your brand new podcast, right, Miles?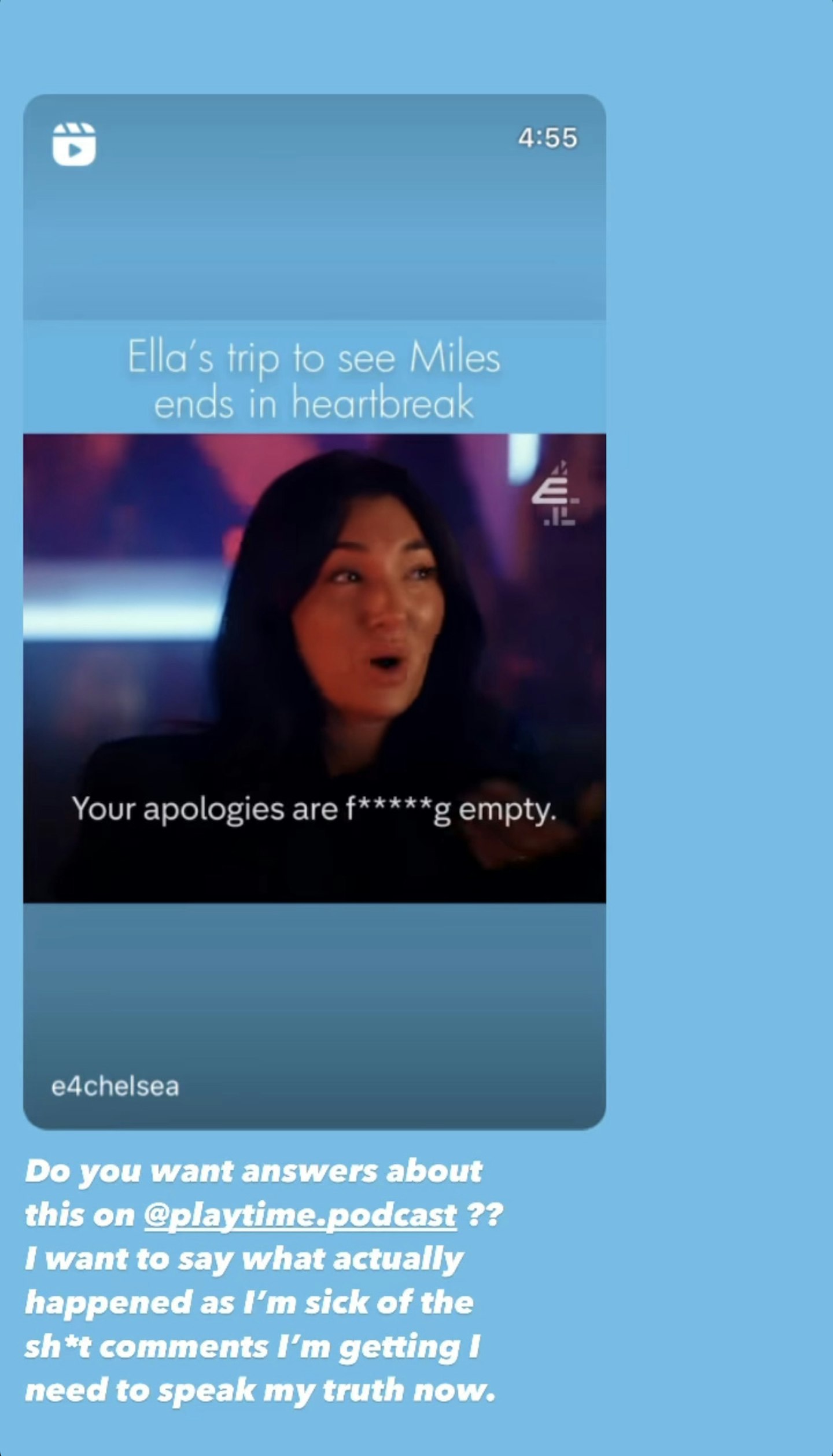 No doubt Miles is talking about comments like, "Miles all you ever seem to say is sorry, but your not cos saying sorry means you won't do it again, but you do to everyone woman you meet."
And, "A couple of weeks ago you were saying you wanted to settle down and start a family..then you say you're not ready to settle down. Decide what you want before putting these poor woman through heartbreak."
Oh, and, "Well done Emily on being there for her, someone had to put him in his place 👏."
Yep, these are all comments Made in Chelsea viewers have left on social media in the wake of Miles and Ella's failed romance.
Back in September, Ella wrote on Facebook she hadn't "officially joined the cast" but "filmed a short appearance while in London."
Ella previously praised Miles and her MiC experience, we're not entirely sure she'll feel the same if we asked her now though.
"Miles is kind and wonderful, we've had such a special time filming and getting to know each other. But [I'm] ready to get home [to Australia] and get back into a good space."
Fans were left confused, as E4's Instagram post had made it sound like Ella was a regular cast member, leading some people to question whether dating Miles was a PR stunt to get back in the lime light.
In her podcast, Sit With Us, co-hosted with best-friend Domenica, Ella firmly denied the claims.
She said, "I can reassure you it is not a PR stunt, and I think that you guys will see that when it does come to air."
Her BFF was quick to have her back. Domenica added, "No one would put themselves through what Ella did and putting everything on the line."
"Not only your name, but your heart, your soul, everything... No one would do that for a PR stunt, unless they are literally that desperate, and there's no desperation here."
On her Instagram stories, Ella opened up about filming, calling it "the hardest time" she'd "been through" since MAFS, and said she will be taking a social media break.
She said, "It's just been really testing and really challenging. So, I'm going to take the next few days off the grid, off social media because I really need it."
Ella added, "Especially travelling home, I just want to ground myself again, and yeah, reflection time, guys."
WATCH: 'They're Bonking Like Rabbits!' We go BTS on MAFS UK 👀
LISTEN to the latest episode of the heat 7 podcast