We've always wondered about the life of a Love Island editor.
We always imagined them held up in some secret fortress somewhere in Marbella, drinking Red Bull after Red Bull; the moisture slowly draining from their eyeballs due to the endless Love Island footage they're forced to sieve through.
Honestly, going through that much Love Island footage every day – including the raunchy sex scenes – must be downright exhausting. We're just about the biggest bunch of Love Island fans out and even we would say a big hard no to that job.
Oh, who are we kidding, no we wouldn't.
Anyway, given how much footage those pour souls have to get through every single day of Love Island's eight-week stint, it's hardly surprising that the odd mistake slips through the cracks on occasion.
However, as far as show blunders go, this is a fairly sizeable one and eagle-eyed fans have been left dazed and confused by it.
A Love Island sleuth (who should probably be working for heat) took to TikTok this week to post a video she had captured of a HUGE Love Island editing error. It's one of those blink and you'll miss it moments, but once you've seen it, it just can't be seen – like Ekin-Su and Davide eating each others' mouths.
The clip clearly shows Gemma and Luca sat on the sofas being very Gemma and Luca. Lovely. Wholesome.
But take a closer look and you'll notice that the editing makes it look like Gemma had a 'quick outfit change'. At the beginning of the clip Gemma is sat up wearing a cream dress, the camera then cuts to a group of Islanders in the kitchen and then back to Gemma and Luca. Gemma is suddenly wearing cream trousers and not a dress, clearly showing the Love Island editors can get rather creative with stock Islander footage when they need to.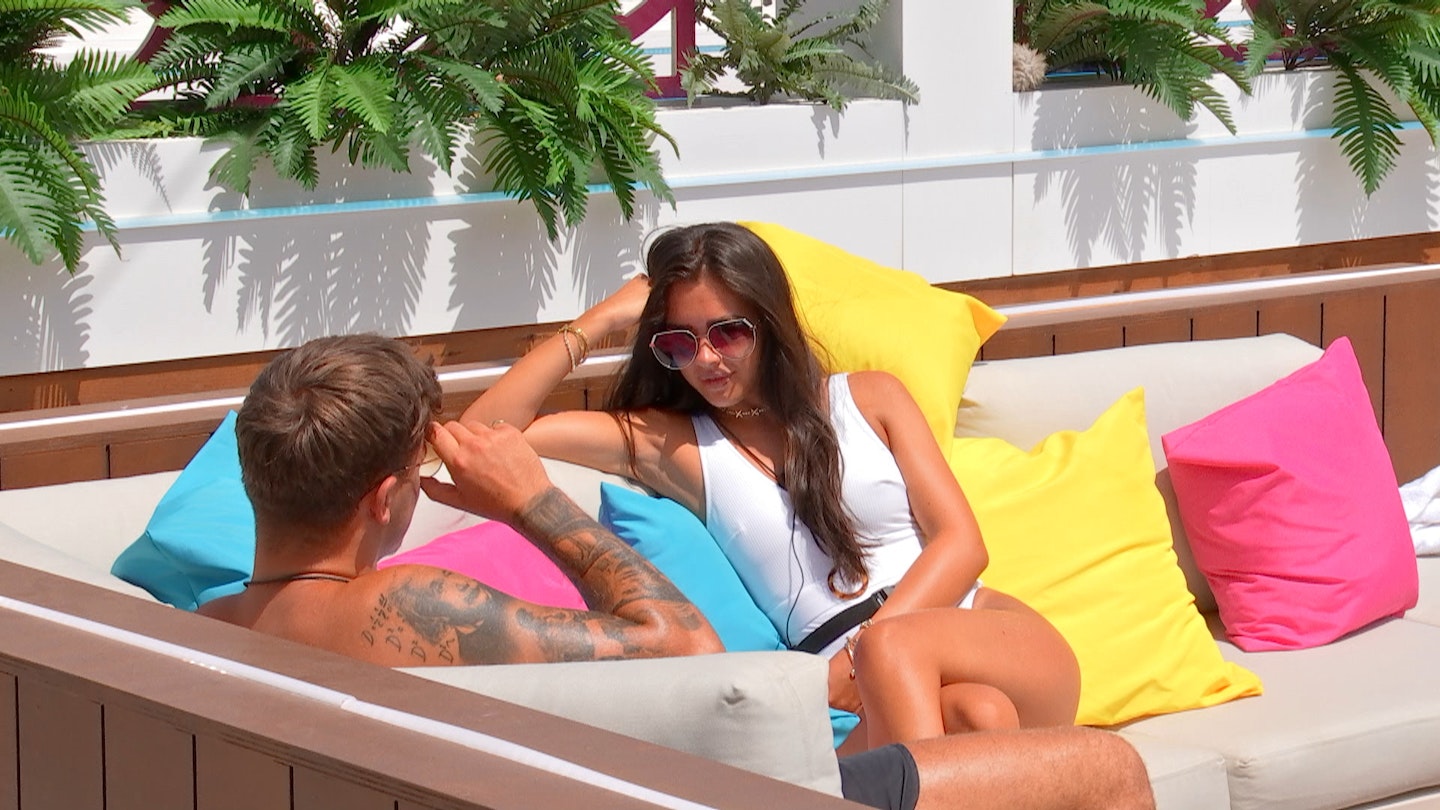 The trippy TikTok was captioned, "Quick outfit change that #gemmaowen #loveisland #fyp".
If you do that TikTok thing where you just keep watching it on repeat over and over it again, it starts to look like some strange edgy student film that is trying to be far more complicated than it actually is.
The TikTok has been liked almost 50,000 times, with the comments racking up - and it seems that many Love Island fans are questioning the shows overall authenticity.
One fan commented, "I thought I was going mad 😂when she was sat down I thought I like them pants she has [on] then she stood up and it was a dress".
Another said, "The show is so set up now I bet it's like a soap set on it rather than reality".
Another added, "It's so set up now 😭".
Shout-out to one eager fan who commented, "Why is nobody noticing its not just Gemma it's Luca too fml".
Guilty.
WATCH 'Paige Is Going To Win!' Chloe & Toby Predict Love Island Winner
More Love Island SECRETS!
EXCLUSIVE: Shaughna Phillips reveals she met Callum Jones BEFORE Love Island started