Real talk; this is the side to the Love Island fandom that we have absolutely zero time for. And we're both mega-fans of the show and paid to report on it.
Year after year there is always at least one Casa Amor bombshell that gets absolutely vilified by both the press and the fandom. The series producers edit them in a particular way and after one or two episodes, the majority of the fans end up forgetting key things they've pledged to remember time and time again; things like 'be kind' and 'remember it's just a produced dating show'.
That all goes out the window after a couple of clever edits, sadly; fans sniff a villain edit and BOOM, they're grabbing their pitchforks and have forgotten the damage such hate can do. No, lovelies.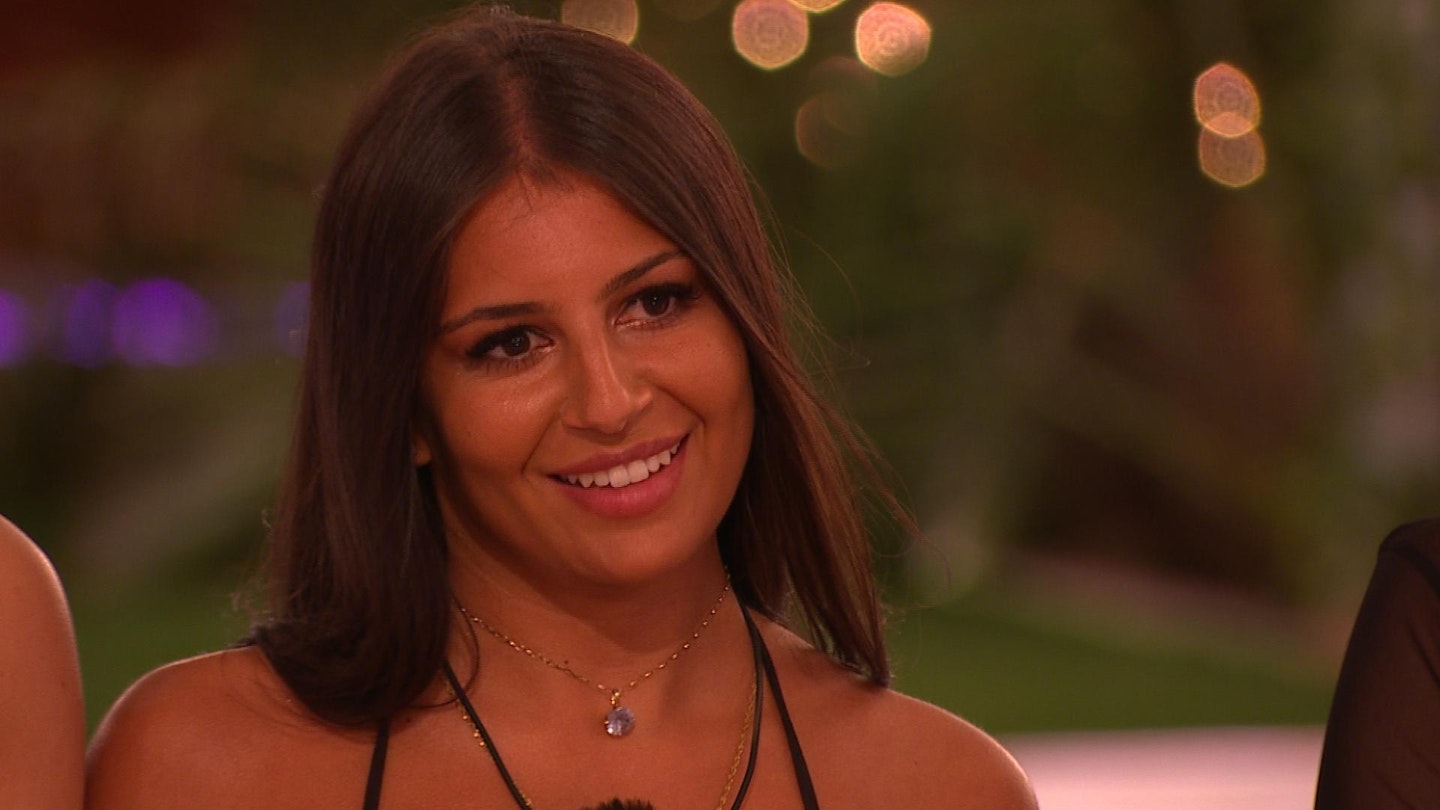 Last year it was Coco Lodge and this year it's seemingly dumped Casa bombshell Layla Al-Momani, who seems to be getting tidal waves of grief right now for kissing Will, – even though he initiated it – speaking up during the recouping, and the usual shallow stuff like having a so-called unflattering promo picture. Snore. We don't want to get preachy – we know you're here for your morning Love Island tea – and we'll get to that, but can we all just try a little harder to do better?
With all that being sad, we're glad to see Layla's Casa ladies are standing strong beside this unfairly scored bombshell in her time of need.
In a recent Instagram Q&A, fellow Casa bombshell Sammy James (the one who came on to Tom Clare iconically hard poolside during Casa) was asked whether the Will and Layla storyline was set up. She made it clear that it was completely genuine and despite her friend being given the "villain" edit, she stressed that Layla is, in fact "the most genuine, purest girl" and is "going to be a friend for life".
Sammy wrote, "Not at all! Will kept pulling Layla for chats and kissed her first. It looks like her conversations were edited more than anyone else's so she's being portrayed as the 'villain' when in fact she is the most genuine, purest girl out of us all. It's an absolute privilege to know her, I know she's going to be a friend for life."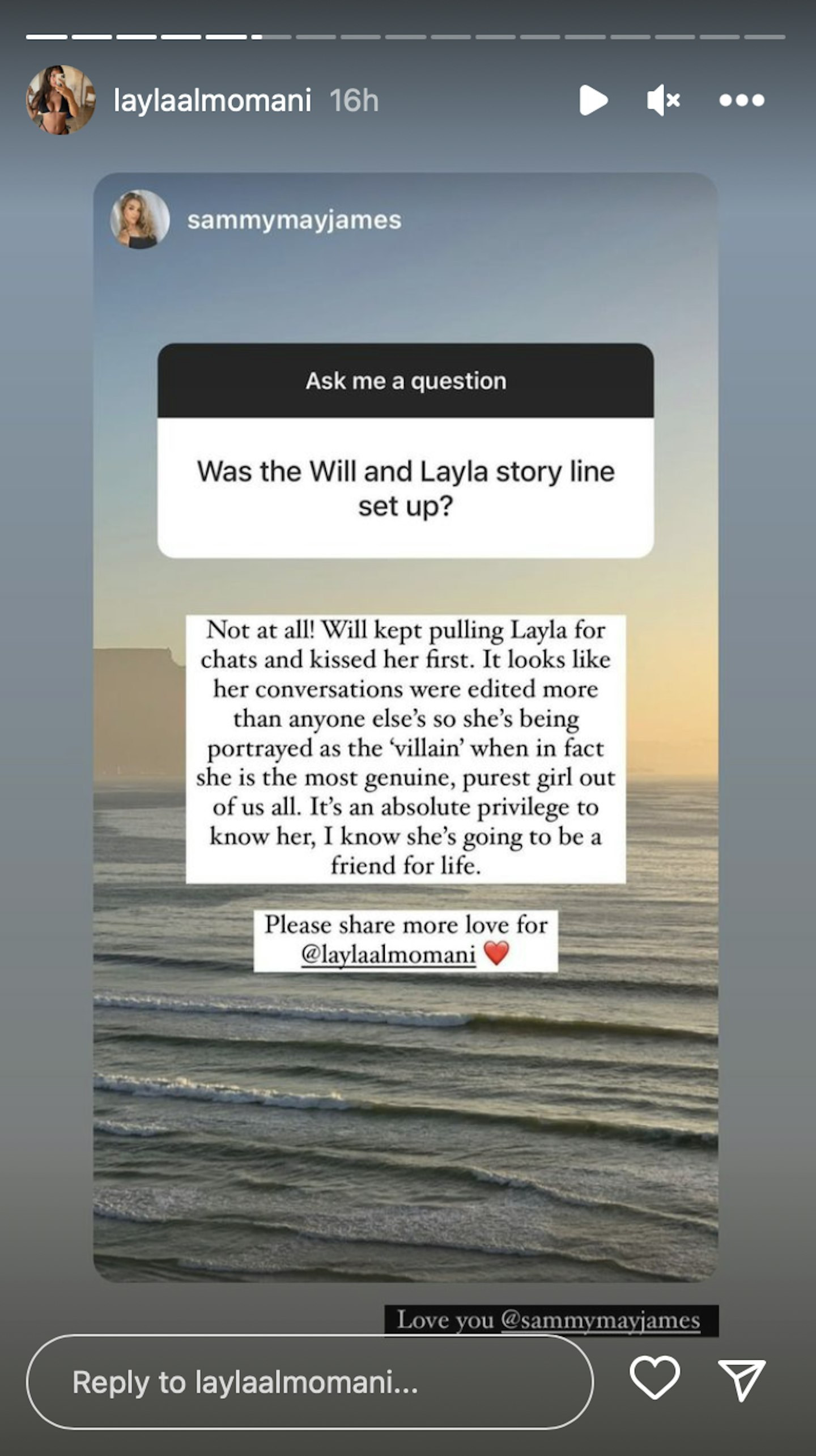 Fellow Casa bombshell Cynthia Otseh-Taiwo (who lost out on villa life by the skin of her teeth after Casey O'Gorman chose to stick with Claudia Fogarty) took to her own Instagram story this week to echo Sammy's sentiments about Layla, saying, "So the love of my life – Layla. Yeah, Layla, the sweetest person ever. Has my back through absolutely everything."
Layla has been very vocal with the fandom – both the positive and the negative sides – since leaving the villa, taking time to speak out for and against certain aspects of the Love Island production process, including those infamous promo pictures. She took to her Instagram story to say, "That picture was not for me. Come on. It was bad. Everyone is going to come for me now saying 'you should love yourself', but that picture we don't have to love. We don't have to love every picture of ourselves. I wasn't looking good. Yeah, I wasn't looking good."
We disagree, Layla. You're a ten inside and out and you should be applauded for your strength and bravery this week.
Which famous celebrity did Layla Al-Momani date?
When producers dropped the new batch of Casa bombshells upon the South African villa, it seemed that every single one of them had a secret connection to some sort of a celebrity.
Prior to entering the villa, Layla confessed that she once dated a celebrity and it would seem to be a pretty famous one at that, if her Instagram account if anything to go by.
She admitted, "My ex is a famous singer. He wrote a few songs about me since we broke up."
Taking a quick stalk through her social media we can see Layla shared a fancy dress pic of herself and Can't Say No singer Conor Maynard.
While Layla is dressed as a Playboy Bunny, we think Conor is channelling his inner Hugh Hefner... The Casa Amor bombshell captioned the photo, "Date night out of the mansion."
Scrolling back to the summer of 2021 (we have no shame and we're fine with that) we spotted that she also shared a picture of the couple hugging and wrote, "Alexa, play 'Ain't Got No Friends' by Conor Maynard".
No news yet as to whether the split was amicable but we get the impression it wasn't all bad because surely Layla would have erased any evidence they even dated.
Before heading into the villa she did tell producers, "I'm not to be walked over. If somebody annoys me, I won't have it."
Which to be honest, we low-key love as a few of the male Islanders this year need to be pulled for a chat about their antics in the villa.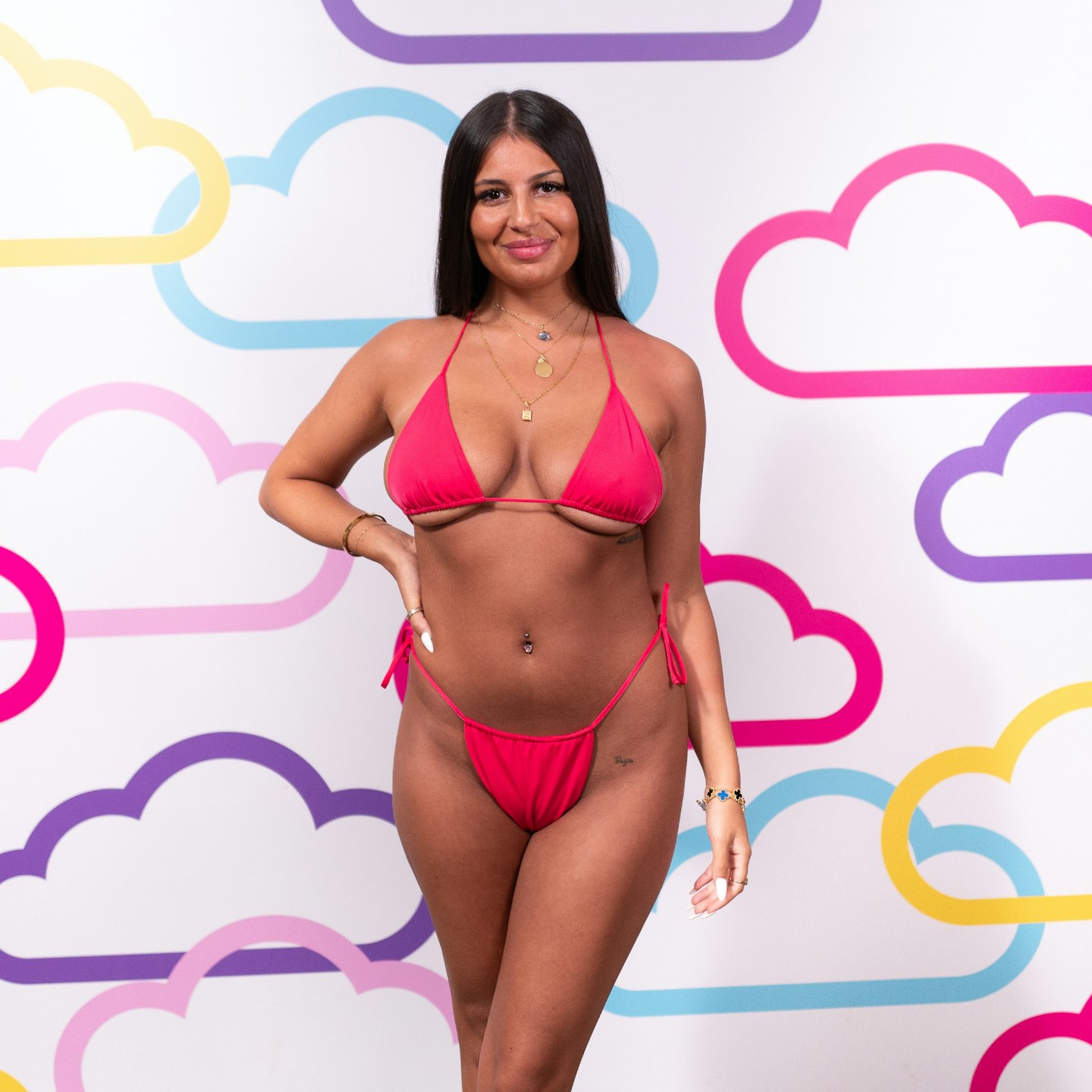 Who is Layla Al-Momani?
Layla was one of the six female bombshells to enter the Love Island 2023 main villa while the girls headed over to Casa Amor.
How old is Layla Al-Momani?
She is 28 years old.
Where is Layla Al-Momani from?
Layla is from Kingston, West London.
Who did Layla Al-Momani want to couple up with?
The brunette had her eyes on a few of the lads in the villa and wasn't bothered that they were all in happy couples because it's LOVE ISLAND.
"Ron! He's cheeky and he's like a lad," she admitted.
"I really fancy Will, too. My type is Louis Theroux and he just gives that vibe. I also fancy Shaq, but he seems to be unavailable!"
What does Layla Al-Momani do?
She is a brand managing director.
What type of Islander is Layla Al-Momani?
Prior to going on the show, the Londoner said she would be a "standout Islander".
"Regardless of being amongst a group of girls, I'll prove that I stand out. I like to find out lots about people, so I'll definitely be the one to ask the weird questions."
Does Layla AL-Momani have Instagram?
She sure does, you can follow her @laylaalmomani.
Love Island airs tonight at 9pm on ITV2 and ITVX.
WATCH : 'No More Kissing… I've Had Enough!!' Tanyel On Casa Amor Chaos | Heat Dates