Winter Love Island 2023 is just about to begin (seriously, it starts tonight at 9pm on ITV2), but that doesn't mean that the drama from Love Island 2022 is over. Oh no, far from it.
The feud between Casa Amor bombshells Coco Lodge and Summer Botwe erupted all over again over the weekend when Coco addressed comments that Summer had recently made on a podcast and insisted her former friend was "obsessed" with her.
Although Coco and Summer initially became friends after meeting in the second villa, the pair fell out just weeks later when Coco admitted Summer's love interest Josh Le Grove was "so fit" and revealed she "could have sh**ged him".
Coco and Summer then clashed at the Love Island 2022 reunion last August when Coco insisted her remarks were "banter", while Summer hit back, "Friends don't say certain things hun, but alright." It was later revealed that producers were forced to cut fiery scenes from their row; scenes that were apparently even worse that the ones producers chose to air.
Summer also let slip the only Islander she still speaks to and funnily enough it wasn't Coco, indicating that they'd cut ties for good. Until now, that is, as the bombshells have hit out at each other once again.
Following Summer's appearance on Spill The Juice, where she opened up about the Josh situation once again, Coco took to TikTok and fumed, "I'm fully just stitching this so you all can see the embarrassment that I'm currently feeling for this girl. You're so obsessed with me.
"It was six months ago and it really wasn't that big of a deal."
She added, "I'm in Dubai for three weeks. Maybe if you stop bringing up my name, you could be here too and you would be smashing it on TikTok."
Clearly not taking Coco's response lying down, Summer replied on Instagram and insisted she "doesn't care" about Coco.
Summer wrote, "I was asked a question about a situation related to my Love Island journey on a podcast and I answered. Idc about Coco, I've moved on and I'm in my own bag and have been for a while ✌🏽."
Will the feud between these two ever end? It's not looking likely tbh...
The latest chaos surrounding Coco - who was originally set to appear on Married At First Sight UK before turning it down for Love Island - comes just a month after she was embroiled in some more TikTok drama.
In a video shared in December, one TikTok user claimed to have sat next to some of Coco's fellow Islanders at an airport recently and naturally, shared all the goss she overheard on social media.
Apparently the Love Island contestants had a few choices words about the Casa Amor chica, with the TikToker claiming that they were "literally slamming Coco the whole time", adding that she had "a feeling they don't like her."
It didn't take long for the video to make its way to Coco's FYP and the brunette bombshell responded with a quick clip lip-syncing to the sound "Ya'll really are obsessed with me", and her followers were in agreement.
"I mean like as if they still talking about you clearly obsessed 😭😭😭," declared one fan, with another commenting, "I swear you don't even do anything 🤣🥺🥺🥺".
It's all very much hearsay as you can't actually hear anything the accused Islanders are saying, but Coco still handled the situation with much more decorum than most of us would have. Good for you, Coco.
Coco Lodge on life after Love Island
Since leaving the villa, Coco has been open about the extent of the trolling that she has and the cruel comments that were made during her time on Love Island and the savage way she was portrayed by the edit.
Speaking on the Murad Merali show, Coco was in tears as she was questioned about the trolling over her looks, "I didn't expect it, I've never had [an issue with what I look like]. It hurts to see because it's about your appearance. However I was perceived on the show wasn't my personality anyway, they edited me to look a certain way but to comment about my appearance was obviously hurtful. I was cast for a reason, how you look on those cameras, the press photos, they don't choose the most flattering stuff.
"I had a hard time in there anyway after Casa Amor, some of the girls weren't as welcoming, we're all okay now but it was hard."
She also revealed that she was called a 'four out out of ten' by a boy (who she didn't name) in the main villa when the cameras were off (whilst they were eating), "'I don't know who said it, Summer heard it, I think one of them said 'you're a four out of ten, Paige is a twelve.'"
Coco also elaborated about the trolling she endured in an empowering post on Instagram, writing, "Coming out the villa I was greeted by a vile amount of nasty tweets and TikTok's about my appearance. It was really damaging initially but I will bounce back more resilient 💪 I'll never be good enough if I judge my selfworth on a strangers opinion. Thank you to everyone I've met and who has messaged me with kind empowering words and who was fighting these comments when I was in the villa ❤️ And for those others this is your reminder to #bekind #selflovejourney."
We love you, Coco. 💔
What is Coco Lodge's real name?
Our Coco might've come into Casa Amor an open book, but it turns out she has been concealing her real name on the show. Her real name isn't as LOCO (get it?), as her pseudonym. Her real name is, apparently, not Coco, but Chloe, as her old Instagram handle @chloelodgee from 2017 reveals.
Her relationship with OG Islander Andrew (we can't help but wonder if he knows her real name?) caused quite the stir amongst Love Island fans on Twitter, with many expressing concerns that Coco was using Andrew as a ticket to the main villa.
And following the dramatic Casa Amor recoupling, it turns out Coco has caused a lot of harm in Andrew and Tasha's relationship... If we can still call it that.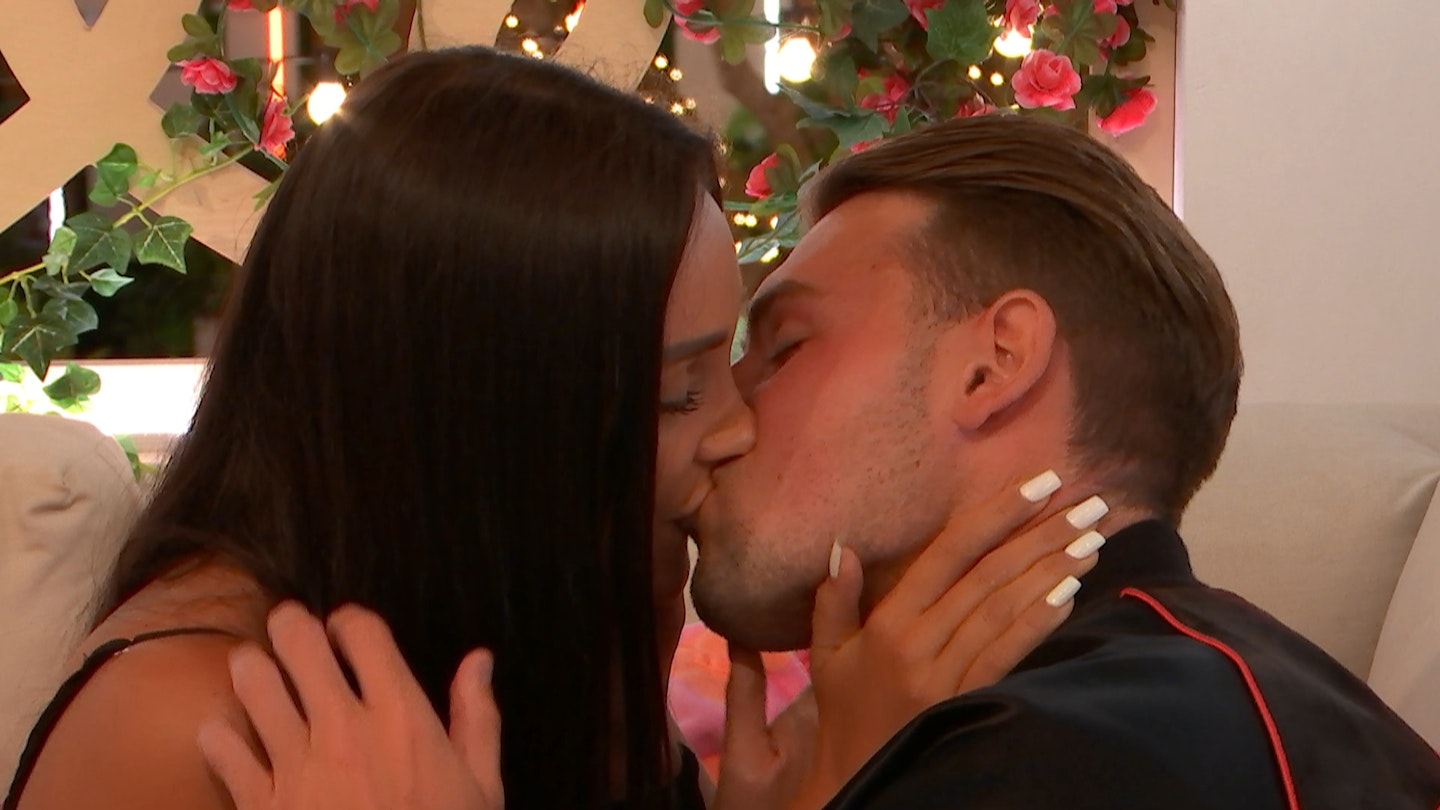 In more Coco news, it turns out she's already friends with a few celebs..
Coco Lodge's Too Hot To Handle friends
To add to the rapidly growing pile of Islander celeb links, Coco recently shared a series of photos on Instagram of her posing alongside Too Hot To Handle stars Chloe Veitch and Nicole O'Brien while in Dubai.
This won't exactly be the first-time people from the two shows have mingled this year, with Tasha having dated Too Hot To Handle's Robert Van Tromp, only three months prior to entering the villa.
How old is Coco Lodge?
Coco is 27 years old, making her the oldest Casa Amor girl this year.
What is Coco Lodge's job?
She is a graphic designer and a ring girl.
Was Coco Lodge on Married At First Sight UK?
It was first reported that Coco was set to appear on Married At First Sight UK shortly after she entered the Love Island villa as a Casa Amor bombshell. According to reports, she incurred the wrath of producers when she pulled out of the show after having already started filming.
"Coco was all set for the next series of MAFS. She'd shot about a week's worth of content - costing upwards of £5,000 - and bosses were looking forward to seeing her on the show. They were furious when Coco told them she was quitting to go on Love Island," a source told The Sun back in July.
Coco later revealed why she pulled out of MAFS UK during an appearance on the Sex, Lies and DM Slides podcast and it probably isn't the reason you would expect. She explained, "I went to see a psychic and they were like, 'You're going to go on a show where you're in a bikini' and at the time I was meant to be on Married At First Sight, so I was like, 'No, I'm doing a wedding show'. He was like, 'Don't choose the wedding one'."
That isn't the only reason she pulled out of the E4 show though, as Coco also revealed she jetted off to Thailand on the day she was supposed to film her wedding after having recently ended a relationship.
Who was Coco lodge supposed to marry on Married At First Sight?
While Coco didn't end up appearing on the E4 show alongside the likes of Chanita Stephenson and Matt Murray, she appears to have found out which of the cast members she was originally lined up to marry and it seems she's still interested in him.
During an appearance on the Sex, Lies and DM Slides podcast alongside fellow Casa Amor bombshell Cheyanne Kerr, Coco let slip the identity of her former husband-to-be and admitted he was her type.
"I actually found out who my husband was so I might send him a DM later," Coco said.
"One of the other cast, someone told them so I know who it is."
Although she didn't name any names, it quickly became clear who Coco was referring to when she added, "Yeah [I would have been happy]. He's a stripper.
"Wait, that literally just gave it away."
It seems that Coco was lined up to marry Pjay Finch, whose career as a Dreamboys star was widely discussed on the show and caused a divide between him and his wife Jess Potter. It's safe to say things didn't work out between Pjay and Jess after she admitted she wasn't a fan of his profession and he still seems to be single, so things could still work out between him and Coco...
Does Coco Lodge have Instagram?
Of course she does, you can follow Coco on Instagram at @coco_lodge.
WATCH 'Multiple 3-Way Kisses?!' Coco, Chyna, & Josh Spill Unaired Love Island Tea