If you want to make a statement this month, why not hop on the latest fashion trend? Ready to take your winter fashion to the next level, metallic trousers have risen up through the ranks. And we're totes into them. They're perf if you're the life of the party. Very main-character material, tbh.
They're also the cleverest fashion hack when braving it out to the club in the cold/freezing/baltic nights of winter. Warm, practical and a whole lotta fun, is our mood for dressing up in 2023 since you asked.
What's more, metallic trousers are super versatile. If silver isn't your colour, don't panic. We've been seeing pinks, greens and blues, too - which are so OTT in the best possible way. You could go for something retro, like space-age with colourful tapered trousers, or 70s-inspired disco chic with flares. You could even go streetwear with something baggy and low-rise... a major y2k/e-girl moment.
Metallic trousers are a little bit trashy, a little disco and totally a vibe 🌟
Take a peek at our fave (affordable) metallic trousers below...
SHOP: The best metallic trousers for a winter party shimmer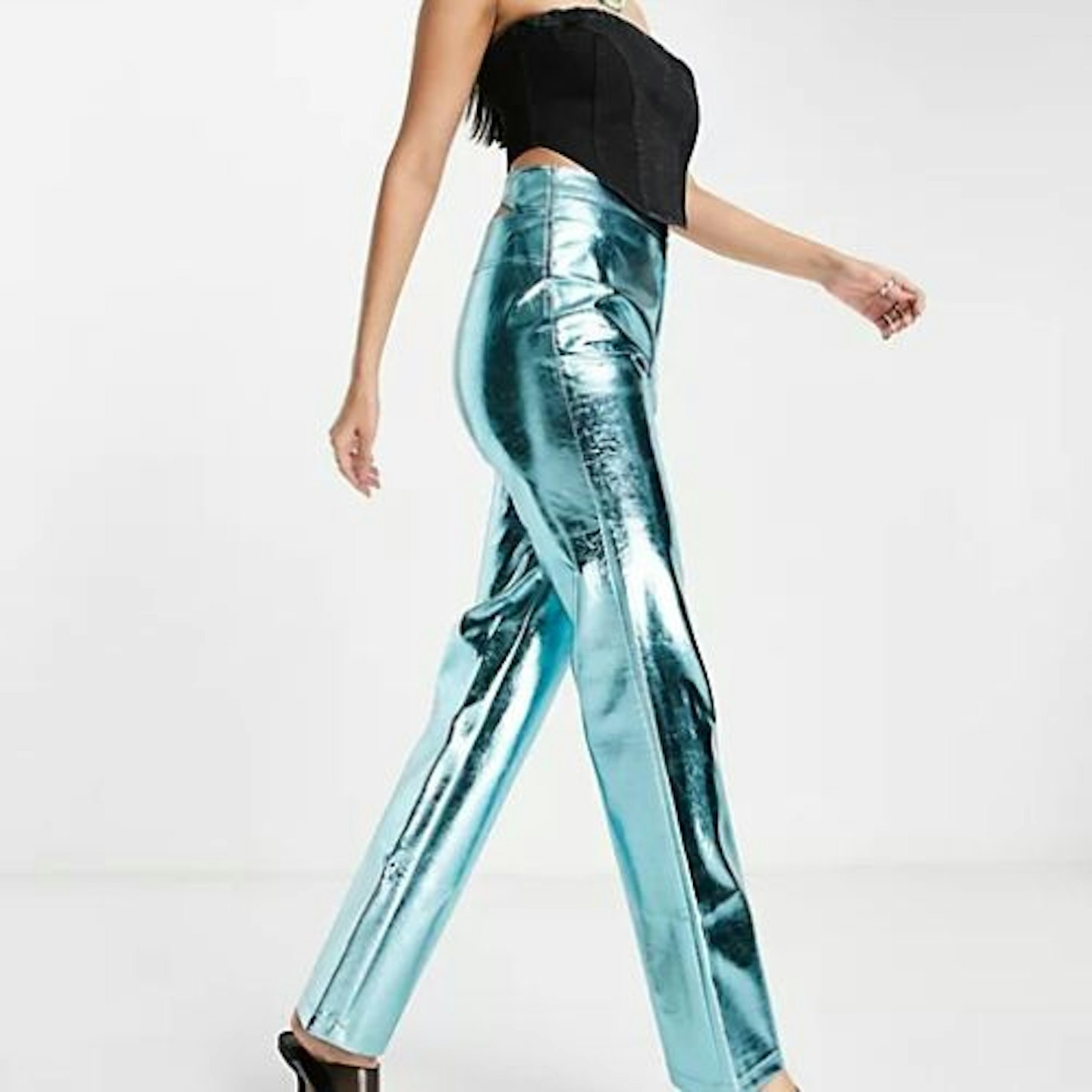 1 of 14
COLLUSION Metallic Faux Leather Straight Leg Trousers in Blue
First up, we like this high-rise pair in light blue. They're slightly flared and have a slim fit and a cut-out back. They're the go-to party trousers. Pair these with a cute top and a big winter coat and you're golden.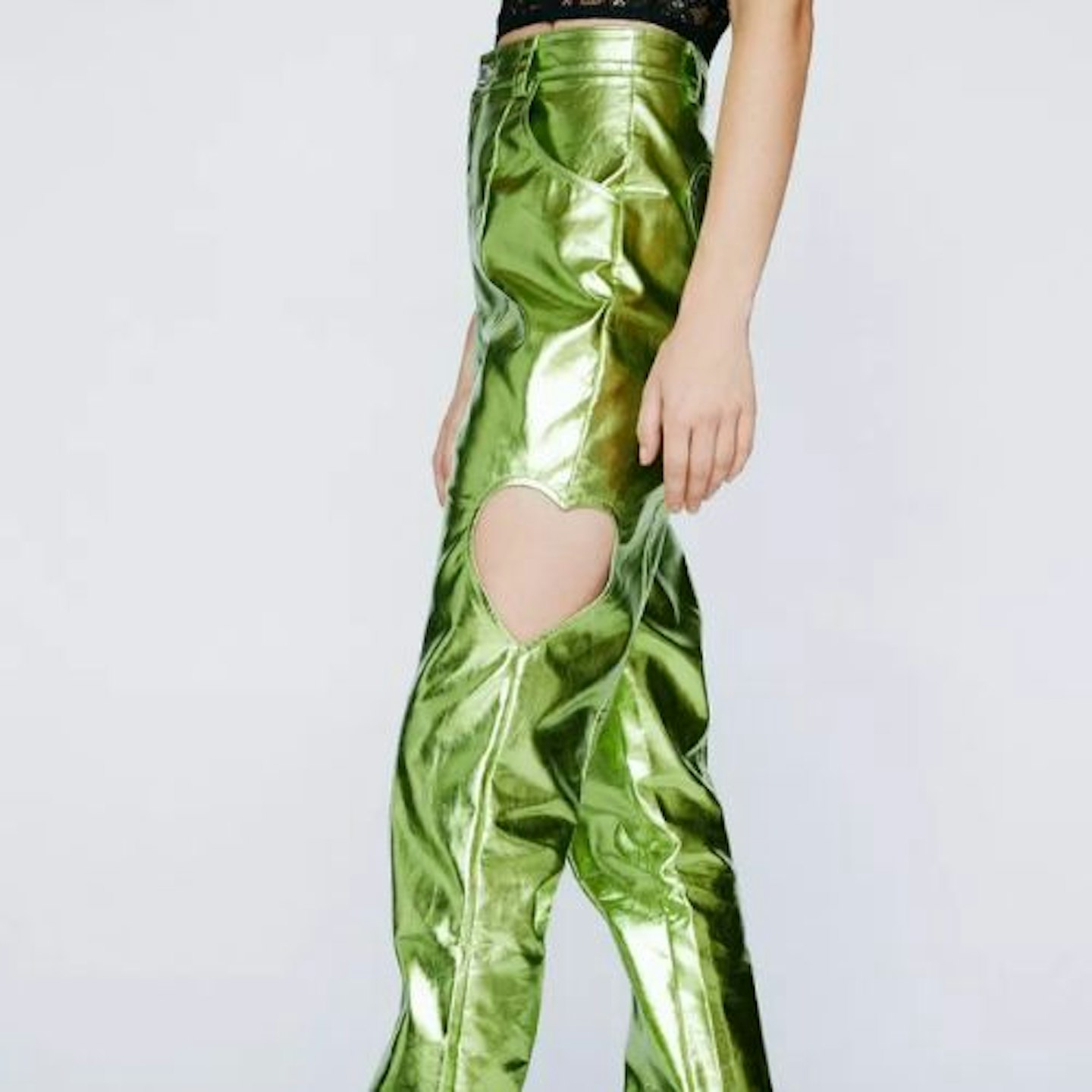 2 of 14
Nasty Gal Green Metallic Faux Leather Trousers
These groovy trousers will be sure to turn some heads in the club. Galentine's Day is approaching, lovelies. Why not bring some heart to your night out with these faux leather beauties? They have gorge heart cut-outs, so you're that girl.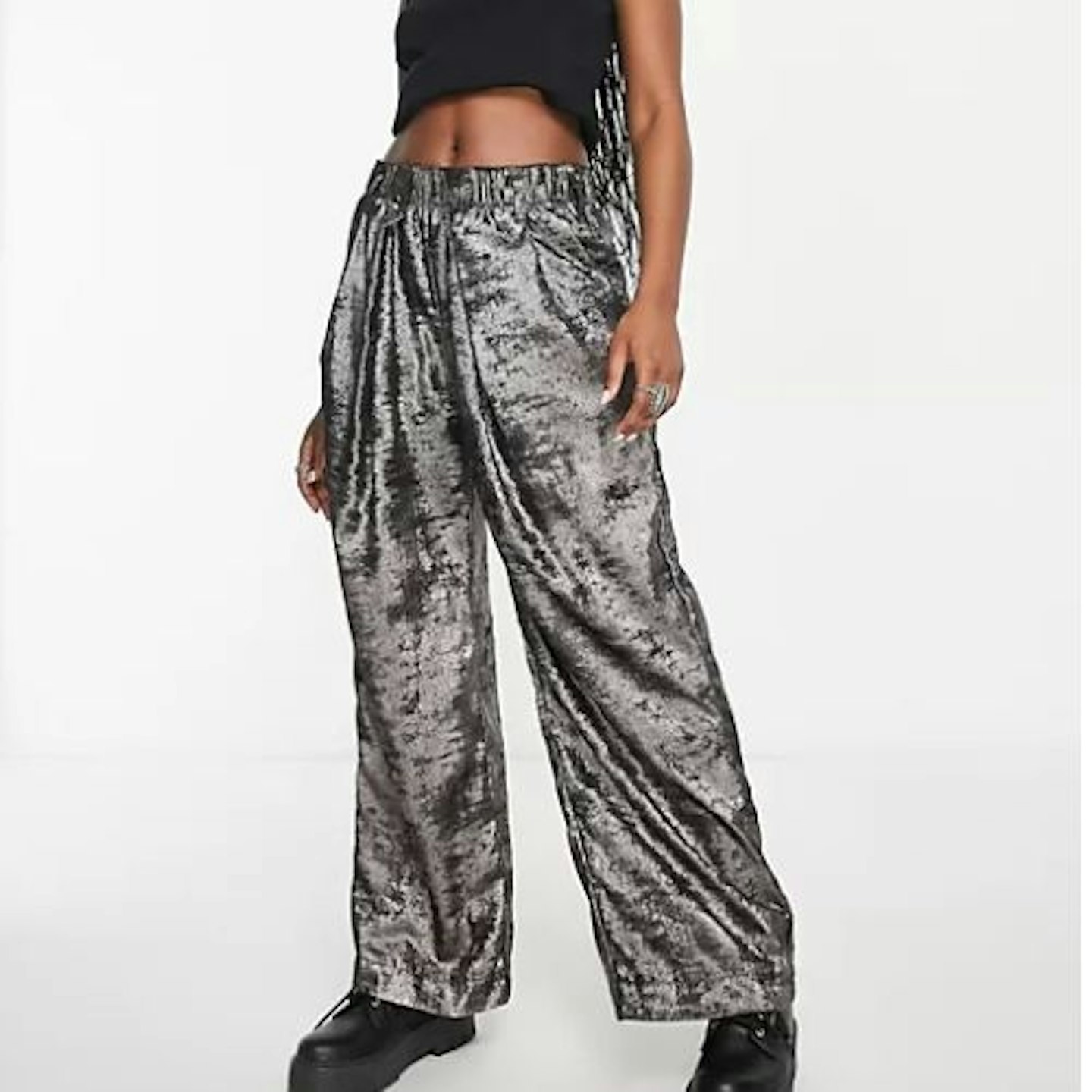 3 of 14
Free People Wide Leg Trousers in Metallic Gunmetal Grey
Spend your dolla on something substantial. You can get away with wearing these wide-leg metallic trousers time and time again. Whether out on the town or splashing out for a fancy dinner, these beauties will look great everywhere. The colour is so cool. We're obsessed with these, tbh.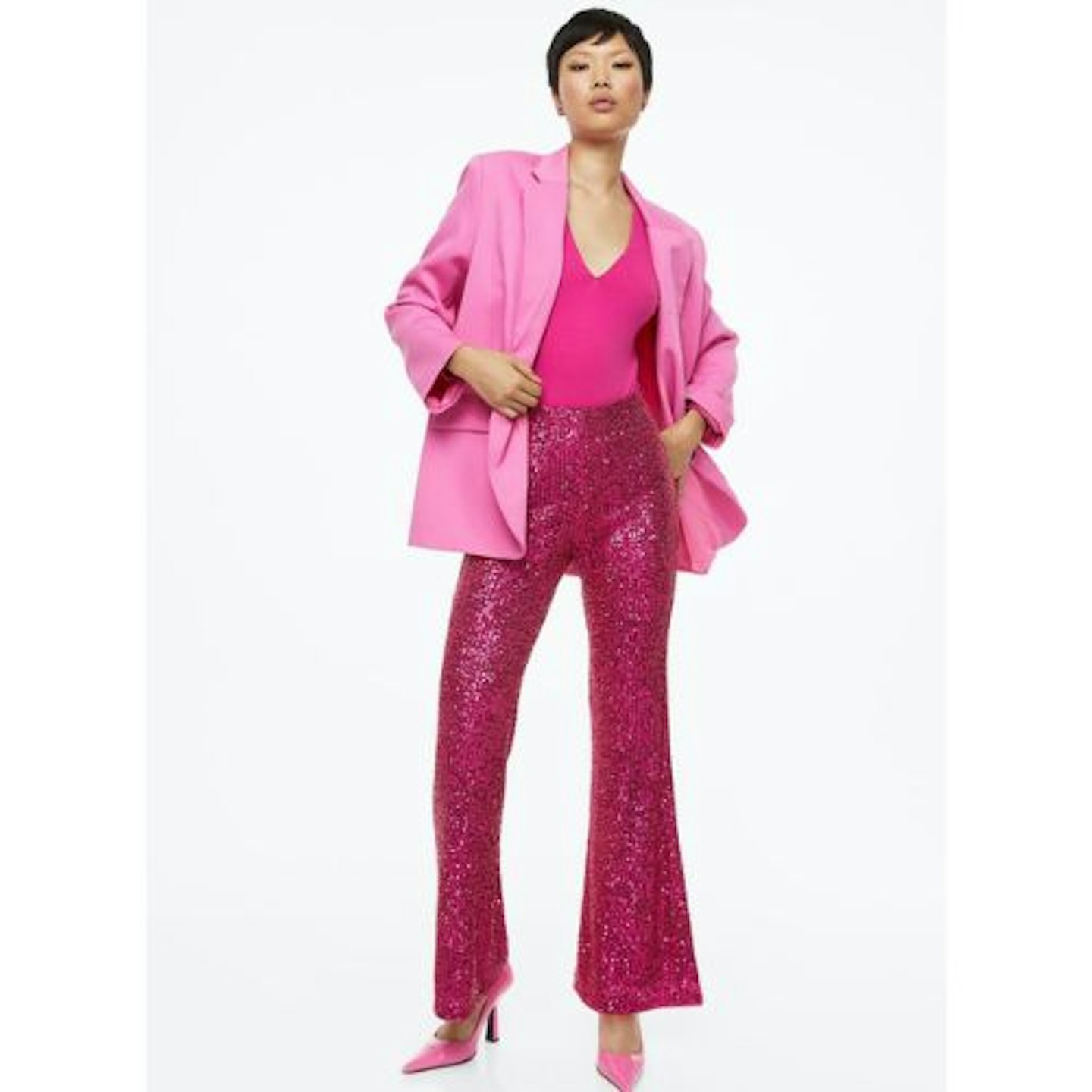 4 of 14
H&M Sequined Trousers, Cerise
H&M is giving you everything with these sequined flares. Perfectly pink, they are high-waisted and elasticated for a comfy fit. Plus, it's made from recycled polyester - so, it's doing some good for the environment, too. Get your disco on with these trousers. They are WAY TOO MUCH and we love them.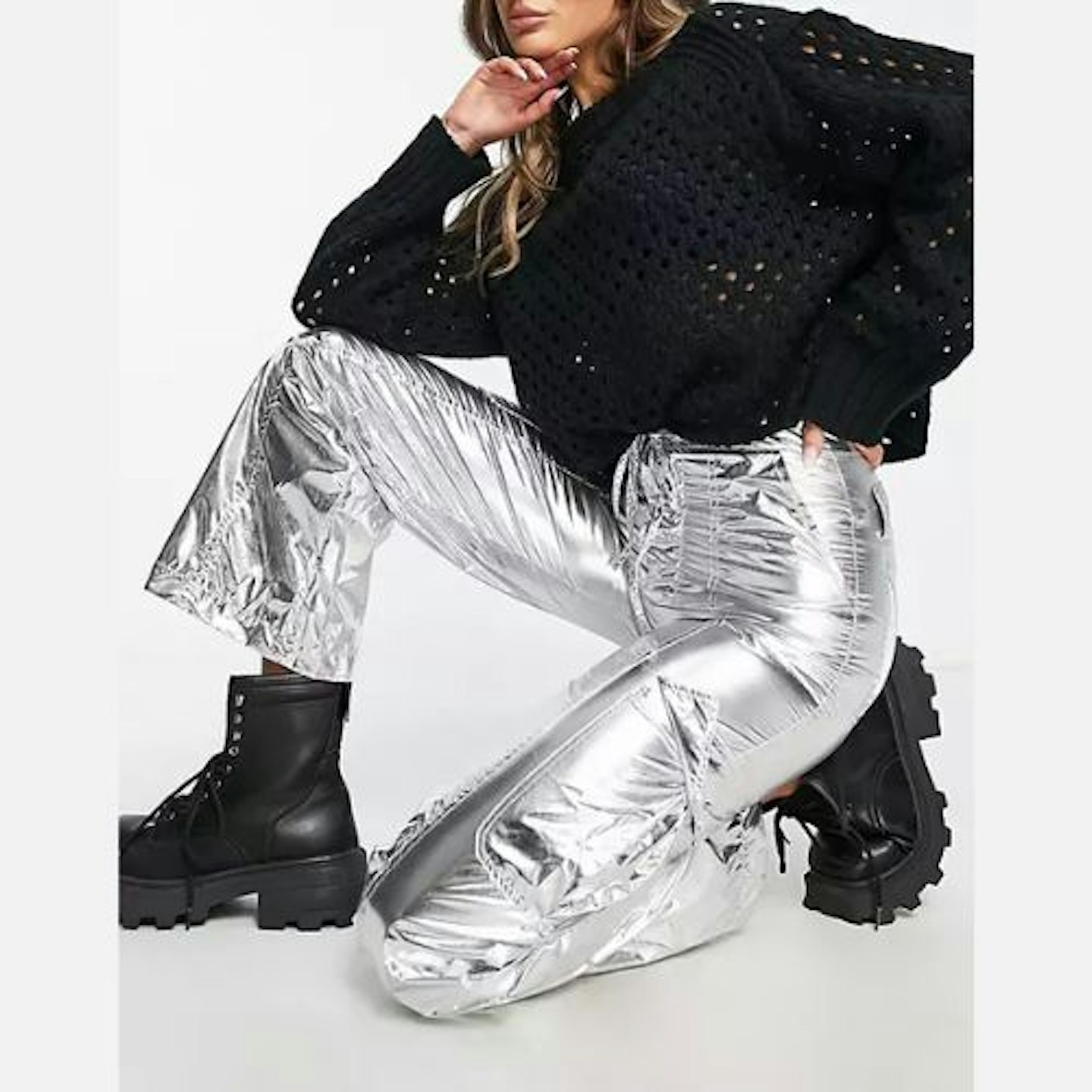 5 of 14
Tammy Girl Y2K Parachute Trousers in Shiny Silver
Next, we have this groovy find. From Tammy Girl's collection on ASOS, this pair is high-rise and super casual with a drawstring waistband and functional pockets. A win for the gals, tbh. They scream y2k and baggy streetwear vibes. You could even wear these when doing your food shop.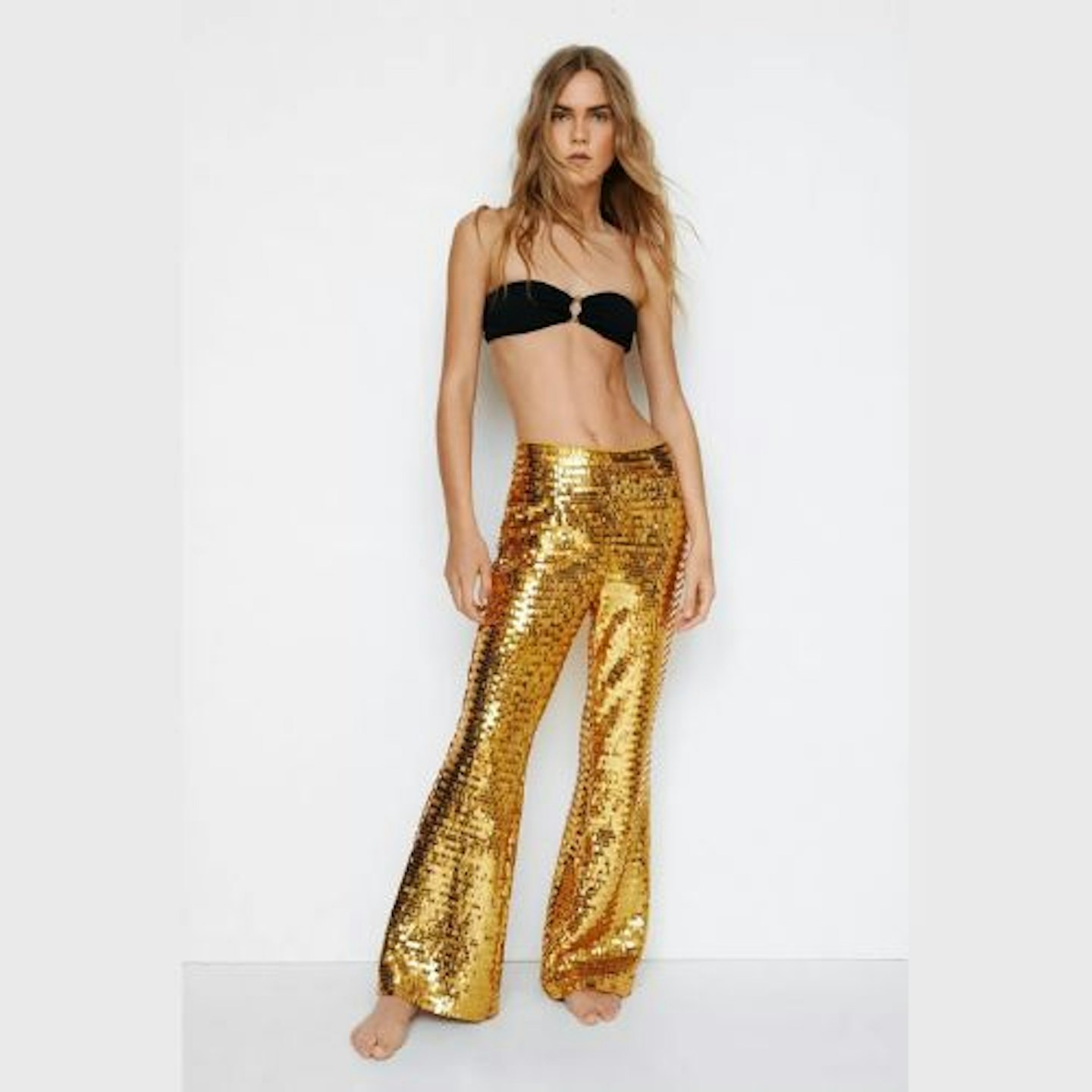 6 of 14
Nasty Gal Gold Premium Disco Sequin Flare
Honestly, nothing screams disco more than gold and way too many paillettes. Nasty Gal's tribute to '70s disco has arrived with this glimmery number which is sure to set you apart from the crowd. Hella groovy, hella extra. You can dress up with a killer, patterned jacket or dress it down with some denim. Your choice, babe.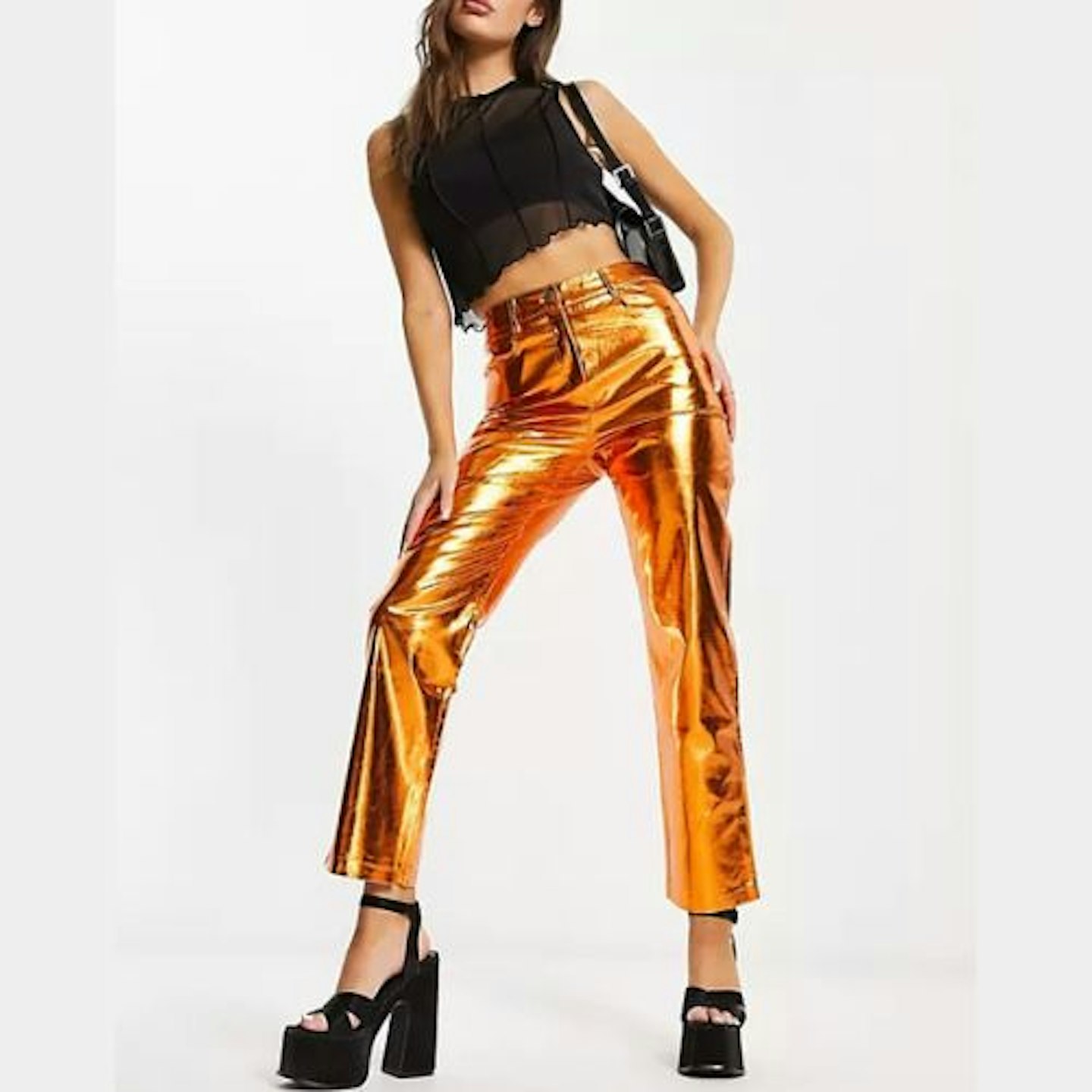 7 of 14
Amy Lynn Lupe Trouser in Metallic Orange
We're a fan of these orange metallic trousers. Who knew that they'd look so cool? These are perf for a chic look, coming with functional pockets, too. Style with some open-toed platforms and a cute top. Don't forget a jacket if you're going out, tho.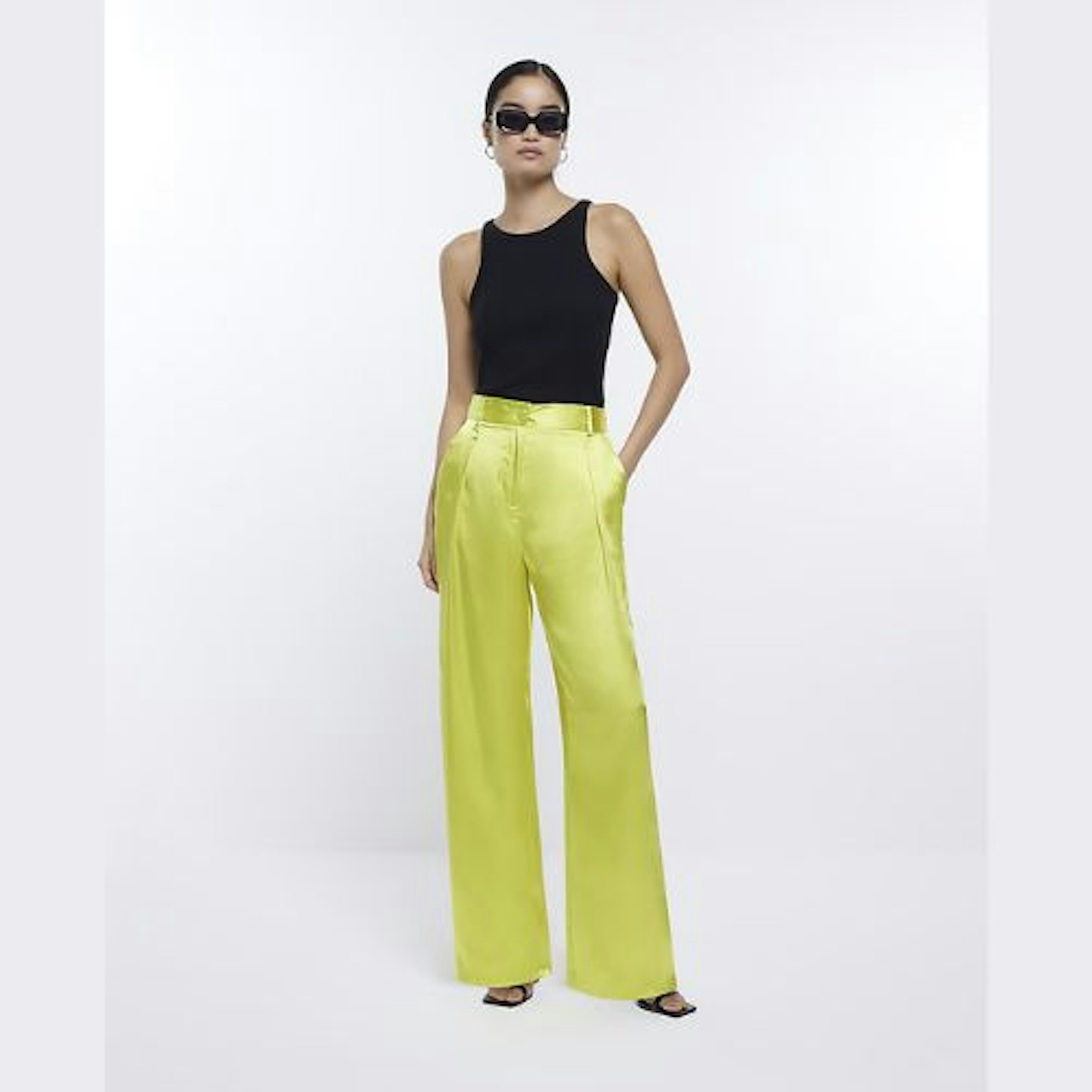 8 of 14
Yellow Satin Wide Leg Trousers
Or, you could go for these. They're pleated, super casual and work super well dressed down. You could even try and get away with wearing them at the office 😏 Perf for any occasion, this pair looks super comfy and chic.
9 of 14
Amy Lynn Lupe Trousers in Metallic Magenta
I-CONIC. From Amy Lynn, we adore these magenta metallic trousers. They're chic, stylish and totally ridiculous. Just think of all the styling possibilities... These would look perf on a night out with some heels. Total glam potential 🔥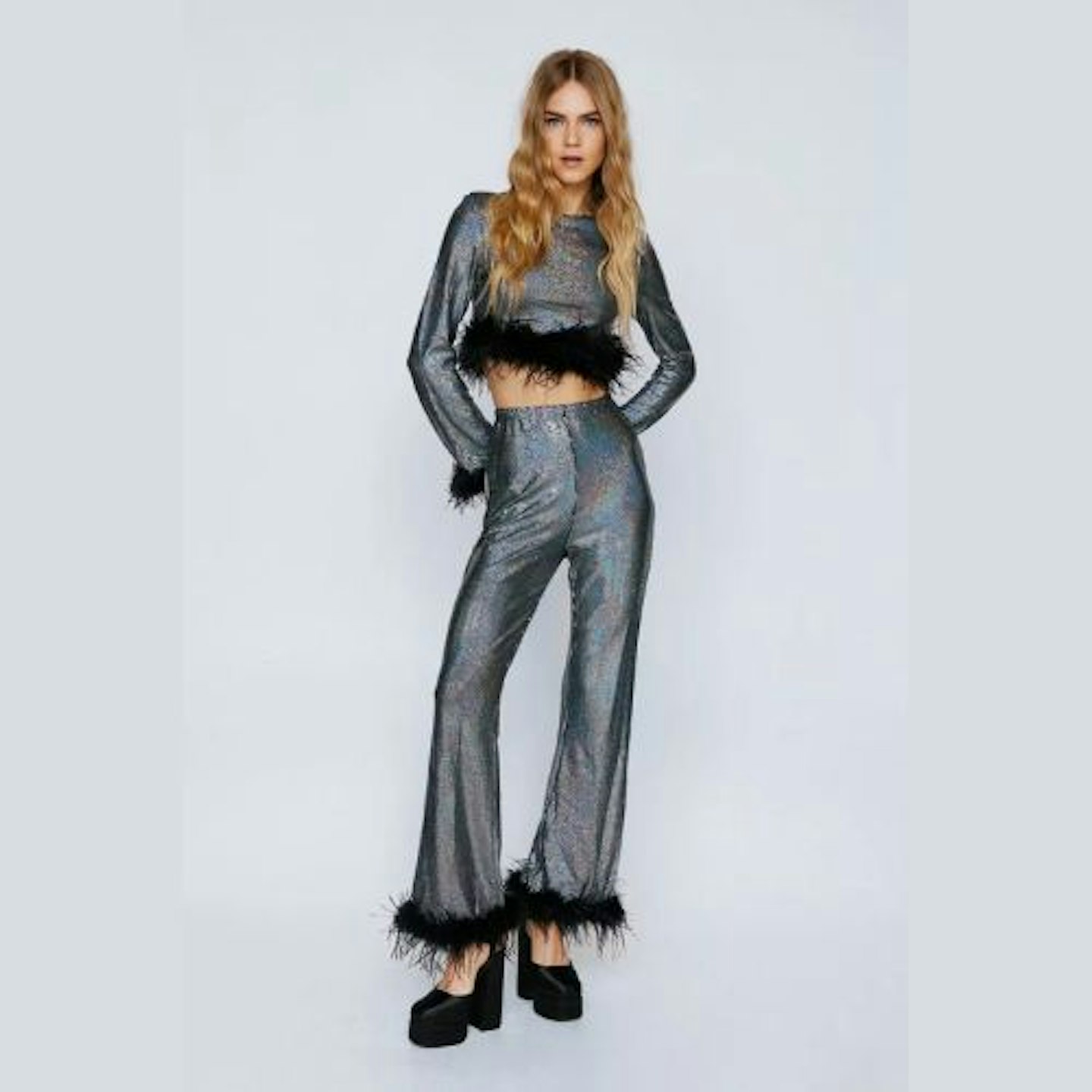 10 of 14
Nasty Gal Feather Hem Sequin Flare
Nasty Gal has these sequined trousers on sale - and they're so disco. The feathers are EXTRA and are the ultimate party lewk. These came as a co-ord but we think they're just as groovy without the top. Low-key, these are ideal for the gals who listen to Midnights on repeat...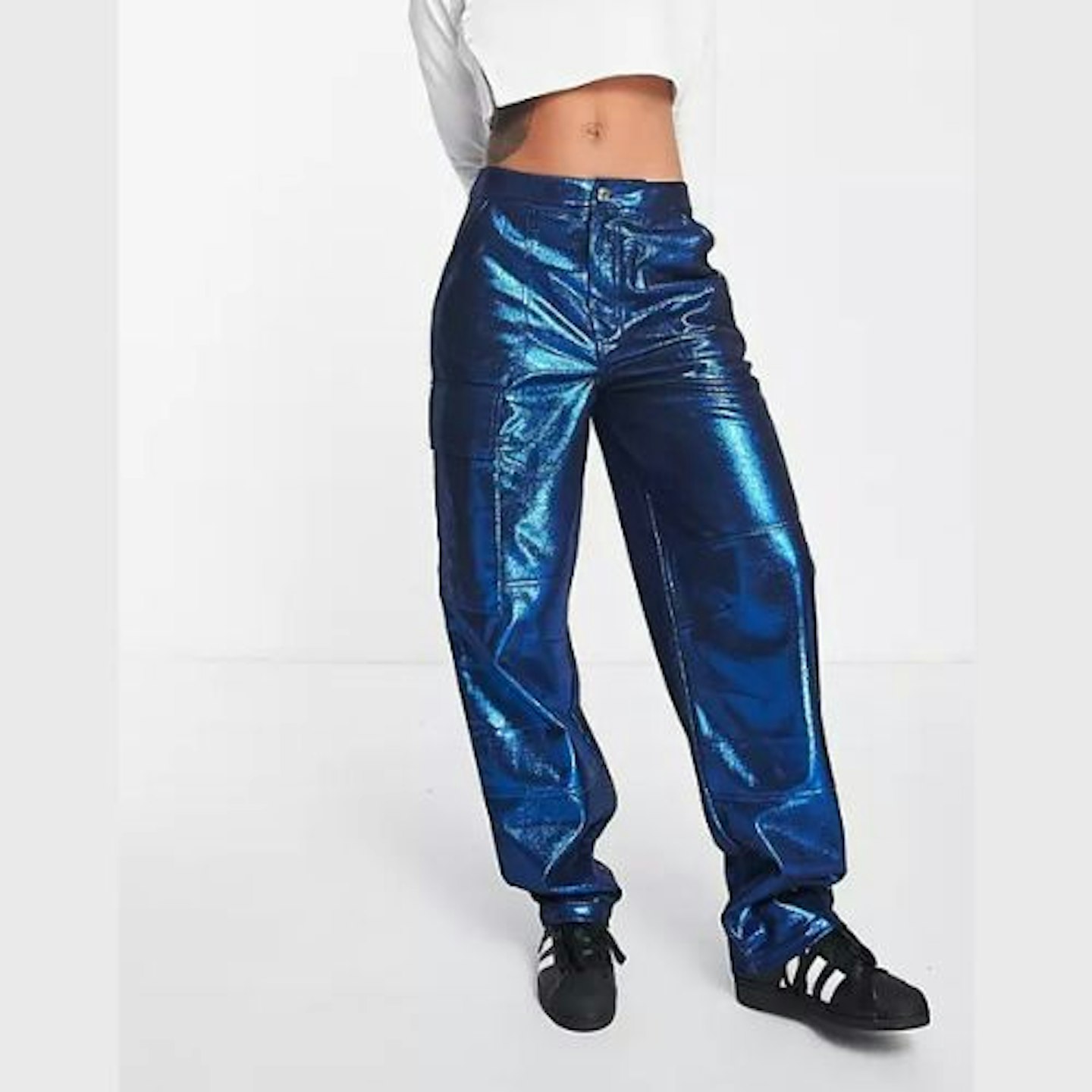 11 of 14
ASOS DESIGN Anti Fit Oversized Cargo Trouser in Metallic Blue
If you're all about oversized fits, we love this pair of low-rise y2k-style metallic cargo pants. They're a cool blue and perfect for down-dressing. Throw on a pair of trainers and a hoodie and you're giving Billie Eilish vibes.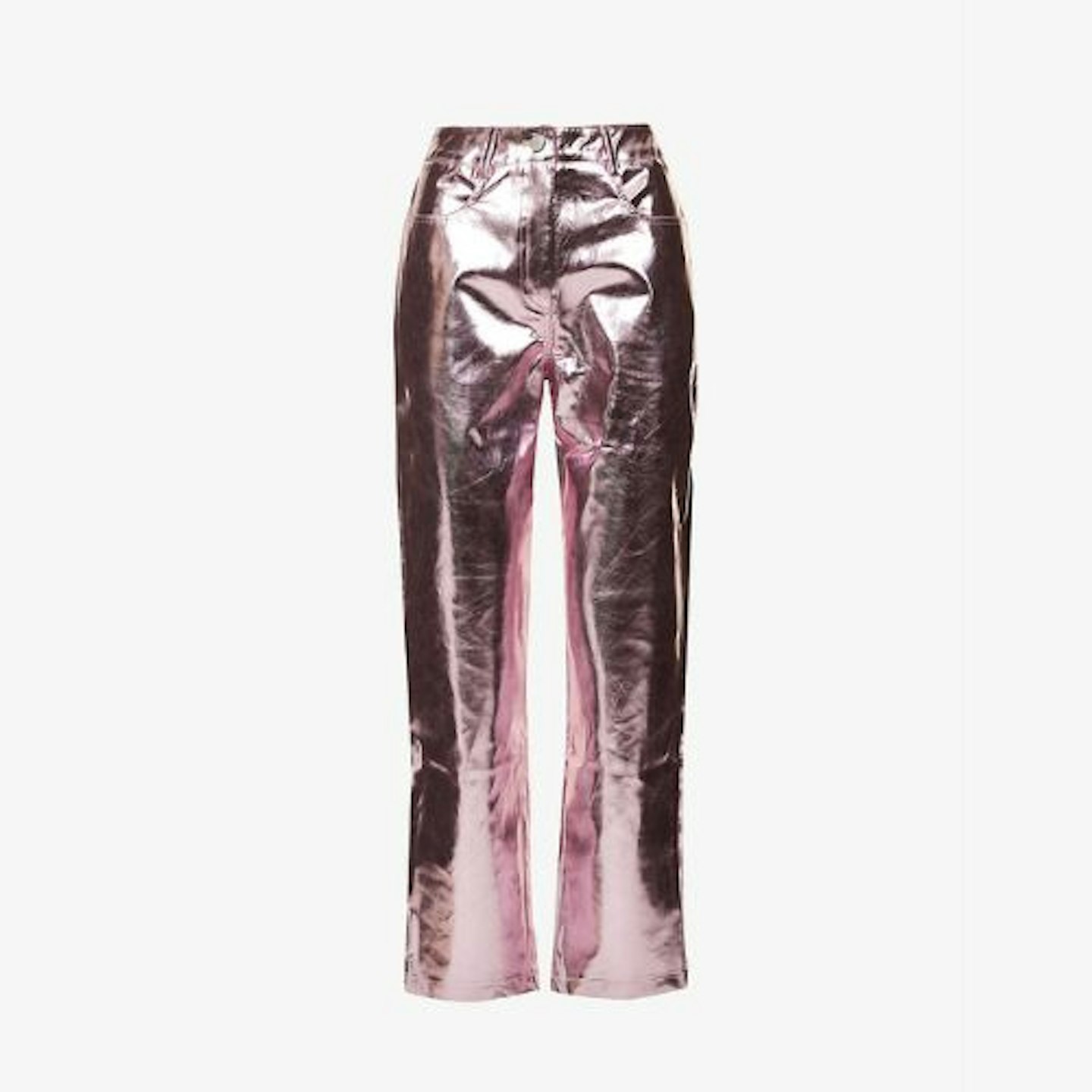 12 of 14
Amy Lynn Lupe Trousers in Metallic Light Pink
Live your Regina George fantasy with these high-rise, straight-leg metallic trousers in light pink. We love the colour and they're deffo giving rose gold vibes. They're super glam, chic and will pair well with even more pink. Lush.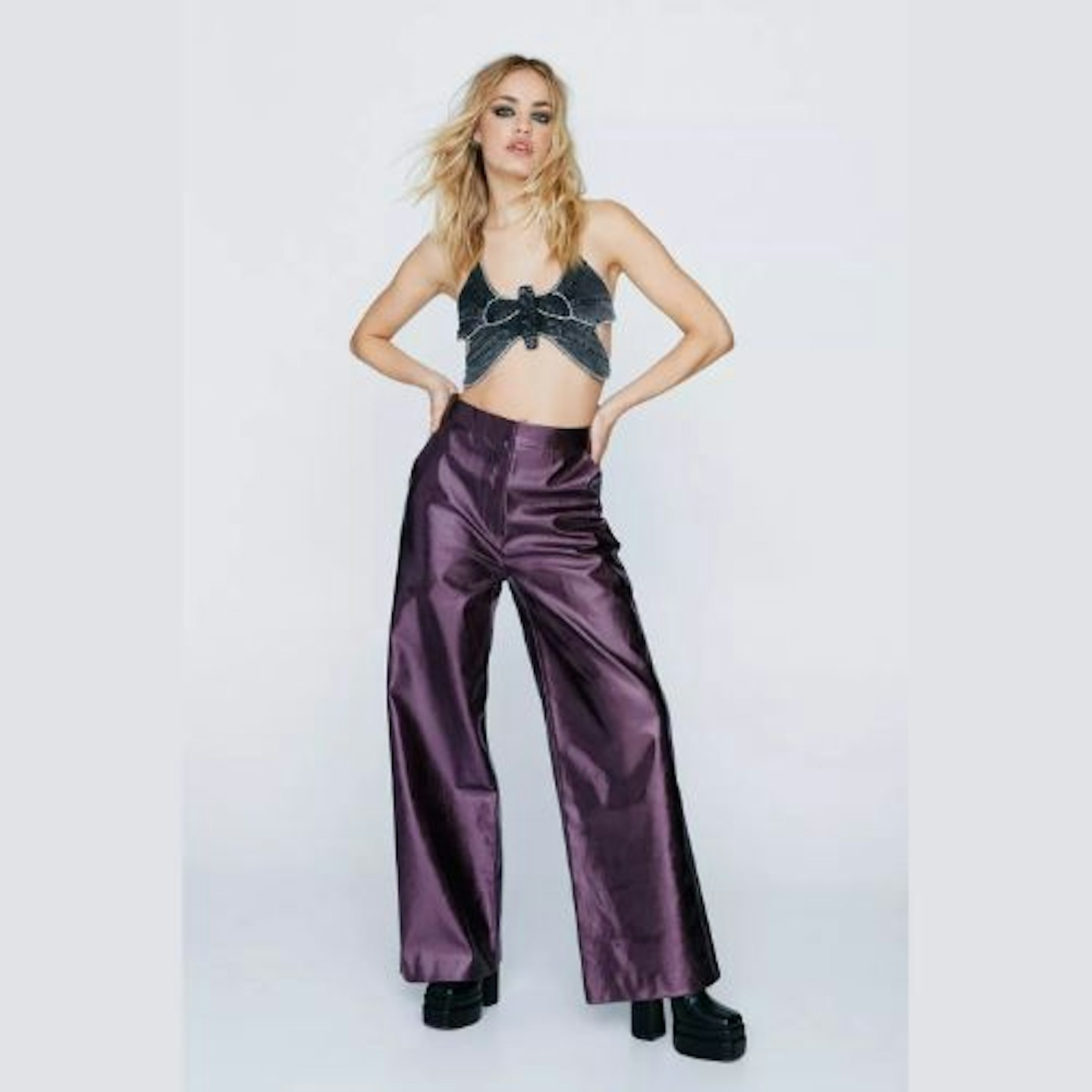 13 of 14
Nasty Gal Purple Faux Leather Metallic Trousers
These dark, purple metallic trousers are giving femme fatale vibes. Elvira, eat your heart out, babe. 💜 If you're searching for a pair of versatile metallic trousers, these are it. From the office to a party, they would look great with a crop top.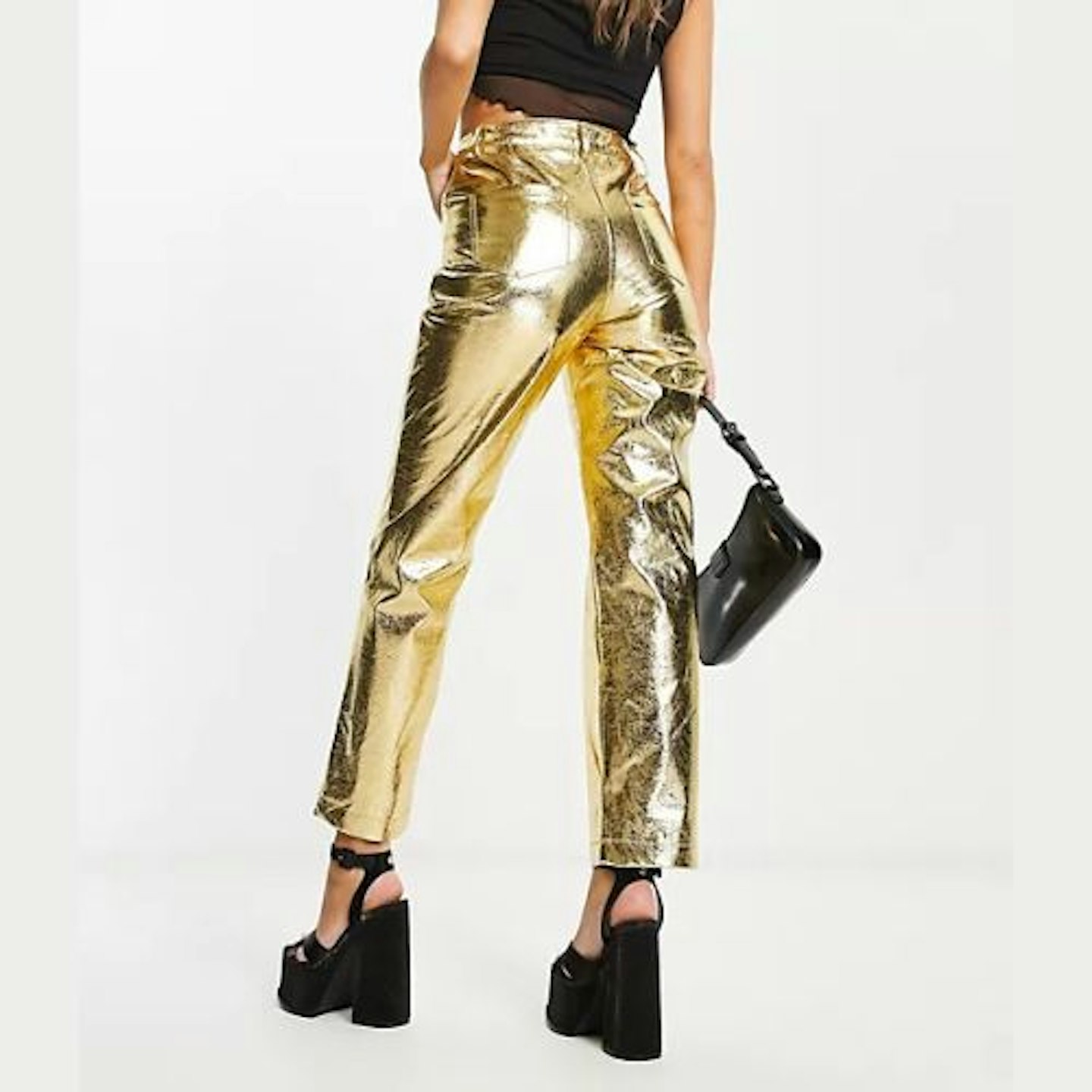 14 of 14
Amy Lynn Lupe Trouser in Textured Metallic Gold
Go for gold, babes. These golden metallic trousers are lush. Chic, glam and totally out there. We're obsessed. 😍