If there's something we always want to ensure when we're putting on our best leggings, it's that we've got a pair of seamless, stretchy and of course, flared leggings to choose from. Those infamous previously known yoga pants are always popping back up, and are a perfect way to take an outfit from casual to effortless (but still comfy).
Because, comfort is key after all - and sometimes our gym leggings just don't cut it when we want to look a little cuter. Say bye-bye to those jean days because flared leggings are the ultimate medium that will make it look like you've made an effort, when really you haven't. We won't tell anyone.
heat's best flared leggings, at a glance:
Best all-around flared leggings: Gymshark Crossover Flared Leggings, £45 on Gymshark
Best luxury flared leggings: Lululemon Nulu Groove Super-High-Rise Flared Pant, £108 on Lululemon
Best casual flared leggings: Topshop Skinny Rib Flared Trouser In Black, £16.50 on ASOS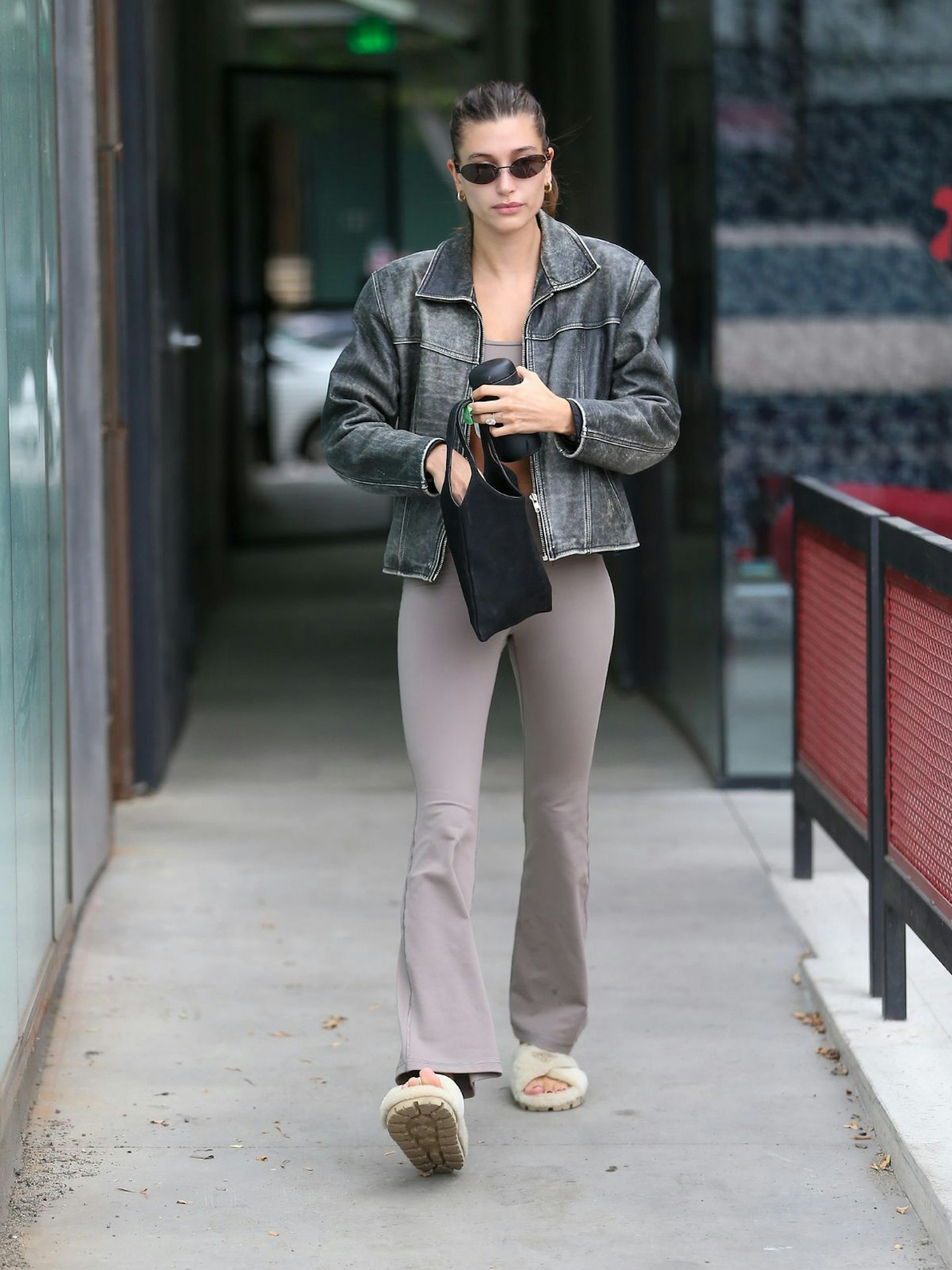 You just need to look at fashion icon and supermodel Hailey Bieber to see all of the inspiration you need to invest in a sassy pair of flares.
Whether you want to shop at TALA, Lululemon, Gymshark or ASOS (maybe all four?!), here are the best places to shop flared leggings on the high street right now. As seen on A-listers, they're totally worth the investment. Remember to look at sizes for plus size leggings, petite and tall lengths and more - if you're really looking for specifics. There's something for everyone here.
SHOP: The best flared leggings to buy right now
Best all-around flared leggings
Description
If you're looking for a pair of flared leggings that are comfy, buttery and going to last you for
Pros
Buttery fabric makes them a perfect everyday pair
Also available in a tall size
Crossover waist is smoothing and shaping
Best luxury flared leggings
Description
If you know about your gym wear, then there's a high chance you already know about these Lululemon
Pros
A super high waist makes for a smooth silhouette
Back pocket for added efficiency
Nulu fabric is exclusive to Lululemon
Cons
Can be quite tight above the waist
Best casual flared leggings
Description
If you're not too worried about wearing your leggings to the gym and just want a pair you can
Pros
Ribbed texture is super smoothing
Also available as a petite length
Best flared leggings with size ranges
Description
Known for its sustainable movement, the TALA SkinLuxe High Waisted Flared Leggings come in top for
Pros
Second-skin feel
Sizes varying from 2XS to 4XL
Made with sustainable recycled fibres
Available in 33" for tall options
Cons
Threads known to come loose
Best flared leggings for yoga
Description
If you're looking for a pair of yoga leggings that are both comfortable as they are sweat-wicking
Pros
Made with exercise in mind
Sweat-wicking and breathable
Cons
Seams may be slightly uncomfortable
Best crossover flared leggings
Description
The Hollister brand knows how to make anything effortlessly cool. Invest in the Hollister Ultra
Pros
Great value for money
Shaping with the crossover waist
Available in short, regular or long
Cons
Not as suitable for exercise
Best subtle flare leggings
Description
Are there different lengths of flared leggings?
One of the hardest parts of finding the perfect pair of flared leggings is actually finding ones that fit properly. Some of us love ones that sit above the ankle - if you're more into your serious exercise movement - whilst others like them to fall almost floor-length with trends in mind.
Fret not though, because yes, flared leggings come in various lengths, including full-length, ankle-length, and capri-length. The length you choose depends on your personal style and the occasion you plan to wear them, so keep this in mind when buying. Also remember that some brands offer maternity leggings as well as petite, regular and tall sizes, so that's something to look out for too.
Are flared leggings the same as yoga pants?
Now yes, the two are practically interchangeable but they do have subtle differences and not all flared leggings can be called 'yoga pants' realistically. Both are comfortable and often made from stretchy or ribbed leggings whether or not they're made with fitness in mind but flared leggings have a distinct flared or bell-bottom shape at the bottom, while yoga pants will usually have a straight or slightly tapered leg.
Caitlin Casey is a Senior Beauty & Fashion Products Writer for heat, Closer, and Grazia. She covers shopping, women's lifestyle, popular culture as well as all things trending.