The unthinkable has happened; Love Island 2022 winner/national treasure Ekin-Su Cülcüloğlu is publicly feuding with another celebrity on social media and it's jumped from tepid to boiling point overnight. This is the heat we all came for.
This kind of behaviour is somewhat unthinkable because, in our eyes, Ekin-Su has soared to that 2009 Cheryl/royal princess level of fame where you remain ETERNALLY perfect, smile to the cameras and never, ever give give the press ANYTHING to bite upon, until you're eventually usurped by another devastatingly perfect creature and go on I'm A Celeb or Strictly.
In other words, a petty social media squabble like this is a little above Ekin-Su at this stage in her fame game, if you ask us. That being said, she did not fire the first shots and said first shots were more like a firing squad aimed at her relationship with fellow winner Davide Sanclimenti, so...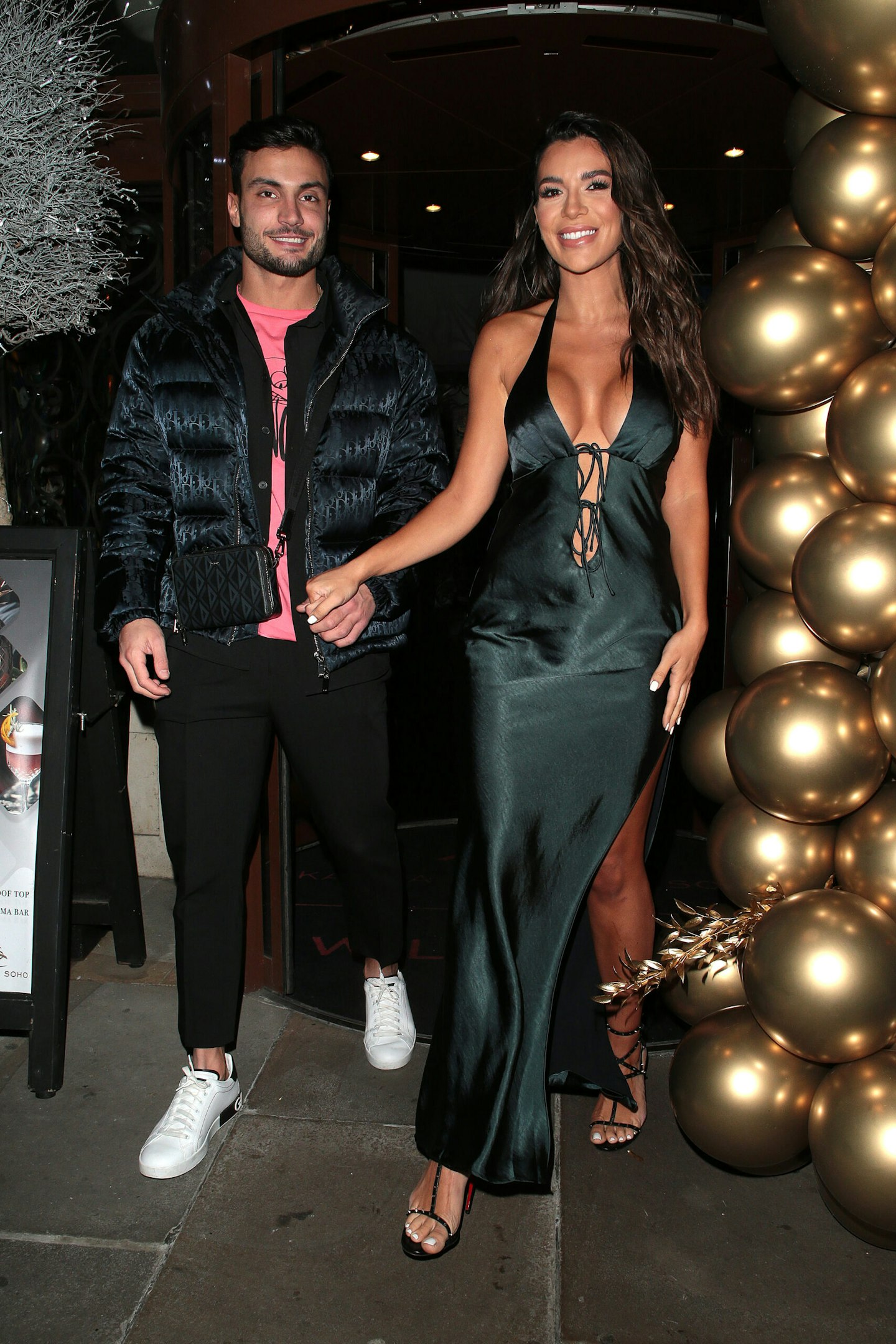 The drama started when TikToker Max Balegde – don't worry, we were sort of hoping for Gemma Owen too – seemingly made comments about her relationship with Davide on his podcast, The Useless Hotline Podcast. Now, in Max's defence he doesn't actually name Ekin-Su nor Davide in his rather eye-opening monologue, but it's safe to say you don't need your glasses to read between these lines.
Max said, "There's one relationship specifically that's very prominent in the UK media right now that I happen to know is definitely not real. I met the person who's in it and they were quite nice to me, but they definitely said something that would indicate they are 100 per cent not in a relationship with said person.
"When you meet someone and within the first hour they say to you, 'Find me a small brunette with a tight p*ssy I can throw around', and you know they're supposedly in a very public relationship? I then met the other person who's part of that allegedly fake relationship, and said, 'I was just with suchabody and they were so complimentary of you' and they go, 'Really?' As if to be like, 'We're not actually together, that shocks me a little bit'.
He added, "And then I met this person with the long hair and the boobs. They were really lovely and I felt, for whatever reason, pressure to tell them that their counterpart had just been saying really nice things about them when they didn't actually mention them at all. But ever since then, I'd really clocked onto it, because if you go for a run and paparazzi are there, that's staged."
In short, he's claiming the relationship is a total hoax and we still haven't blinked.
Naturally, in this social media infested world of ours, it wasn't long before these words found their way to the queen of telly, and instead of keeping a predictably modest silence, Ekin-Su took to Twitter to blast the TikToker with a scathing tweet that his since been deleted (the best tweets).
She tweeted, "Oh f**k off Max. Trying to stay relevant by associating with us. Don't even know who you are mate. Piss off with your sad TikTok life."
We guess that's battle lines drawn then. Our money's on Ekin-Su.
Saying that, this isn't the first time Ekin-Su and Davide's relationship has been called into question.
Back in October, Ekin-Su's fellow 2022 Islander Paige Thorne revealed on GKBarry's Saving Grace podcast, "All I'm going to say on this, right? There are how many couples left? Three? Three couples left. Really there's only two. But that's a secret I'll never tell."
Interestingly, Love Island winners Ekin-Su and Davide chose the very day Paige dropped her bombshell to officially tell their millions of followers that they were moving in together; which is either a coincidence, a confirmation, or a double bluff.
It was also the same day they released a video telling their fans they were OVER the endless "rumours" peddled out on social media and in the press.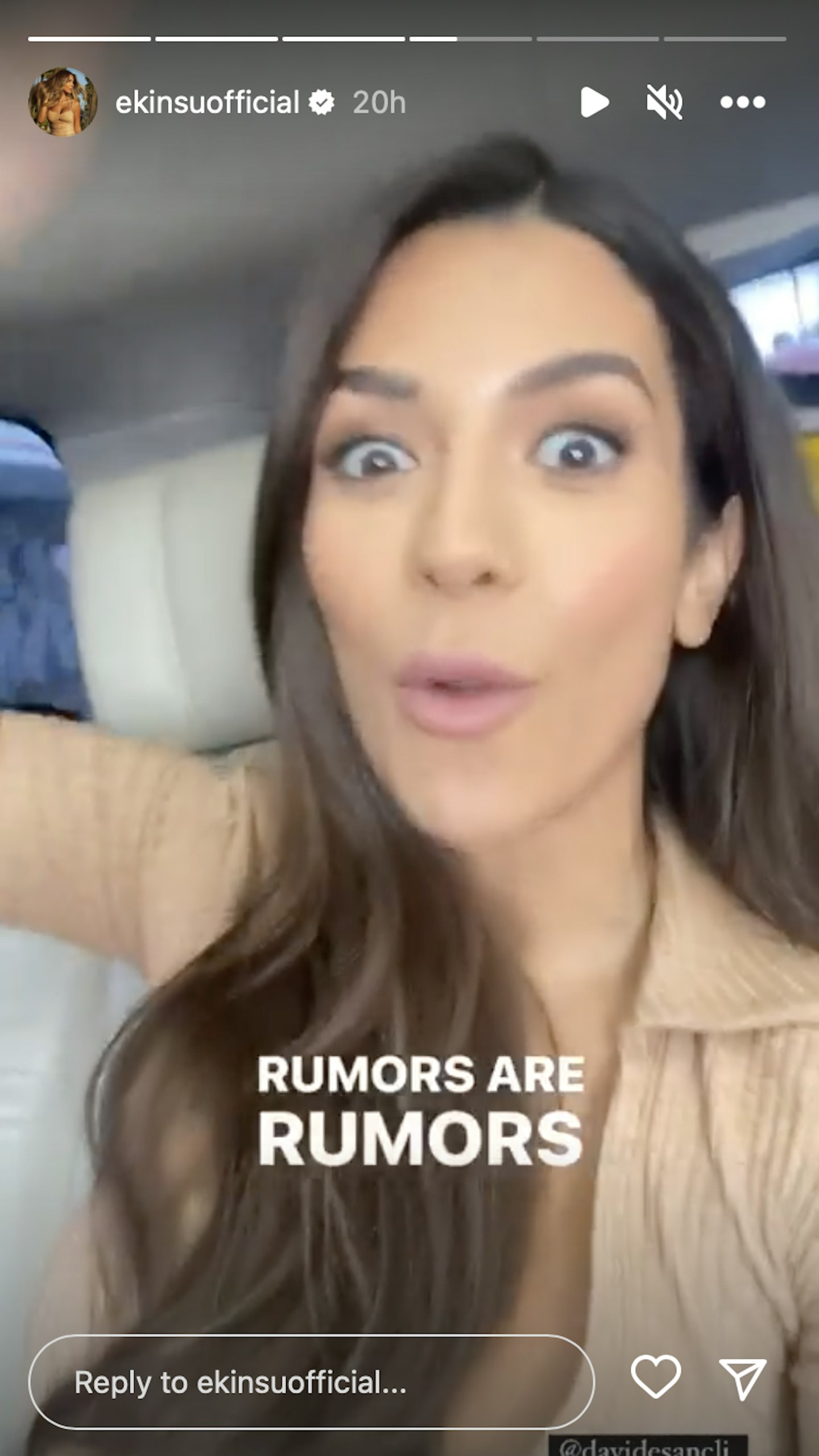 The couple were crowned Love Island 2022 winners in August in a landslide victory, but the pair were kept apart for the majority of August and September, with Ekin-Su shooting the campaign for her Oh Polly collection in LA.
While she was away, the couple were rocked by cheating rumours when Davide was caught on camera getting into a cab with two women following a night out in London. While there's no suggestion anything happened between them, fans couldn't help but speculate about the status of Ekin-Su and Davide's relationship.
The soap opera actress turned reality star spoke out about the video for the first time back in September and it turns out there's absolutely nothing to worry about. PHEW.
Ekin-Su said, "I mean those videos, we know it's not true because I was talking to him the whole night. You know the relationship is between me and him and people like to talk.
"The truth behind that is it wasn't just him, it was a big group, and it just happened to be two girls in a taxi with him and his friend and it just looked wrong, thats all it was."
"And you know I trust him, he didn't cheat, and he's my man," she added to Goss.ie.
WATCH: 'I Ain't Proposing!' Ekin-Su & Davide Play Mr & Mrs
LISTEN: The heat 7 AKA our new podcast is here and it's LIT