It's fair to say that when Brooklyn Beckham falls for someone, he falls pretty hard and that's exactly what happened when he met Nicola Peltz. Within nine months, David and Victoria's eldest son had proposed and the smitten pair are forever declaring their love for each other on social media with heartfelt messages and photos. And if matching tattoos weren't enough, they've even had their wisdom teeth turned into his and hers necklaces.
But while Brooklyn and Nicola, 26, might think it's all very romantic, their constant displays of affection have attracted a lot of ridicule and we're told Brooklyn's mum Victoria is worried about her son being mocked and thinks they should tone it down. We're told that even though she knows how in love they are and that Nicola is the perfect match for Brooklyn, like any mum, she can't help worrying about the way they are being perceived – and the pressure it could put on their relationship.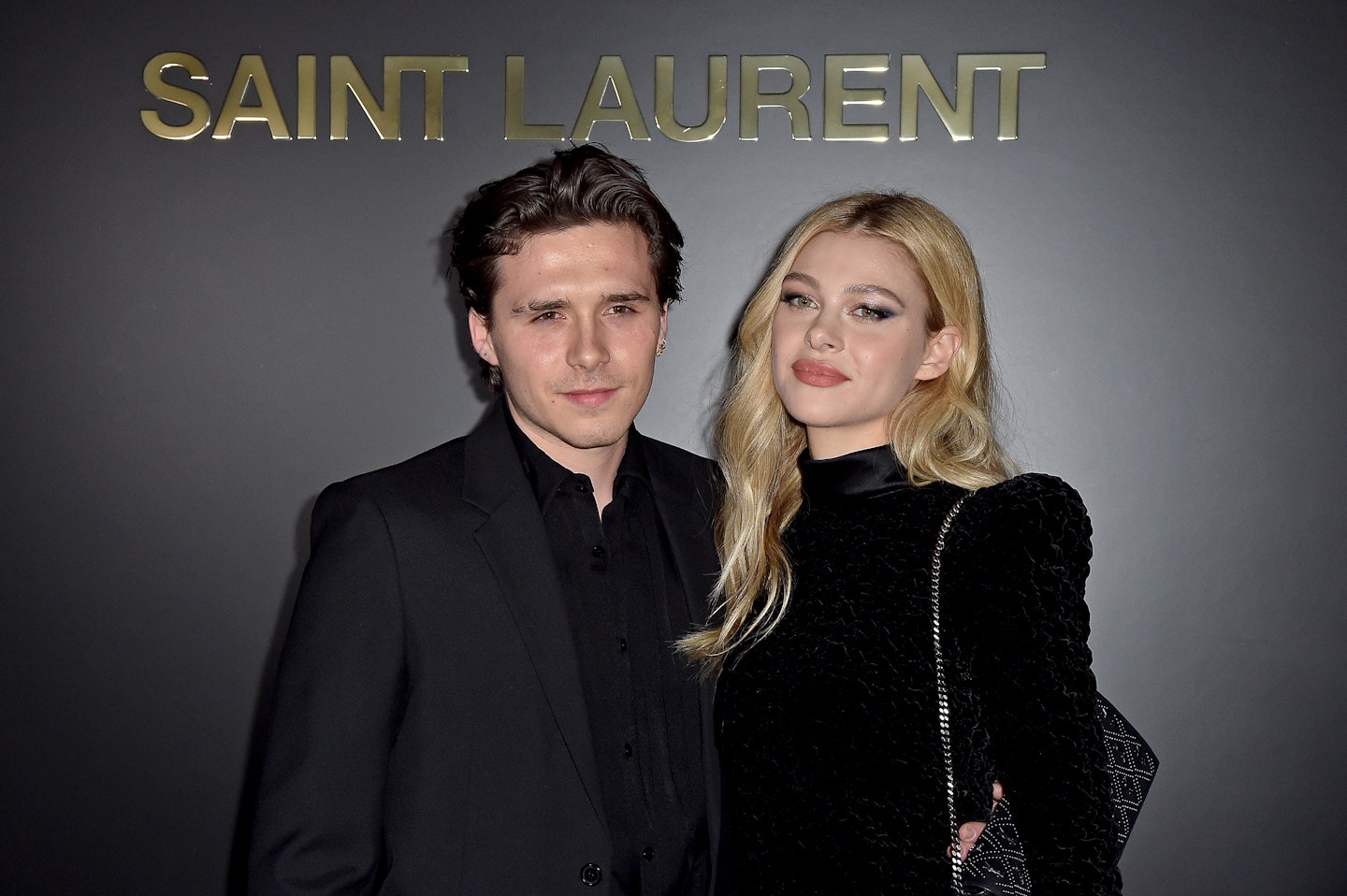 "If they keep going like this, Vic is worried that Brooklyn and Nicola could be in burnout mode by the time they get married," an insider tells heat. "Of course she thinks all their PDAs are cute, but they are very intense, and she's worried that they are sharing far too much of their relationship and going overboard with the grand romantic gestures. It's not just the wisdom tooth necklaces, it's the endless declarations of love on social media, the tattoos and OTT statements. Vic is a romantic herself, but even she feels that her son needs to rein it in a bit."
The source continues, "She's warned him that this honeymoon period won't last. She's also worried that Brooklyn is throwing everything into this relationship, and could struggle to cope if things went wrong, so he needs a back-up plan. However, she knows how much they love each other and all the family want this to succeed – they're so excited for Nicola to become a Beckham."
Brooklyn began dating actress Nicola in October 2019 and it didn't take them long to make things Instagram official and for the online PDAs to start. On their anniversary, Brooklyn posted a picture of them in the bath together and wrote, "I cannot wait to grow old with you and start a family with you. Love you so much," and Nicola commented, "I more than love you Brooklyn." On Valentine's Day, he gushed, "I will forever be so grateful and the happiest man in the world to call you mine and will always make you smile because you have the most gorgeous smile."
CHECK OUT Victoria and David Beckham's love story from the start
Relationship Timeline: Victoria And David Beckham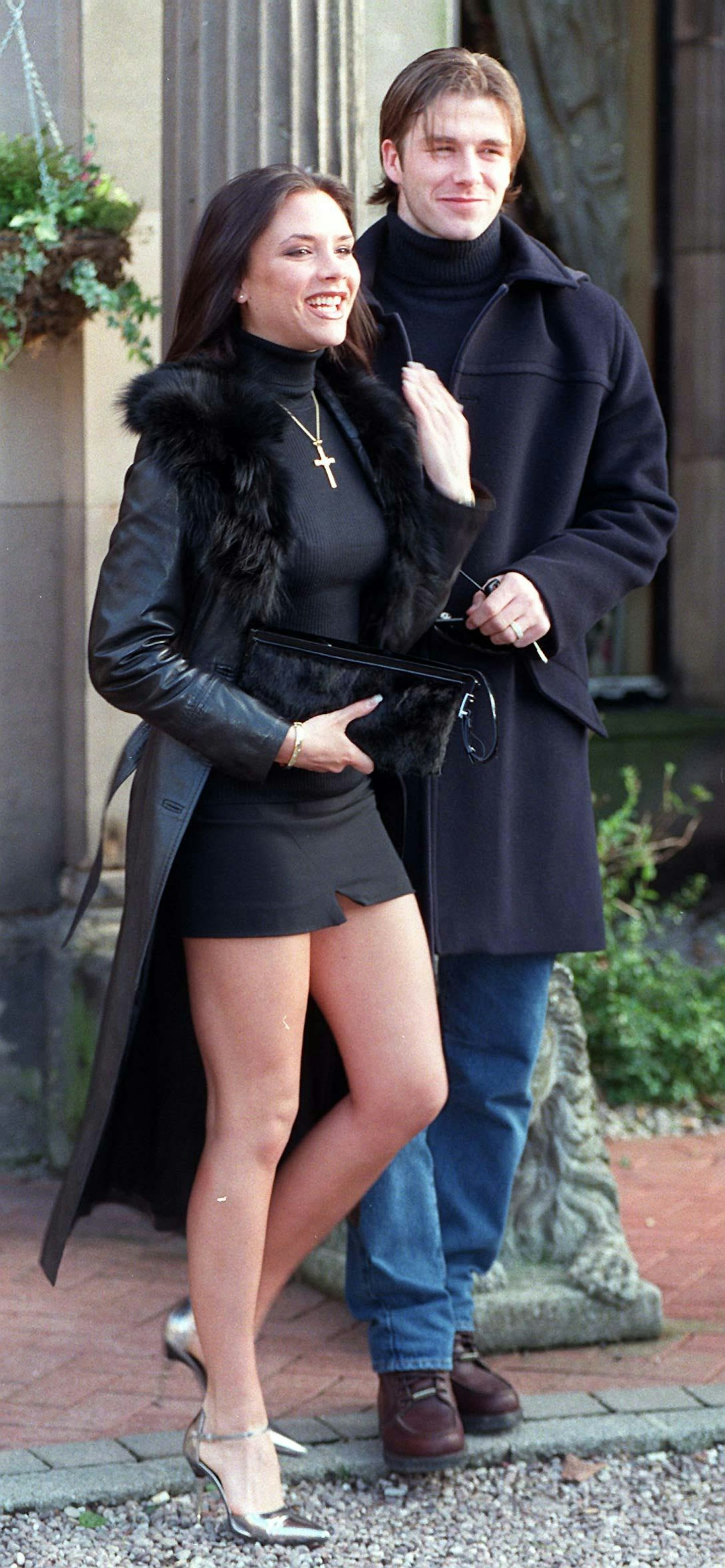 1 of 29
1998
The happy couple moments after their wedding announcement.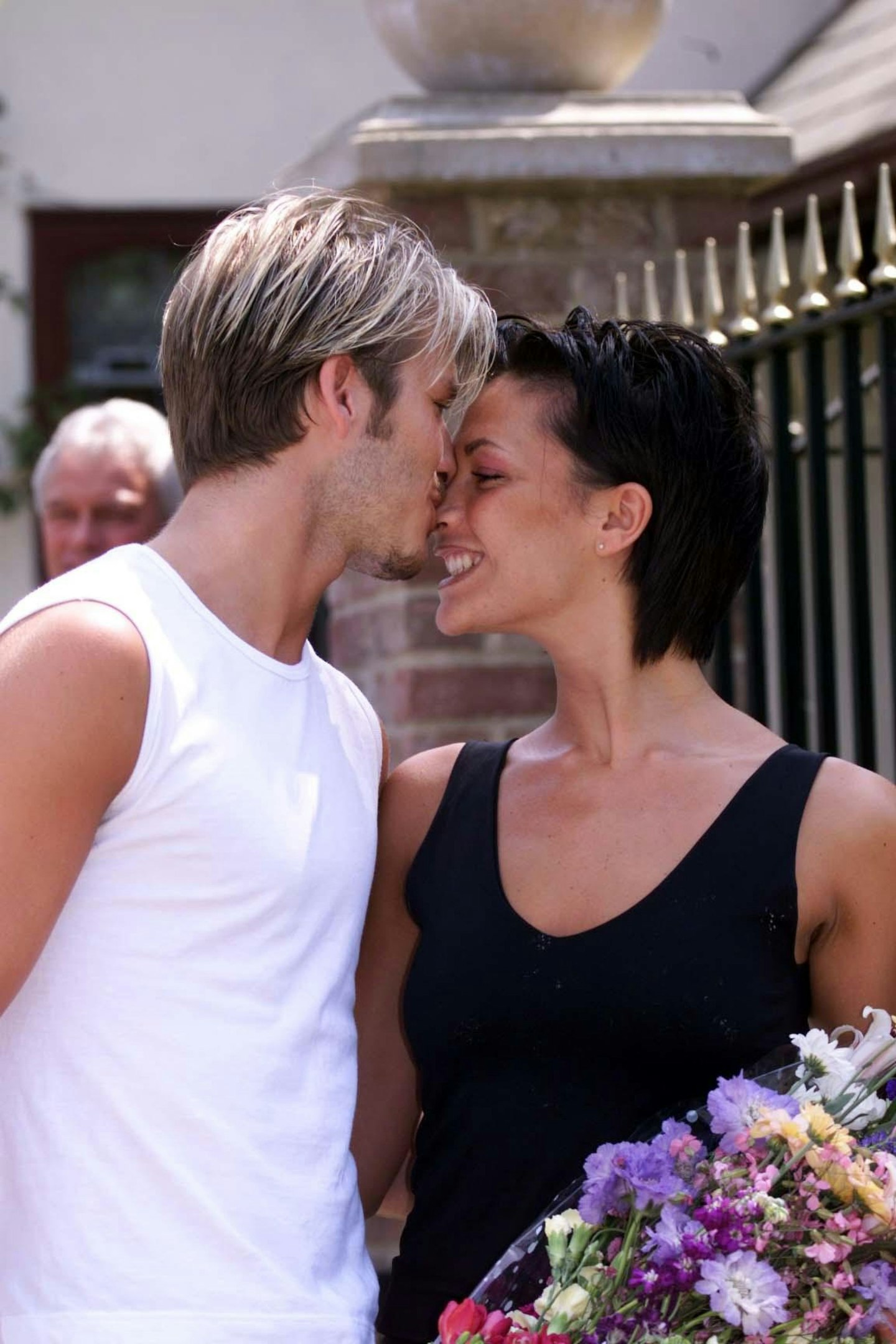 2 of 29
1999
David and Victoria share a moment before flying to Ireland to get married.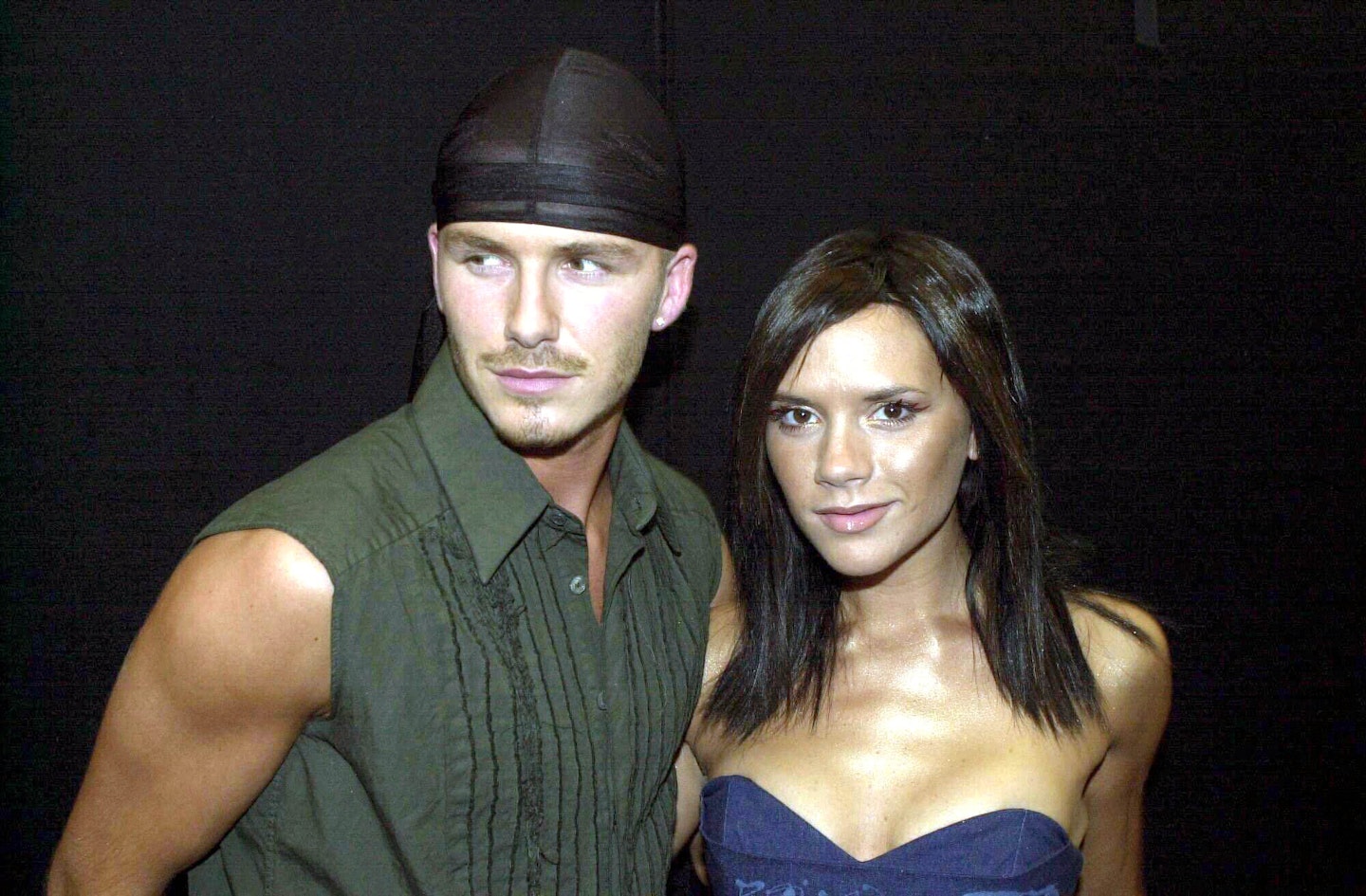 3 of 29
2000
See here, the infamous durag David chose to wear to meet Prince Charles.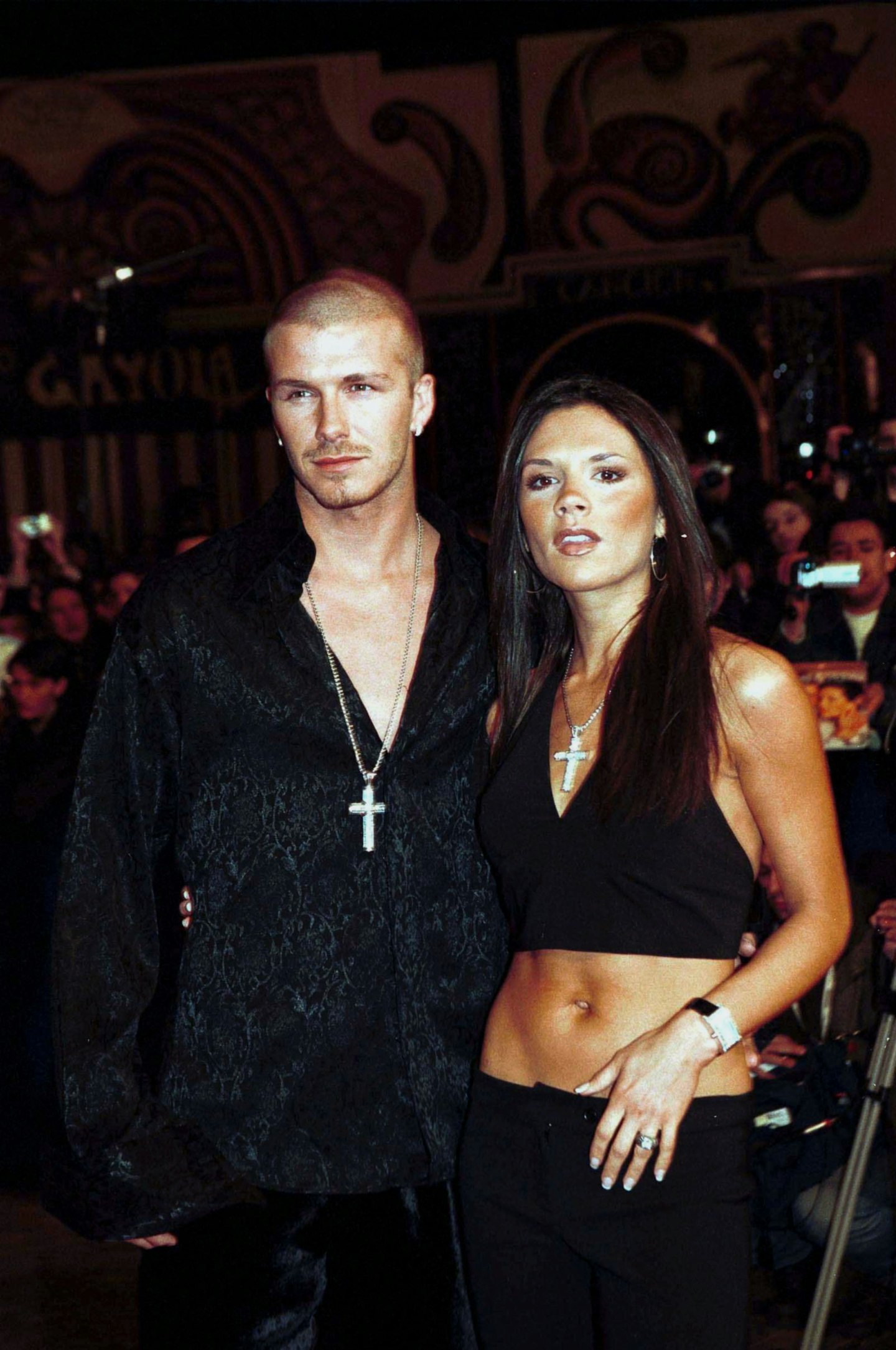 4 of 29
2001
The Beckhams always did couple dressing well, right down to the matching chunky cross chains they wore to the NRJ music awards.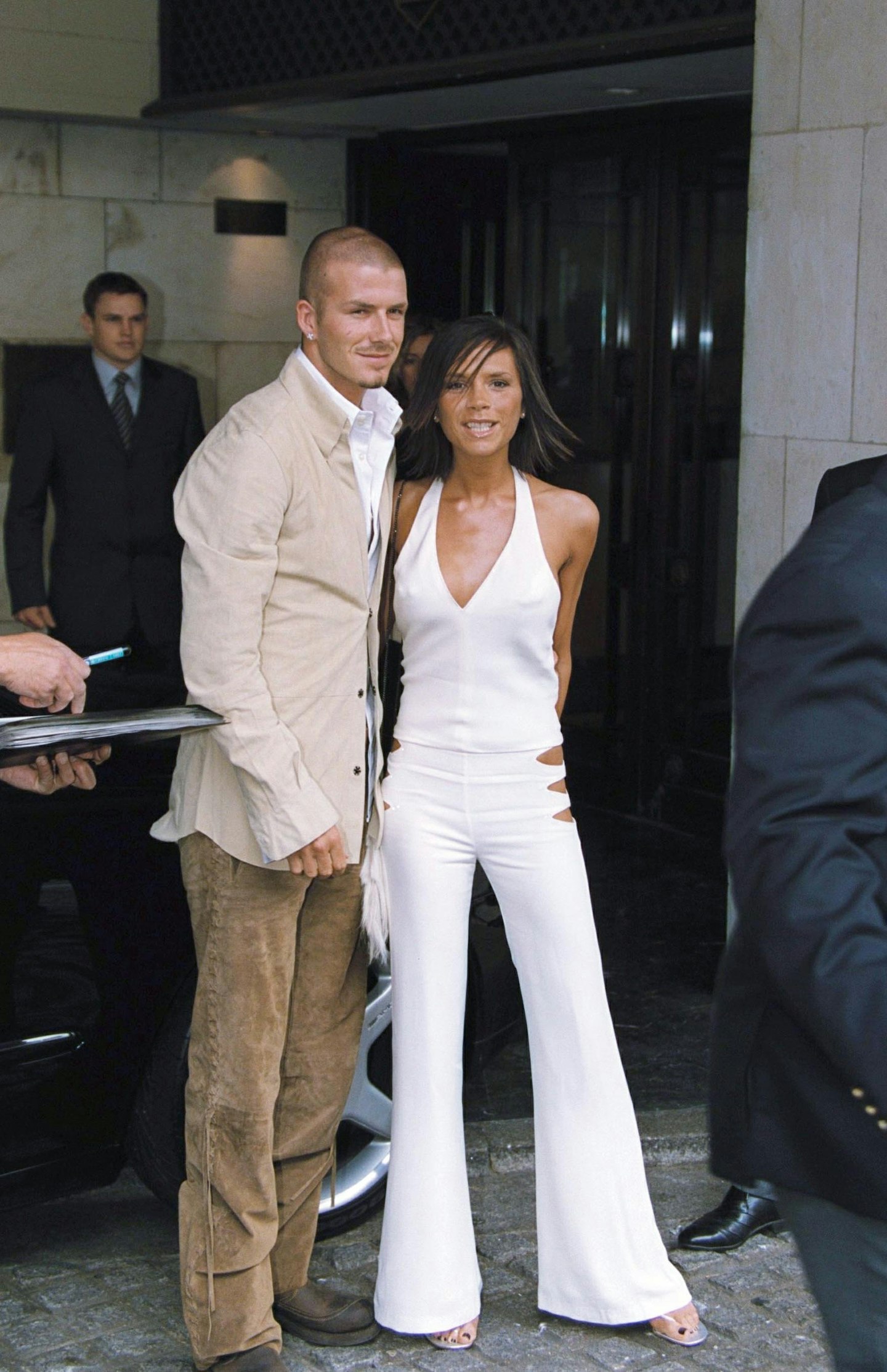 5 of 29
2001
Spotted at the 2001 Silver Clef Awards.
6 of 29
2002
Another memorable style moment when the Beckhams attended David Furnish's 40th birthday at Jewel bar in London.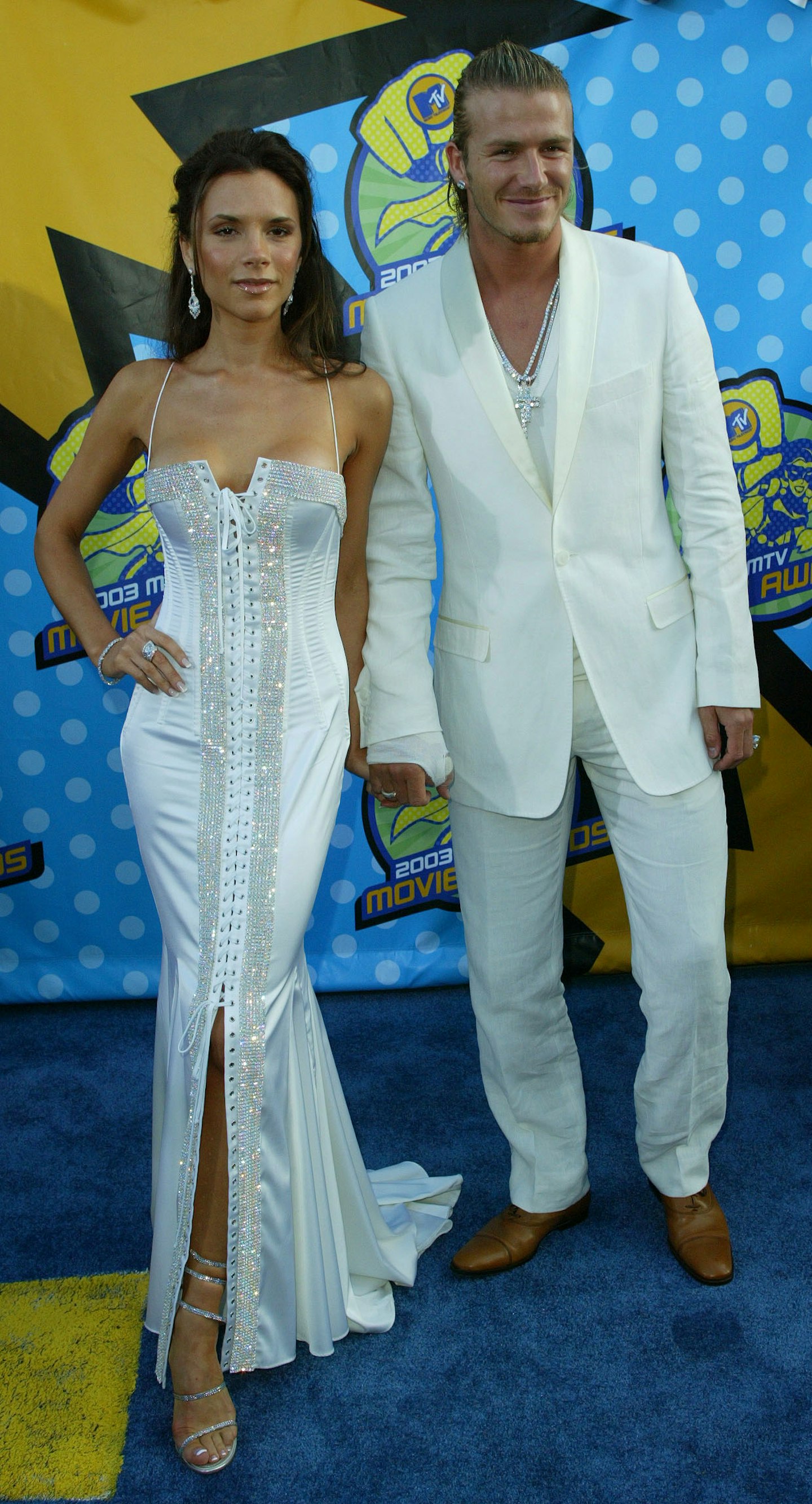 7 of 29
2003
The MTV music awards was a bejeweled highlight for the pair.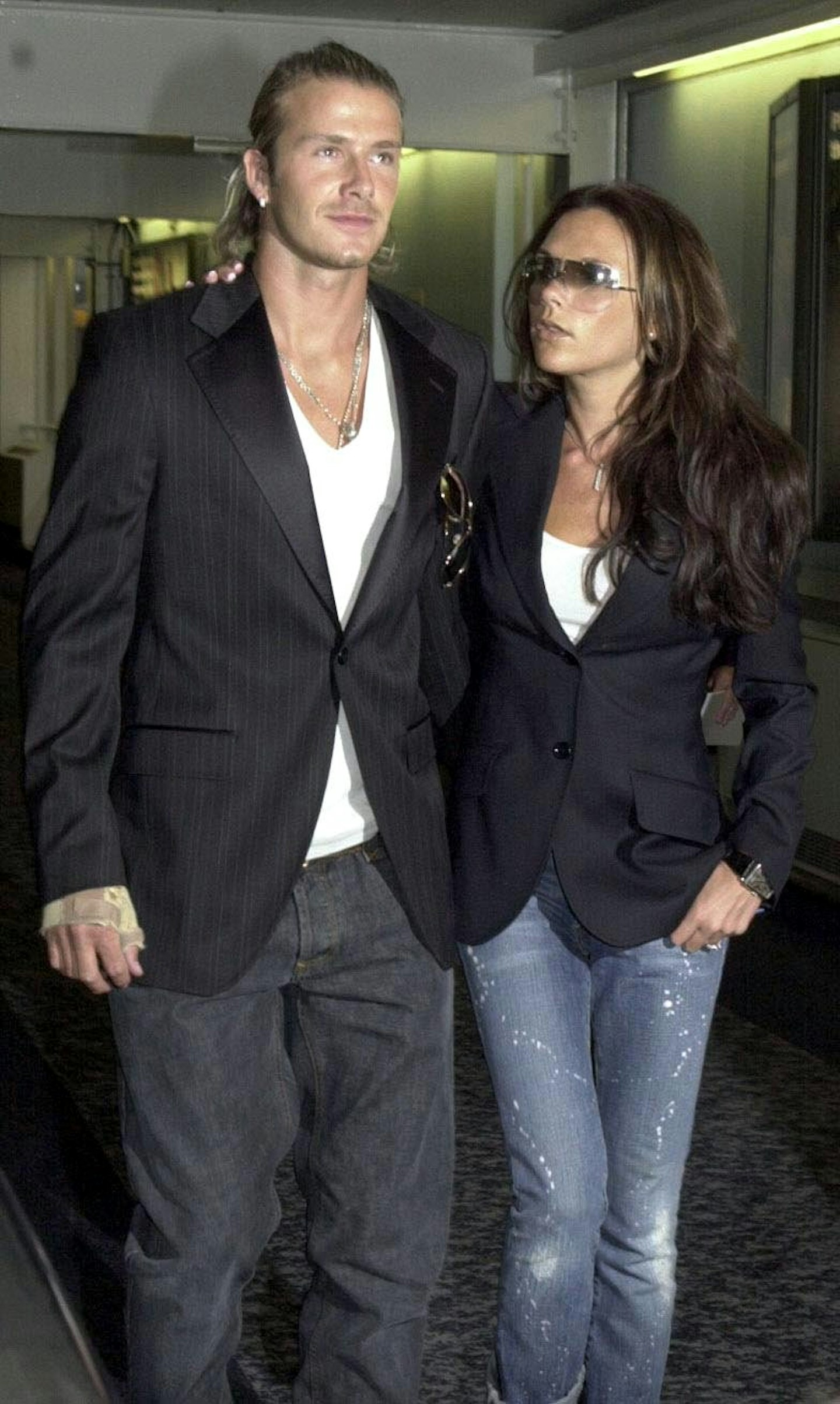 8 of 29
2003
And this is why the 'black blazer and a pair of jeans' look was such a thing...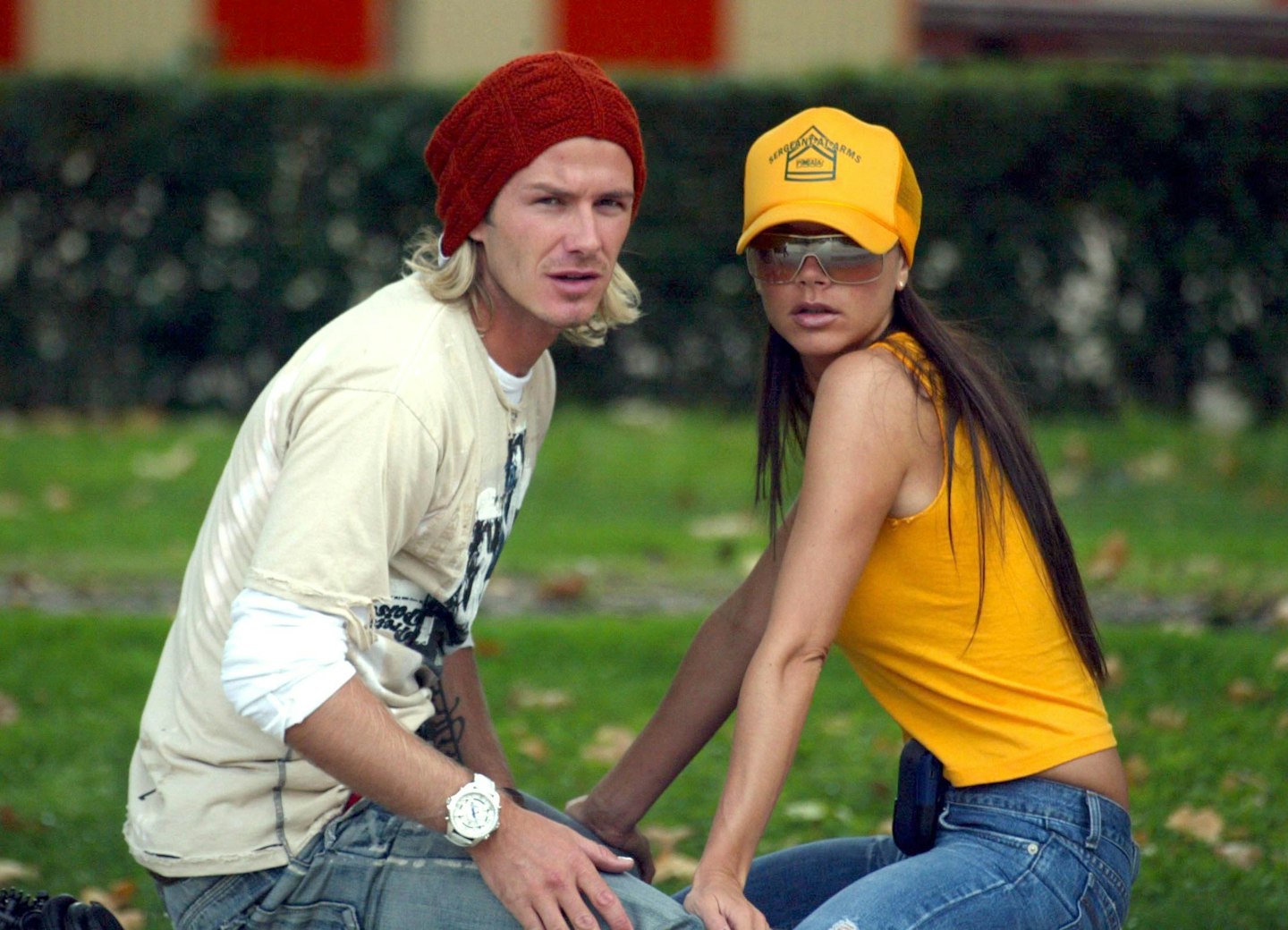 9 of 29
2003
Remember when the Beckhams moved to Spain? It was the early development of David's affection for beanies.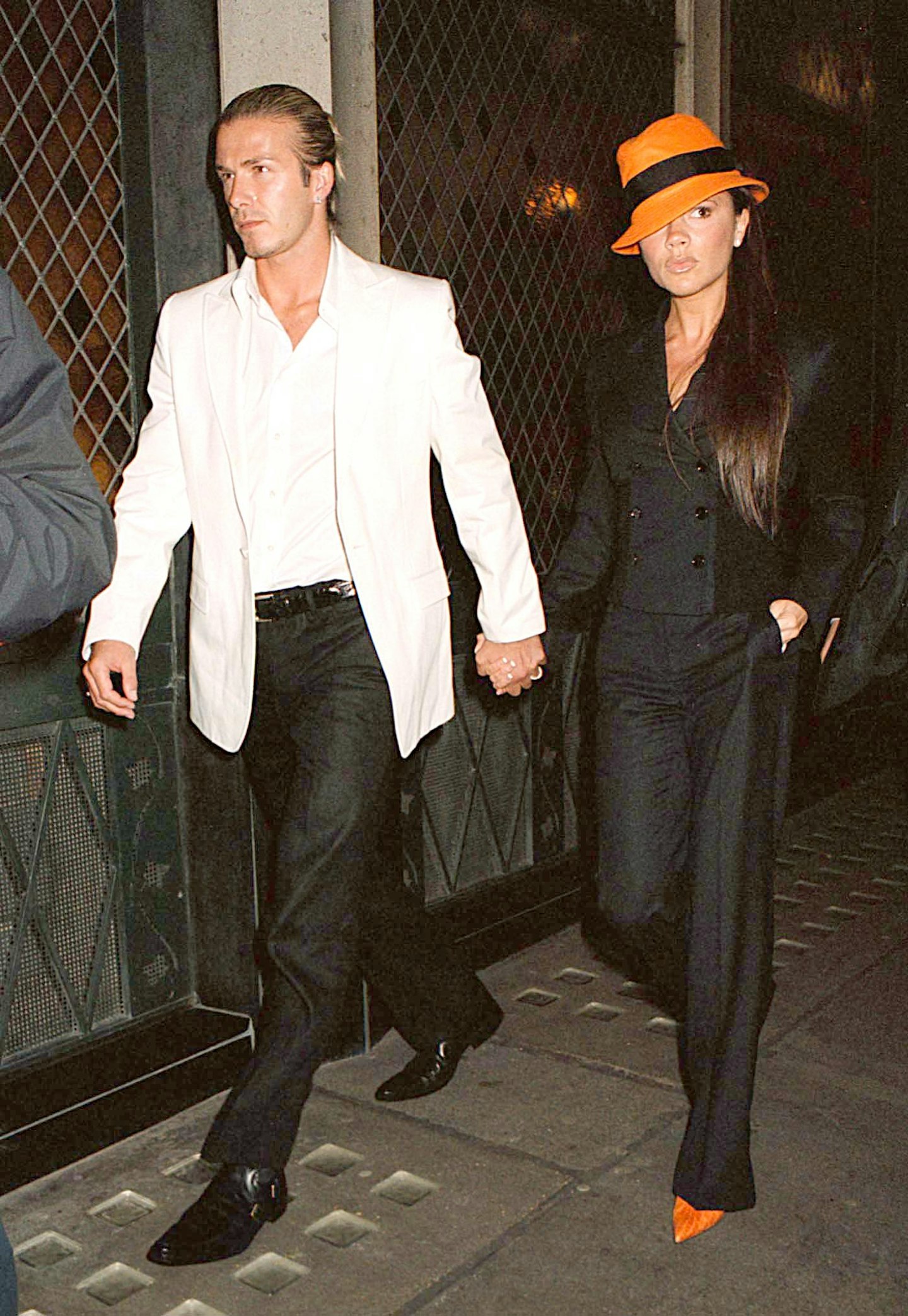 10 of 29
2003
Victoria and David had dinner at the Ivy in London .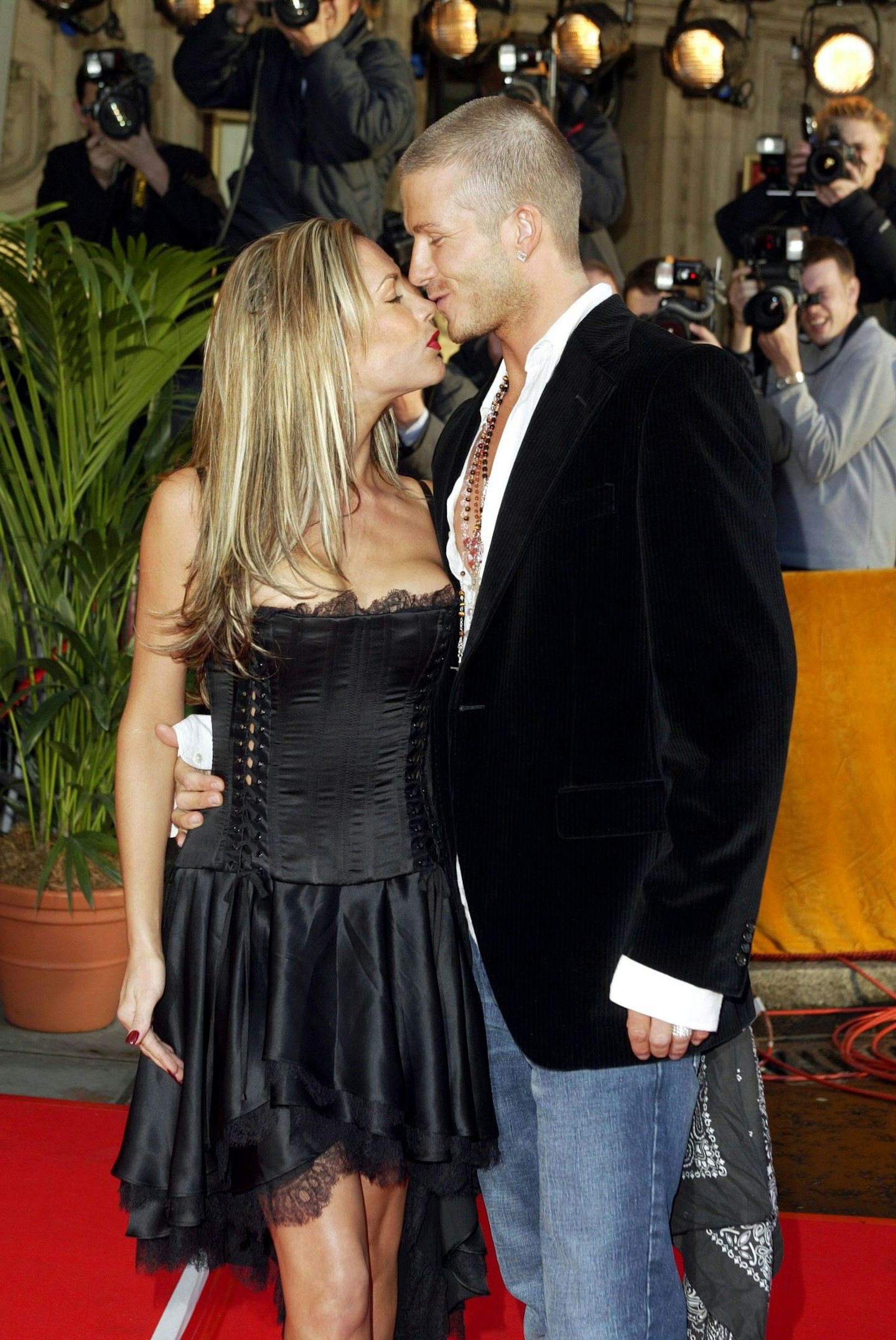 11 of 29
2004
At the 19 Management's 19th birthday party David and Victoria shared a sweet moment on the red carpet.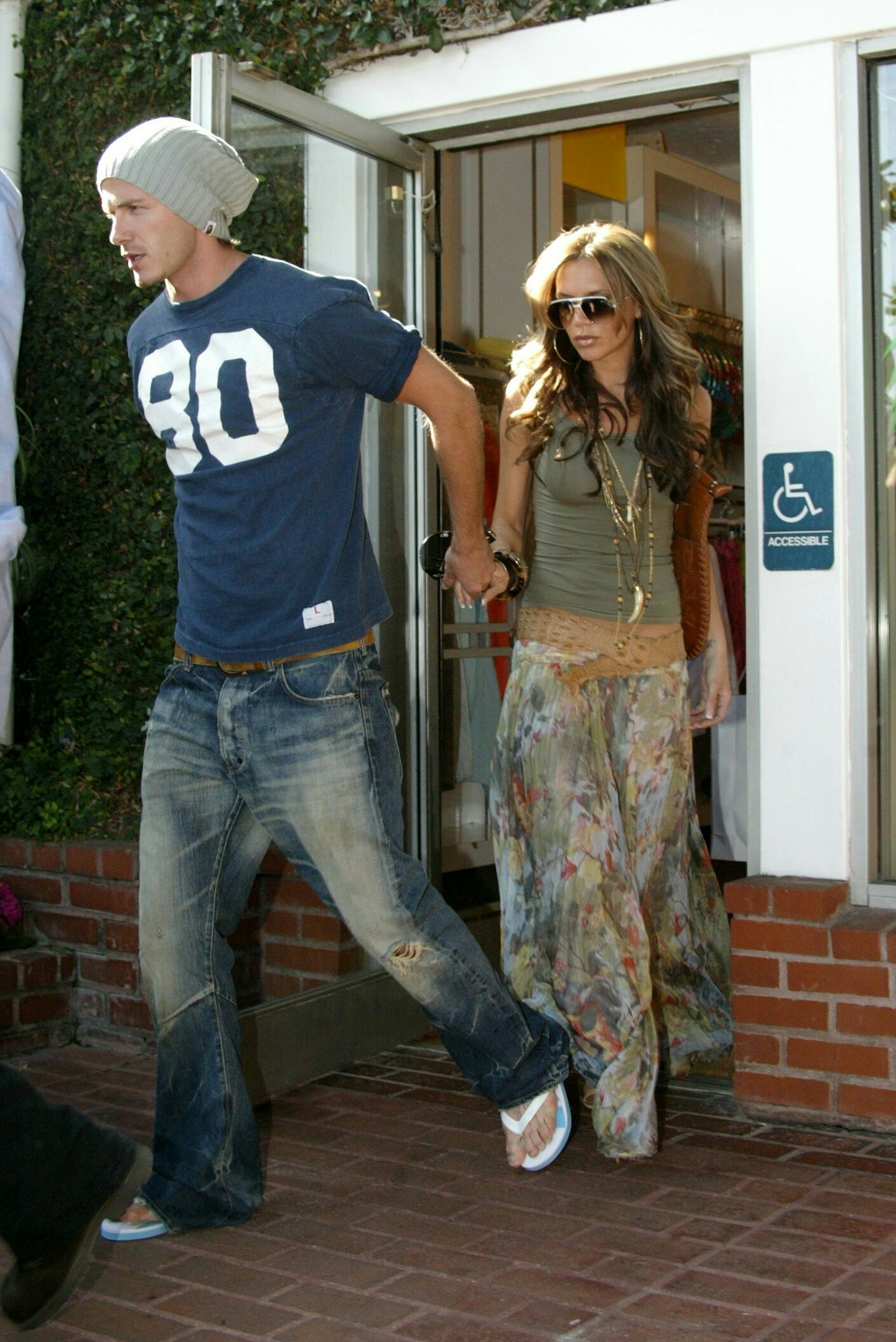 12 of 29
2005
The beanie returned in L.A. As did Victoria's fleeting appreciation for bohemian-inspired styling.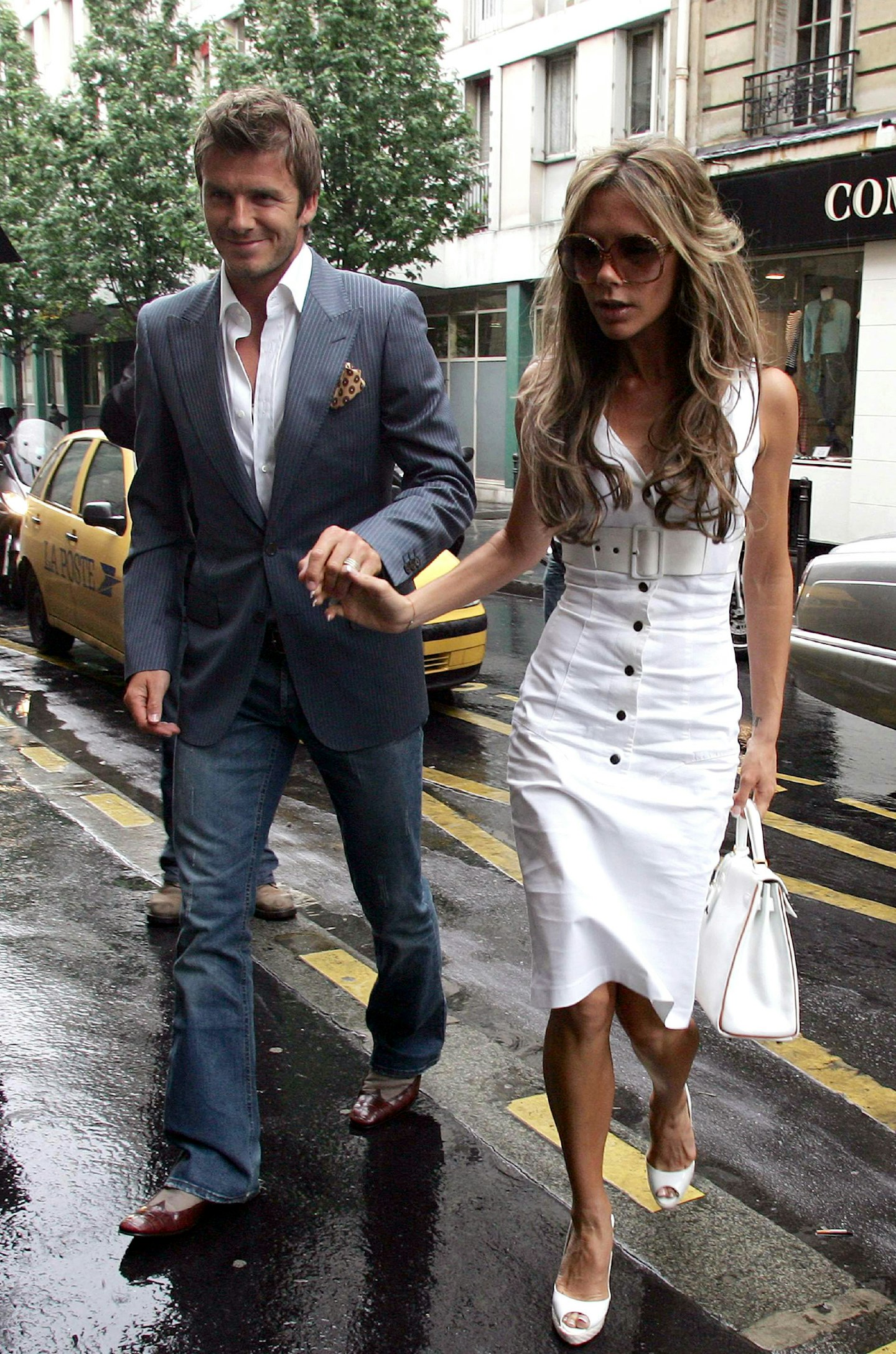 13 of 29
2006
The Beckhams were pictured on a shopping trip in Paris.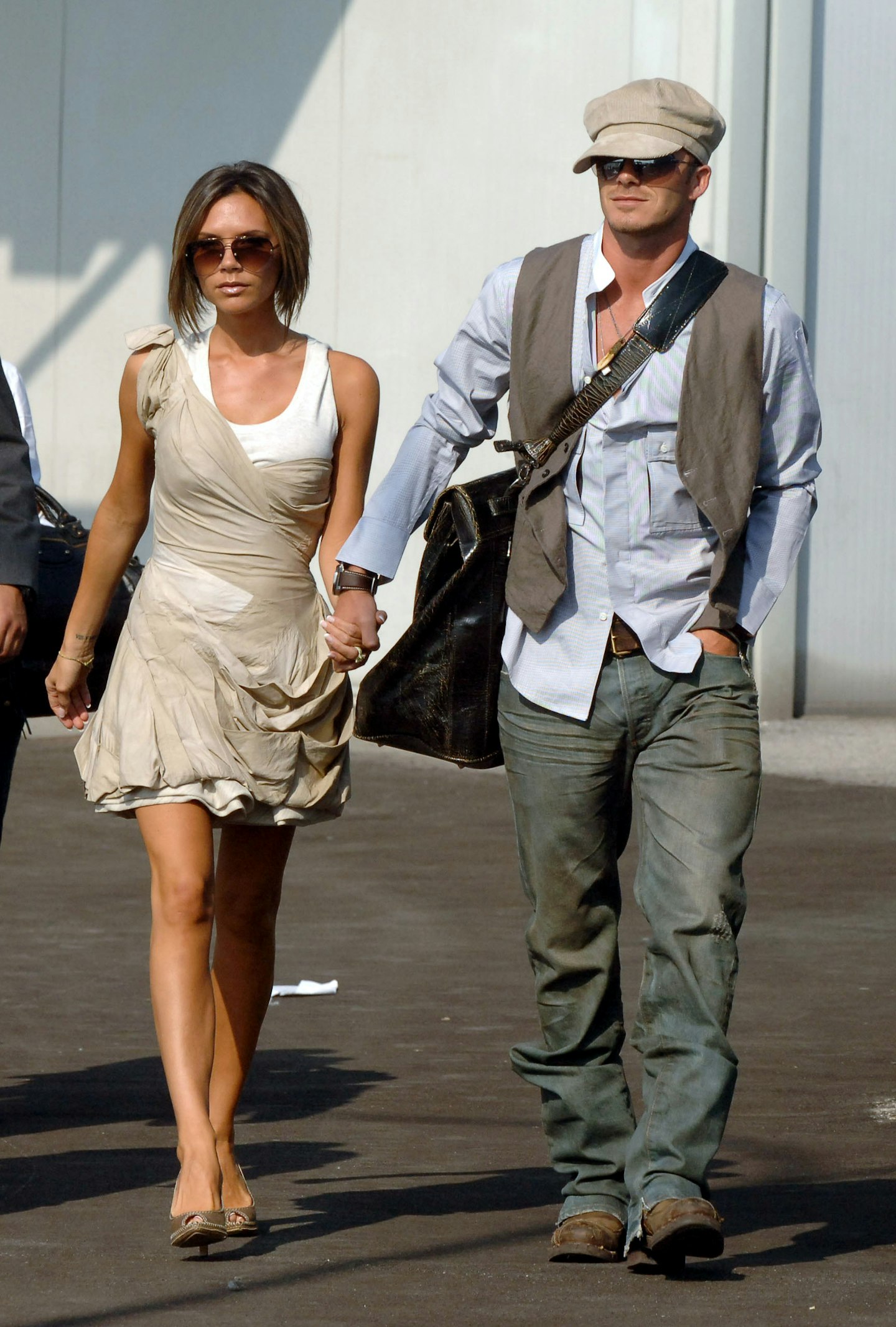 14 of 29
2006
Another memorable style moment for the Beckhams as they arrived in Venice.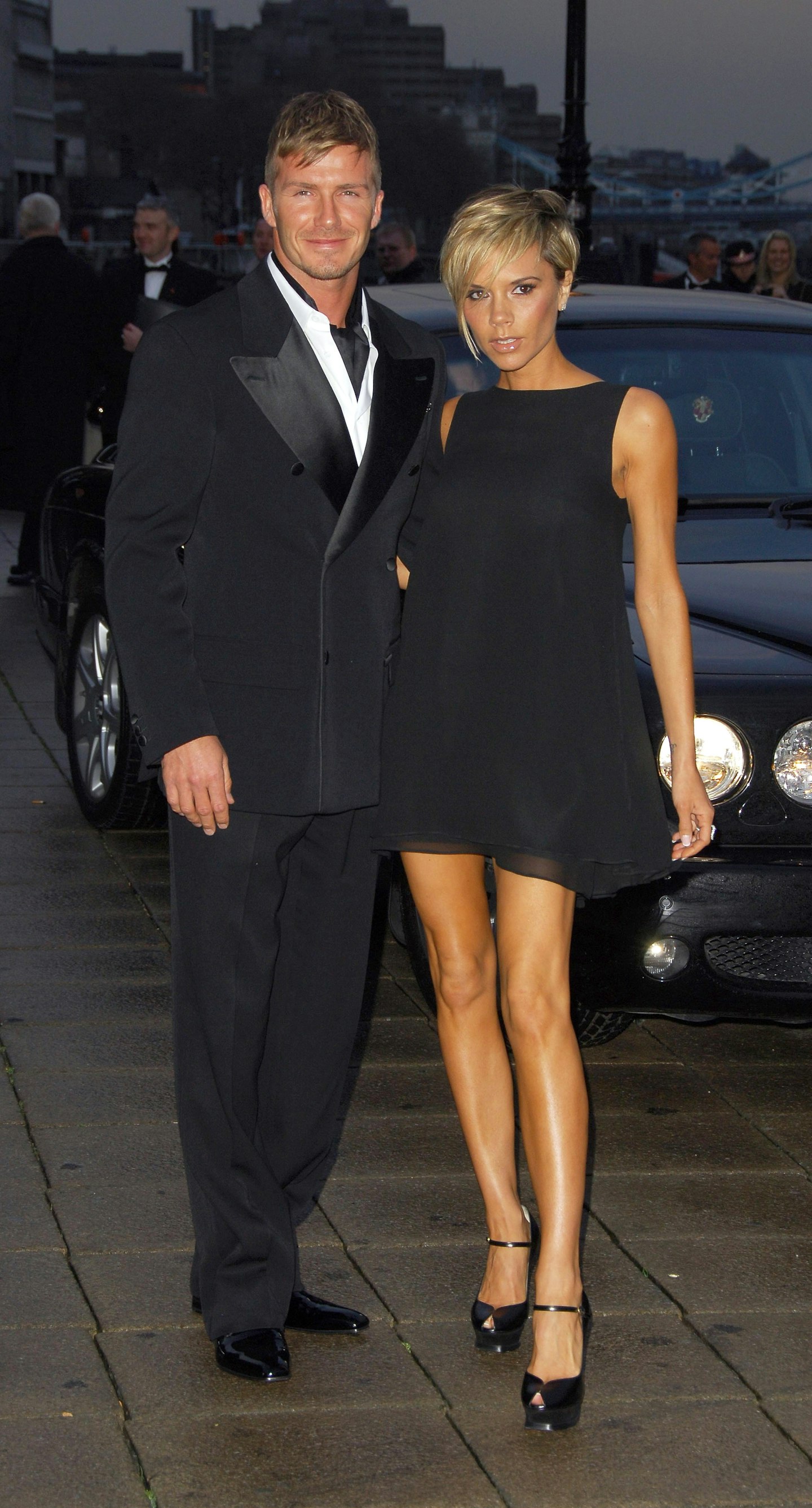 15 of 29
2007
If anyone were to resurrect the nickname 'Posh and Becks', this image of the pair at the Sport Industry awards is probably one of the ones that comes to mind.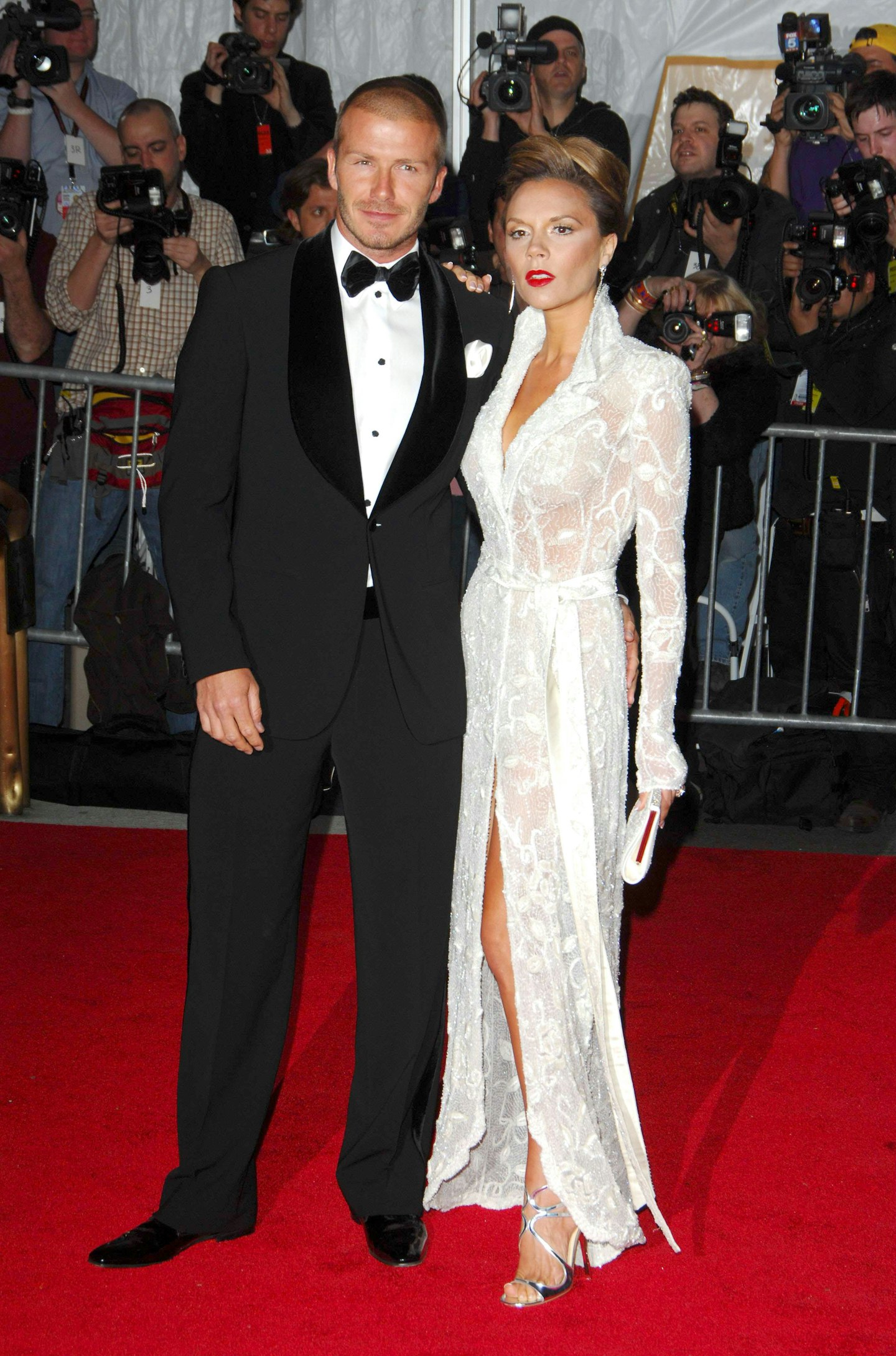 16 of 29
2008
David and Victoria hit the red carpet at the superhero-themed Met Gala.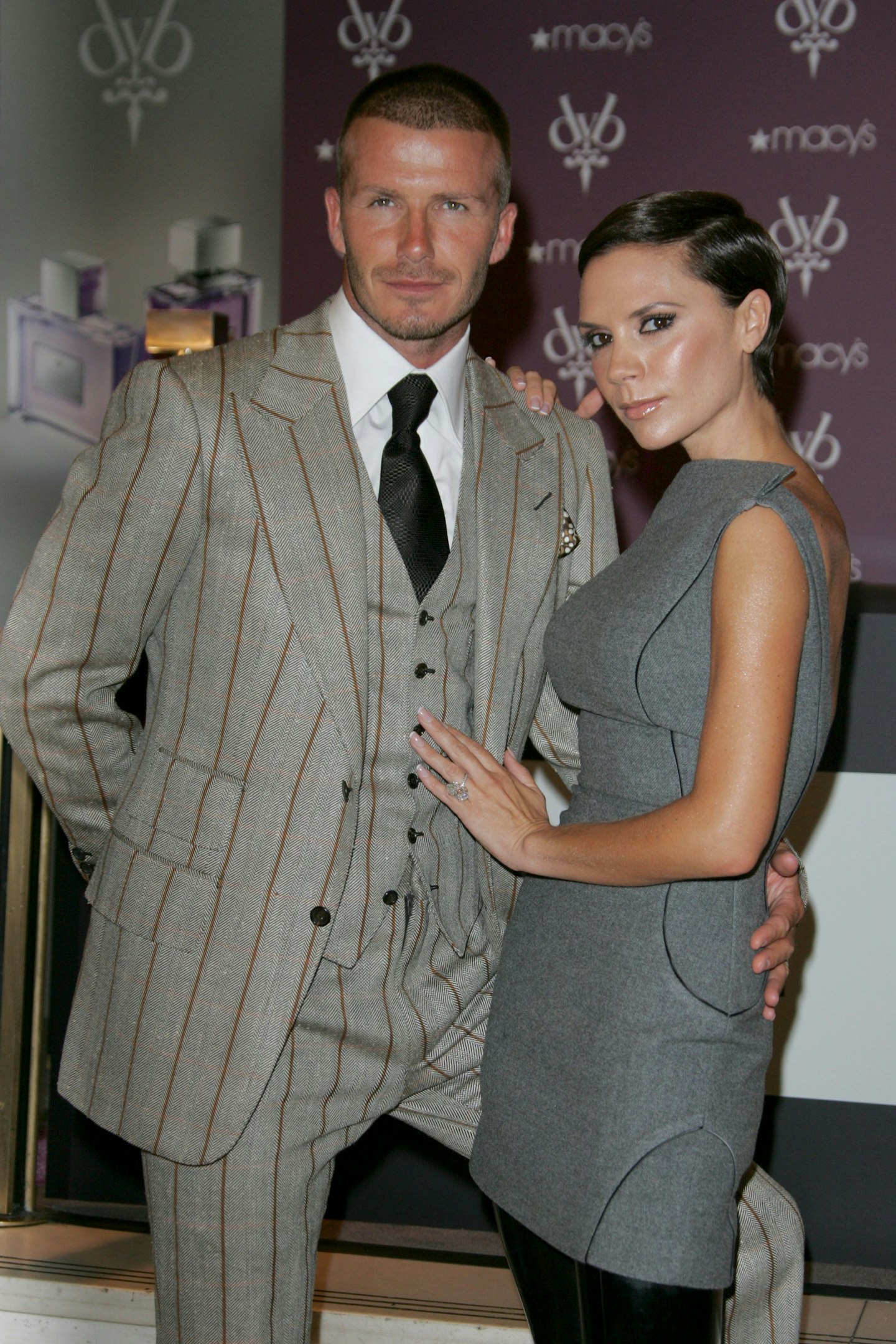 17 of 29
2008
A formal look for the New York launch of the couple's his and hers perfume, 'Signature.'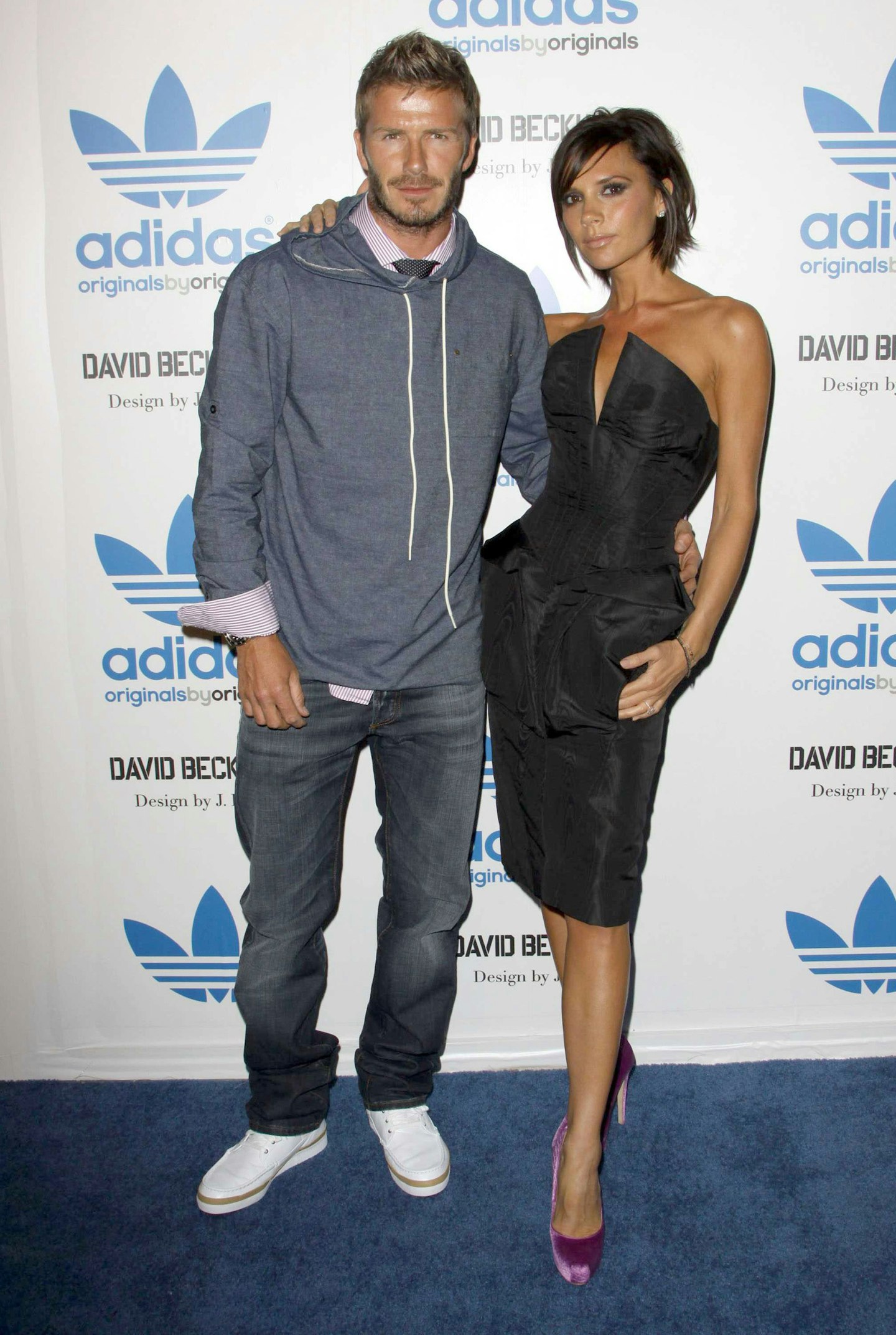 18 of 29
2009
The couple launched a collaboration with Adidas, one of their first fashion partnerships.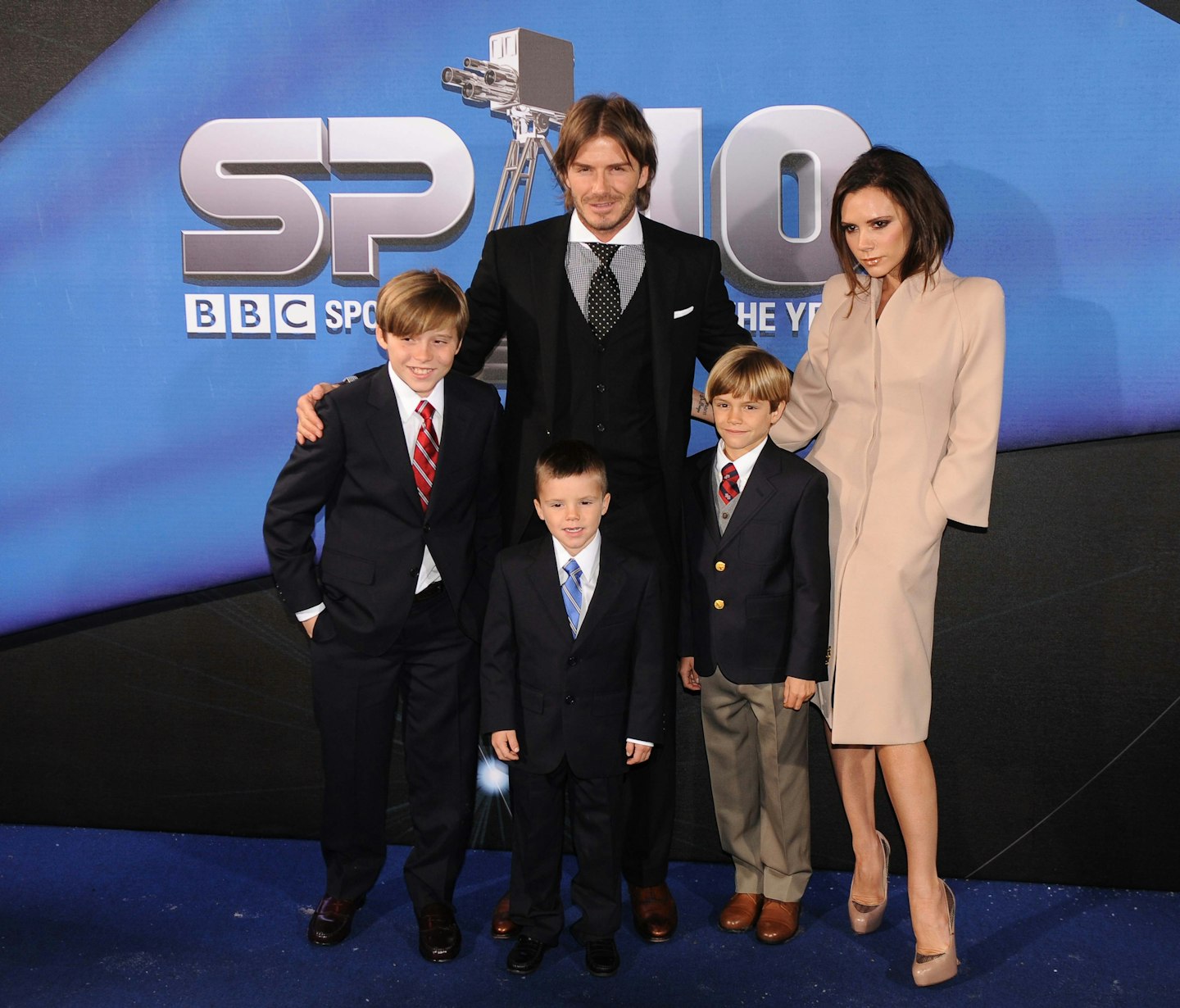 19 of 29
2010
David, Victoria, Brooklyn, Romeo and Cruz scrubbed up for the BBC's Sports Personality of the Year awards.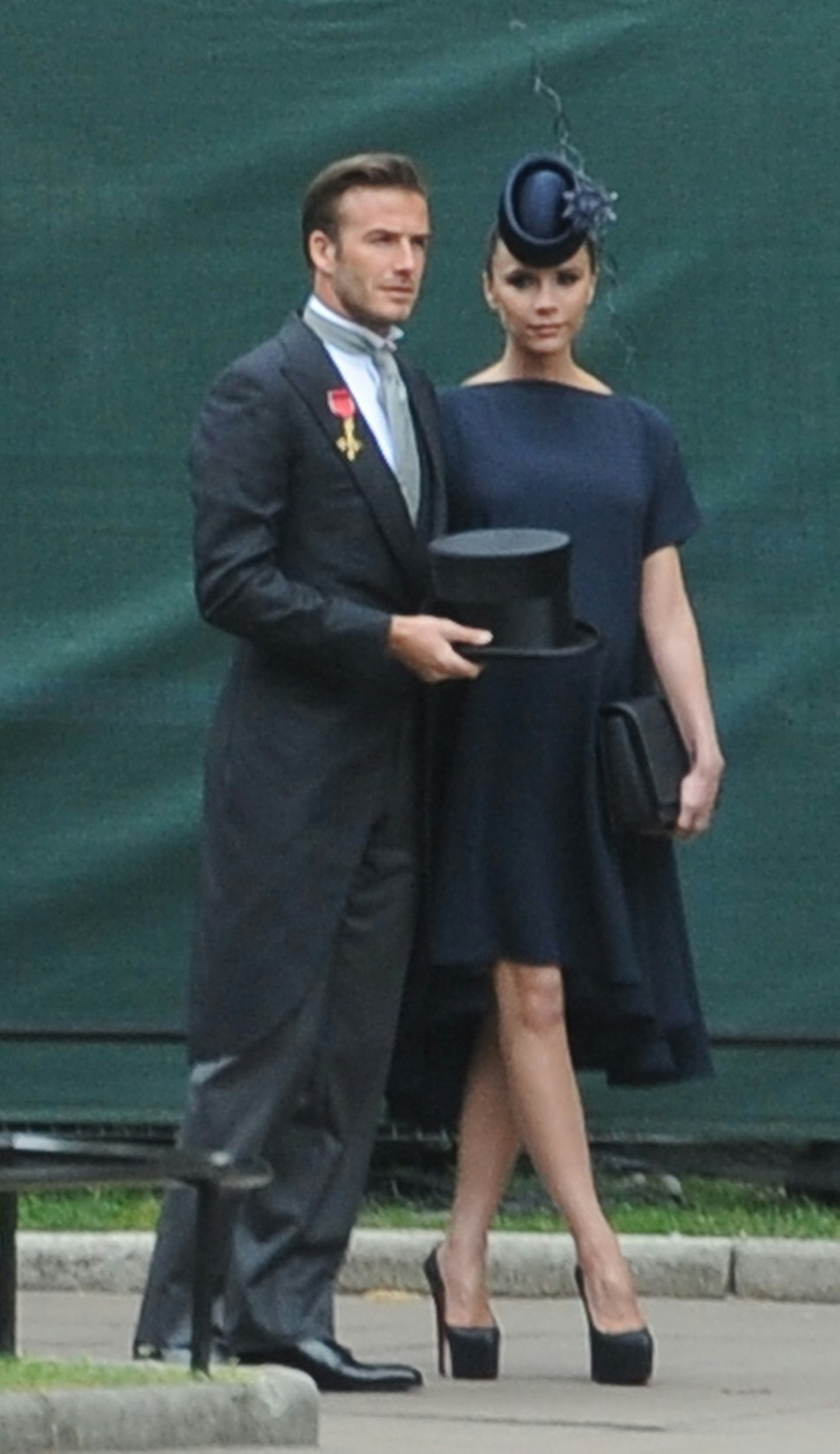 20 of 29
2011
The couple were invited to the royal wedding of Prince William and Kate Middleton.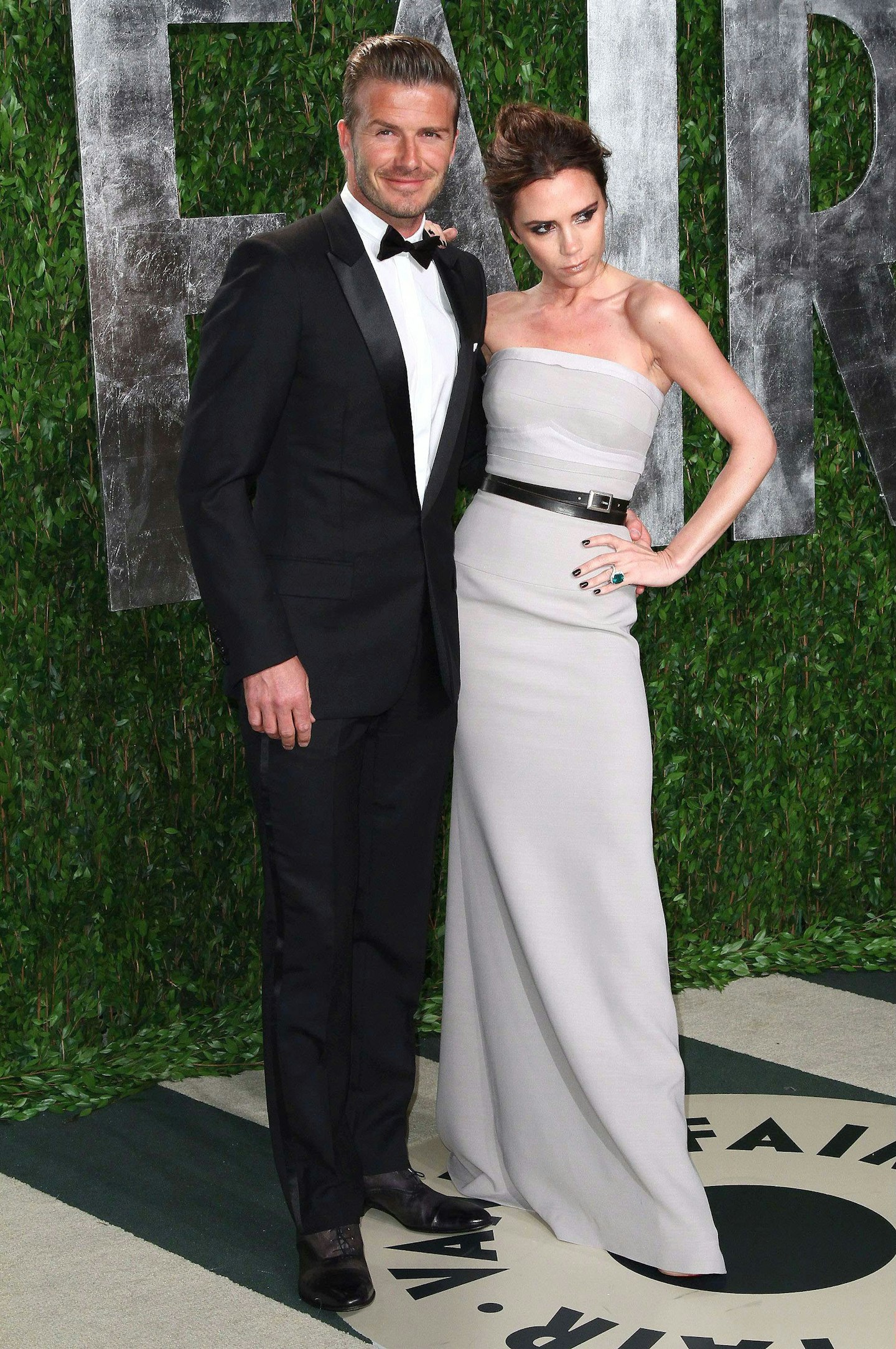 21 of 29
2012
Victoria wore a dress from her own collection for the Vanity Fair post-Oscars bash.
22 of 29
2012
The whole family (minus baby Harper) supported Victoria at the West End launch of the Spice Girls musical, Viva Forever.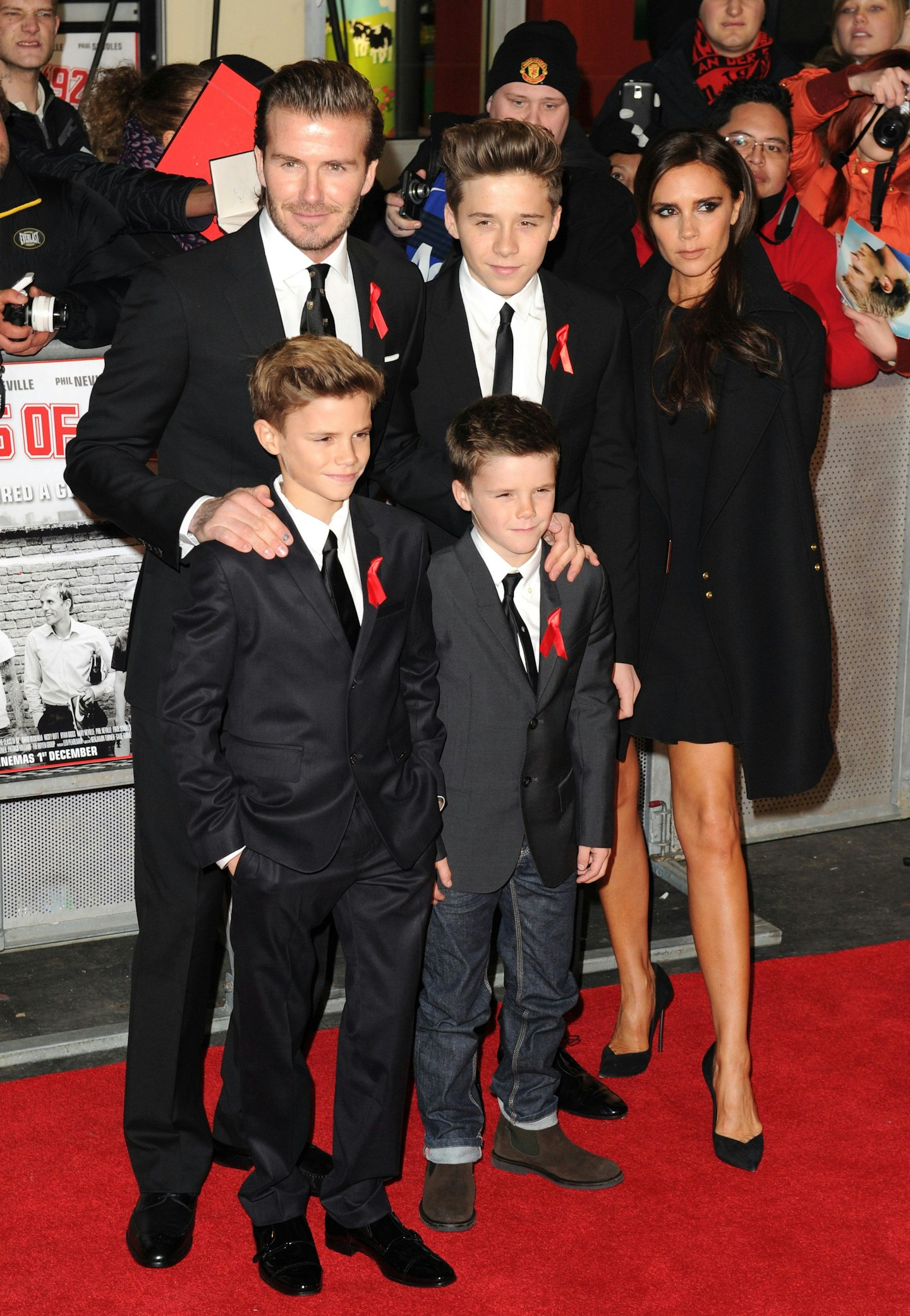 23 of 29
CREDIT: Shutterstock
2013
The Beckhams attended the premiere of The Class of 92 en famille.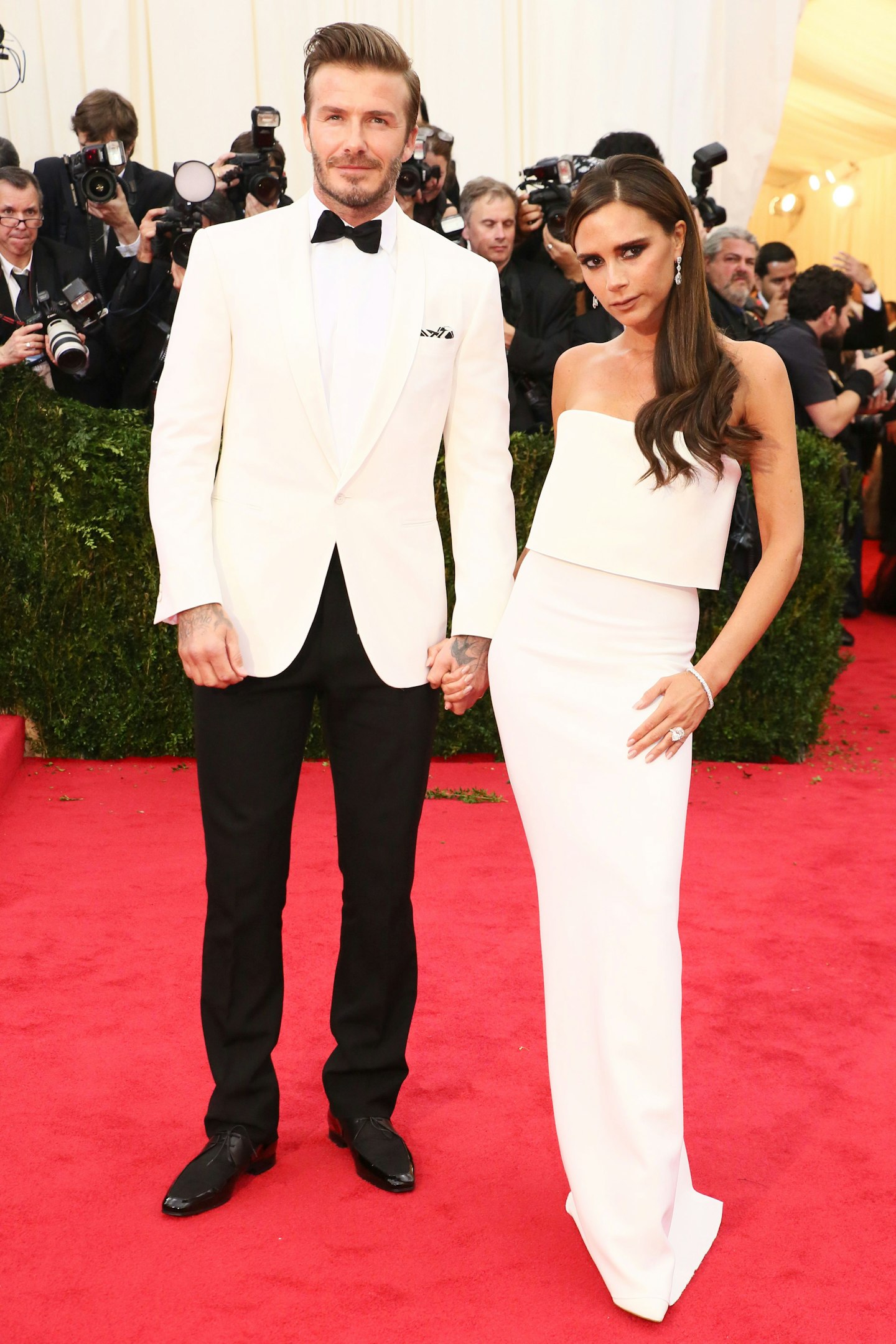 24 of 29
2014
David and Victoria returned to the steps of the Met in 2014, bringing back their matchy-matchy couples aesthetic with these white outfits.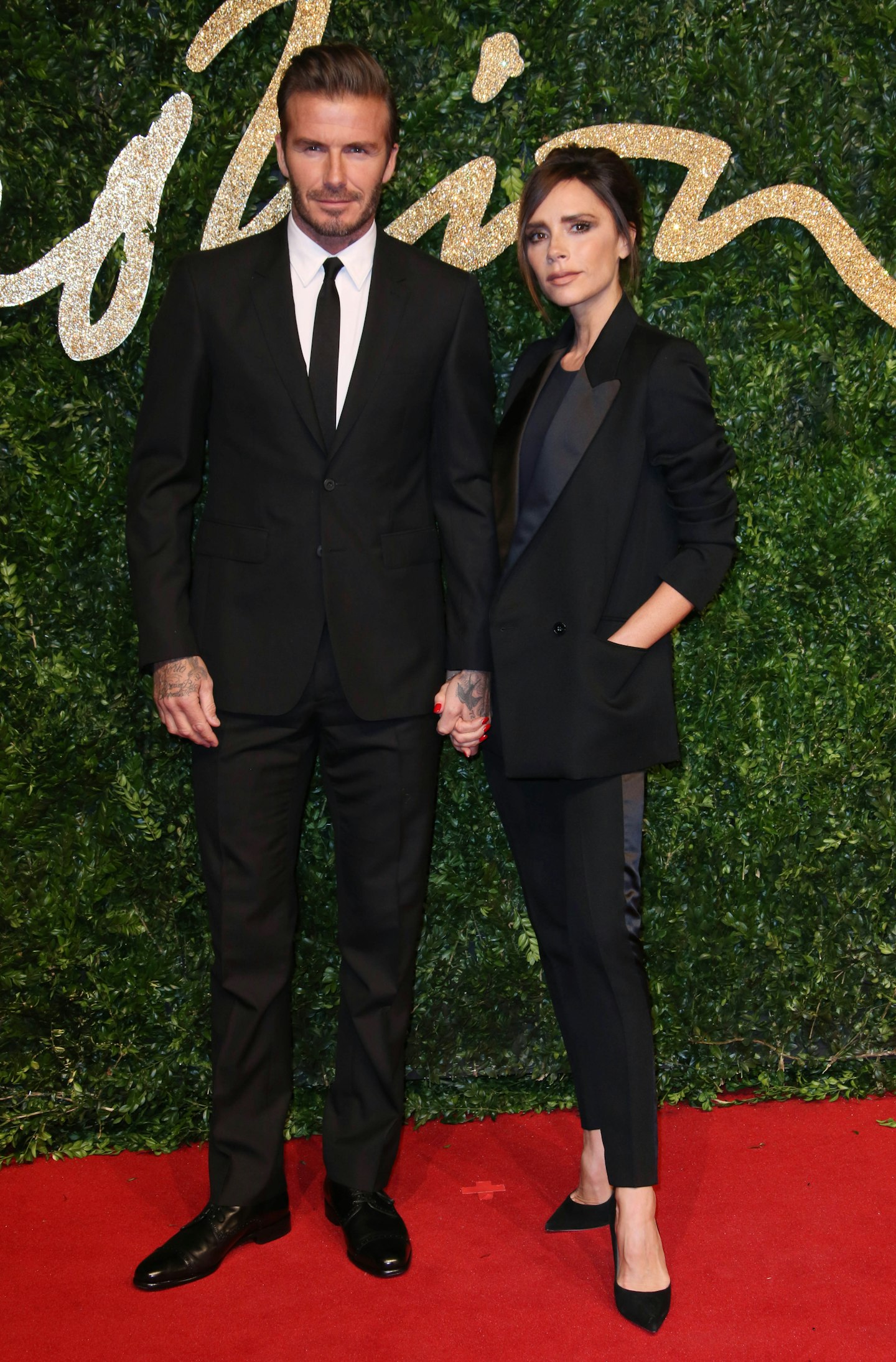 25 of 29
2015
Attending the British Fashion Awards.
26 of 29
2016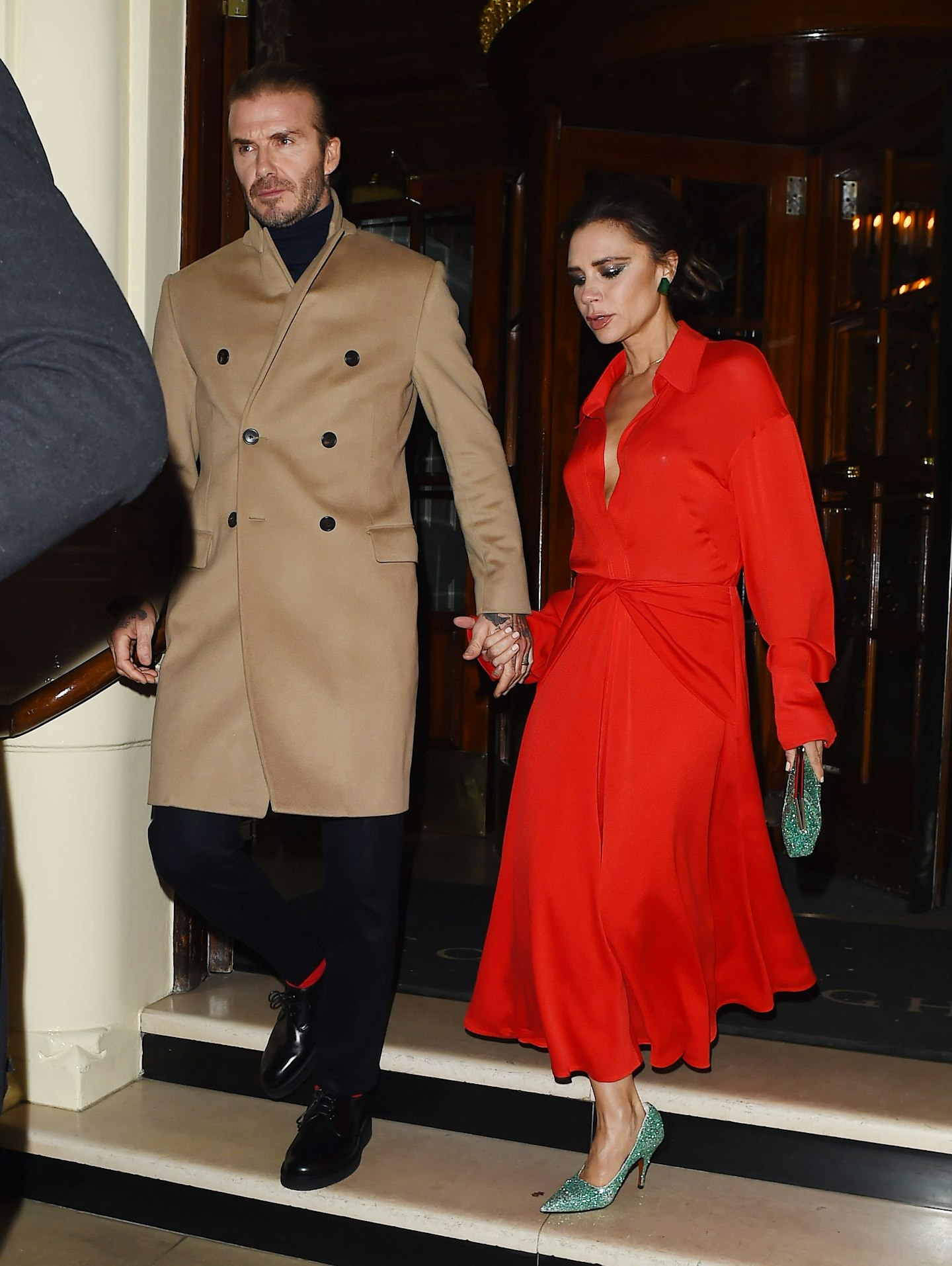 27 of 29
2017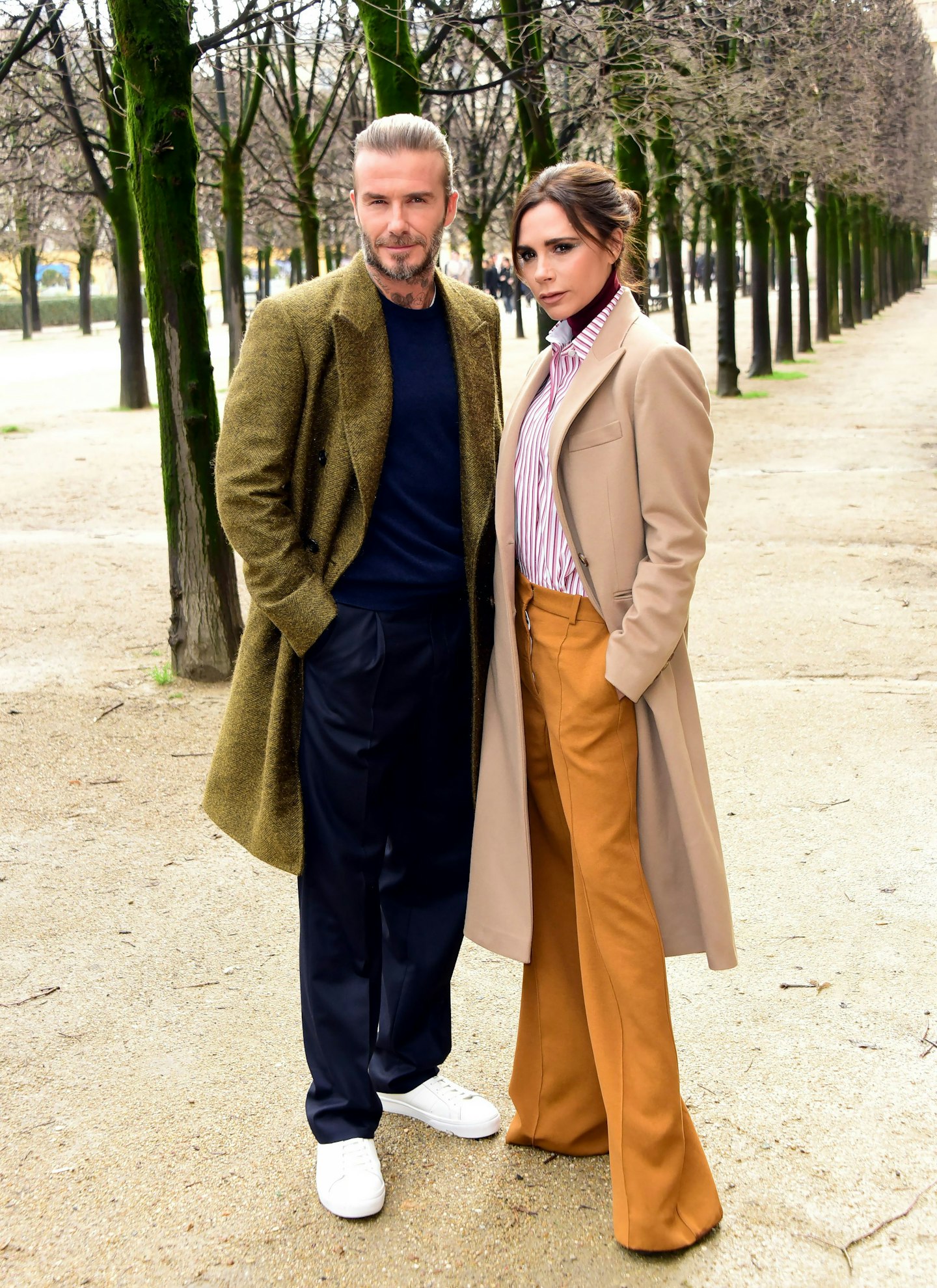 28 of 29
2018
Looking chic at the Louis Vuitton show.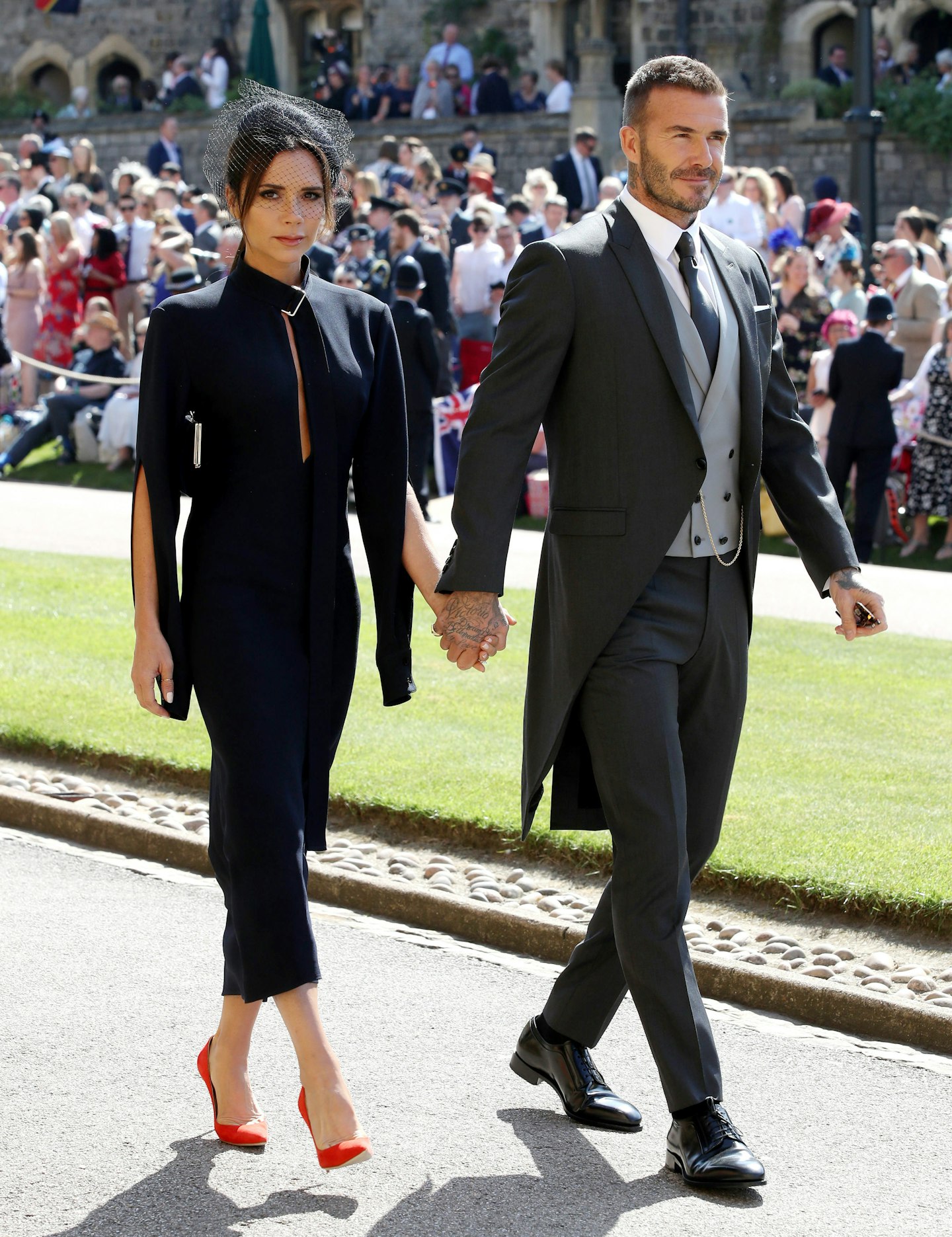 29 of 29
2018
David and Victoria were guests at Prince Harry and Meghan Markle's Windsor wedding.
Last month, Nicola revealed she had turned their wisdom teeth into gold plated necklaces, adding that Brooklyn was her best friend to which he responded, "Words cannot describe how much I love you." They also got matching butterfly tattoos, while Brooklyn has had Nicola's eyes inked onto the top of his neck, above a tattoo of a letter his fiancée wrote for him. And while our source says they see it as being romantic, they have been ridiculed by many for being "cringeworthy", "obsessed" and "pathetic".
But it seems Brooklyn – who has younger siblings Romeo, 18, Cruz, 16, and nine-year-old Harper – wants to follow in his parents' footsteps, as they were famed for their PDAs when they first started dating. Victoria, 46, knows first-hand the backlash this can cause and how the public can turn.
"She knows all too well about regrets when it comes to PDAs. She still refers to her wedding as a 'cringe-fest' [she and David sat on matching thrones] and can't look at some of the old pictures of them together in matching outfits," our source says. "If she could turn back the clock, there's a lot of decisions she would make differently, which is why she is trying to give some advice to Brooklyn and Nicola. In many ways she sees a lot of herself and David in the young couple and feels that one day they'll carry on the torch for Brand Beckham. In that sense, Vic does feel a duty to keep an eye on them and make sure they're not making any huge mistakes. The family are no strangers to backlash, and it seems that a lot of Brooklyn's social media output can seem very impulsive, which leaves Vic worrying most days. She is concerned that they'll take it too far and become a mockery – she knows all too well that sometimes less is more."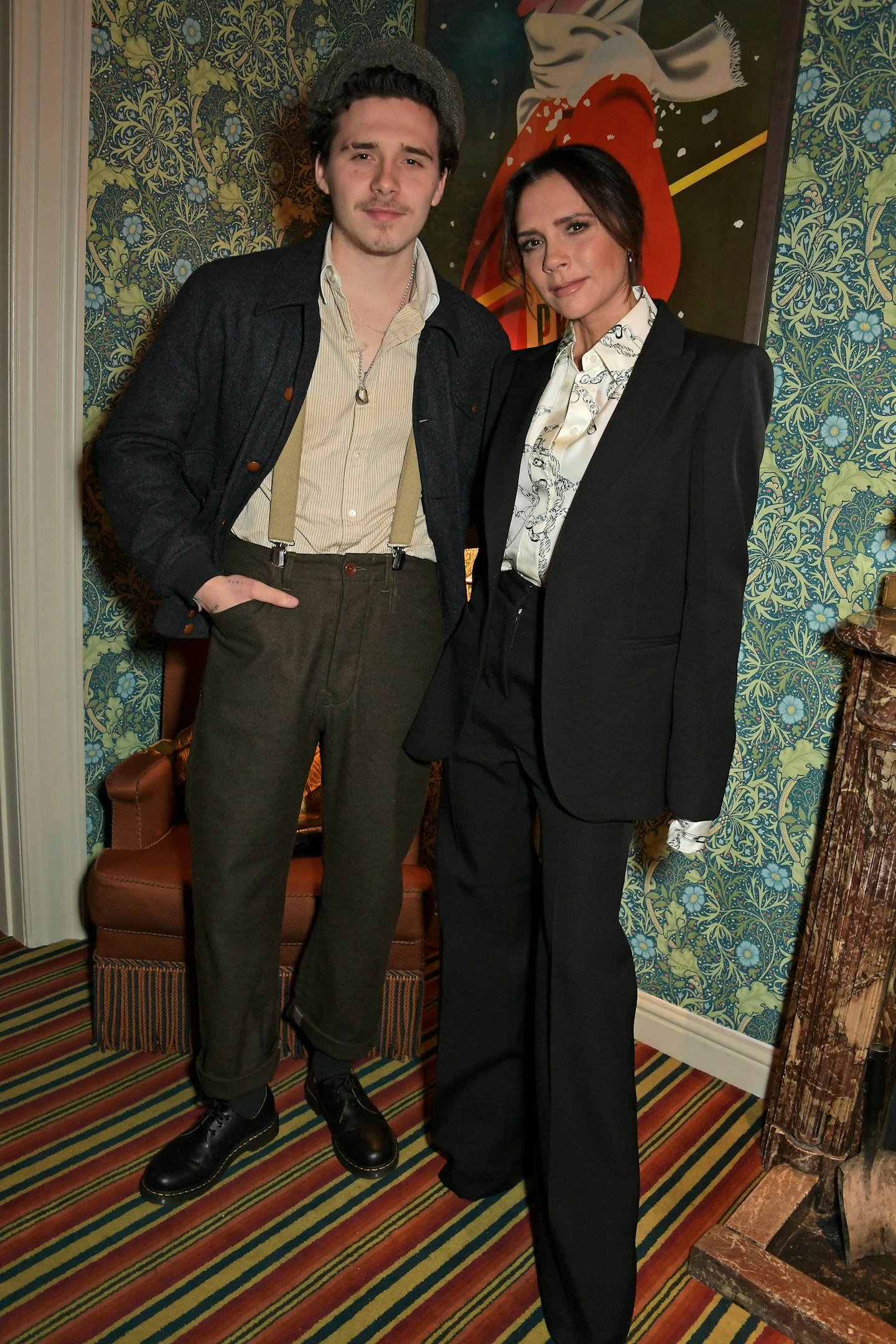 But heat has heard that rather than Brooklyn and Nicola keeping things more private, we could in fact be set to see even more of their love story. The couple – who are due to get married next year – are currently staying with the Beckham family in Miami after spending the past few months in LA shooting Nicola's new movie, which she has also written and co-directed. Budding photographer Brooklyn also worked on it and we're told it has given them motivation to work together again, this time on a biopic.
"They're not shy about getting intimate for the camera, and seem happy to put it all out there," says the source. "All the gushing posts and pictures have a purpose – they're pushing to do a biopic about themselves, and how they represent a new 'cultural moment'. They want to direct and produce it together. The idea is that it will be the opposite of reality TV, that the focus will be on their love story, and their creative talents and how they are supporting each other in achieving their huge ambitions and creating a cultural zeitgeist."
The source says that they're hoping that a project like this would cement them as Hollywood's new power couple and being open on social media is crucial to this. Brooklyn has struggled with his career up until now, but we're told being with Nicola has helped him focus and now he wants to show that he has what it takes to be a success.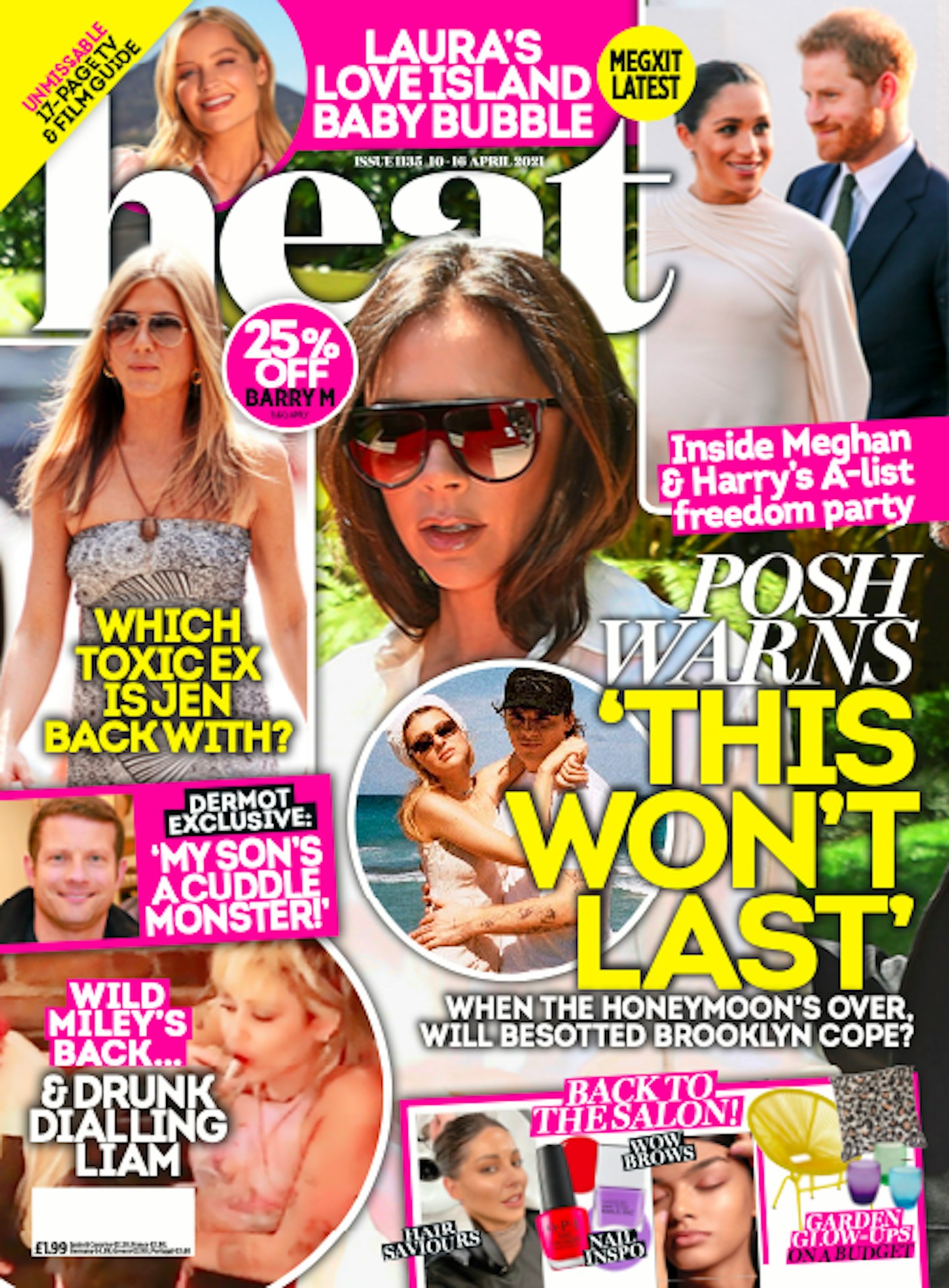 Look! More news!
Louise Redknapp reveals one Jamie divorce 'regret': 'I wouldn't have walked away'
"They'll talk really honestly to the camera, about how Brooklyn was a bit lost when she met him, how he was at a low point and really suffering from 'exposure to a phony life' – girls just chasing after him for fame. And how meeting her changed his life," our insider says. "They're both hoping this will be a big success. They want to be the new Justin and Hailey Bieber, on a par with the other cool couples. That's really what they're after – they want to be 'American Royalty'. Nicola thinks this could be a massive break for her."
Her future in-laws may need a bit of talking round, though. "David and Victoria aren't 100 per cent convinced, but will help if they can," says the source. "They just don't want it to be a failure and for Brooklyn to be a laughing stock. Their main aim has always been to protect their kids – and just because Brooklyn has grown up, it doesn't mean they stop worrying. They just want him to be happy."
Read more in the latest issue of heat magazine – OUT NOW.