Love Island 2022 is arguably one of the most quoted series of all time.
When you cast your mind back to last summer and recall all the drama of the villa, there is no way you don't have the phrase, "You're a liar, actress, get the f**k out," ingrained into your memory because, and I think we can all agree, with that one insult Davide Sanclimenti cemented his icon status.
The Italian stallion also offered us the equally hilarious, "You're as fake as the Louis Vuitton from China." Both phrases were aimed at his now-girlfriend Ekin-Su Cülcüloğlu, which makes the entire situation even funnier.
But there is one phrase in particular that continues to make the rounds and will haunt a certain three ex-Islanders forever, it even had it's own hashtag. We are of course talking about #t*tgate.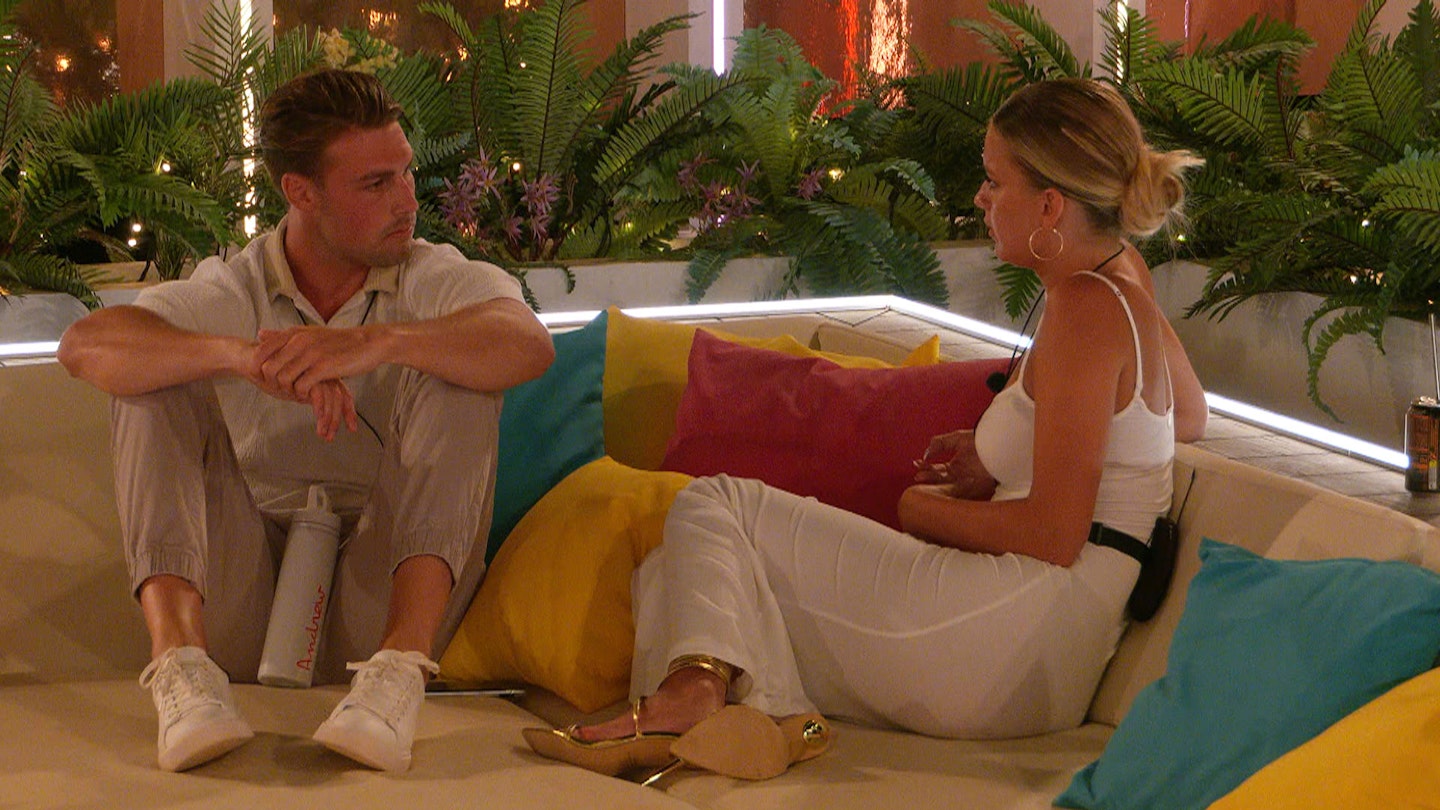 After his Casa Amor antics, Andrew Le Page offered up a far too casual confession to Tasha Gouri about an act he performed on bombshell Coco Lodge.
We're not sure if it's the nonchalant manner in which he delivered the sentence or because Andrew needed to repeat it, but one year on and, "I licked her t*t or whatever," is still one of the most hilariously uncomfortable sentences to ever come out of a Love Island contestants mouth.
Tasha did definitely NOT see the funny side when the incident occurred, but it's all water under the bridge for the reality TV star - so much so that she invited Coco to Andrews birthday.
Kind of.
Taking to Instagram, Tasha shared a picture of the cake she had bought for her boyfriend and the delicious-looking chocolate concoction had the words "OR WHATEVER" iced on to it. With that Tasha has sky-rocketed to one of our fave ever Islanders.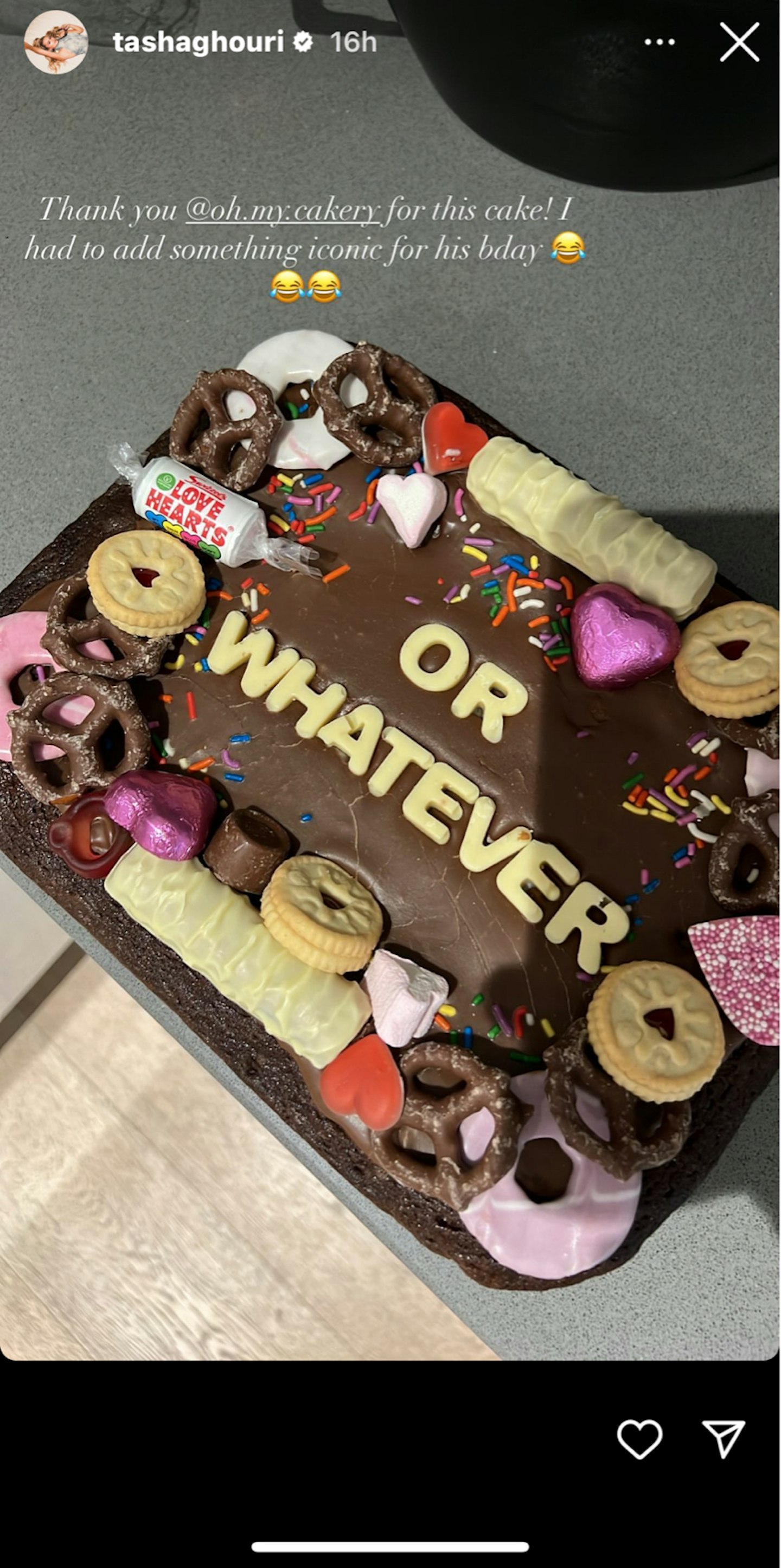 Adding the caption, "Thank you @oh.my.cakery for this cake! I had to add something iconic for his bday😂😂😂"
Iconic to say the least. Coco may not be there in person but she sure is there in spirit and icing.
Sadly, Tasha didn't film Andrew's reaction but we like to think he found the entire situation as funny as we all did and much funnier than the night Tasha found out.
Although it was an awkward moment it did also provide us with another amusing quote from Davide who responded with, "That's my line, Tasha," when she told Andrew, "'Cause you're a fu**ing liar!"
Time and a place, Davide and that was not it.
Coco has also previously chatted about the incident, but mainly how the producers weren't keen on her saying the words 'suck' or 'tit' on primetime TV.
Speaking on heat's Under The Duvet, Coco told presenters Harriet Rose and Christopher Taylor, "[The producers] called me out when I first said it and was like could you say 'intimate body kissing' instead. I think that sounds worse. I was told to word it nicer and Indiyah came up with intimate body kissing.
"I've got no filter and I was just thinking you've literally sucked my tits. It just came out of my mouth."
She then added that she initially thought the awks AF moment wouldn't make it onto the show, "I was shocked that they used it."
Coco's much anticipated appearance on Under The Duvet comes just a day after she candily spoke out about the trolling she endured in an empowering post on Instagram, the cruel comments that were made whilst she was in the villa and the savage way she was portrayed by the edit.
She captioned the post, "Coming out the villa I was greeted by a vile amount of nasty tweets and TikTok's about my appearance. It was really damaging initially but I will bounce back more resilient 💪
"I'll never be good enough if I judge my self worth on a strangers opinion. Thank you to everyone I've met and who has messaged me with kind empowering words and who was fighting these comments when I was in the villa ❤️ And for those others this is your reminder to #bekind #selflovejourney."
WATCH: 'They Kiss Like Siblings' Martin Is Living For Love Island Drama | Heat Dates