Reza Amiri-Garroussi has made quite a name for himself since joining Made In Chelsea back in series 18.
He was introduced as Sam Thompson's friend, but he has since gone on to become quite a character in his own right.
Following his relationship taking centre stage for about two seasons, and a love triangle of sorts developing between him, Ruby Adler and Miles Nazaire, Reza has become an even bigger name on MIC.
But outside of his work on the show, how much do you really know about Reza? Here's a handy list of all the things you need to know about the MIC star.
Who is Reza Amiri-Garroussi?
Reza gained fame after joining the cast of Made In Chelsea in 2019.
He was born in America, but attended Epsom College, along with many other MIC cast members, which may explain how he knows them and how he ended up on the show.
He is close friends with Sam and was introduced to the show as his bestie.
How old is Reza Amiri-Garroussi?
Reza Amiri-Garroussi is 36 years old.
What is Reza Amiri-Garroussi's job?
Outside of his work on reality TV, Reza also works in tech. He has worked at Unruly since 2016 as VP of Business Development EMEA (damn, that sounds so professional). Unruly was founded back in 2006 and, according to their LinkedIn page, the company uses 'emotional data to deliver brand-safe awesome advertising to 1.2bn people'. Although it's unclear if he still works there, his Insta bio does read "I work in tech," so we'll take that as a strong maybe.
Earlier this year Reza also co-founded Dinelli Eyewear, a sunglass collection, alongside BFF Sam. According to the brand's Instagram page, Dinelli is 'inspired by iconic moments on the big screen'.
Like the rest of the MIC cast, Riza is also active on social media, suggesting he could be looking to move into work as an influencer.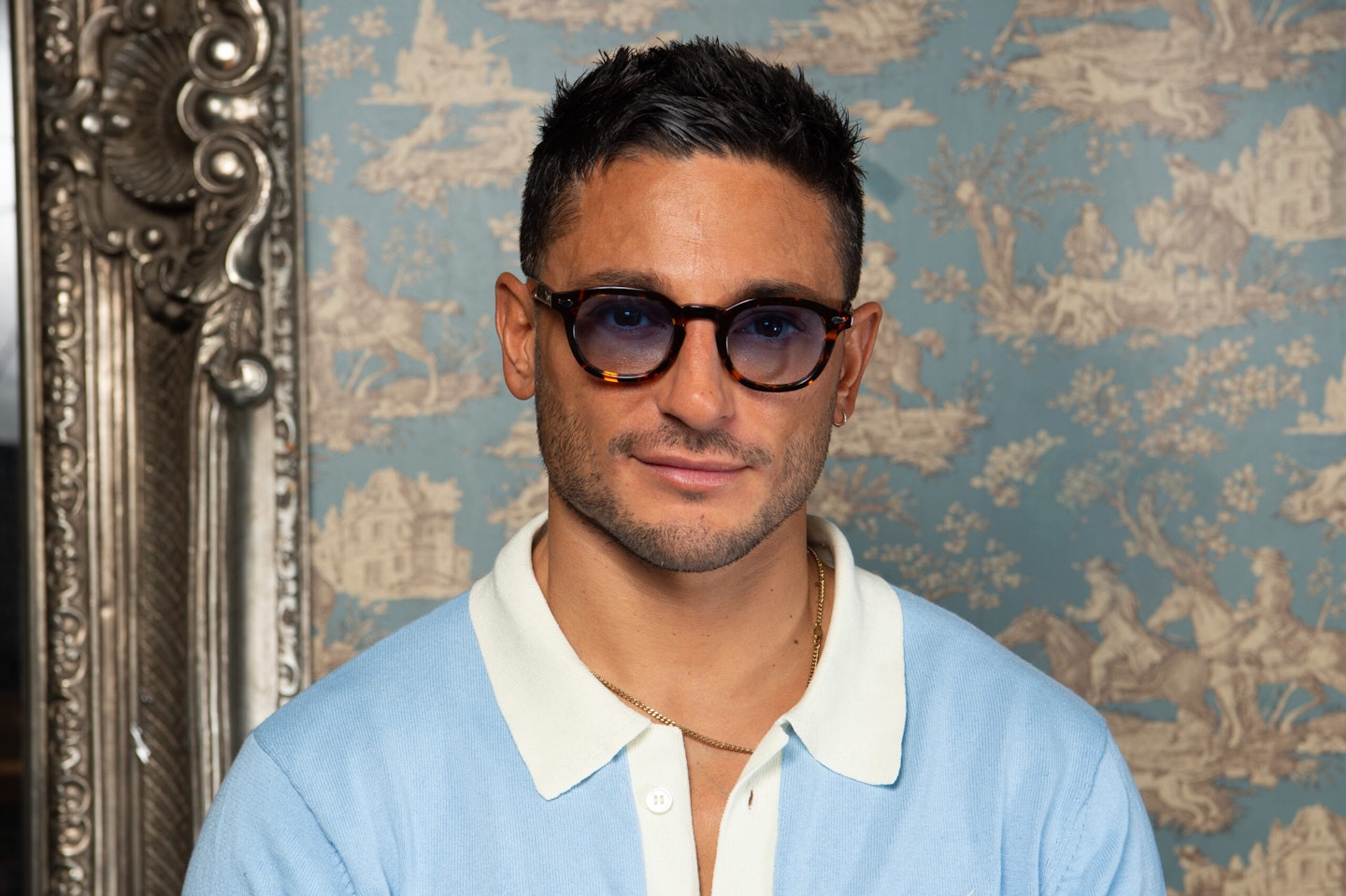 Who has Reza Amiri- Garroussi dated?
Reza's first on-screen relationship was with his childhood sweetheart Ruby. The pair first got together when she was 16 years old and he was 26. By the time they joined the show, they had already been dating for ten years.
The couple split up in 2021, and Reza went on to briefly dated 26-year-old model and MIC castmate Bella Sharpe until they called it quits before the latest series. He was also briefly rumoured to be dating Liam Payne's ex, Danielle Peazer, after posting a pic of what seemed to be a romantic dinner.
Who are Reza Amiri-Garroussi's parents?
Not much is know about Reza's parents ('not much' meaning basically nothing). They don't even appear on his Instagram. It seems Reza is very private when it comes to his family but he did turn a few heads when he revealed he had a very familiar brother back in 2022.
Posting some serious eye candy isn't anything new for Reza who is frequently flaunting his physique for the 'gram, but being joined by his mysterious brother was a first.
It appears good genes run in the family as Reza posed with his brother at a restaurant, although sadly he didn't tag him so we couldn't do a cheeky Insta stalk. Ah well.
But one thing fans did seem to notice is that his brother bears a striking resemblance to none other than the infamous Tinder Swindler, and we can definitely see it too.
One fan joked, "Tinder Swindler?" and another responded and said, "I'm glad I'm not the only one!!"
LOL.
As fans joked about the comparison in the comments, Reza was quick to jump in with his take on the comparison and say, "Very different professions😂".
Is Reza Amiri-Garroussi still dating Ruby Adler?
Well, that's a good question because they've had many ups and downs and viewers have even seem them deciding to end their decade-long relationship.
Their split took place during series 21, with Ruby telling Reza, "I can't help but feel like I'm stuck in this rut. What was such a happy, fun relationship has become a weight and there's no fun anymore. We've had so many problems for so long and I don't want to live my life like that anymore."
Reza attempted to make amends telling Ruby, "I love you very much, you know that... More than anything on this earth and I want to make this work. I want to make it right. I'll do whatever I need to do. I want to marry you."
Despite this, Ruby made it clear that she was done with the relationship and wanted to move on with her life. She said, "It just isn't right. You must know that. I've given this such a good go; I've tried so hard to make this work. This doesn't work. I don't think I want to be with you anymore."
Although there were already issues in their relationship, some (including Reza himself) have accused Miles of being a big reason they initially broke up. At the time Ruby told Maeva D'Ascanio, "My breakup of however many years with the man I love so much has nothing to do with Miles, he's been a good friend."
Ruby and Miles went on to have some on again off again flirtations and still appeared to be friends by the end of series 22.
And it also looked like Reza and Ruby might get back together after it came to light that Ruby had been texting Reza, and that the two shared a kiss. However Ruby put an end to any hopes of a reunion in the series finale when she told Reza, "You're a f--cking idiot, go away and leave me alone.
"I don't want to get back with you if I wanted to get back with you, I would be calling you every day. I called you one day - I had a moment of weakness."
However one of the biggest surprises in the first episode of series 23 was the news that they had reconciled between series 22 and 23. In the episode Ruby admitted, "I'm actually so happy, I feel like we've turned a new leaf. I've made the decision that I love him and I want this to work - I wouldn't be in this situation if I didn't - and I feel happy."
Tiffany Watson responded, "That's all that matters."
Ruby continued, "I definitely feel like I had my time where I was single and we've had a break from each other. And I think the grass isn't always greener."
They've since split again.
Is Reza Amiri-Garroussi friends with Miles Nazaire?
Reza and Miles have had a turbulent friendship and series 22 revolved, largely, around the love triangle between Reza, Ruby and Miles.
However during the Corsica series it appeared that they'd put it all behind them.
Does Reza Amiri-Garroussi have Instagram?
Isn't having Instagram somewhere in the contract of being on MIC? You can follow him at @rezamcfly.
WATCH: Habbs, Maeva & James are faced with their most cringeworthy Made in Chelsea moments
Does Reza Amiri-Garroussi have a girlfriend?
He sure does - Ruby!
However during the last series he appeared to be growing close to MIC newcomer Sarrah Jasmin. That was until Ruby threw a bit of a spanner in the works by confronting her ex's new love interest and telling her, "If you're hanging around with Rez, we're not going to be friends."
She also added, "I don't know what you want me to say, I'm not going to be nice to you."
Ouch.
Does Reza Amiri-Garroussi have Instagram?
He does - you can follow him @rezamcfly.
Does Reza Amiri-Garroussi have Twitter?
It appears that Reza doesn't have a Twitter account.