At this point, as much as you may love, hate, love to hate or hate to love Made in Chelsea's Miles Nazaire, he's part of the show's very expensive furniture and keeps us perpetually on our journalistic toes with his actions on and off camera.
The legendary Lothario – who to be fair has recently settled down withnew girlfriend Amélie Esquenet – joined the series back in 2018, and since then he's established himself as a Made in Chelsea fave and certainly for the last few series, has positioned himself at the centre of most storylines (even the one's that have nothing to do with him – reality telly icon behaviour tbh).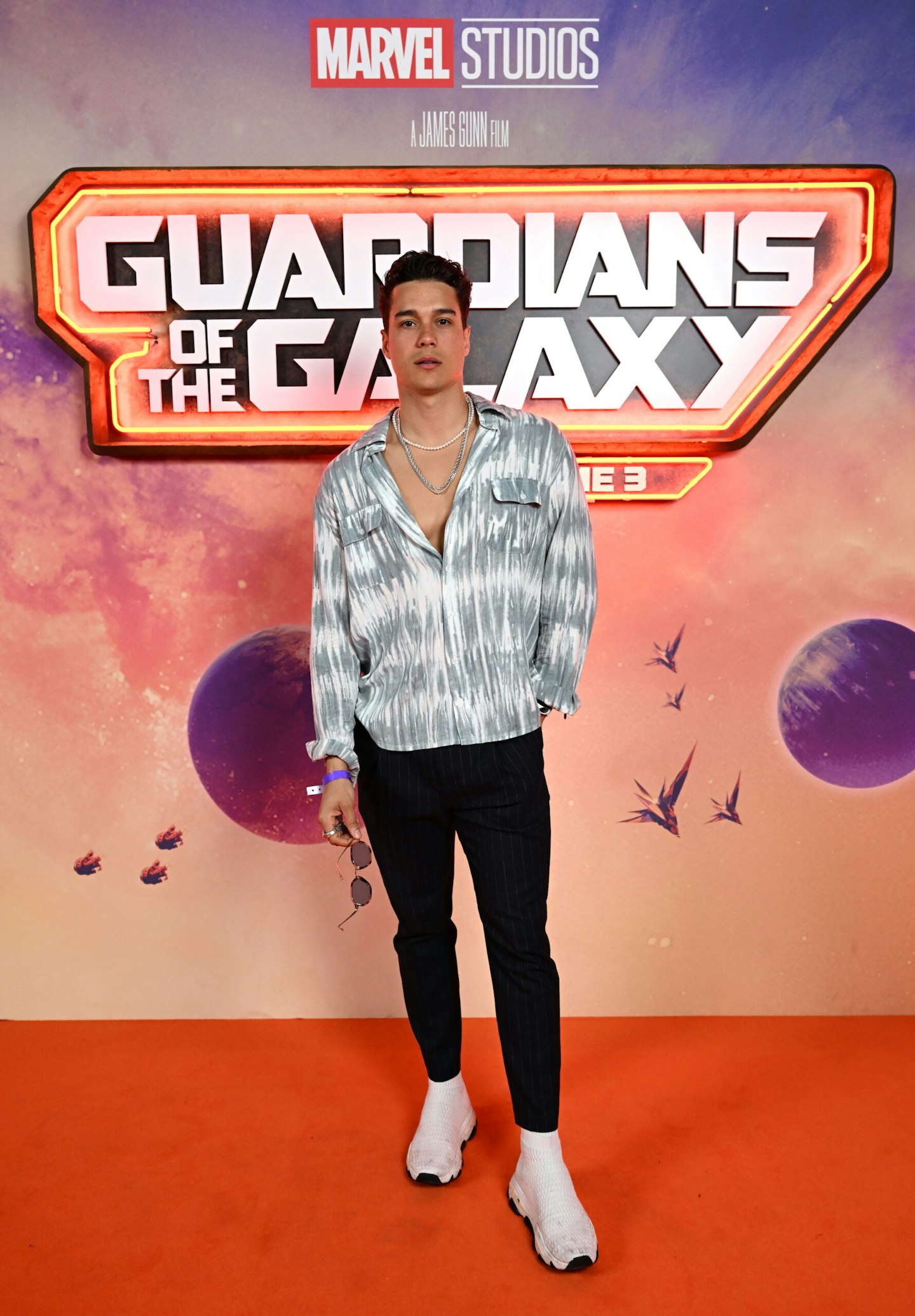 From his endless list of exes to his fiery on-screen feuds, Miles never fails to delivers the drama, and let's face it, if he did, we wouldn't be writing this.
Actually we might – the crush is pretty real at this point.
 Has Miles Nazaire quit Made in Chelsea?
At the start of series 25, Miles posted the new cast image on his Instagram Story with the caption, "I guess I thought I should stay a little longer 😈", after SERIOUSLY suggesting he was sacking in MIC for good. He's almost like he's addicted to the drama.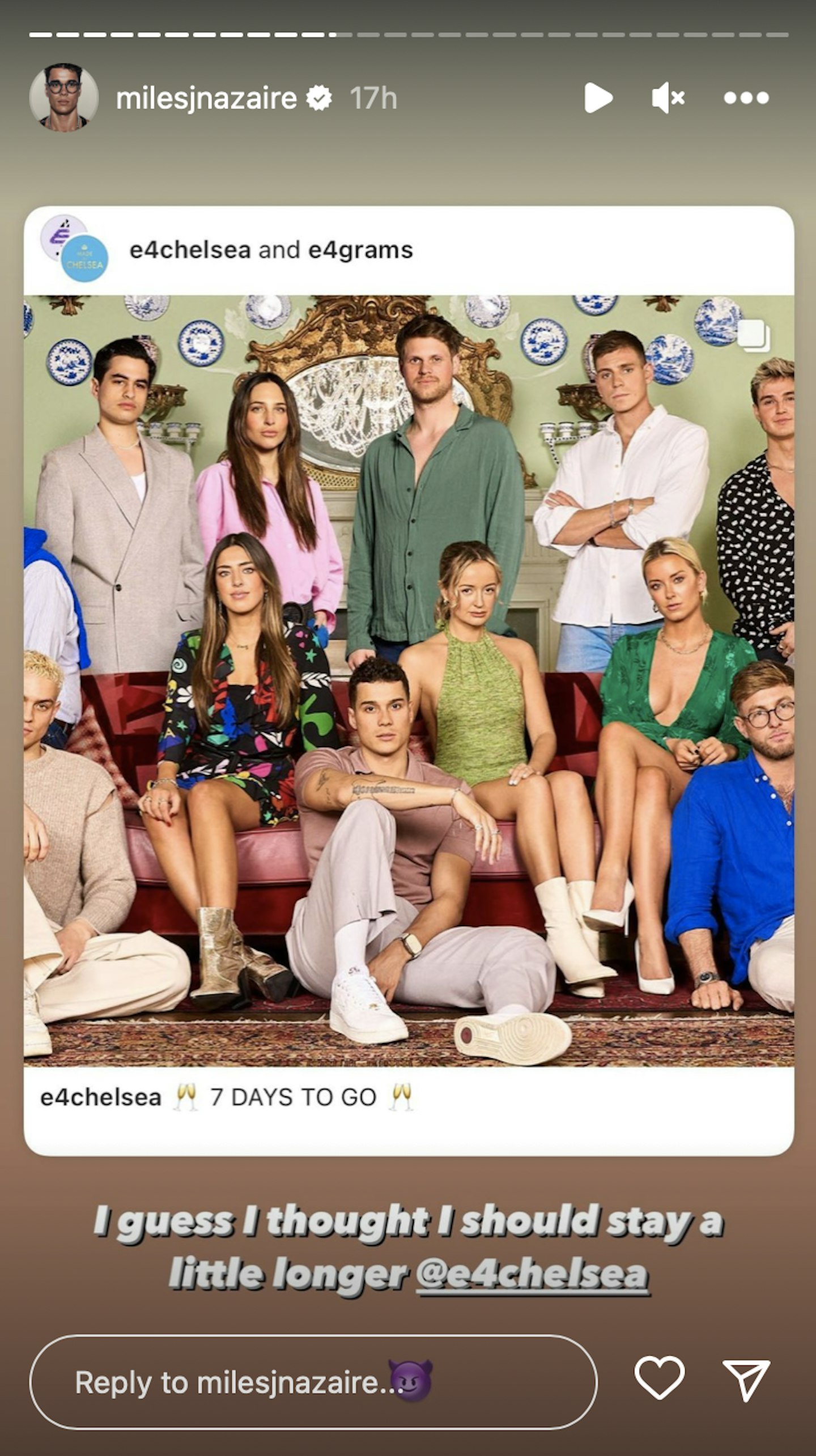 A few months prior to this post, MIC's resident angelic-faced bad boy Miles spoke out about his future on the E4 reality series in a podcast and heavily insinuated that he was saying goodbye to SW3 forever– at least to the camera crews that follow him around that area.
Miles shared his news in episode six of his podcast, Playtime, after the turbulent ride he'd had online following Ella May Ding's departure from the show.
It was quite clear from the beginning of the ep that Miles' future on the show was going to be the focus of that week's chat, after Miles spent the first 15 minutes of the podcast talking about how he's dating someone new/he's changed his party boy ways/is contemplating his future after turning 27.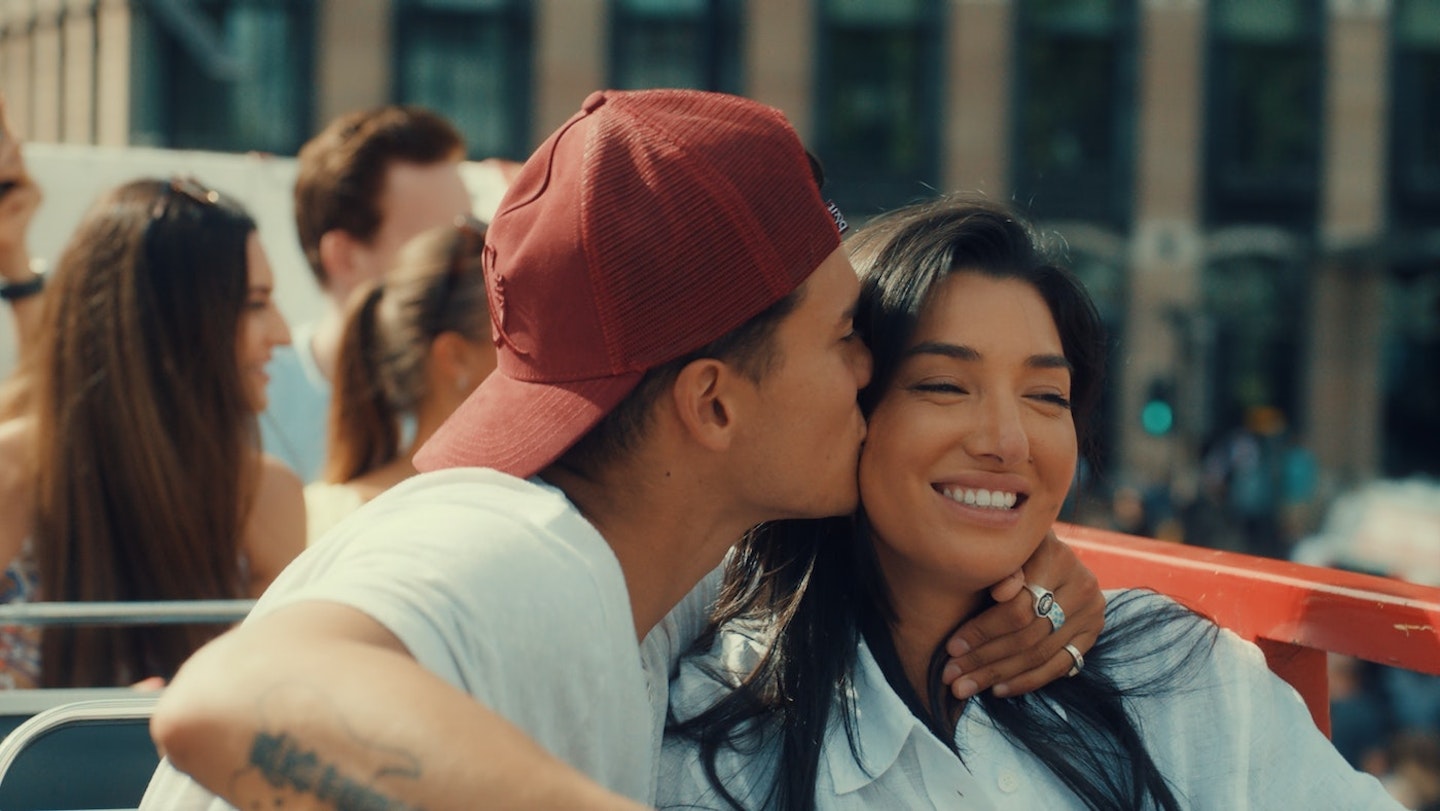 He rounded his soliloquy off by saying, "I haven't had much of a private life. I get it, it's with the job. Even if Chelsea was no more, I still know that my private life wouldn't be completely private, but it just means that all of the dramas and the issues wouldn't be aired on TV."
The intention of the episode was then made painfully clear to us when Charlie awkwardly asked him (bless him, he's not a natural presenter and was clearly trying to make the question seem as seamless as possible), "So, are you thinking about taking a break [from Made in Chelsea]?"
Miles responded by saying, "God, this is kind of breaking news, isn't it?" He definitely had his producer hat on here, but we braced ourselves for the inevitable all the same.
Miles confirmed, "Yeah, I'm definitely thinking about it. I've already had conversations with Chelsea [producers] and it's not a confirmation or a definite 'yes, I'm not doing Chelsea next year', but we'll see how the conversation goes. We'll see what happens."
After literally zero reaction from Charlie's face, Miles continued, "It's been an amazing ride, but now I'm turning 27 in three days I'm like, 'Okay, cool – I've had fun' And I think the next part of my career is going to start next year and I'm excited for that."
It sure sounded like a goodbye to us, and as much as we've called Miles out in the past, we do have a soft spot for him, so it wasn't exactly the news we wanted to hear from him.
Fans will remember that Miles previously took a break from the show in 2020, telling OK! magazine, "So last year it was more the fact that I had done two years on the show and lockdown was coming into place, I thought it was a good decision for me to take some time off.
"It was never me saying goodbye to the show, it was just me saying, 'Oh you know what, I wanna venture into other business ideas' and other things I wanna do for my projects with me team, and just take a bit of time off really.
"I took that time off, I was really, really happy about it and then I got back in contact with Chelsea and thought, 'Well let's come back and have some fun.'"
He returned for the 2021 spring series, which saw the cast move into a huge country mansion together to avoid isolation restrictions.
Weeks after teasing his latest departure, it appears that our boy is actually going nowhere. It also appears that we will never believe anything he tells us ever again. Kidding.
Kind of.
Oh, how could we stay mad at that face?
 Has Miles Nazaire had surgery?
Over the last few months, Miles has kept fans updated after going under the knife for surgery on his chest.
He revealed last year that he was suffering with gynaecomastia - a condition which results in extra breast tissue in men - and underwent surgery to try and fix the problem twice.
Earlier this year, he went into hospital again to have excess breast tissue removed for the third time and kept his Instagram followers updated the whole way.
The reality star revealed that the operation had been a success and even went as far to show the excess breast tissue that had been removed on camera.
Alongside the gory snap, Miles wrote, "This is what they removed 🙃," and joked, "Steak anyone?"
Warning: graphic picture ahead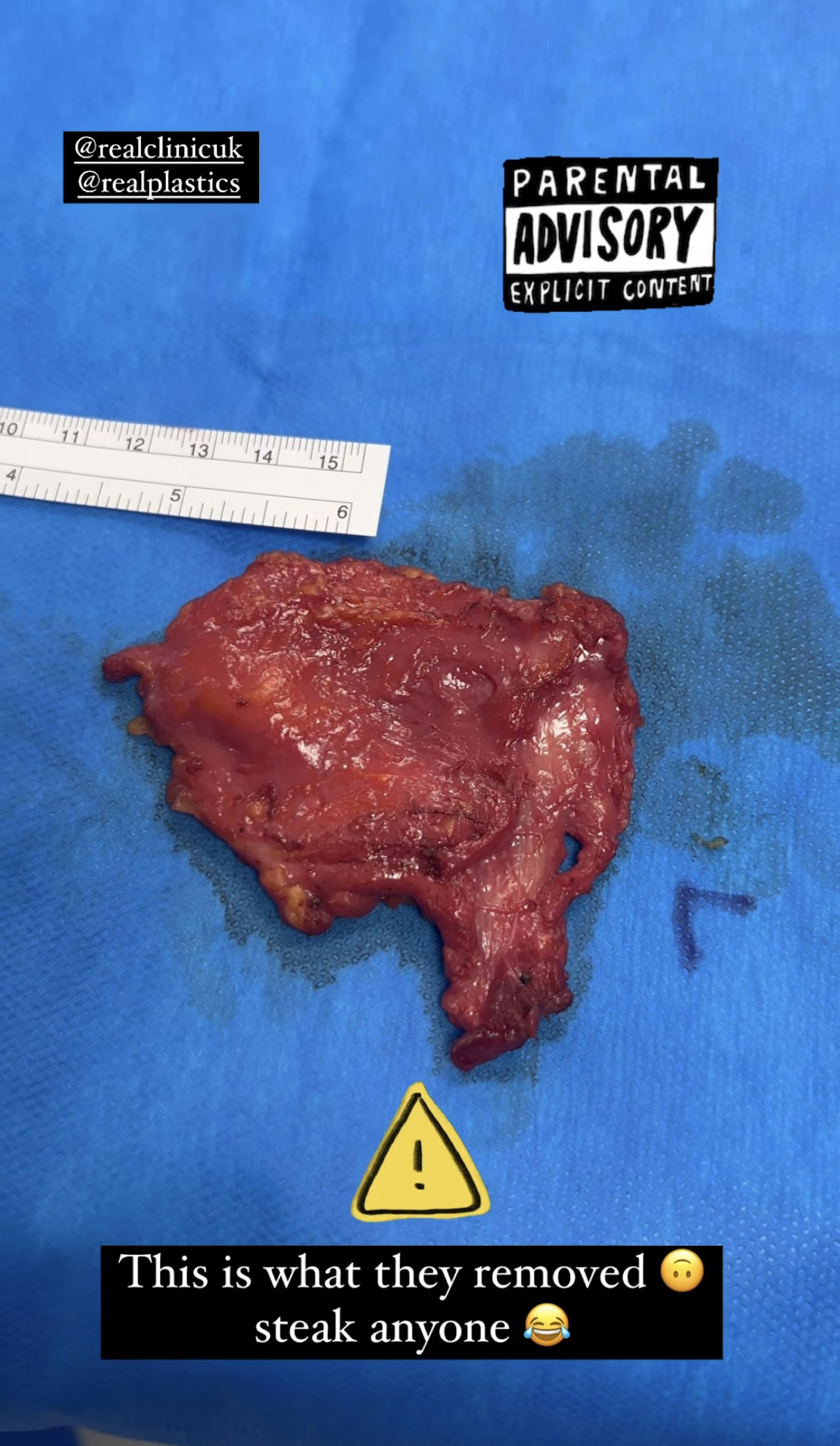 Four years ago, when Miles began taking exercise more seriously and, in his words, his body became more sculpted, he thought he had stubborn fat behind his nipples, but it transpired it was gynaecomastia.
Miles opened up about his condition in series of vlogs last year and told his followers, "What annoys me is, I've got really insecure about it."
Who is Miles Nazaire?
Miles was a new sign up to the 15th series of Made in Chelsea in 2018. He quickly made an impact when he was introduced as a club promoter and quickly caused havoc for Liv Bentley and Digby Edgley (who were already very much on the rocks) when he started a rumour that Digby had been messaging his girlfriend. Could it have been Maeva? It was never confirmed and Digby always denied the allegations.
He later moved in with Sophie 'Habbs' Habboo and Emily Blackwell, but that didn't end well when the lines between friendship and romance were blurred between him and Emily.
He later scored some bro points when he asked Sam Thompson's permission to take his ex, Tiffany Watson, out on a date.
Some seasons later, Miles has gained the title as a bit of charmer but looks to currently be single and is BFFs with his ex Emily.
Miles Nazaire's transformation
If you watch the E4 show – or class Miles' social media pages as one of your hobbies, like we do (or both - zero judgement here) - you'll know that the reality telly lothario hit the gym HARD in 2022.
The 27-year-old's physique has changed dramatically since he first appeared on Made in Chelsea back in 2018 (which is somehow five years ago now it's 2023), packing on more and more muscle every month.
It's hard to say his new look doesn't look good on him (to be fair, every look would look good on this one), but some fans have become a tad riled up by his latest TikTok which shows his transformation over the years with some suggesting that the post could be "dangerous" viewing to some.
The TikTok shows Miles diving into a pool, followed by a few clips of today's "beast" Miles killing it at the gym. A voice has been added over the video which says, "He's better and not skinny as f**k and actually has something going for him."
Another voice then adds, "I think that switched a flip in me where I was like, 'okay, f**k you'."
The TikTok video caption reads, "When will your switch flick?"
Lots comments on TikTok and Instagram have surfaced and his followers seem to be divided over his video.
One follower wrote, "We don't want skinnier guys to feel like they're not enough though do we?! This could be a tad dangerous."
Another echoed those sentiments writing, "When is he going to realise that there's a lot more to life than his physical appearance?"
A third commented, "You seemed sweeter cx you less involved how you look on outside xx you look fabulous both ways xxx remember focus on you inner love too."
Some fans however have praised Miles for his ongoing fitness mission, with one writing, "Straight transformation into a beast 👏."
Another added, "👏👏👏🔥🔥🔥 from a boy to a man rarr."
What is Miles Nazaire's job?
These days, Miles is focused on his career as a reality TV star, podcast host and social media influencer, but before he found fame on Made in Chelsea he was doing something VERY different.
During a recent episode of his podcast, Miles and his co-host Charlie Radnedge were chatting to their guest, fitness blogger Obi Vincent, about work and what they were doing before fame. It was during the episode that Miles, who comes from a family of creatives, revealed he didn't start out in TV.
Speaking to the Charlie and Obi, he admitted, "I worked in an office, I did, when I was nineteen."
Miles Nazaire? In an office? The mind boggles.
He went on to list a whole host of occupations he had, all before the age of twenty two, "I went from working in a pub, bars, waiters, then working in an office for a company, a production house, then from there going back into retail and then becoming a tailor."
A tailor? Sorry, WHAT? Why didn't we know this?
Although we can totally imagine it, in fact it kind of makes sense that the Chelsea charmer (going to copyright that) would be up for creating dashing suits for everyone else to wear.
Miles Nazaire on why he struggles to date
In a recent episode of Miles and Charlie's podcast, the MIC star went on a perplexing tirade of why he struggles to date, what could end a relationship and most shockingly what he believes to be the REAL reason that girls go on a night out. Spoiler - it involves men.
Miles has dated a multitude of ladies including several of his Made in Chelsea co-stars but none have managed to stick around. During week three of his podcast Miles brought up lads holidays and girls holidays and we may have discovered the reason why he struggles in a relationship.
The reality star stated, "If you [a girl he's seeing] are going out with just single girls. I don't find that attractive."
The conversation continued with Charlie offering up a scenario for Miles to think about, "So what about if your girlfriend was like 'I'm going on a trip to Ibiza, all the other girls are single'."
Miles didn't need time to think about it as he immediately shot the idea down, "No. No way."
He then proceeded to declare, "You can go but I'm not your boyfriend."
Riiiight.
The podcast was brimming with strange chats that we were not expecting from Chelsea's favourite flirt.
"Correct me if I'm wrong but I feel like girls go out for validation," the MIC star began.
He went on to say, "A lot of girls, I feel like would be lying to themselves if they say 'I only go out with my friends, just to go out with my friends.' There is somewhat a feeling of 'I do want to feel pretty and I want a guy to make me feel pretty.'"
Luckily Charlie was on hand to clarify what Miles meant, "What you're saying is girls go out just to get attention and they don't have any intention of pursing it further than getting a compliment?"
And Miles confirmed that's exactly what he meant, "Yeah. 100 per cent and get free drinks, get bottles on tables."
He did then add, "I'm not categorising every single girls by the way because a lot of my friends are girls and I've got amazing friends but I've just noticed there's groups of girls... When we go out, why do you have all these girls flocking to our table, 'they've got money, they've got a table or can we go and get a drink'.
"But a lot of them don't even have the intention of wanting to have a conversation with you or maybe get with you or anything like that. I do feel like in London, I've experienced that."
Turns out his comments haven't gone down well with fans as one person wrote, "Christ almighty this conversation is an absolute abomination".
Someone else said, "OMG! I've got no words for that conversation except immature!"
A third added, "That is such a general sweeping statement of girls and also utter bullshit.. I liked Miles before this... Of course people want validation at times but to say all females only ever go out for that reason is such bull. The fact you would even put this out on the internet shows how totally clueless you really are!"
Miles Nazaire on Maeva D'Ascanio and James Taylor
This isn't the first time Miles has been outspoken on the podcast, during a previous episode of Playtime Miles said, "I don't know if they're happy" when talking about his ex Maeva D'Ascanio and James Taylor's relationship, even though they've had a baby together.
As for Charlie, (who can talk, apparently) he revealed that Love Island producers encouraged him to pursue Ekin-Su Cülcüloğlu over Tasha Ghouri when he first entered the villa (remember those hot tub dates?).
Frankly, the boys' tea spillages are endless, but the crème de la crème came from Miles who recalled one moment from Made in Chelsea when he was actually removed from filming, saying, "I don't give a shit about the show".
During his raw chat with Charlie, Miles recalled the time he found out his ex Maeva and former mate James had hooked up behind his back (what a time to be a MIC fan), saying, "I didn't speak to Maeva for like six to eight months [after we split] and I remember telling the producers, 'If you bring Maeva on the show, I will leave'.
"At this stage, it was eight months down the line and I was doing quite well on the show, and I felt like I had a bit of power.
"I didn't have power. No power. They surprised me; they got her on the show, and as you can see, whoever's watched the show, whoever knows the show, you've seen from series 18 when I started, the journey of what Maeva, myself and James have gone through."
He continued, "Then they hooked up and lied to everyone saying they had just kissed, when actually they hooked up. That famous scene where she tells me she kissed James, she had slept with him. You see me tearing up and I throw this whiskey glass at the counter. Honestly, the bar staff, it nearly hit her and I felt so bad. But I was angry; I blacked out."
Drop your shoulders and breathe because it gets worse... "I punched a mirror and producers ran in and no one knows this – bit of a secret – and they didn't show it, because obviously it would've made Maeva look a little f-cking intense… she smiled when she told me, and you don't see it. She did what she wanted. She saw me crumble. That's the only thing I remember – looking up and seeing her smiling. She finally did something to hurt me."
Seriously, drop your shoulders and breathe. Miles continued, "It was so so painful that they had to take me out of filming for two whole weeks. They were scared that I was going to knock James out, and I was supposed to see him that day to confront him, I said to them and the exec was there, 'If you put him in front of me now, I'm going to punch him in the face. I don't give a sh-t about the show.'
"There's a moment where you're like, 'F*ck the cameras' – my best mate has slept with my ex-girlfriend."
How old is Miles Nazaire?
A December baby (and a Sagittarius), Miles is 27 years old. His birthday is 12 December 1995.
Where is Miles Nazaire from?
Miles is proud of his French heritage but is, of course, based in Chelsea, London.
Who are Miles Nazaire's parents?
Miles' dad Jacques is a French artist and Jazz musician, and even made a cameo on the show when he popped over to visit his son and play a gig with him in series 15.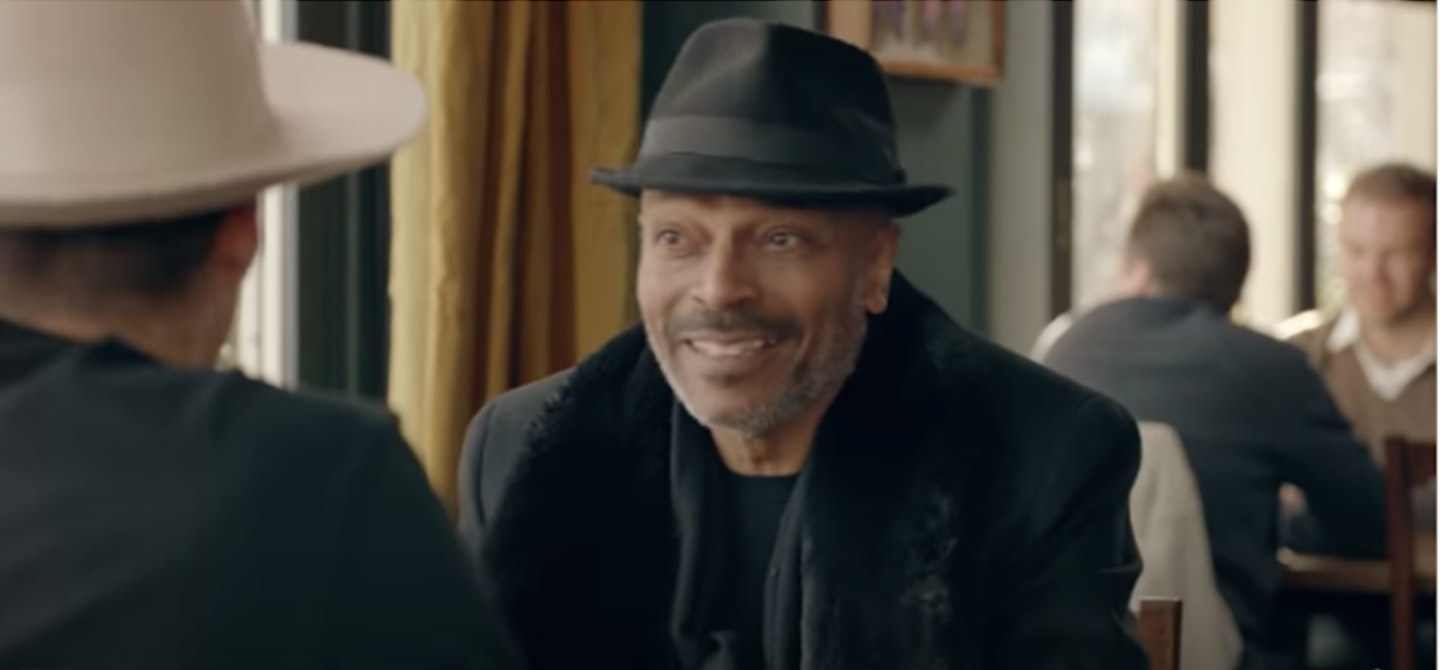 Miles' mum is an English born sculptor called Victoria, who lives in Les Issambres in France.
What happened with Miles Nazaire and Inga Valentiner?
Miles had a love interest set up by producers in the spring 2021 series, when Inga Valentiner joined the cast. Miles and Inga had met once and been messaging on social media before Inga joined the cast, but sadly, things weren't to be.
"Inga is not only a beautiful girl, but she's very creative and we have this really good connection on music and art, because of my background and family, so we had initially connected because of that," he told Grazia at the time.
"And it was just quite nice to talk to someone in that capacity, and not just about gossip and drama. There is huge pressure with starting a relationship, not only on the show, but in the house: you've got all eyes on you," he added.
"And also, everyone's opinion is just going to bounce around - some people aren't going to like it, and some people will. And then people take comments and change them. It's constantly a battle, and it's sometimes very hard to actually focus on the person that you're with."
What happened with Miles Nazaire and Maeva D'Ascanio?
Miles and Maeva's rocky relationship was explosive enough to rival Hugo Taylor and Millie Mackintosh's from series one.
Miles had vaguely mentioned an ex-girlfriend in France during his time on the show, and when Maeva arrived in Chelsea two series later it was clear there were a lot unresolved issues between the two.
After MANY a vicious row, they eventually broke up for good, with Maeva going on to date Miles' best mate James Taylor – which upset Miles so much, that we almost felt sorry for him.
Maeva and James skipped series 19 for a ski season in France, with Miles admitting, "I am so effing happy they're not in it now."
He added, "It is nothing to do with me not being over it, it is more that I don't have to see them, or see them together in front of my face all of the time."
What happened with Miles Nazaire and Ruby Adler?
Miles successfully wreaked havoc within the longest-running relationship in the show's history. Reza Garroussi and his girlfriend Ruby Adler had been a couple for a decade when they became primary cast members for series 21.
But despite having a seemingly strong and successful relationship off camera for ten years, as soon as they became a main plot line on the show cracks started to show. Miles quickly made it known he was interested in Ruby, despite her having a long-term boyfriend (much to Sam Thompson's chagrin).
Ruby's ongoing bone she'd been picking with Reza was that he never posted her on his social media and scheming Miles stirred the pot by suggesting Rez was "ashamed" of her. It led to Rez defending himself by saying he'd struggled to trust Ruby after she was unfaithful much earlier in their relationship.
Ruby now has her own fella and Miles is, naturally, single.
WATCH Habbs, Maeva & James are faced with their most cringeworthy Made in Chelsea moments