Let's be honest, trying to find the right balance of comfort, style and warmth can feel a bit like an Olympic sport when you're putting an outfit together. Trust us when we say, the best leggings are the answer. We know what you're thinking, but hear us out. Believe it or not, there's a legging out there that can truly elevate your outfit. A round of applause for the leather legging, please.
Whether you're going to the cinema, out for a boujee dinner or out-out with the gals, leather leggings have got your back, elevating the most casual of outfits and acting as the perfect base for your more daring looks. In the past, we've seen all kinds, from scrunch bum leggings to TikTok leggings, but we have to say, a pair of leather leggings have to be the most versatile.
Psst - here's our shortlist for the top three leather leggings to shop...
To pair with a black blazer: River Island Black High Waist Matte Coated Leggings
For a casual look: PrettyLittleThing Black Coated Denim Flares
To wear underneath an oversized shirt: ASOS Leather Look Leggings in Black
As versatile as they are they can also be tricky to style. And when it comes to styling leggings, who better to take inspiration from than our favourite celebs and influencers? We know that our faves have been repping honeycomb leggings lately, but what about leather?
For some style inspiration, we've taken the best legging outfit looks from the likes of Kim Kardashian, Saffron Barker, Lucinda Strafford and Zara McDermott so we can see how it's done. Whether it's a casual everyday vibe or a dressy look, here are some outfit ideas on how to style THAT pair of leather leggings.
All black with a blazer
If you're looking to instantly elevate your leather leggings, add a black bodysuit underneath or a bandeau top. Style with a blazer to finish as shown by Kim K to add some sophistication. Not just effortlessly glam, but ideal for date night or drinks with the girlies.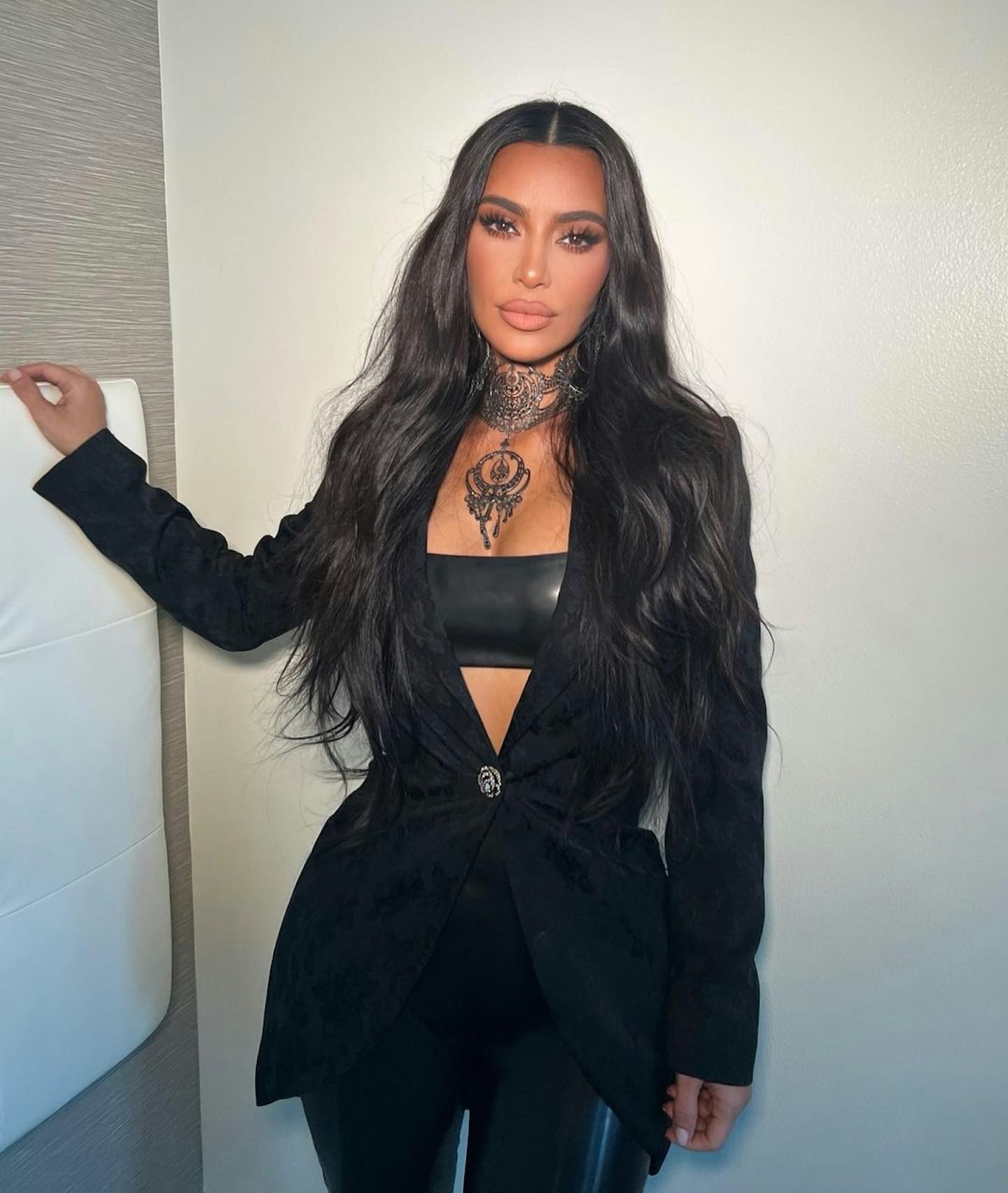 SHOP: All black with a blazer leather legging outfit looks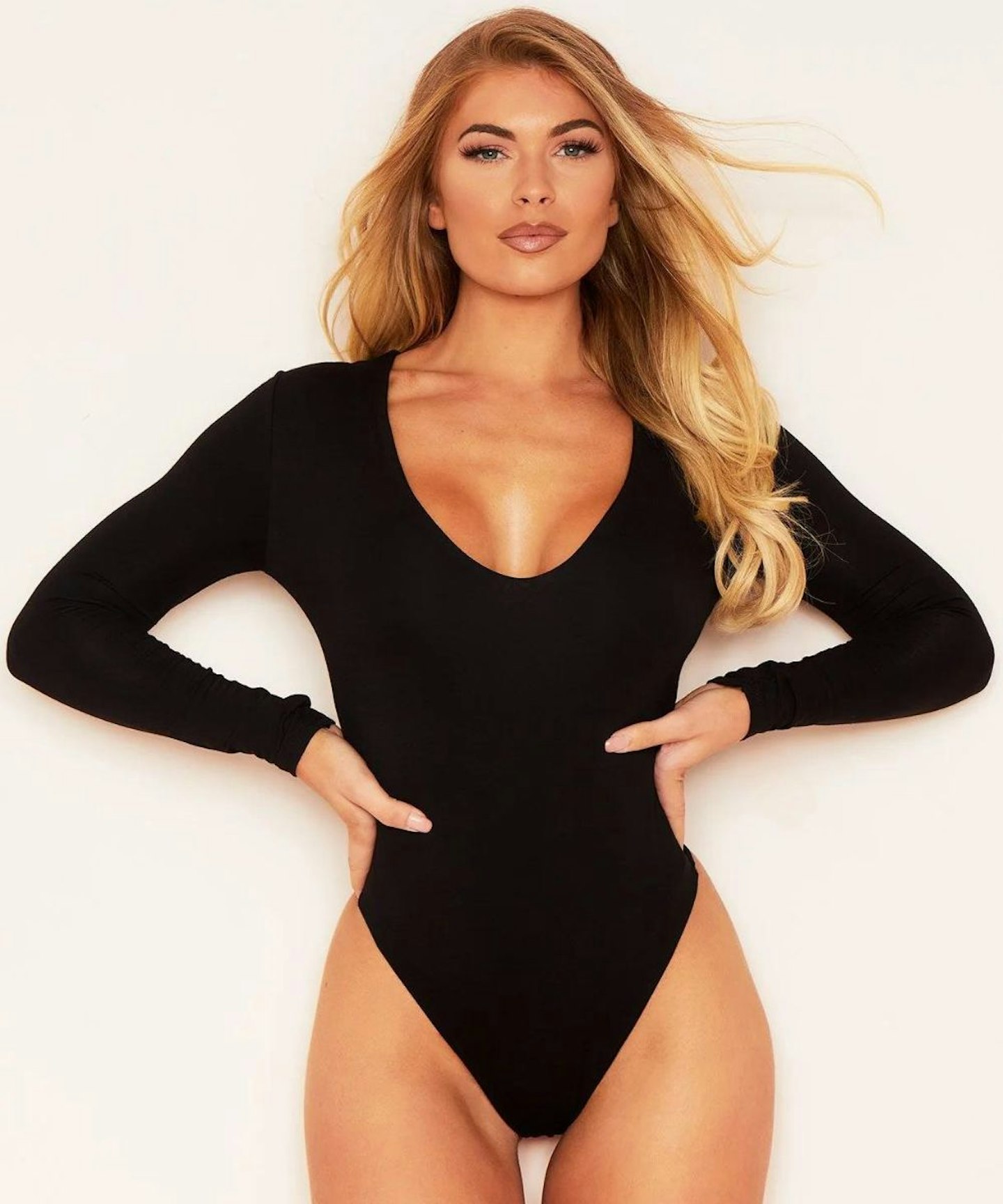 1 of 5
CREDIT: Missy Empire
Lisa Black Long Sleeve Plunge Bodysuit
Add a bit of elegance with a plain black bodysuit. You can never go wrong with an all-black moment, and this bodysuit can be worn for all occasions.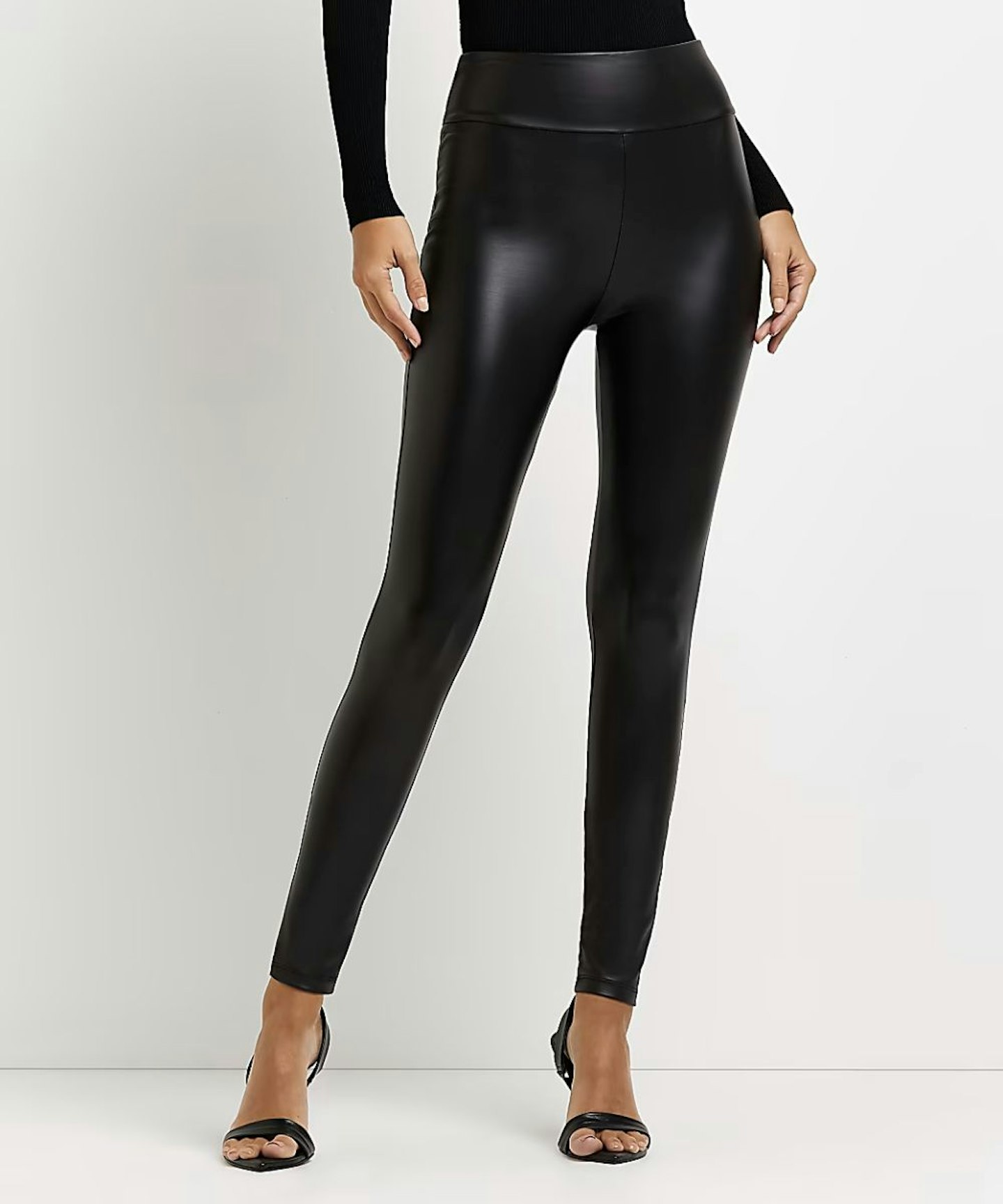 2 of 5
CREDIT: River Island
Black High Waist Matte Coated Leggings
From River Island, these high-waisted leather leggings with a matte finish are in high demand. A versatile option for dressing up or down.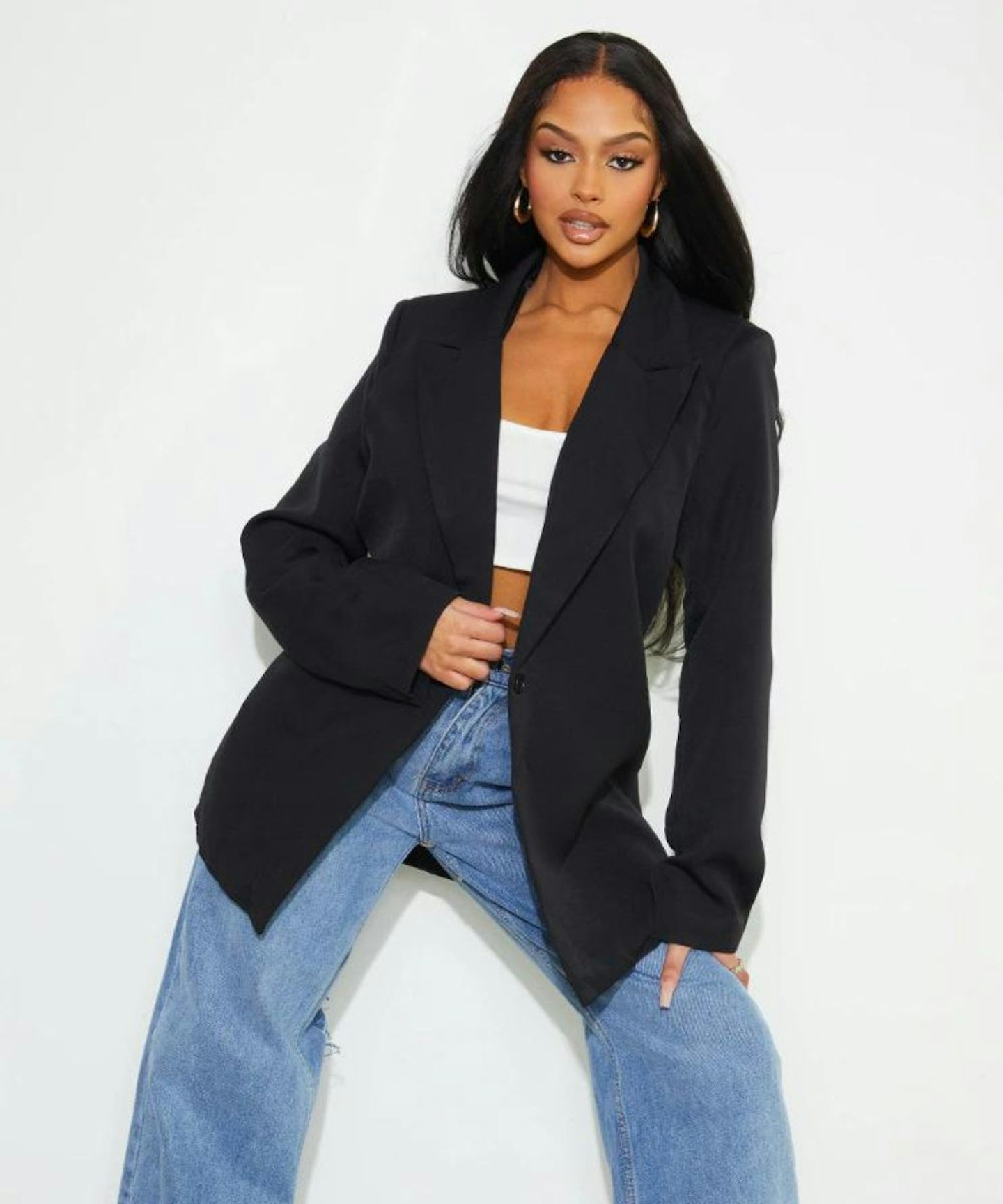 3 of 5
CREDIT: PrettyLittleThing
Black Oversized Blazer
An oversized boyfriend blazer is a staple in any wardrobe. Wear with a corset top and pair of heels if you're on a night out or a pair of trainers and sunglasses for a casual vibe.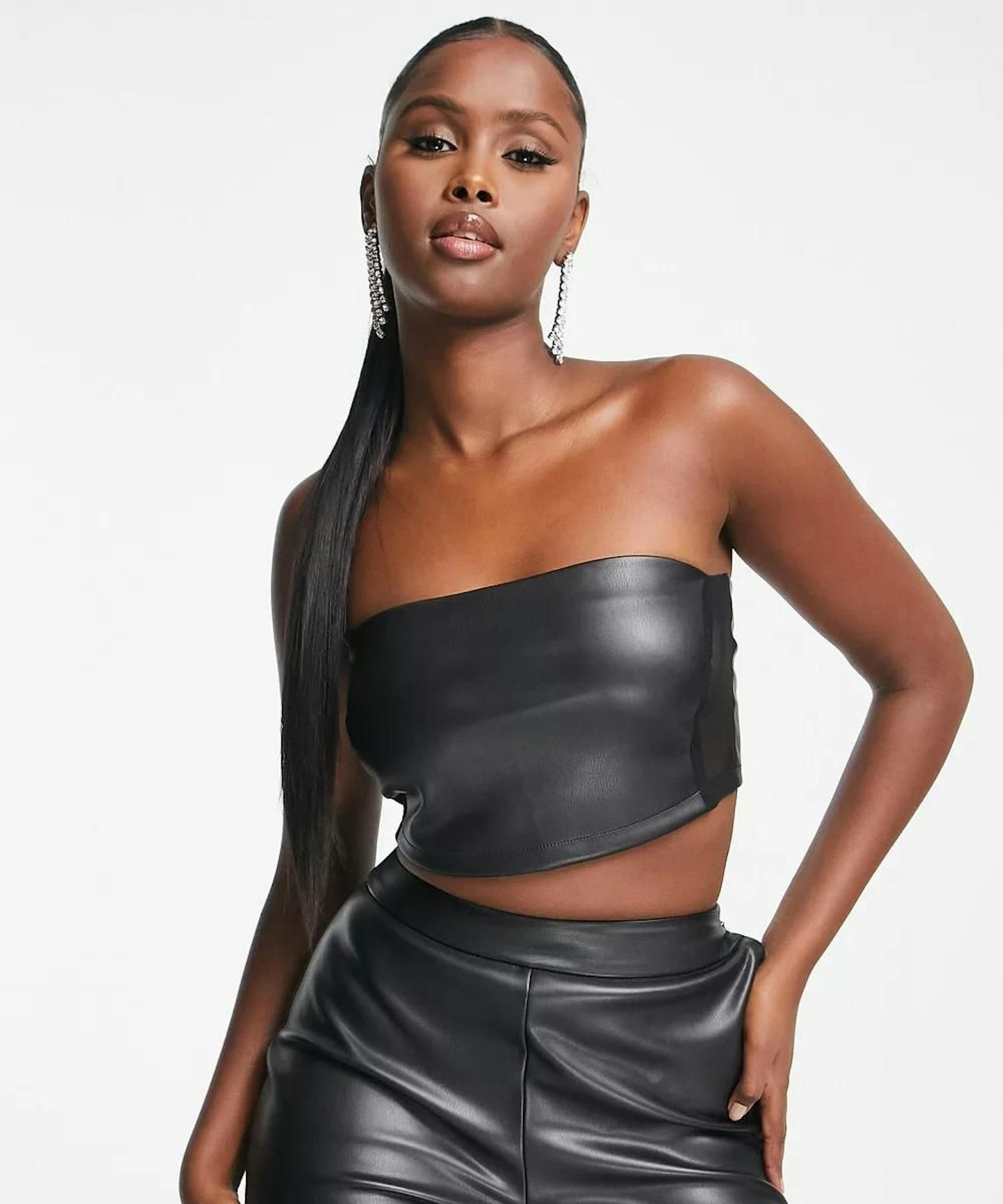 4 of 5
CREDIT: ASOS
Stretch Faux Leather Bralet with Mesh Detail
Taking inspiration from Kim K, wear a leather bralet or bandeau underneath a black blazer. Match with your leather leggings for a double leather look. Well, double denim is a thing, right?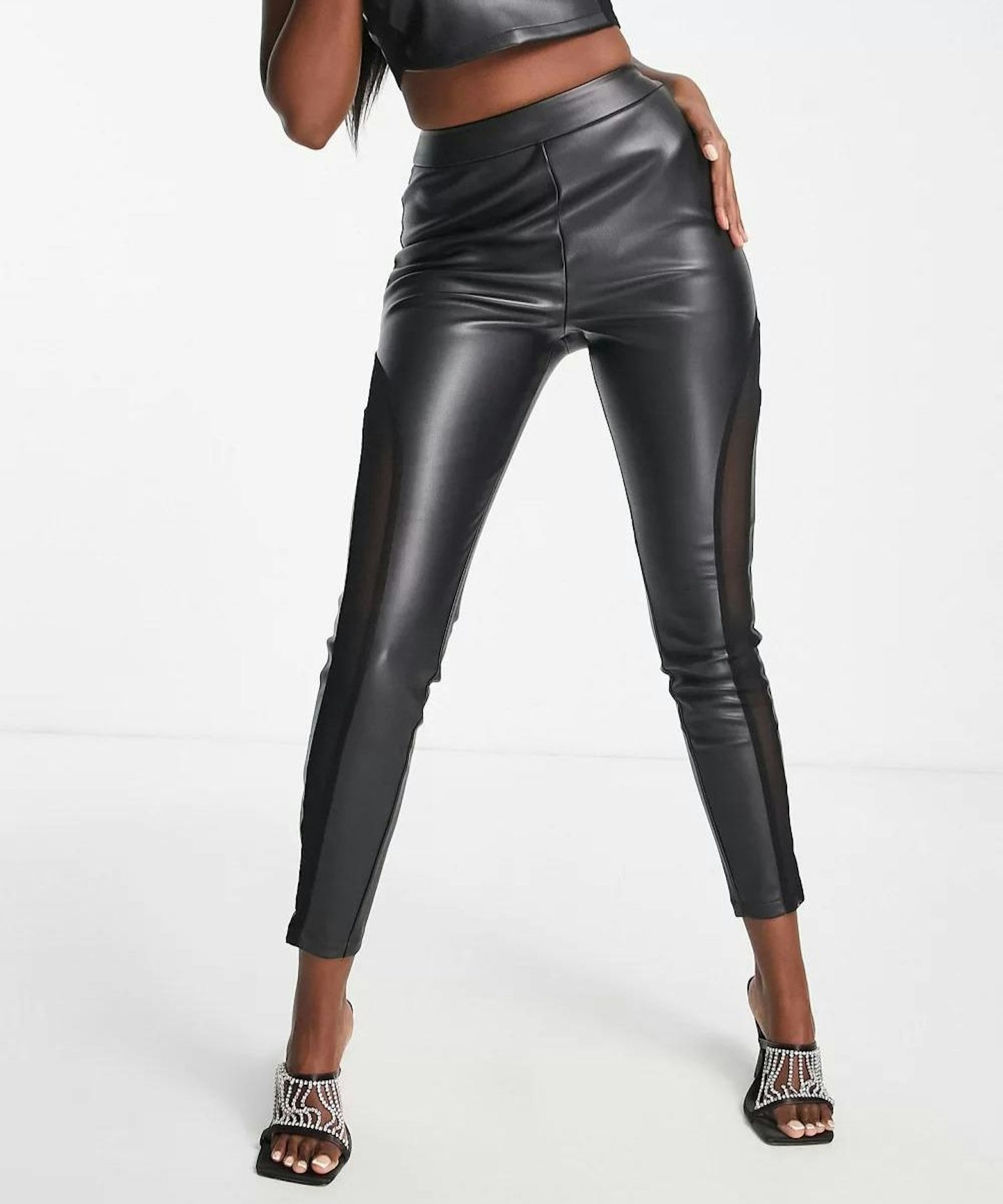 5 of 5
CREDIT: ASOS
Stretch Faux Leather Trouser with Mesh Detail
If you're wanting an exact match, these leather leggings from ASOS feature the same mesh design as in the Stretch Faux Leather Bralet. Wear both for a coordinated look.
Casual and cosy
Flared leather leggings paired with a white racer vest and oversized fur trim jacket might just be the way forward. As seen on Saffron Barker, throw them on with a pair of casual kicks and you're all good to go. In the warmer months, you could even lose the jacket and the outfit would be just as wearable.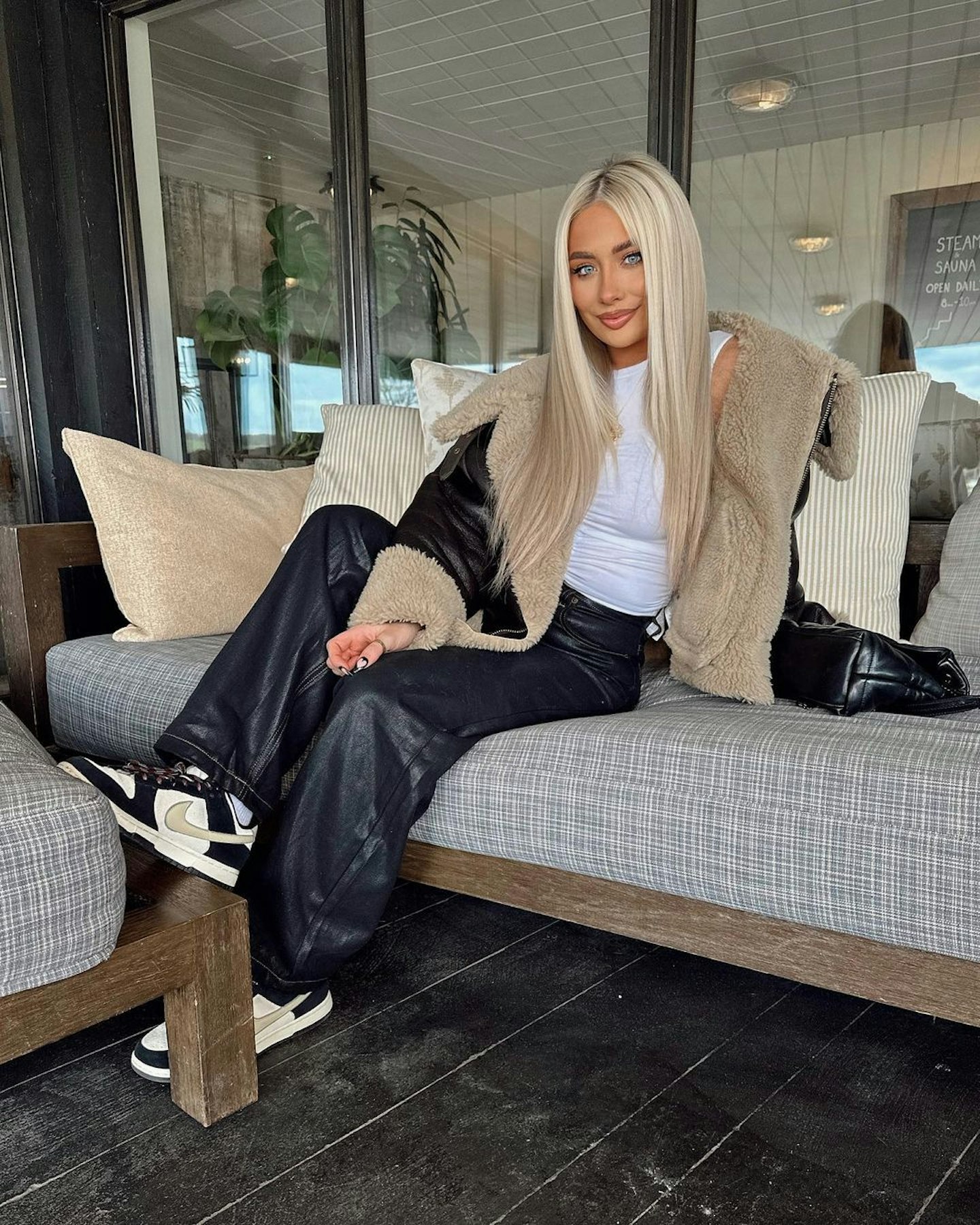 SHOP: Casual and cosy leather legging outfit looks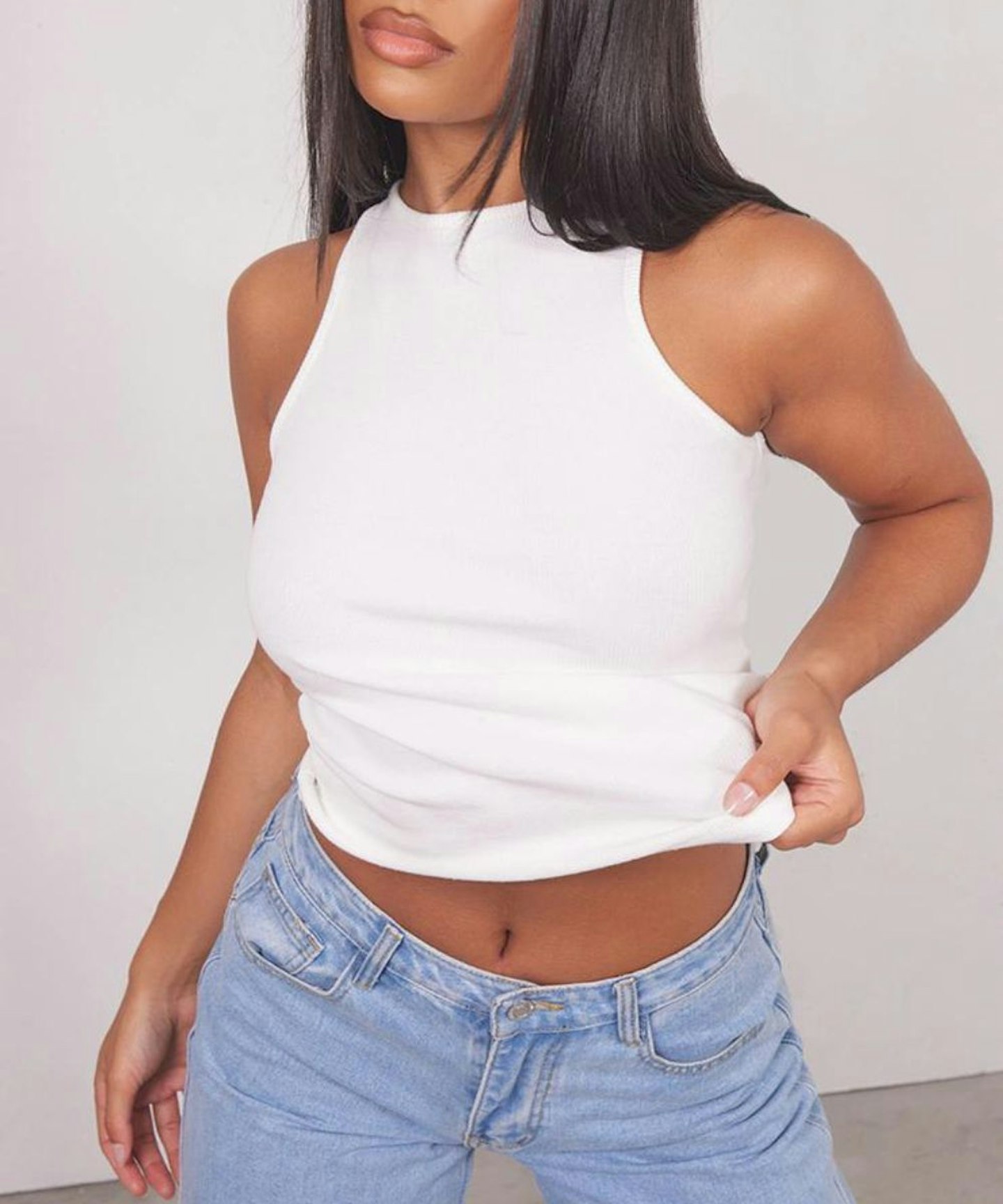 1 of 5
CREDIT: PrettyLittleThing
Basic White Rib Racer Vest
Another outfit builder, a plain white racer vest can be worn with a number of 'fits. Whether it's a pair of jeans, a denim skirt, or (in our case) a pair of leather leggings.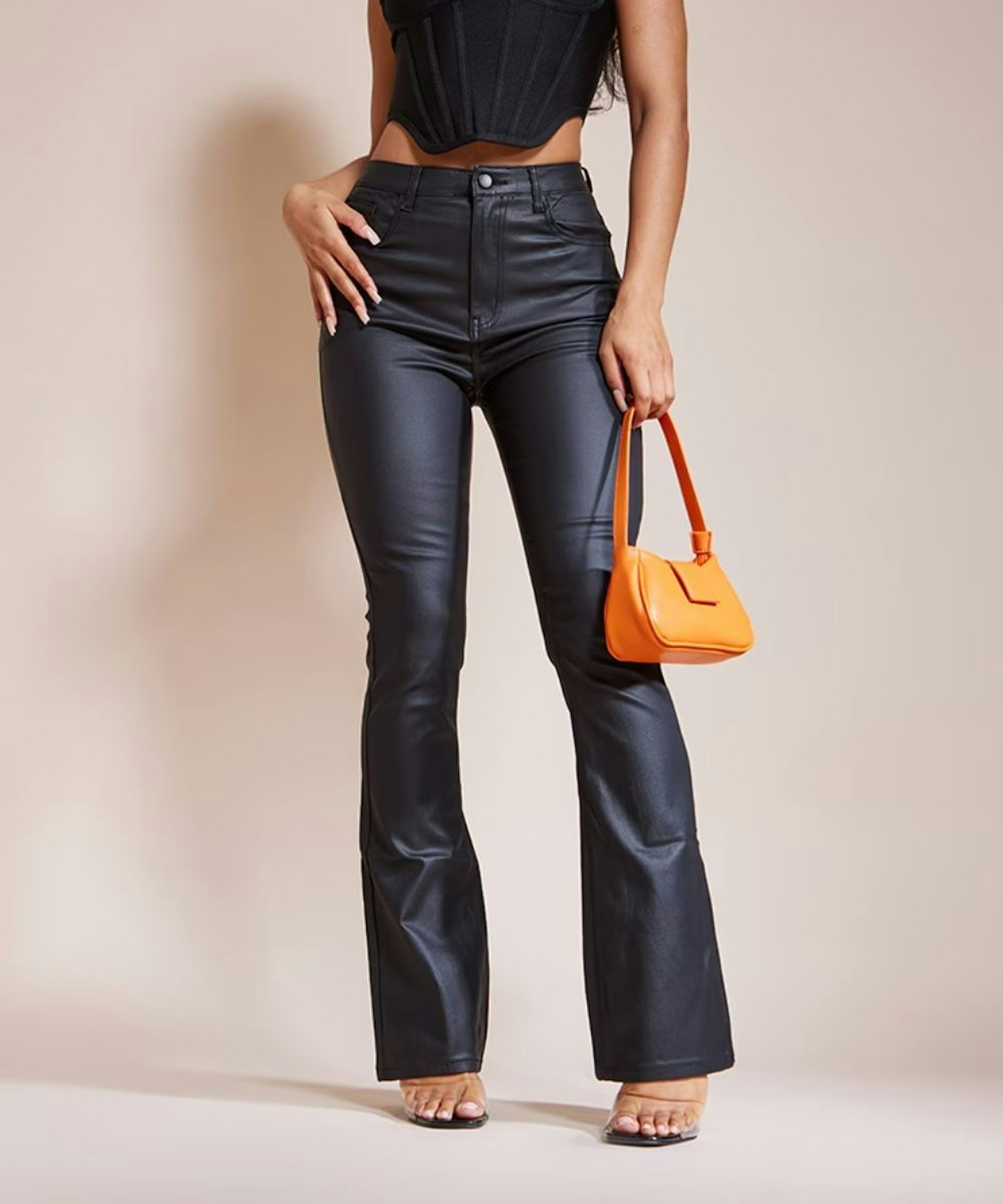 2 of 5
CREDIT: PrettyLittleThing
Black Coated Denim Flares
The fit of these leather flares is oh-so-flattering. Made with a coated denim effect, you can wear these as an everyday look or style for a night on the town.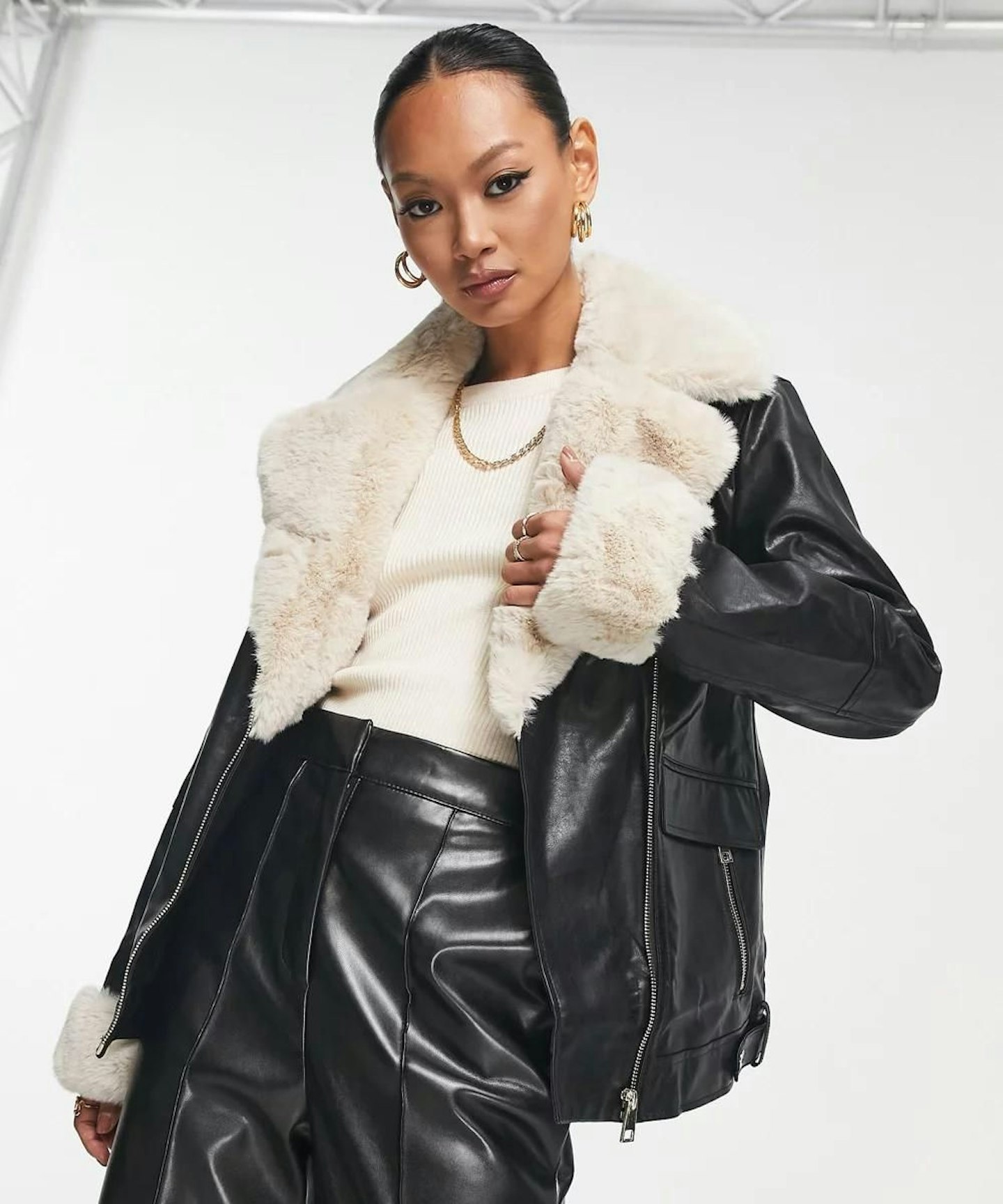 3 of 5
CREDIT: ASOS
River Island Contrast Faux Fur Trim Biker Jacket
Aviator jackets are flying out lately and this style of jacket is ridiculously on-trend. If you're wanting to recreate the look, this jacket is the one. But if you're wanting to put your own twist on it, a teddy jacket would work here too.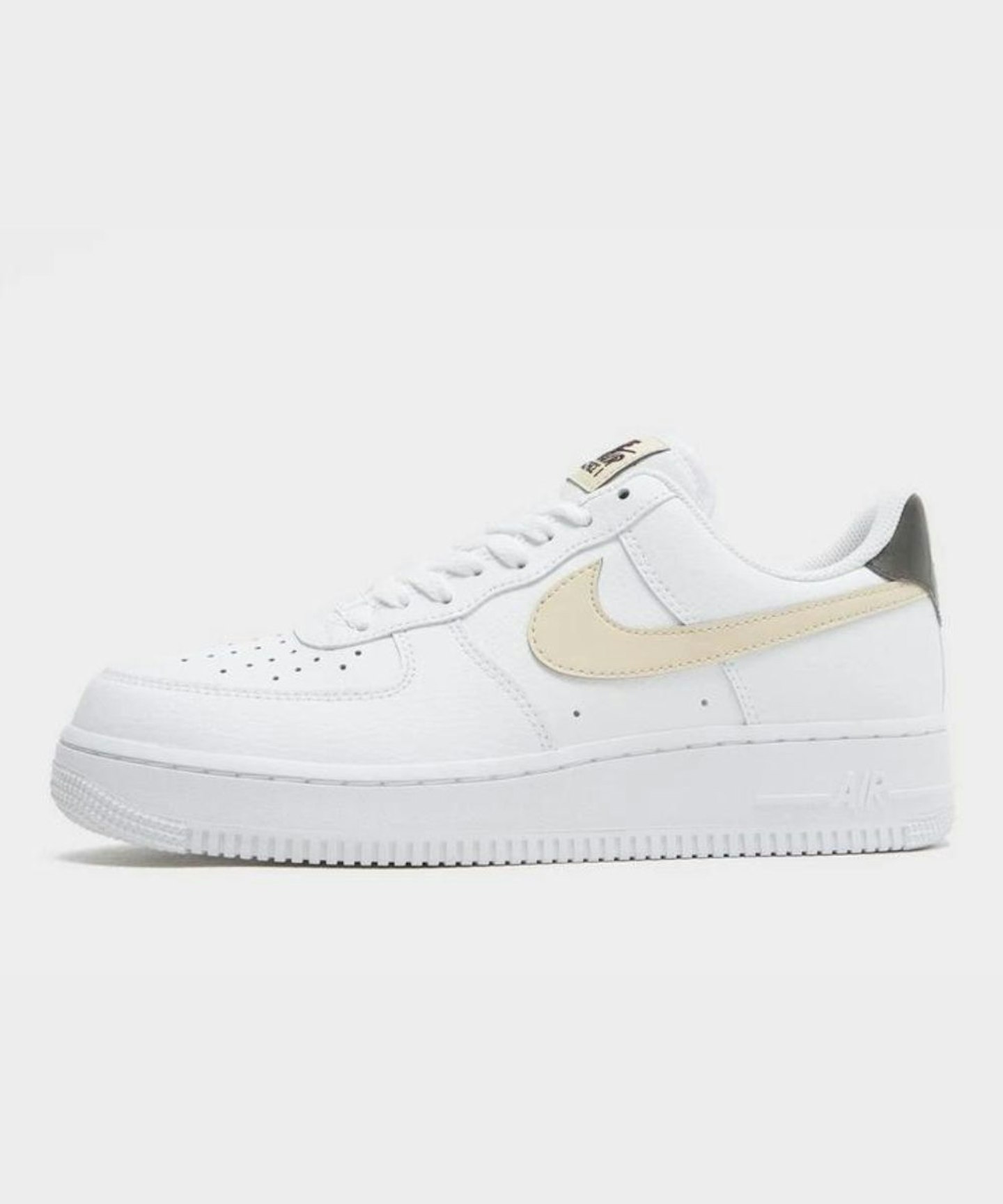 4 of 5
CREDIT: JD Sports
Nike Air Force One '07
Of course, to complete the outfit you'll need a pair of Nike Air Force 1 07's. The exact pair Saffron is wearing is quickly selling out over at Nike. But, JD has you covered with this pair of white and beige Air Forces.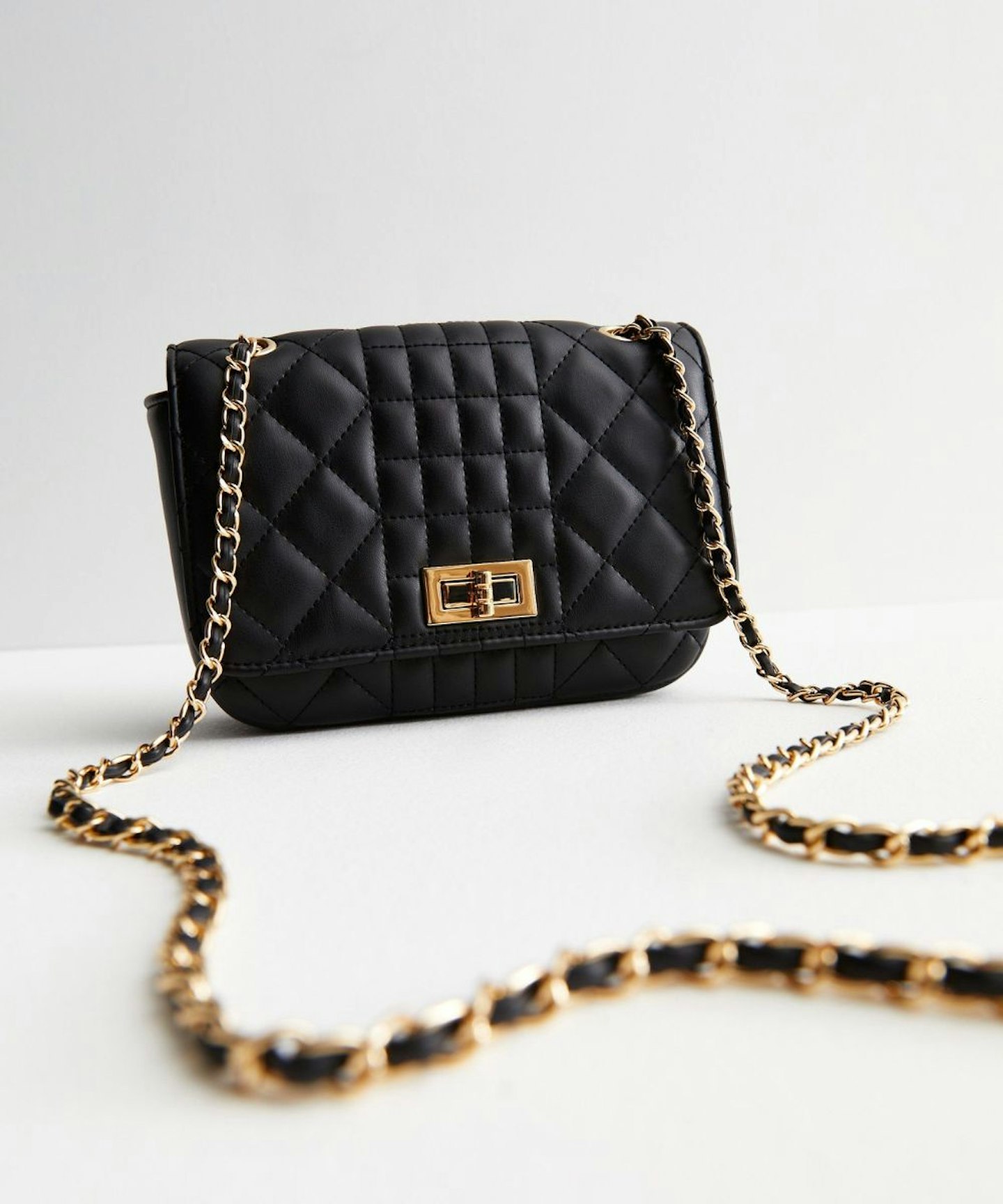 5 of 5
CREDIT: New Look
Black Quilted Leather-Look Chain Strap Cross Body Bag
A leather quilted bag is a fab option as an everyday day bag to throw on with your outfit. This one from New Look won't break the bank and might just become your new favourite.
Slogan tee
There are so many of Lucinda Strafford's leather legging looks that we just love, but our favourite looks of hers are when she layers her leather leggings with a slogan tee or an oversized sweatshirt for that effortless sporty vibe. Ideal for a casual catch-up with your girls.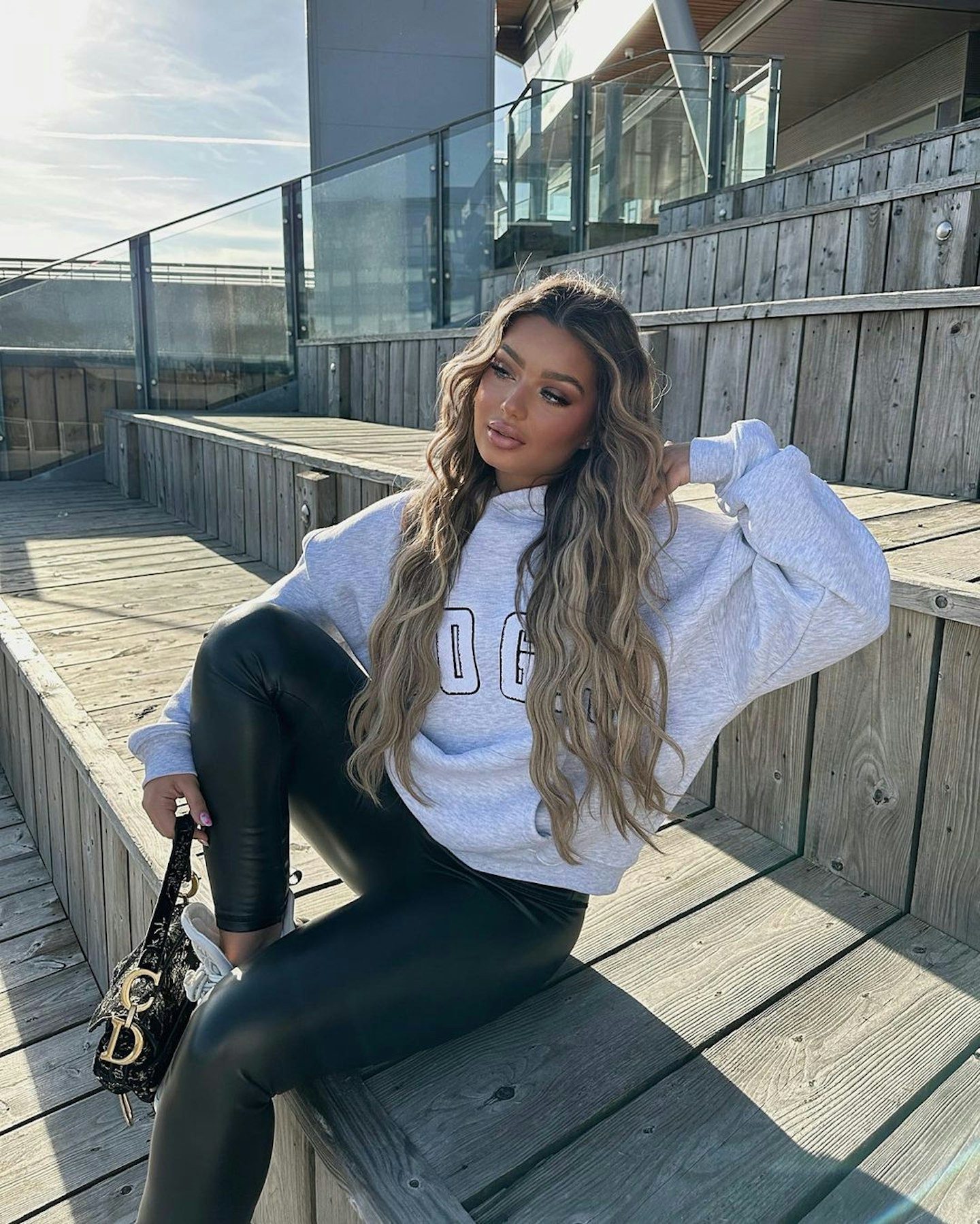 SHOP: Slogan tee leather legging outfit looks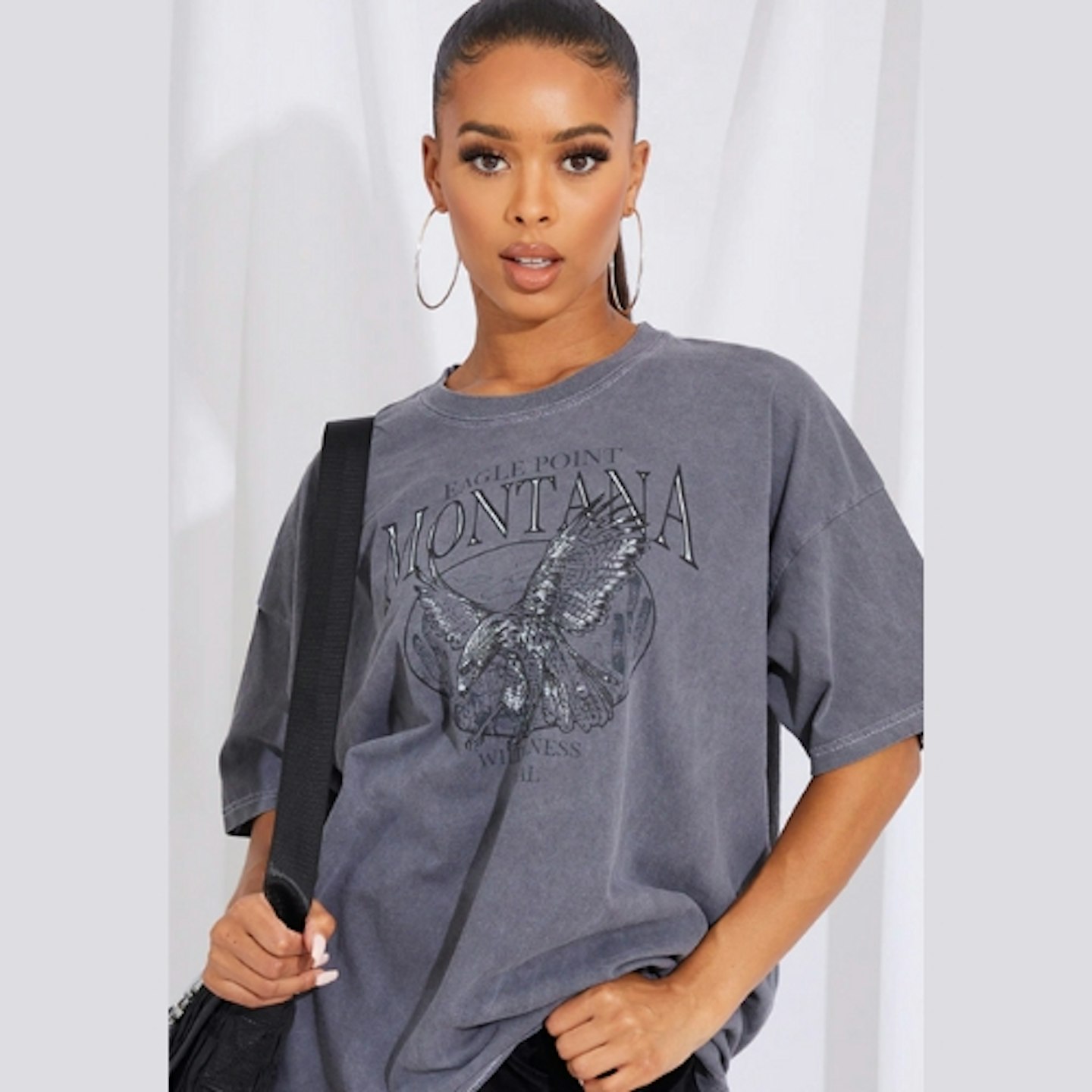 1 of 5
CREDIT: PrettyLittleThing
Charcoal Montana Logo Oversized Washed T-Shirt
If you're looking for something easy to wear, look no further than a varsity tee or slogan top. PLT has loads of options over on their site, but this Montana Logo T-Shirt fit the vibe we were going for pretty well.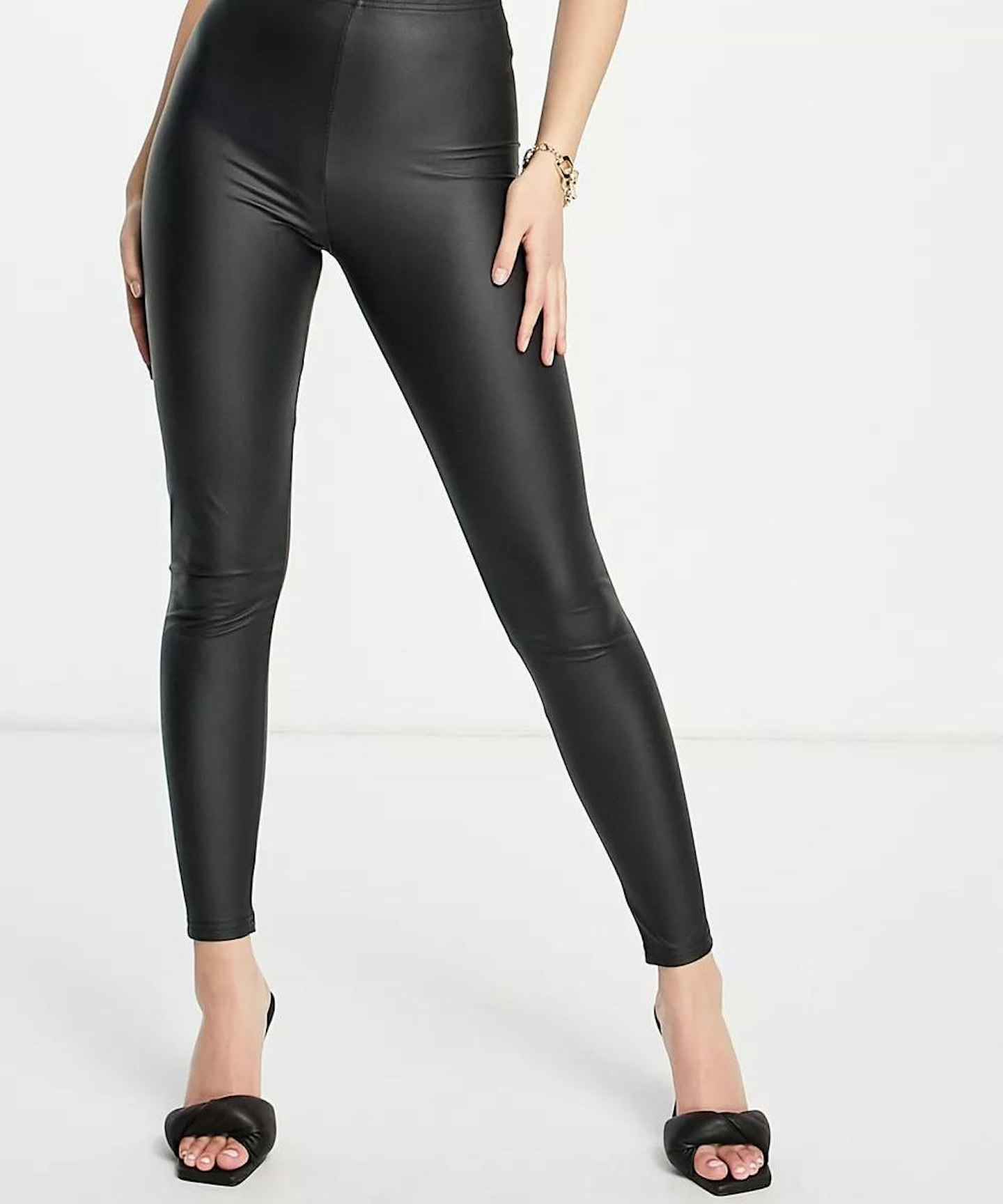 2 of 5
CREDIT: ASOS
Leather Look Leggings in Black
These leather-look leggings are selling fast at ASOS. Designed to be skin-tight against your body, these leggings have a high-rise waistline and elasticated waist for comfort as well as style.
3 of 5
CREDIT: PrettyLittleThing
Grey Marl Soul Print Washed Sweatshirt
A bold text sweatshirt is a great option to throw on over the top of an outfit. It gives off a chill and laidback vibe if you're out on a casual shopping trip or running errands around town.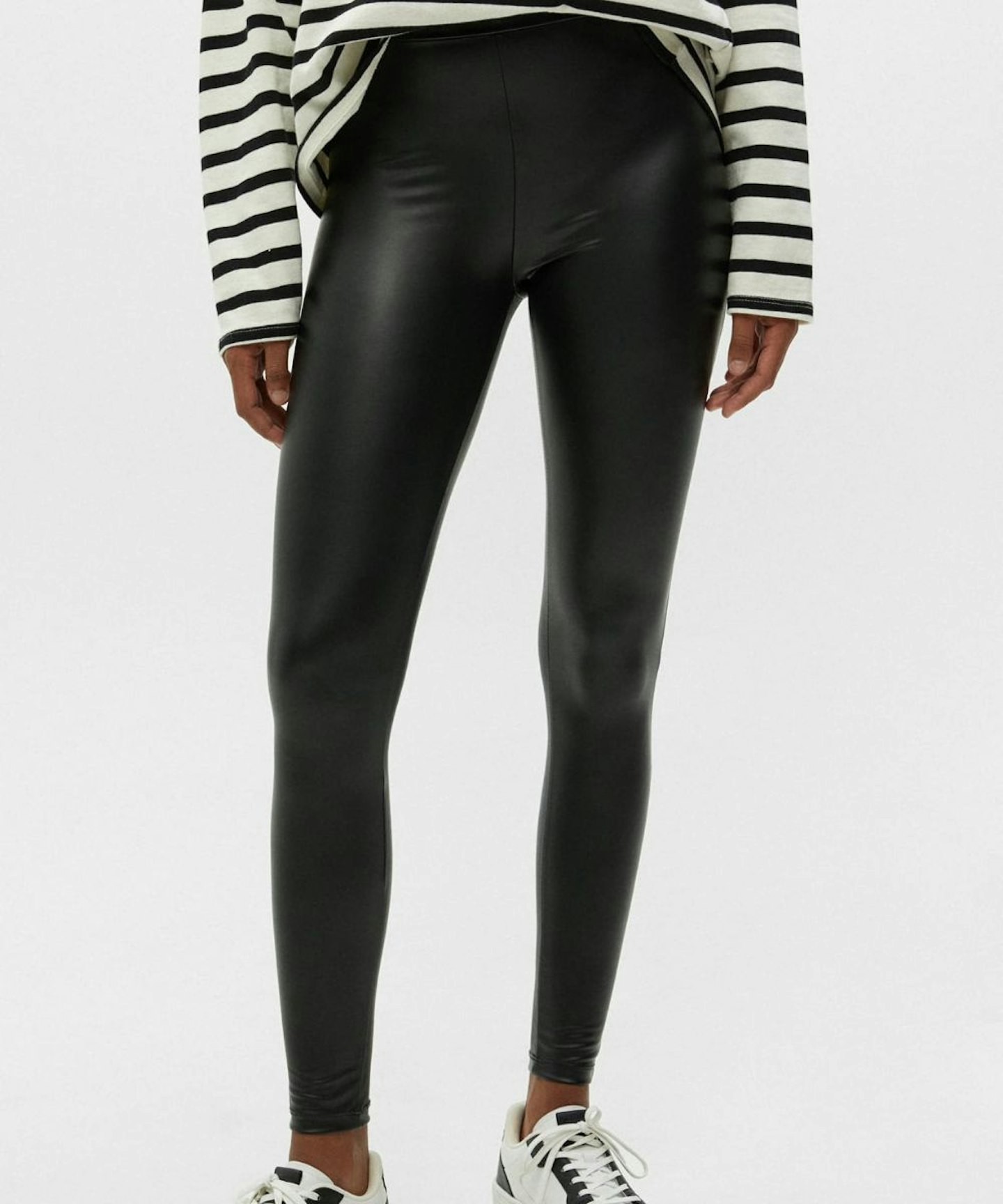 4 of 5
CREDIT: Pull&Bear
Basic Faux Leather Leggings
Another pair of skin-tight leather leggings that are a great casual option. From Pull&Bear, these faux leather leggings have an elastic waistband to ensure you're comfy as well as stylish.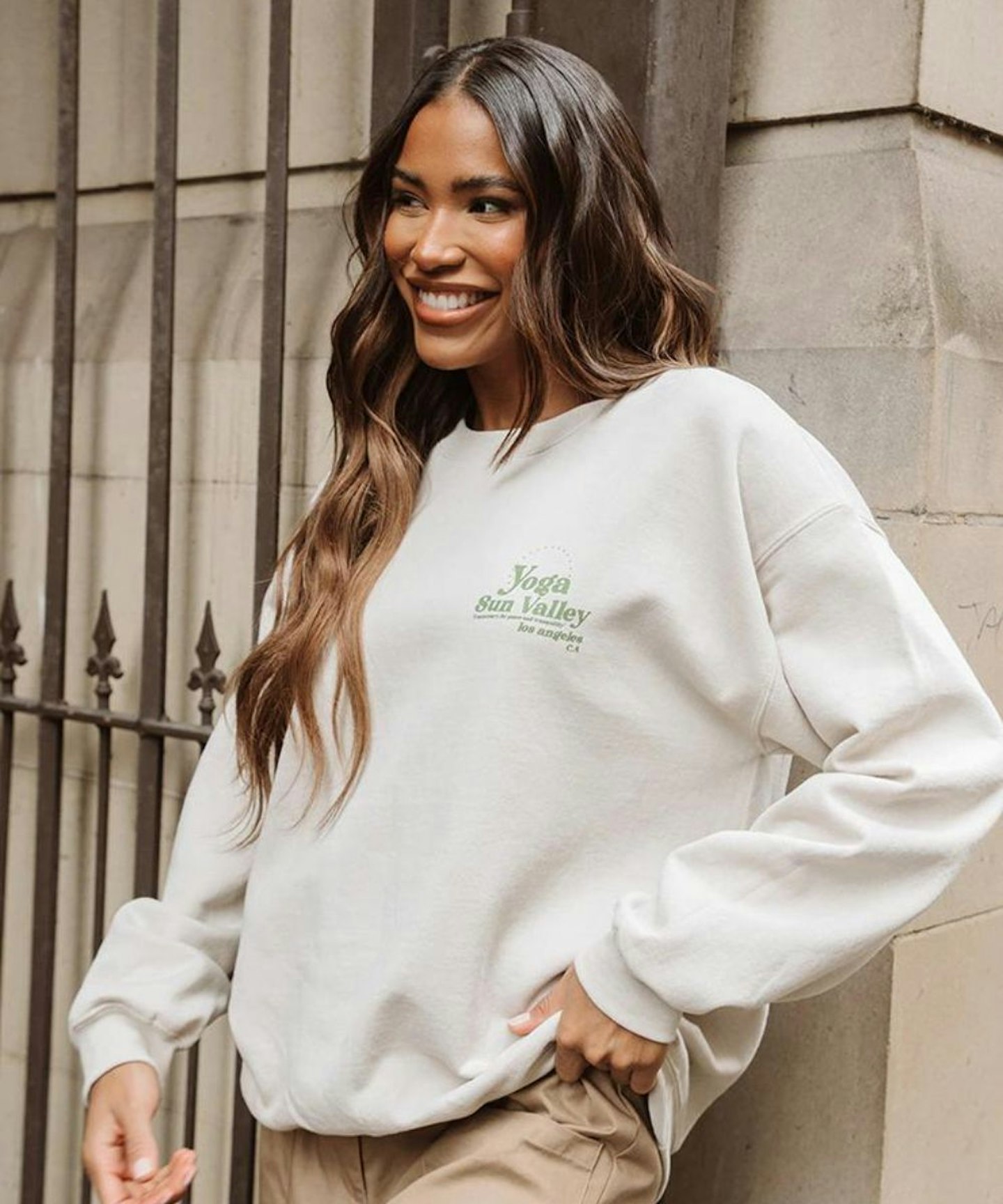 5 of 5
CREDIT: PrettyLittleThing
Cream Yoga And Shine Long Sleeve Oversized Sweatshirt
With the viral Sister & Seekers YOGA Melange Hoodie that Lucinda is wearing a bit out of our price zone, we've settled for this Yoga and Shine slogan sweatshirt from PLT as an alternative that well and truly brings the zen vibes.
How to style a leather legging outfit look?
As we all know, shoes and bags are crucial to any outfit. If you're going for a casual vibe, trainers are a must here. A plain and simple white tee or vest would be spot on, along with oversized sweatshirts or slouchy slogan t-shirts. Style with an everyday chain cross-body bag, or even a bum bag to nail the casual look. A baseball cap or bucket hat would complete your outfit.
If you're wanting to get dressed up, any pair of heels would work, but you can't go wrong with a classic court shoe. You might want to get bold with a statement colour and match it with a dressy clutch bag. We've seen a lot of celebs style their leather leggings with metallic bodysuits or feather-trim corsets. A boyfriend blazer or matching leather jacket would be perfect to wear over the top.
Marina Avraam is the Deputy Commercial Content Editor for heat. Hobbies include (but not limited to) finding the best designer dupes, buying every iteration of the adidas gazelles and listening to celeb podcasts every hour of every day.