Well, that's it. The Love Island crown has been begrudgingly ripped from the perfect hands of reigning champs Ekin-Su Cülcüloğlu and Davide Sanclimenti, our winter 2023 Islanders are all back in the UK with their hundreds and thousands of new followers, and we're feeling just a little bit lost. Does this mean we have to start going out on weekday evenings again? Say it ain't so.
Luckily for us lovesick introverted souls who class Love Island as a hobby on Tinder (we wish that was a joke), we've got at least a few more weeks of newly iconic Islanders like Tanya Manhenga, Will Young and Samie Elishi milking their five minutes for all that it's worth with a string of press interviews, podcast appearances and social media collabs. So for the time being at least, we cling on with determination and purpose.
Speaking of Love Island interviews, we recently caught up with winter Love Island bombshell Ellie Spence for our self-care series, Self-Care Sundays (interview drops Sunday 19 March 'cause Sunday) and, frankly, we just stan her - oh to spend a chilled af Sunday being iconic and wholesome with this queen of queens.
Ellie's been out of the villa for several weeks ago, but her head's definitely still in the game. In just a few short weeks, this bombshell has clearly picked up the do's and don'ts of the interview game: the big do being ALWAYS spill a hazardous amount of tea for heat journalists.
During our wholesome chinwag, Ellie not only revealed which of her fellow LI girlies took the longest in the shower, but she discussed those rumours regarding unyielding producers limiting getting ready time in the villa. Honestly, we'd rather go home early than have just 20 minutes to get ready for Love Island Vibe Club. Not all of us are born with Jessie's beaut and bouncy af hair, you know? Natural we are not.
Ellie revealed, "Getting ready completely totally depended on the night. Sometimes they would give us an hour, sometimes they would give us three depending on if they were setting up outside and we had to be held in the dressing room.
She continued, "I think there's a myth that you get 20 minutes sometimes but they definitely gave us a good amount of time."
Phew.
Re that shower tea, Ellie exclusively told heatworld, "Tanya would have to shower last because she would take so long. She loves to just stand in that shower. We'd be like 'Tanya, you can't go in first.'"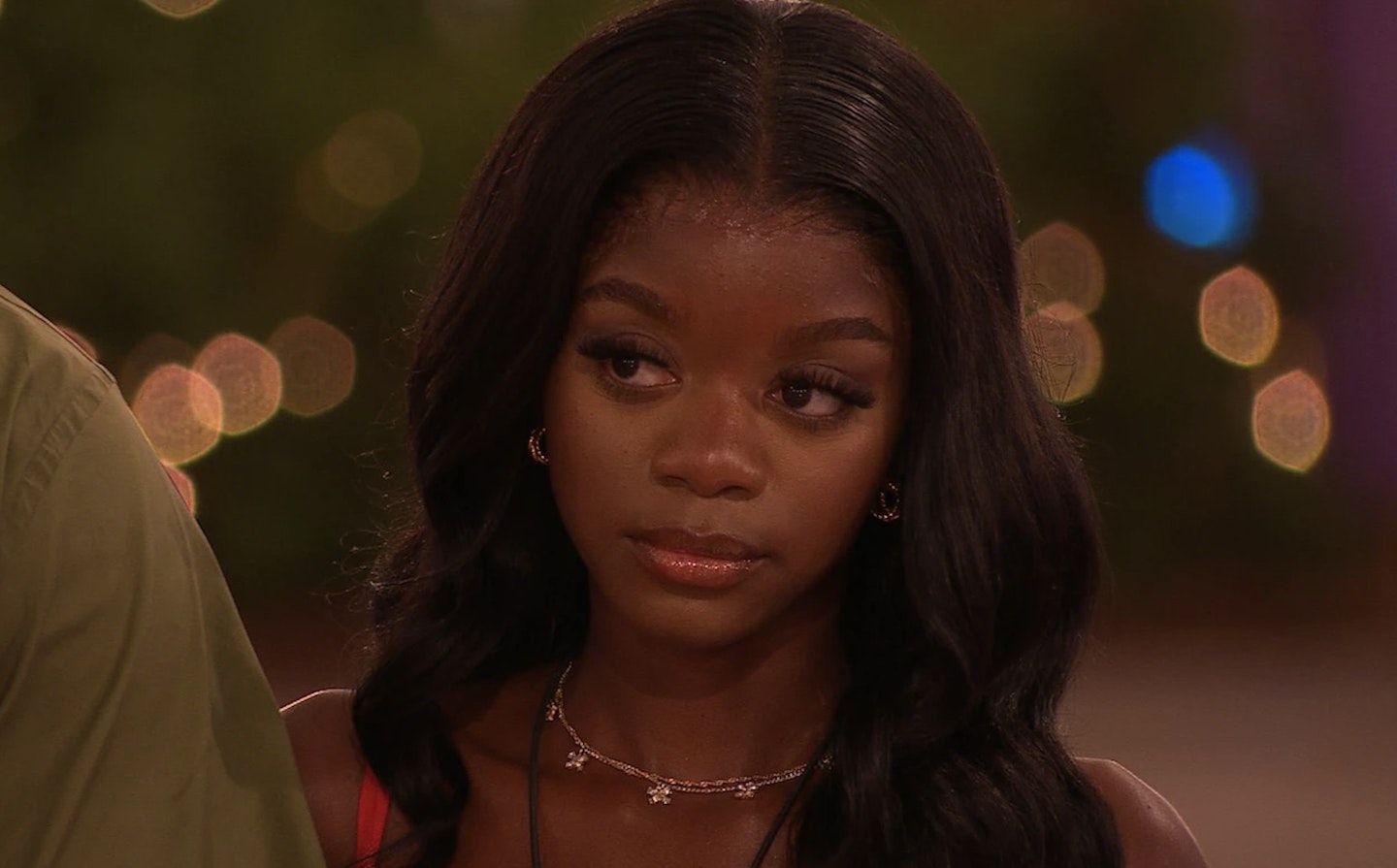 Do we not ALL have this friend? You should send this article to them.
Tanya Manhenga, who finished in fourth place with Shaq Muhammad, was the very first Islander to be leaked online back in January 2023, days ahead of the series launch on 16 January 2023, which somehow feels like yesterday and a lifetime ago.
Before entering the winter Love Island villa, Tanya was a biomedical science student and influencer from Liverpool and here's a fun fact, she was already Instagram pals with Love Island 2022 fave Indiyah Polack, as well as an ambassador for Boohoo, Ego and Simmi Shoes (turns out you can get those deals prior to getting on Love Island).
Just her being iconic on a throne.
Who is Tanya Manhenga?
Tanya appeared on series nine of Love Island in 2023 (winter edition) and finished in fourth place with Shaq Muhammad. She is a reality star, biomedical science student and influencer.
Where is Tanya Manhenga from?
She is from Liverpool.
What is Tanya Manhenga's Instagram handle?
As an influencer, Tanya already had 14K followers prior to her name being announced – not bad. She now has over 164K. You can follow her at @talkswithtt_.
Why did Tanya go on Love Island? She already had the deals...
According to Tanya, she was "looking for a boyfriend". She said, "I think being in a villa with lots of different people will help me work out who it is I may want."
What gives Tanya the 'ick'?
We like this one. Tanya says, "Guys that don't wear socks in the house. Why are your feet flapping all around the house? Guys have huge feet too, yuck. Also, guys in the bathtub with no bubbles, such an ick, no."
WATCH: 'I Really Felt For Lana' Olivia & Maxwell Clear Up Love Island Drama | Heat Dates