Instagram, Facebook, Twitter, TikTok, Twitch; we don't know about you, but our social media scrolling's getting a little ridiculous in lockdown. Seriously, we're kind of ashamed of our daily screen time right now. Seven hours? Cool 😕.
Having said that, we suffer from major FOMO and - with all this hype around brand new app Clubhouse - we just had to see what all the fuss is about.
The invite-only social media platform's been branded a 'live podcast' platform; with its drop-in audio chat acting as a sort of LinkedIn/Houseparty (remember that?) hybrid.
Confused? DON'T FEAR. We're here to talk you through the hottest new app which boasts actual-richest-person-on-the-planet Elon Musk among its fans.
What is Clubhouse?
Clubhouse is a brand new social media app based on audio chat. Yep, that's right - no perfectly-filtered Instagram pics here; it uses solely the medium of sound. Ooh.
Similar to a conference call (or room on Houseparty), users can drop in and out of grouped conversations on some of their favourite topics - from celebrity culture to wellness and nutrition - hosted by fellow users.
In that sense it's like listening in on a live, real time podcast. Once the conversation's over, the audio no longer remains. Unlike similar app Twitch, which allows users to record live sessions for repeated use.
How do I get a Clubhouse invite?
Ah, the GOLDEN QUESTION.
Clubhouse is currently an invite-only platform, meaning a current user has to 'nominate' you to join by sending you an invitation via text message to your phone. Through the link provided, you'll be directed to the sign-up page and instructed to create your profile.
Existing users are given one invite initially, though the app states:
'Clubhouse grows through invites...As you host rooms and participate, [invites] automatically get added to your account.'
Oh, it's all very 'if your name's not down, you're not comin' in.' Very 'VIP' section of Slug & Lettuce, babes.
Why does Elon Musk love Clubhouse so much, then?
Clubhouse was actually launched by fancy-schmancy Silicon Valley entrepreneurs Paul Davidson and Rohan Seth back in March 2020; though SpaceX CEO and richest person on the planet Elon Musk shot it straight into the public consciousness recently when he hosted a Clubhouse room with Robinhood CEO Vlad Tenev.
We have no idea, either.
As of February 2021, Clubhouse now boasts over two million users. Just for context, back in May 2020 just 1500 people were on the platform.
Blimey.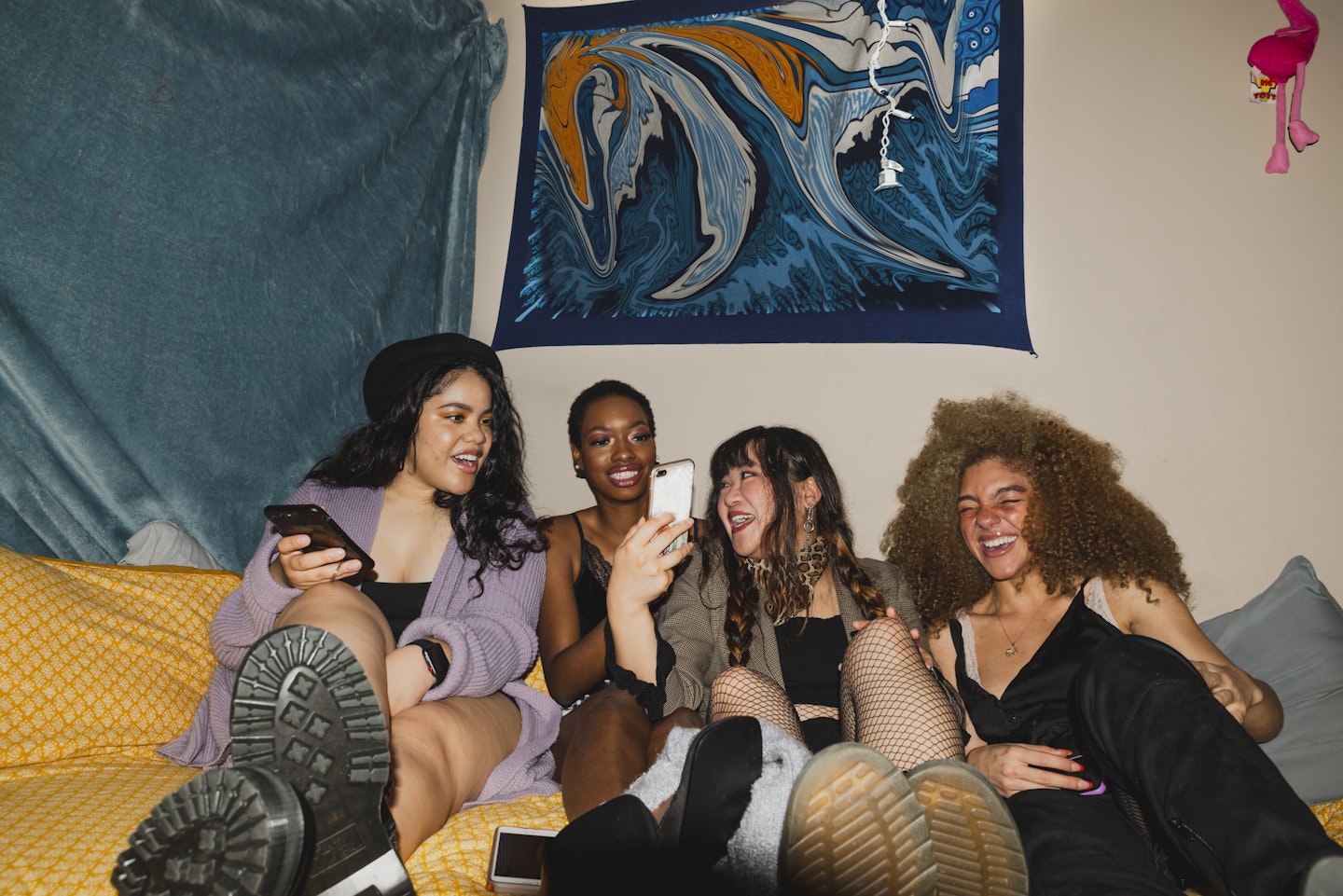 How to download Clubhouse on iPhone
If you're on Apple iOS, head to the App Store to download the Clubhouse app.
How to download Clubhouse on Android
Ah, so Clubhouse isn't currently available for Android devices; although the team behind-the-scenes understand demand and are working on it.
In a January 2021 blog post, Clubhouse explained a 'struggle' to keep up with demand. They said, "We've grown faster than expected over the past few months, causing too many people to see red error messages when our servers are struggling.
"A large portion of the new funding round will go to technology and infrastructure to scale the Clubhouse experience for everyone, so that it's always fast and performant, regardless of how many people are joining."
Check out: Love Islanders' social media earnings RANKED
Read more:
The best way to do virtual after-work drinks in the 'new normal'
We've found the most hilarious Valentine's Day cards and they're a right LOL
Which celebrities are on Clubhouse?
Among the famous faces on Clubhouse so far are Ashleigh Louise, Tiffany Haddish, rapper-turned-podcaster Joe Budden and - apparently - Lindsay Lohan.
It has to be said, though - Clubhouse isn't necessarily a platform that prides itself on its' celeb endorsement. Ashleigh Louise - one of the UK's most famous 'moderators' looking after Clubhouse 'rooms' explained to Metro.co.uk, "At first when I realised celebrities were on Clubhouse and coming into our rooms and on-stage, it was exciting but I think the proximity to them has made people realise they're just like us.
"They're actually not that exciting when speaking on day-to-day topics and entertaining the room, a lot of them are not that great at it.
"At first there was this real desperation to have them in our rooms and bring them on-stage but as time's gone on, we've realised they don't offer very much. I think the idea of them is probably better than the reality because when they come on-stage and they're speaking, there's a lot left to be desired."
So yeah, it's more for us regular muggles.
There you have it, then; a beginner's guide to Clubhouse. Now to get your paws on an invite...