The world may still be reeling from one of Love Island's most chaotic Casa Amor recouplings but life outside the villa is only just spicing up for the dumped Islanders.
As we all wonder if Tanya Manhenga and Shaq Muhammad will get back together or not, two bombshells that were recently booted out of the villa have ignited their very own romance and everyone is OBSESSED.
We know, we use that word a lot but this time it is true, social media could barely keep it together when Zara Lackenby-Brown took to her TikTok over the weekend and posted a video of her and fellow bombshell Jordan Odofin.
It wasn't just any old video either, the short snippet features a very glammed up Zara lip-synching to the soundbite "This boy in my DMs say I'm pretty," followed by Jordan leaning in and KISSING Zara as she offers the cutest of smiles.
Zara even captioned the TikTok with two lovey-dovey emojis "🤭💕" which is basically a declaration of love.
Comments on the video ranged from "YOU GUYS ARE TOO CUTE" and "They would have won the whole show!! 😭😭", to "Love love love them together!!! I'm actually obsessed with them two man 😩🤍."
You see what we mean when say people are obsessed?
If you aren't convinced Twitter was equally besotted with the new duo and are furious at the producers for kicking Zara out before Jordan rocked up.
"Jordan and Zara on a date, we were robbed of this couple #loveisland" and "Jordan and Zara... very much here for it #loveisland" are just a few of the tweets supporting them.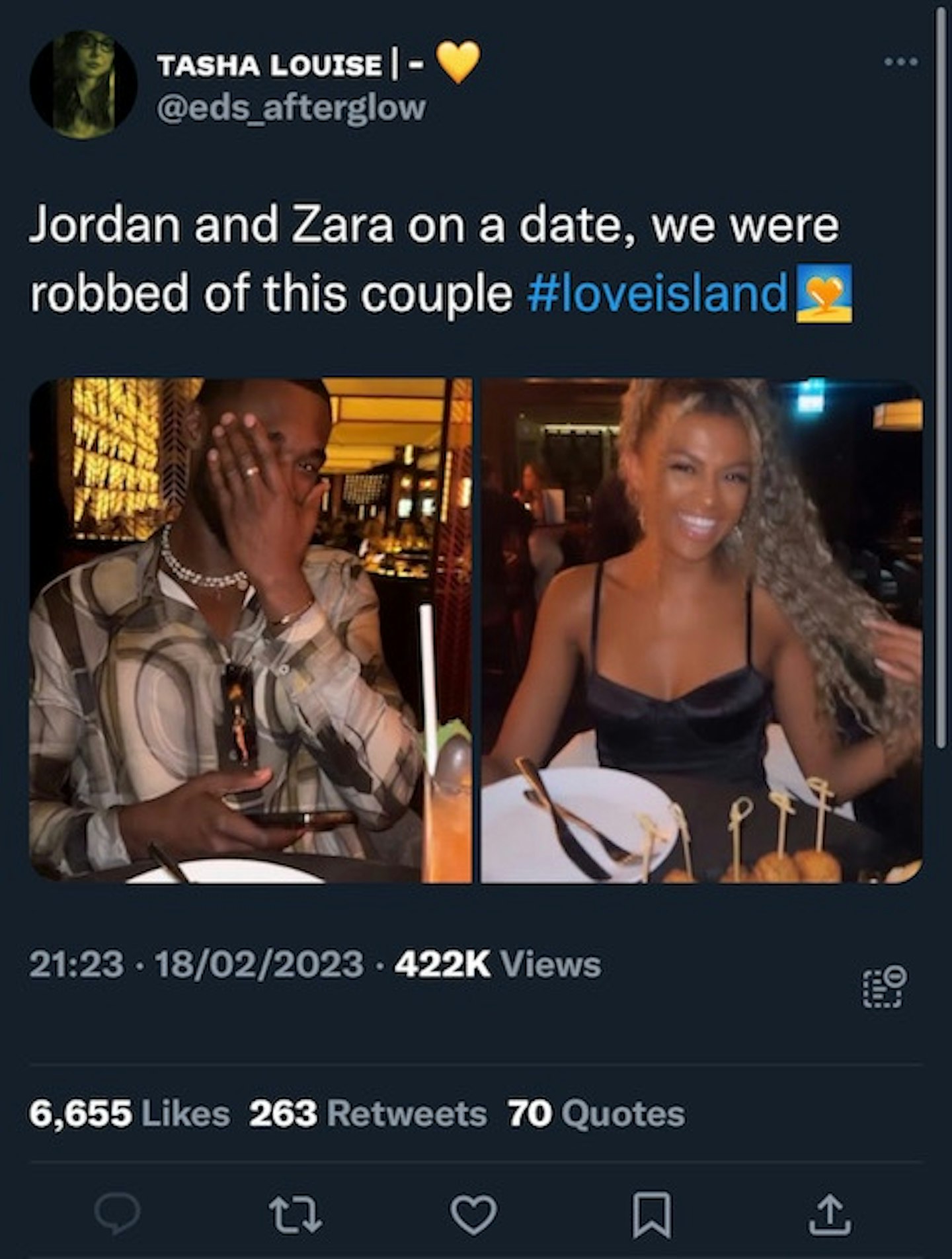 We truly were robbed of this potentially winning couple and what is more frustrating is that they were just days apart from meeting.
Let's do some Love Island maths here; Zara entered the villa as a bombshell on day 3 and was dumped from the villa on day 16, while Jordan entered the villa as a bombshell on day 17 and was dumped from the villa on day 26 (just missing out on some Casa Amor fun with the remaining boys). This, of course, means that Zara and Jordan never actually met during their time on the show.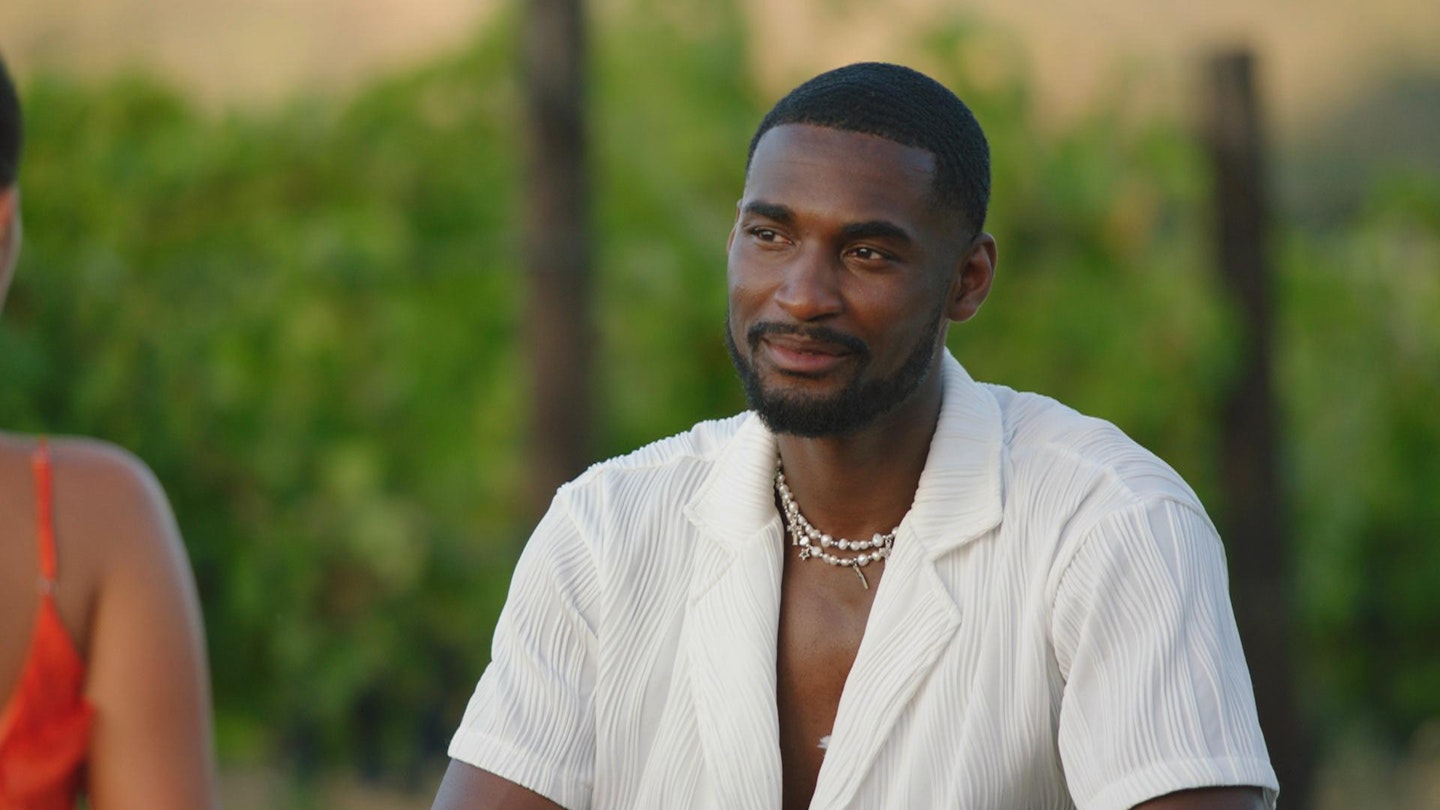 Well, the new couple may not have met in the villa but it seems that nothing can stop true love (we're running with it, okay?) as clearly these two were destined to meet.
It all started during an Instagram Q&A when his fans (hiya), asked Jordan, "Have you had a chat with Zara? 👀💕."
Interestingly, the bombshell responded with a 'grinning face with sweat' emoji and a video of a guy shouting, 'YES'.
That's good enough for us.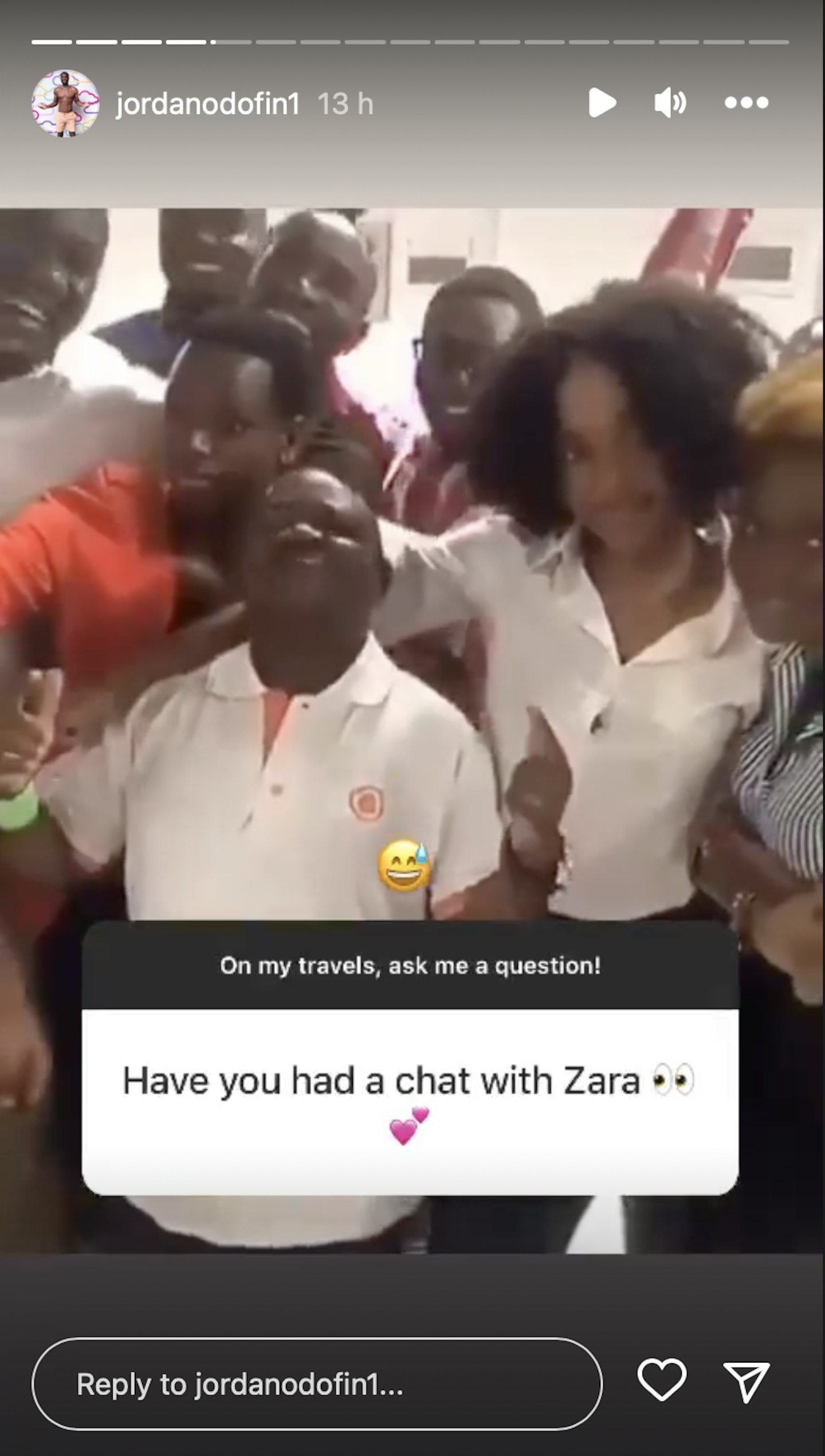 Zara actually admitted to fancying Jordan in an interview too. In a chat with Capital Xtra she admitted, "I do think I need someone older, more mature... Jordan. Can we just say? My type to an absolute T. He's grown. Apparently, he said he likes a fiery girl that can put him in his place. Hello? We have a winner."
She then added, "I'd love to meet him. I've not met him yet, so who knows? Who knows?" Of course, that was a few days ago and now it seems they have met and it was a VIBE.
Jordan was dumped from the Island a single Pringle alongside Ellie Spence – who he was in a friendship couple with for the majority of his time in the villa – while Zara became close to Tom Clare before he became close to, well, everyone, really.
WATCH: 'I Didn't See That Coming!' Love Island's Zara On Olivia & Kai | Heat Dates