We thought Bali was supposed to be a peaceful getaway spot where people travel to 'find themselves,' but the most recent series of Made in Chelsea has the rich crew of SW3 struggling to find anything other than their inner-drama.
Who are we kidding? This was always going to be a disaster. Especially seeing as half of them can barely stand being in the same room as one another, let alone being actual friends.
As Inge Valeninter and Sam Prince find themselves up against, well, everybody it was a bit of a shock to the system to witness Miles and Harvey FINALLY called a truce. But will it last?
In the most recent episode (aired on 21 December) Chelsea's resident Lothario Miles Nazaire had a sit down chat with his current nemesis Harvey Armstrong and in the shock of the century, Miles actually apologised; like, he said sorry and everything (Hell hath frozen over.)
The two posh boys have been at each others throats recently, pretty much ever since Harvey cheated on Emily Blackwell (shame on you, because she is an absolute queen) and seeing as she is Miles' BFF, he has been chewing Harvey's ear off at every opportunity.
But once Emily made peace with her ex, Miles decided that perhaps it was time to let sleeping dogs lie and let Harvey get on with his life.
HOWEVER, in what we can only described as the shade of the season, Miles shared a a quote on his Instagram story that read, "People really be like: How dare you ruin my reputation but telling people things I did and said."
Oh, here we go again.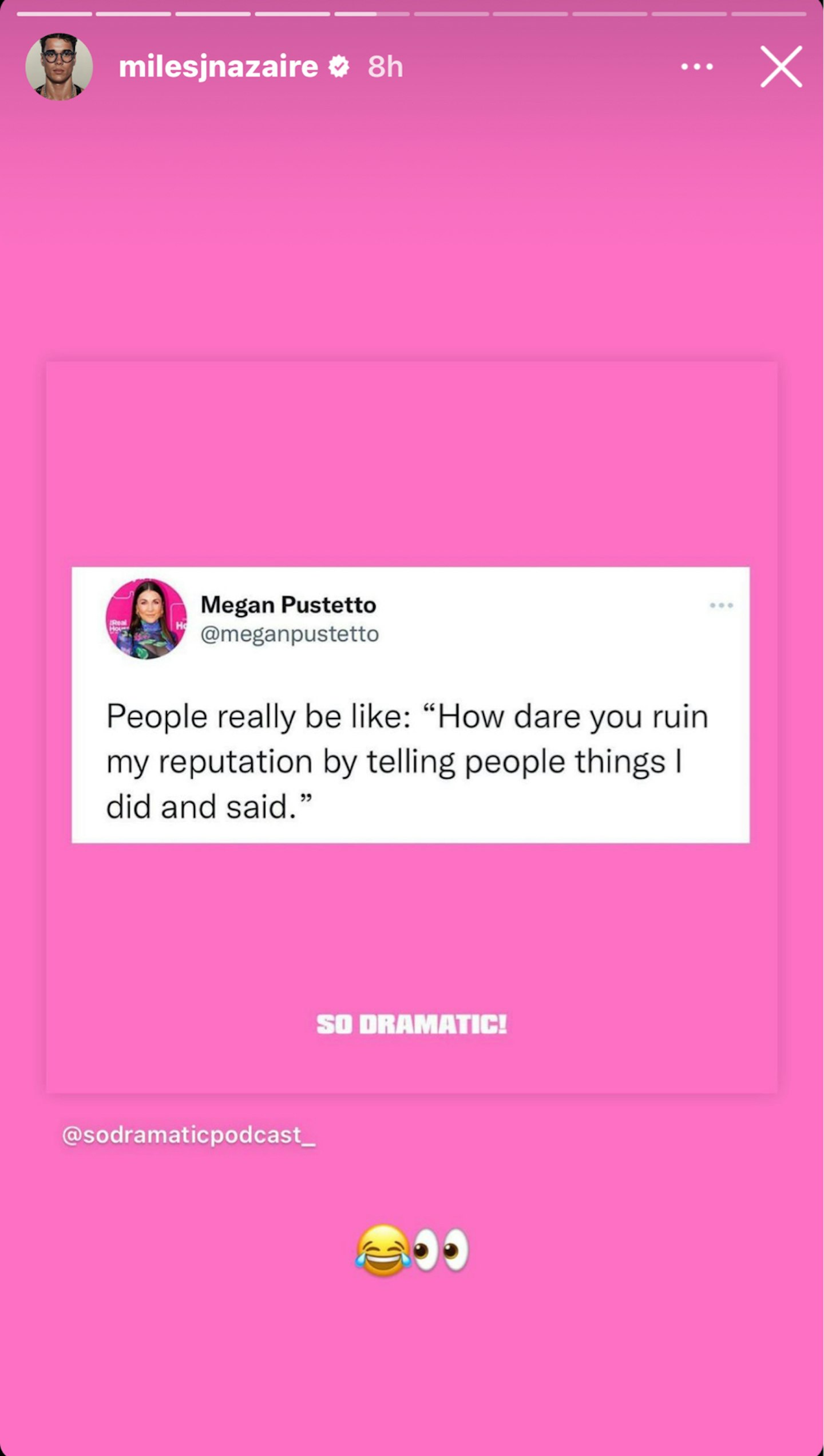 Now, it isn't like Miles went and tagged Harvey in the story because that would be equal parts hilarious and harsh, but we do recall him telling Harvey, "I had the respect to let her know a little bit about you" in reference to Yasmine Zweegers who Harvey was going on a date with.
Miles went on to add, "Unfortunately, Harvey, you're going to have that name for a very long time and it's going to be very hard for you to get rid of it. And me saying on a very, very surface level a little bit of detail to a girl, that is the least of your worries."
The Harvey/Miles feud has been a major debate between Made in Chelsea viewers with many branding Miles a 'hypocrite,' and declaring the whole situation, 'horrible.'
We truly thought the two lads have moved passed all the hate but with another episode airing tonight and Miles sharing this not so cryptic Instagram story I think we can all agree the drama is set to continue on Made in Chelsea Bali.
'I Ain't Proposing!' Ekin-Su & Davide Play Mr & Mrs
LISTEN to the latest episode of the heat 7 podcast