She found fame when she entered the Love Island villa back in 2018, and since then Megan Barton-Hanson has caused some serious drama in the world of showbiz. As well as dating and then splitting from fellow Islander Wes Nelson, Megan has bravely spoken about online trolls, her sexuality, and what it was really like in the Love Island villa.
The former model has since appeared on the 2019 series of E4 show Celebs Go Dating and dated a TOWIE star, so we thought now is as good a time as ever to find out everything else you need to know about Megan Barton-Hanson...
Who is Megan Barton-Hanson?
Megan Barton-Hanson is a former glamour model who appeared on the 2018 series of Love Island. Megan entered the villa as a bombshell on Day 8 and made it all the way to the final with now ex-boyfriend Wes Nelson.
Since leaving the villa, Megan has kept herself in demand, appearing on a number of TV shows, securing modelling deals and posting hashtags ads on the 'gram.
How old is Megan Barton Hanson?
Megan is 26 years old. She was born on the 6th March in 1994.
What happened between Megan Barton-Hanson and that married man?
In June 2020, Megan was pictured kissing her multi-millionaire boyfriend Harry Fenner however it soon came to light that he was in fact married.
After news of his marriage was exposed, Megan dumped him with a source claiming she told him "where to stick it" after the scandal came out.
Who is Megan Barton-Hanson dating?
Megan and Wes split during his Dancing on Ice stint and at first they appeared to remain on good terms but that's definitely changed and Megan even claimed her ex was "too wrapped up in fame".
Fast forward a few months and after meeting during filming for Celebs Go Dating, rumours were rife that Megan was dating TOWIE star Demi Sims (Chloe Sims' younger sister).
Speaking to Closer, Megan said, "I think Demi and I are really similar. We bonded because she was the first girl I could really talk to about liking girls, and she's in the public eye too, so she gets it. We're good friends, but we'll see how it goes romantically.
"I'd been looking at dating like a chore, when it should be fun and exciting. So now I'm enjoying it."
HOWEVER, it soon became clear that things were over between the pair, with Megan reportedly dating somebody new.
The Love Island star's rep told The Sun, "Megan and Demi have stopped the very early stages of dating each other after a conversation was instigated by Megan where she told Demi the truth about how she felt, and that because of her age and a lot of differences in their lives that she saw her more as a good friend.
"This news went down badly with Demi, the age difference between them becoming even more apparent when she then blocked Megan on social media."
The source continued, "Megan is now in the early stages of dating someone new, and is excited to see where it goes, but wishes Demi all the best and hopes in time that they can be friends and that she will be 'unblocked' by Demi."
She's since gone on to date Chelcee Grimes but the pair split earlier this year. However fast forward to few months and Megan has since reunited with her ex-girlfriend.
Is Megan Barton-Hanson bisexual?
Yes. Following her shock split from Wes Nelson, Megan confirmed she is bisexual, admitting she has dated women in the past.
She told new! magazine, "I feel like I might be. After this broken heart I feel like, yeah. I've dated girls in the past. It's not like I wouldn't do it."
When asked whether she thought bisexual women might feel uncomfortable discussing their sexuality in public, she agreed, "Yeah, I guess so, especially if they're well known.
"I think more people who have this platform need to speak out to younger girls honestly, saying things like, 'I've had a few sex partners, I've always practised safe sex. I appreciate women and men.' The more we're all open about it, then the less taboo it becomes."
Was Megan Barton-Hanson on Celebs Go Dating?
Back in May 2019, it was confirmed that Megan would be taking part in series seven of hit E4 dating show Celebs Go Dating. The show, which is fronted by dating experts Anna Williamson and Paul C Brunson, returned to our TV screens on Monday 5th August.
Megan was joined by her Love Island 2018 co-star Jack Fincham, as well as number of other well-known celebs.
Check out: Love Island 2018 stars - where are they now?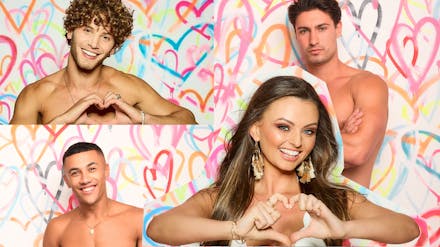 1 of 69
CREDIT: ITV
Love Island cast 2018
From Love Island 2018 winners Dani Dyer and Jack Fincham to Casa Amor's Savannah Darnell and Kaz Crossley, here's what all the islanders are doing now...
Megan Barton-Hanson transformation
Whilst Megan was in the Love Island villa, old photos of her pre-surgery were unearthed and shared around the internet. The model has made no secret of the fact that she's had some cosmetic treatments in the past, and opened up to Grazia magazine about it in a very honest interview.
Speaking to Grazia, Megan said, "I worked so hard to get all the money I could and I feel like I can spend it any way I want. If it makes me feel better I don't know why that's seen as a negative thing?"
But Megan wasn't unhappy with the way she looked before, saying, "I was still beautiful in my own way back then, I've just changed a few things. I was comfortable then and I'm comfortable now."
And since leaving the villa, Megan hasn't been one for shying away from changing her look. She's channelled her inner Kim Kardashian with a neon green wig and more recently showed off her blue hair transformation.
Megan Barton-Hanson and Wes Nelson
Despite initially coupling up with Laura Anderson on Love Island 2018, Wes Nelson had his head turned by bombshell Megan Barton-Hanson when she arrived as a late entry. After officially coupling up, Megan 'popped the question' to Wes, asking the 20 year old to be her official boyfriend.
After making it all the way to the final, and finishing in fourth place, Megan and Wes' romance was going from strength to strength, with Wes moving in to Megan's Essex flat. The pair later located to a flat in Camden, and were forced to deny reports that they were engaged at the end of 2018.
Although they appeared smitten on social media, the couple announced their split shortly after Wes' first live show on Dancing on Ice.
Megan Barton-Hanson split statement
Announcing her split from Wes Nelson, Megan released one of the best break-up statements of all time. Revealing the pair are going to co-parent their pet hamster, Megan posted a jokey message on Instagram.
It read, "It is with hearts full of sadness that we have decided to separate, We have been working hard for well under a year, some of it together, some of it separated, to see what might been possible between us, and we have come to the conclusion that while we love each other very much we will remain separate.
"We are however, and always will be a family, and in many ways we are closer than we have ever been. We are parents first and foremost, to one incredibly wonderful hamster and we ask for his and out space and privacy to be respected at this difficult time. We haven't really conducted our relationship that privately , and we hope that as we consciously uncouple and co-parent, we will be able to continue in the same manner. Love, Megan & Wes".
Megan later posted another follow up comment that was slightly more serious.
She wrote, "In all seriousness, I am so grateful and so blessed to have found Wes, I will always love and adore him and I am so lucky to call him my best friend, it has been an incredibly hard decision to make for both of us but we are both looking forward to moving on together as friends and supporting each other in everything we do.
"I will be down at Dancing On Ice tomorrow to watch him smash i again. Only one thing left to say come on Wes and Vanessa".
Megan Barton-Hanson and Vanessa Bauer's feud
Things got awkward between Megan and Wes' Dancing on Ice dance partner Vanessa Bauer after Vanessa announced her split with her boyfriend just weeks into training with Wes.
Megan took to her Instagram page to go in on the dancer, she wrote, '"@vanessabauer_skates love that you decide to announce your breakup with your boyfriend on the night of your 1st performance with my boyfriend!
She continued, "You've never reached out to me once or invited me to watch you train, it pained you to introduce yourself to me last night you didn't even look me in the eye LOL hope the tactical breakup got you the headlines you wanted babe @wes.nelson."
NOW WATCH: Megan Barton-Hanson opens up about her mental heath for our Where's Your Head At? campaign
READ MORE
Despite keeping silent at the time, Vanessa later opened up to now magazine, admitting she found all the drama very hard to deal with.
She said, "It's something I've tried to keep away from and not comment on. But of course it affects me. I read comments and I get DMs on Instagram which are really not nice, it was really hard to deal with but it's not my job to comment on that."
Does Megan have Instagram? What about Twitter and Snapchat?
Oh, yes, she definitely does!
You can find Megan on Instagram here: @meganbartonhanson_
Megan's Twitter handle is: @MeganBHanson