Love Island 2022 star Luca Bish is young, free, single af and apparently more than happy to spill enough tea to flood the latest Love Island villa – which is MASSIVE btw.
We're all about second chances and reinvention at heatworld (life's too short) and perhaps it's time to cut poor Luca a little bit of a break; we're just putting it out there. After all, it's just Love Island, kids (who ARE we?).
We should add that our forgiving nature is certainly encouraged by the fact that Luca's suddenly slipping us all some serious Love Island goss (and throwing shade) here and there. We're simple creatures here at heatworld – we know that. Anyway, let's start afresh, Luca.
Gemma Owen's ex recently guested on The Red Flags Podcast – which is less about the likes of Adam Collard and more about Formula 1 (no clue; we're more Drag Race than racing here, but apparently Luca is a huge fan) – but of course, was quizzed about his Love Island adventure; or misadventure, should we say.
During the chat, Luca revealed that he had bonded with many of his fellow Islanders following his very public split from Gemma – namely, power couple Ekin-Su and Davide. He explained how many of his cast mates were there for him in the wake of the break-up; he also – do our delight – stressed that it was good to see who wasn't there for him during his time of need 🫖 🔥.
He told the hosts, "I can't be more grateful for how they (his fellow Islanders) actually have been. They helped me a lot. It's also nice to see the one's that weren't because I was like, 'Right, I don't need to waste my time with you'."
Phwoar. RuPaul shade rattle...
Of course, we now need to know WHO Mr Bish is referring to exactly, and thankfully he then went on to share which Islanders he's currently close to.
He said, "Dami, Davide, Andrew, Tasha, Indiyah – a lot more now with Dami – Jacques. Jacques is a big one, I recently just saw him and caught up. We're always there for each other."
We'll let you reach your own conclusions, but by process of elimination, glaring OG omissions include Gemma (obvs), Paige Thorne, Adam Collard, Ikenna Ekwonna, Amber Beckford and Danica Taylor. That's not us stirring the sh*t, that's just us doing some basic Love Island maths.
We know you're also dying to know what he said about ex Gemma and don't fancy listening to an F1-themed podcast (fair), so here you go...
He said, "I think I came across a lot more into Gem than she was into me. What was shown, it was definitely made out to be that way. On the outside you become yourself again; you lose yourself a bit in there and you think everything needs to happen now. You think, 'I wish I was a little bit more chilled out than I was.' It's all intensified in there. It happens and you come out and you think, 'I look like a right wet wipe.' You're not yourself I would say in there. From the beginning Luca to the end one, I think a lot of people could see that."
Are we feeling something for Luca Bish? Who ARE we in 2023?
Late last year, Luca opened up in an emotional Instagram post after his family home was targeted by thieves while they were on holiday.
The Bish family were forced to cut their trip to Switzerland short after their house was broken into. Although Luca hasn't revealed what items were stolen, he has admitted that the break-in has left him and his relatives "fearing being in our home".
Luca also told his followers that the incident, which is currently being investigated by police, has left him torn about sharing his day to day life on social media.
Taking to his Instagram story to share a heartfelt statement, Luca wrote, "Thank you to all of you that asked how Switzerland was - it was lovely, much needed quality family time which we haven't done in years.
"With that being said, sadly the holiday was cut short. Going into the public eye comes with so many positives, and I want to be able to share my day to day with you without the fear or assumption that there are people watching with ill intentions."
He continued, "Last night my family home was broken into. Materialistic things can be replaced, however my family fearing being in out home and knowing you've been violated in such a way is a feeling you can never describe."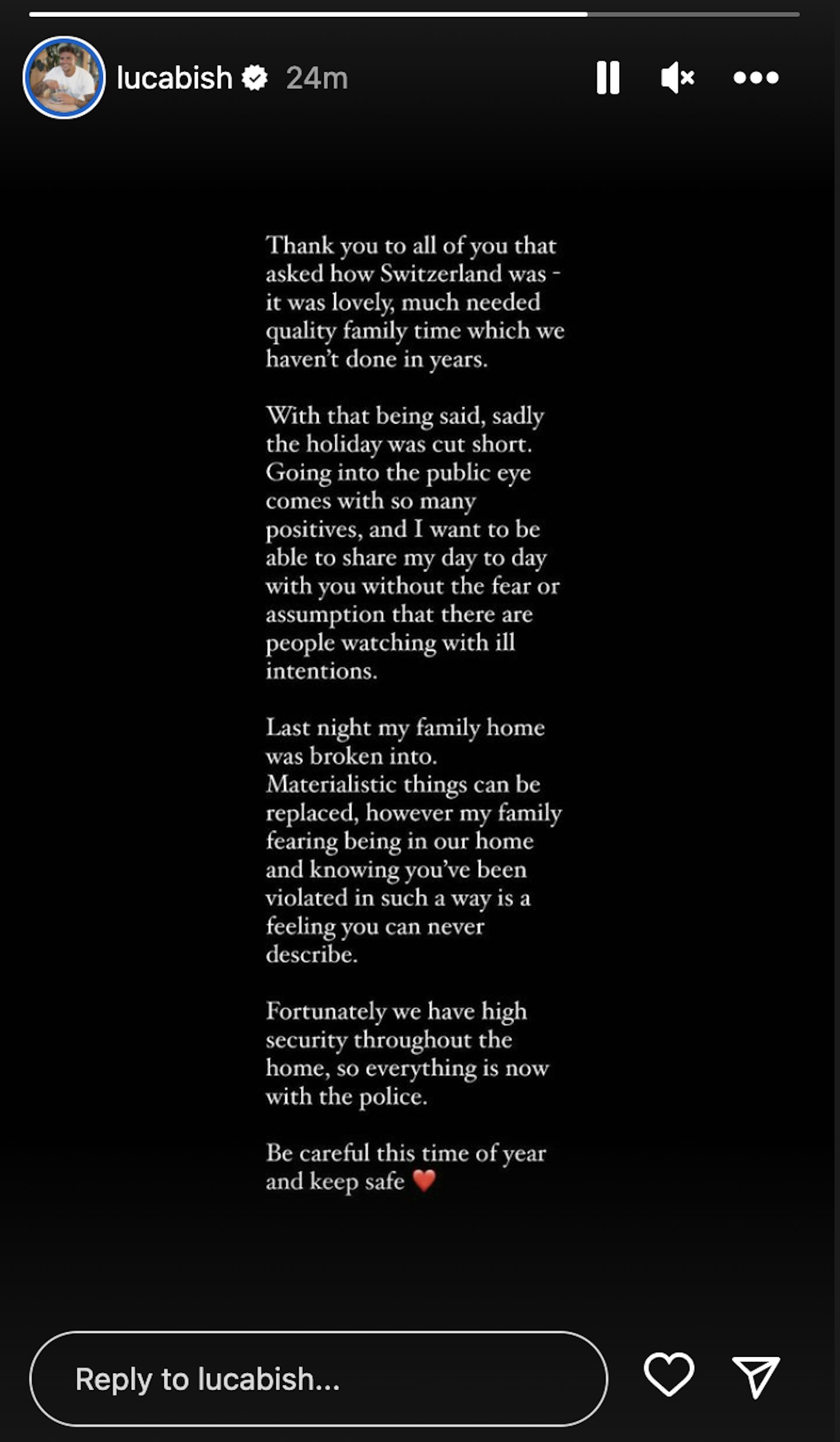 Luca went on to add that the break-in had been captured by security cameras around his home and that the footage is now with the police, who are looking into the matter.
It's certainly been a challenging few weeks for Luca following his split from Gemma just months after they left the villa as runners-up behind Ekin-Su and Davide.
During his time on the show, Luca was criticised on social media for his 'controlling behaviour' towards Gemma and 'bullying' towards Tasha Ghouri.
He later spoke about his behaviour on the show after leaving the villa, telling Grazia that he "went too far".
"Watching it back, I can hold my hands up and agree with that – I was. There are parts where I'm thinking this is not how I behave on the outside world. Why did I do that?" he admitted.
He also revealed that the premise and editing of the show had a part to play, "When you feel so strongly for someone and then you're still getting put in situations because they [producers] are making us do challenges, throwing new people in there to play with your emotions and your feelings - I'd genuinely just had enough of it."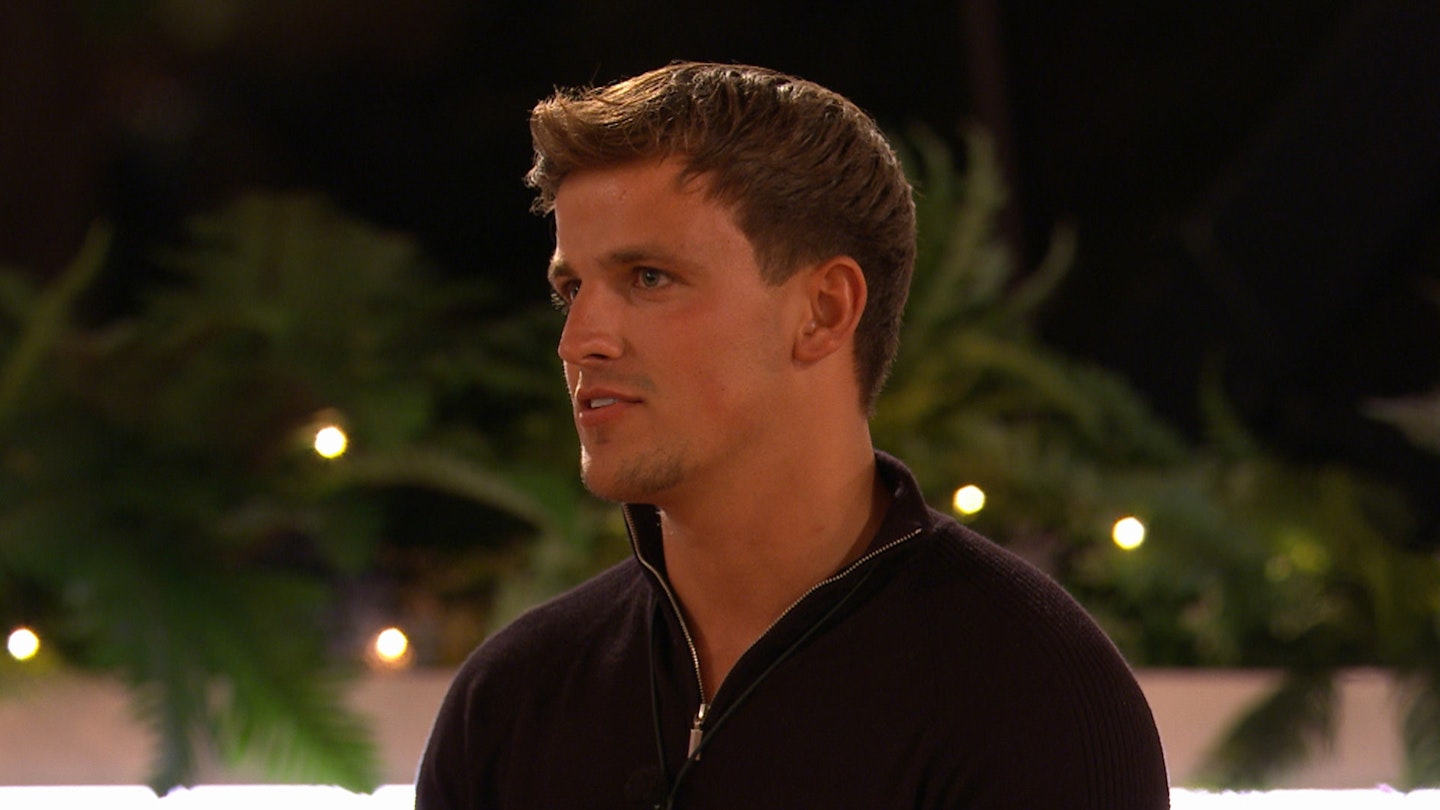 The interview came after Love Island Casa Amor reject Jazmine Nichol spilled the tea about the "bad edit" Luca had received on the show.
After not being picked to return to the main villa, Jazmine was very vocal about the show after returning home to the UK and spoke out about how the editing doesn't portray what actually happened in the villa.
During an interview, Jazmine was asked who she had the biggest connection with, and to our surprise revealed, "The only connection I did have was with Luca."
"If I was even like making a coffee he'd come over and check that I was fine. I'd get him to talk about where his head was at, mentally and it was just like, it wasn't just humour, it was mental like 'are you alright?' checking on each other and I needed that in the villa, so I've got nothing to say but love about Luca. He's getting a bad edit," she explained on the Murad Merali podcast.
Jazmine then went on to reveal that she had even spoken to Luca's family, who also agree that he is being misrepresented on our screens, adding, "I've spoke to his family and they agree – it's a bad edit."
While we digest all of that, here's everything else you need to know about Luca...
Who is Luca Bish?
Young, wavy-haired fish-lover, Luca Bish (wait, didn't we watch this film during lockdown?) seemed to be the perfect catch for Love Island 2022.
In the way that he is a hot fishmonger. Jokes aside, we had absolutely no doubt that Luca has zero problems reeling them in.
Now, don't let those boyish looks fool you; this cheeky chappy had his eyes on the prize and beyond that – seriously, he suggested to ITV that he wants a Love Island baby.
In short: such a catch.
How old is Luca Bish?
Luca is 23, which means he's as old as 10 Things I Hate About You.
What was Luca Bish's job before Love Island.
Between us and Iain Stirling, we've hammered this home, right? He used to work as a fishmonger. We also like that his last name rhymes with 'fish'.
Where is Luca Bish from?
Luca is from beautiful Brighton. Just imagine sharing some fish and chips with this one. He'd probably get you a decent discount, too.
Does Luca Bish have Instagram?
Yes, he does. You can find him in his grey sweatpants at @lucabish and, being purely speculative here (so don't come for us), he hasn't posted many pictures, which gives us a whiff of an image cull prior to his Love Island launch (speculative!).
Why did Luca Bish go on Love Island?
Luca said, "I want to marry Michael Owen's daughter".
Not really.
He actually said, "When you actually look back at Love Island, you can see how many couples it's genuinely made. I don't know how many kids Love Island has made but there are a few aren't there?"
See, we told you! He's broody!
Is Luca Bish a footballer?
Yep, just like his potential father-in-law Michael Owen, Luca plays football. Although rather than the Premier League, Luca plies his trade in a significantly lower league. Luca signed for Hailsham Town FC, who play in the Southern Combination Division One, in September 2022.
They announced the news on Twitter, writing, "Delighted to announce a new arrival at The Beaconsfield. Previously with Saltdean United, welcome to the #Stringers Luca Bish! #NonLeague #Sussex."
Is Luca Bish getting his own TV show?
Back in August, Luca revealed he was launching his own show.
Sharing the news on Instagram, he wrote, "The 'BISH N CHIPS' show coming September 🐠🍟🎥. Link in my bio to subscribe now. So excited for this."
However, months have passed and we're still waiting for the first episode of The Bish N Chips show...
WATCH: 'GO WITH YOUR GUT!!! ' Dami and Indiyah play Mr & Mrs 💍