This year's Love Island just got a hell of a lot more juicy as the boys and girls have been split up because, you guessed it, Casa Amor is FINALLY here.
The Love Island ladies have already spent an evening getting to know the male bombshells while the OG boys had to listen to them have a little TOO much fun, but all that changed the next morning with the arrival of the bombshell girls.
As the six new females sauntered into the villa, the boys turned on their charm and started to 'get on job' as they began to decide if their heads could be turned by the newbies.
One of the bombshells to enter the villa is TikTok sensation Sanam Harrinanan and when we tell you she will be giving Will Young a run for his money in the humour stakes we are not joking.
Pun intended.
We adore a funny queen and Sanam's TikTok account is a page brimming with relatable and hilarious videos around being single (classic), dating (a minefield), and the glee you get when you add air to your tyres all on your own (basically makes you a mechanic.)
We didn't see much of the bombshells on last night's episode because the producers are obviously trying to coax us in with snippets of drama - and it is one hundred percent working FYI - but Sanam is clearly equal parts hot and hilarious.
It does look as though Essex lad Casey O'Gorman, who is currently coupled up with Claudia Fogarty, has realised just how much of a catch Sanam is and he could may well be about to make a move on the TikToker.
As we wait to see what drama will unfold, check out what we know so far about funny girl Sanam Harrinanan.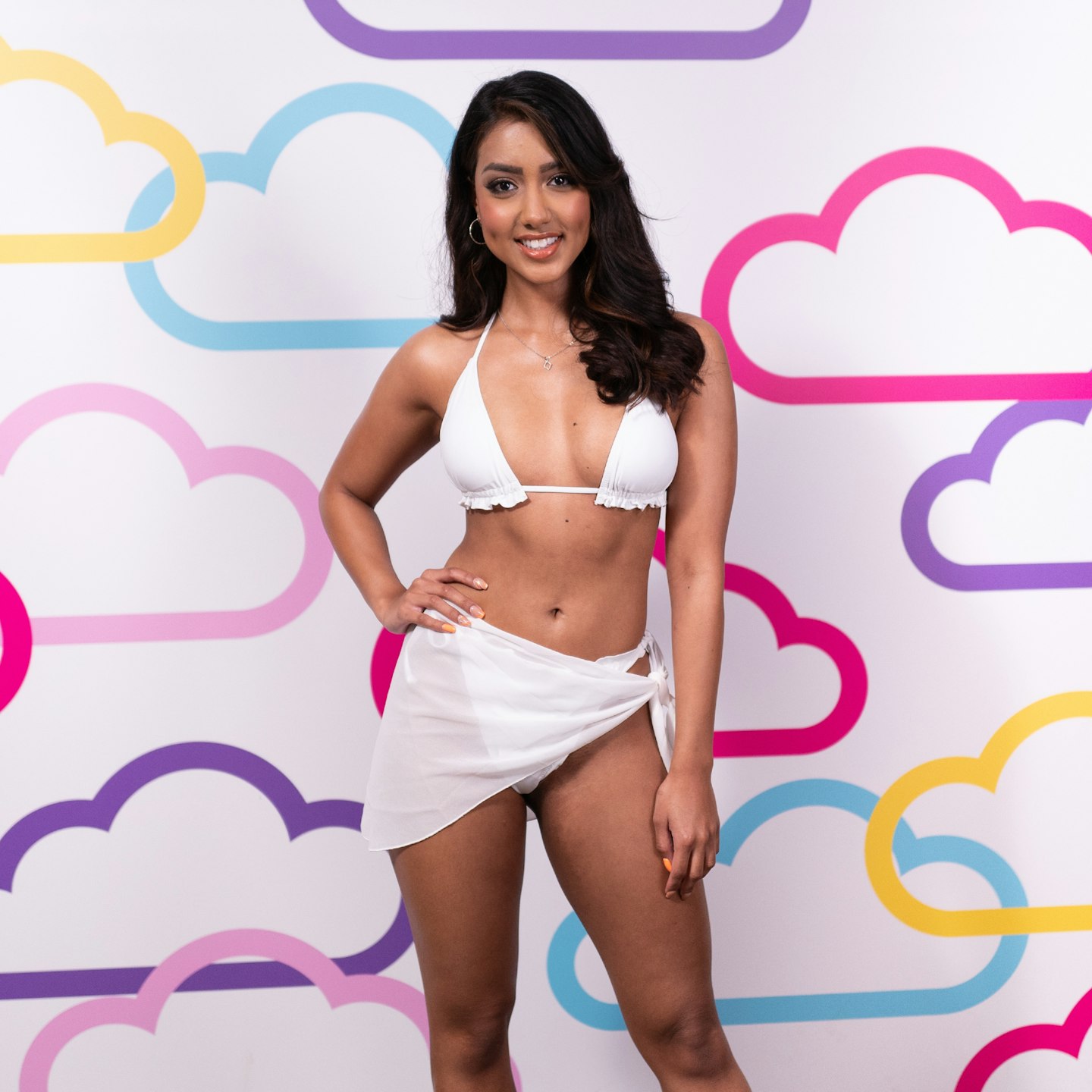 Who is Sanam Harrinanan?
She is one of six bombshells to enter the Love Island 2023 main villa during Casa Amor week.
How old is Sanam Harrinanan?
Sanam is 24 years old.
Where is Sanam Harrinanan from?
The newcomer is from Bedford.
What does Sanam Harrinanan do?
She works as a social worker.
What is Sanam Harrinanan dating technique?
Sanam confessed she is a "very flirtatious, bantery person. I've been told I'm a bit of a tease."
Ooooh, could she give Tom Clare a run for his money with the flirty teasing?
Who does Sanam Harrinanan want to couple up with?
The bombshell has her eyes on a couple of the guys in the villa, we love that she is keeping her options open and not only that, Sanam has offered pretty good reasons for liking each fella.
"Kai is my number one. Job wise I think that we'd connect a lot and I think he's cute! Tom, I love his beard! He's not my usual type, but there's something about him that attracts me physically. Casey, he doesn't seem that serious and I think you could have fun and banter with him."
What is Sanam Harrinannan most excited about in Casa Amor?
Sanam looks set to cause some drama during her Love Island experience.
She said, "I'm excited to go in there and have some fun. I want to see whose heads I can personally turn."
What is Sanam Harrinanan Instagram?
You can follow her at @sanamiee but as with all Islanders, Sanam's social media is currently unmanned.
What is Sanam Harrinanan's Tik Tok?
Check out her relatable content at @sanamiee.
Love Island continues Sunday at 9pm on ITV2 and ITVX.
WATCH : 'I Didn't See That Coming!' Love Island's Zara On Olivia & Kai | Heat Dates