If there is one thing we have gained from the eight years (yes, really) that Love Island has been on our TV screens, it is some style icons.
Love Island 2019 finalist Molly May Hague has gained WILD success in the world of fashion and not only is she the creative director of PrettyLittleThing but there is even a TikTok sensation referred to as 'The Molly May effect.'
Not to mention the winner of Love Island 2021, former ASOS buyer Millie Court, and her Youtube channel called The Fashion Diaries.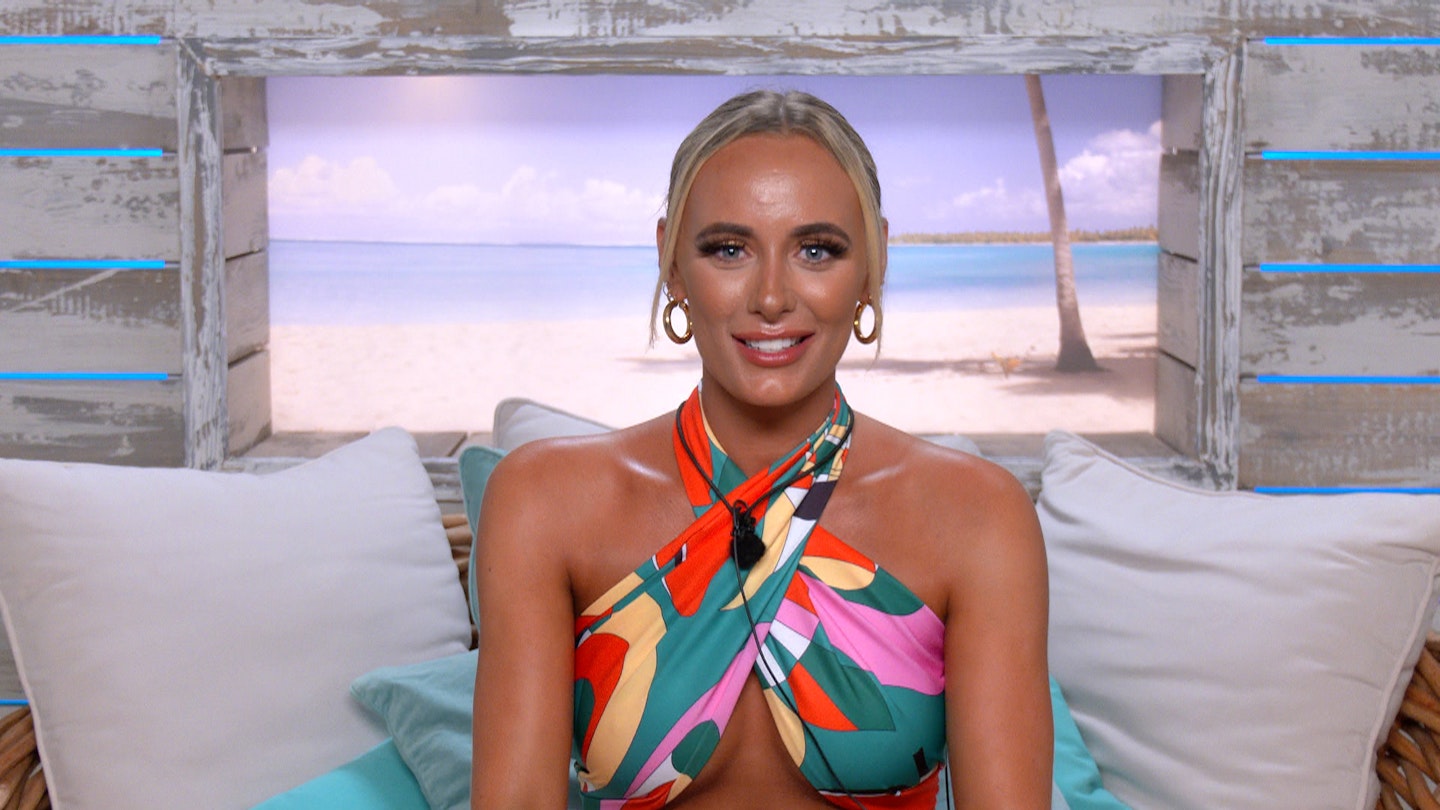 But it's not just the girls that are thriving, Love Island 2019 heartbreaker Jordan Hames has had one hell of style journey and is now working with high end fashion brands including Tom Ford and Jean Paul Gaultier.
Another Islander who continues to serve look after look and is storming their way through life is Love Island 2022 finalist Tasha Ghouri.
The dancer is always keeping her followers updated with her latest looks and after spending time in Coachella where Tasha rocked countless hairstyles, she's now chopped off her long golden locks and gone for a super cute summer bob.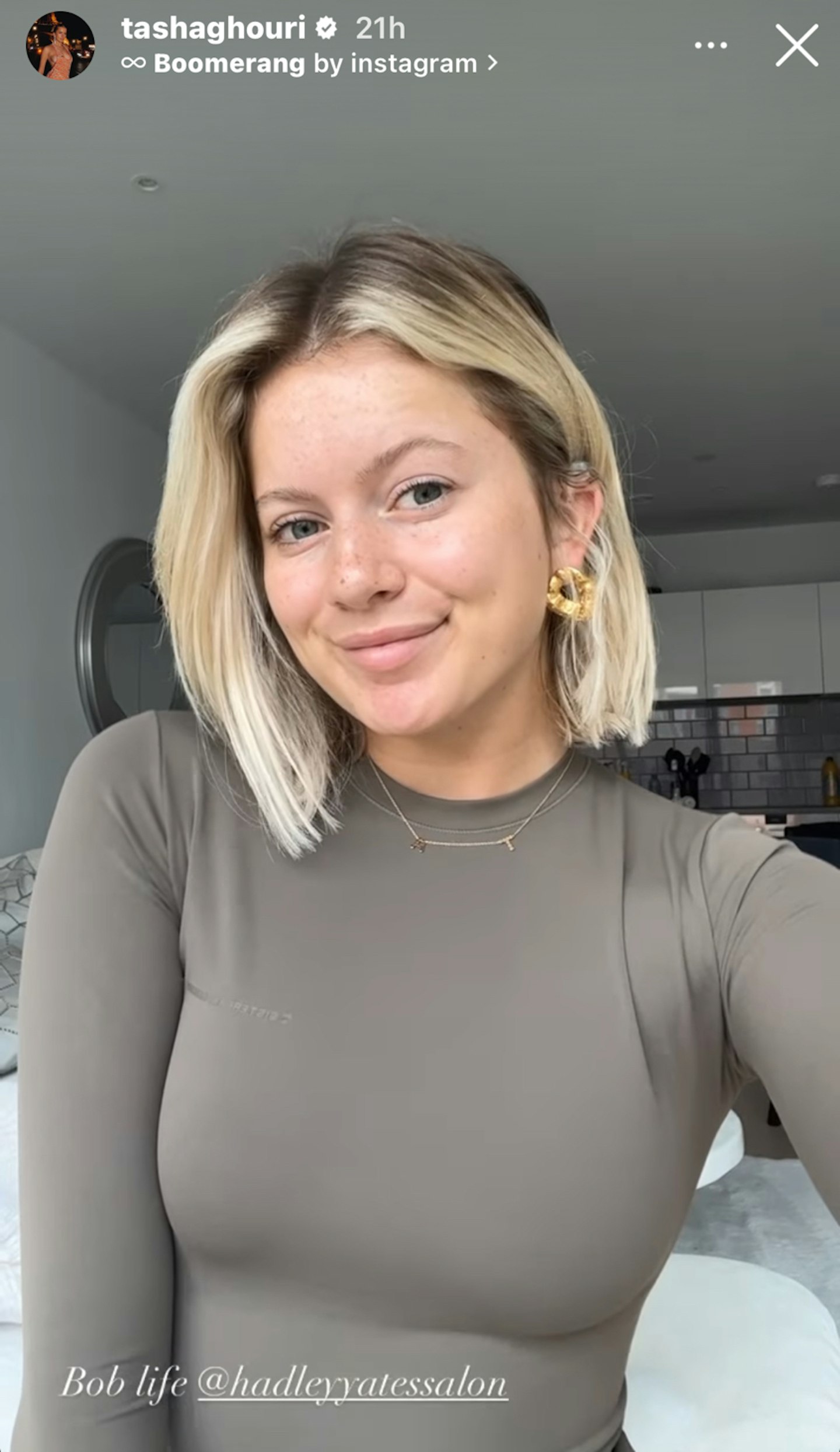 Tasha tagged her hairdresser on her Instagram Story and added the caption, "Bob life @hadleyyatessalon" where she showed off a fresh face and fresh cut.
Is there a hairstyle the former Islander doesn't suit? From mousey brown and platinum blonde to a slicked back bun and a full fringe, Tasha never misses.
Honestly, it's Tasha Ghouri's world and we're just living in it.
Tasha Ghouri's 'natural' mousey brown hair
Tasha previously shared a snap of her younger self sporting her natural 'mousy brown' hair and she looks like something you'd find painted on a ceiling in the Vatican City. Flawless and angelic.
During a recent Instagram Q&A, Tasha was asked whether her staple blonde hair was natural. She replied, saying, "Here's a baby pic of me AHAH! I'm naturally this colour so mousey brown I would say?"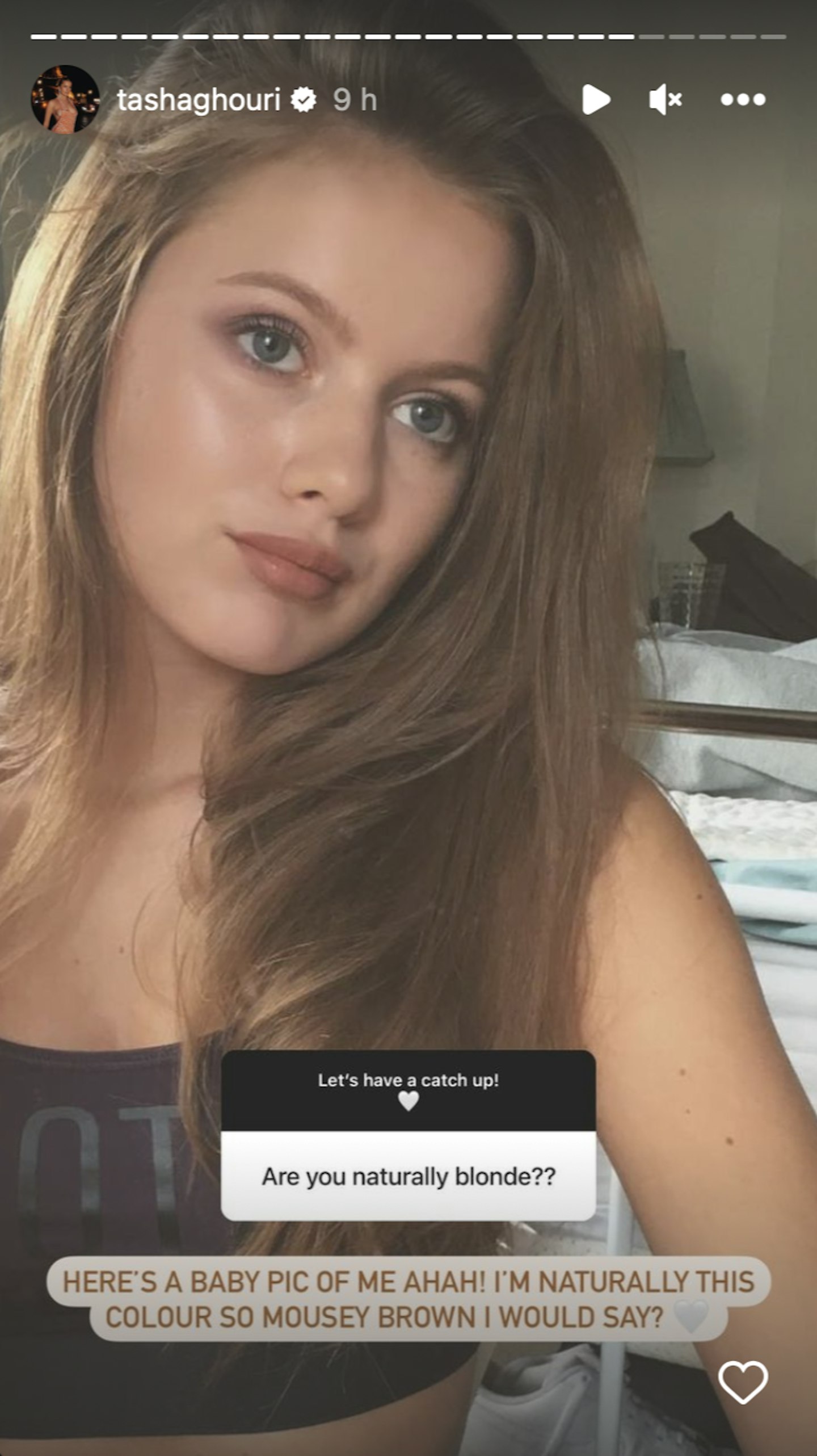 We actually learned last year that despite Tasha looking like a natural blonde, her natural hair colour was, in fact, a mousey brown and was naturally SOOO long.
In a 2022 Q&A on her stories, someone asked 'Is blonde your natural hair colour?', to which Tasha's account responded with an old snap of her showing off her long dark locks, where she wrote, "It's not! Mousey brown it is. This also used to be my natural length."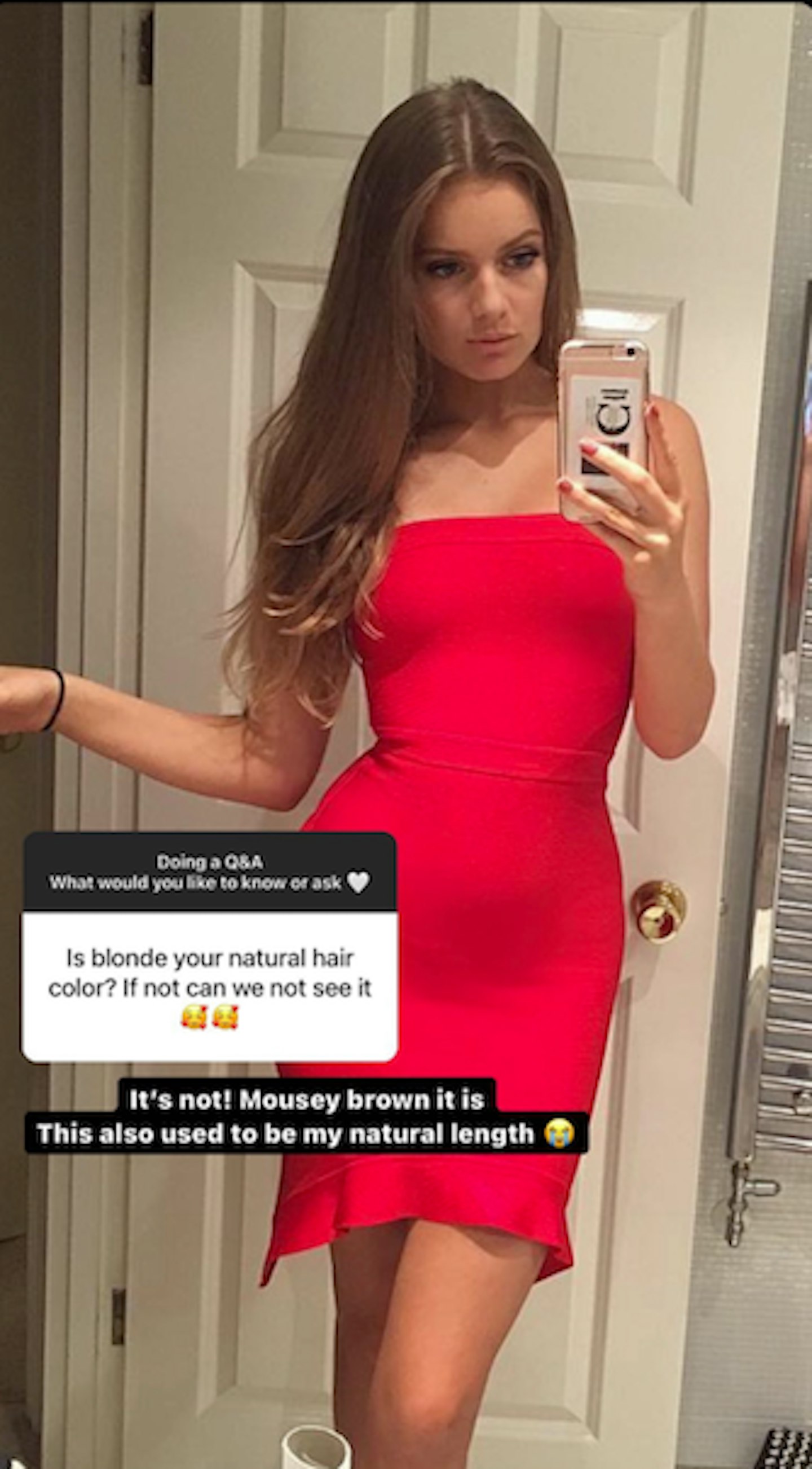 Tasha Ghouri's ice-cool blonde hair
At the end of 2022 we were gifted with yet another treat behind yet another door of our year-round Tasha Ghouri style and beauty advent calendar. This time, she blessed us with an ice-cool winter-inspired colour change that fans were seriously LOVING last winter.
The model and reality star unveiled a frosty blonder colour in an Instagram grid pic and we still have GOOSEBUMPS (and it's starting to warm up outdoors). Beyond here for these Swedish supermodel/Queen Elsa platinum vibes.
But maybe we're biased – Tasha could die her hair snot green and wear a bin liner bikini and we'd still gag and goop – so let's see what Tasha' followers/Love Island chums were saying at the time.
One fan commented, "We are in love with this winter blonde!😍🤍."
Another commented, "Winter blonde hair of dreams".
While fellow Islander Paige Thorne wrote, "My fav one yet 😍."
It's just not us then.
Slay.
Tasha Ghouri's long dark hair
Tasha was briefly seen with long dark hair with a choppy fringe as she parades in a leather outfit for a fashion brand - miles away from her blonde hair and cute little freckles that she's rocked during her stay in Love Island.
The TikTok is aptly titled, "Hi meet my alter ego, Elektra"
We're not going to lie, it's giving serious 2019 legend Maura Higgins vibes.
It looks like Love Island fans have also uncovered the post, with many commenting on just how different she looks.
One wrote, "I just love this look so much 🔥🔥🔥🔥."
Another added, "Pulp Fiction vibes."
Tasha Ghouri shows off extension free hair
Tasha is the truest form of a Love Island influencer. If she said jump, we'd say, "How high?"; if she said shave off your hair and get her name tattooed on our foreheads, we'd book the afternoon off work and do so.
Late last year, the former Islander hinted at saying goodbye to her trademark extensions (at least for a while), and naturally, we were left standing with a lit match hovering over a pile of old hair (that we now realise didn't match anyway). Not really (calm down), but we feel like the image of fire helps paint a picture of our loyalty to this Love Island queen.
At the time, she took to her YouTube channel – which we use in the same manner most people use the Calm app – to post an "intimate" fan Q&A video. While most of the questions were about her bossing the influencer game, Love Island and boyf Andrew, Tasha did pause to tell fans that she had taken made the decision to remove her tapes.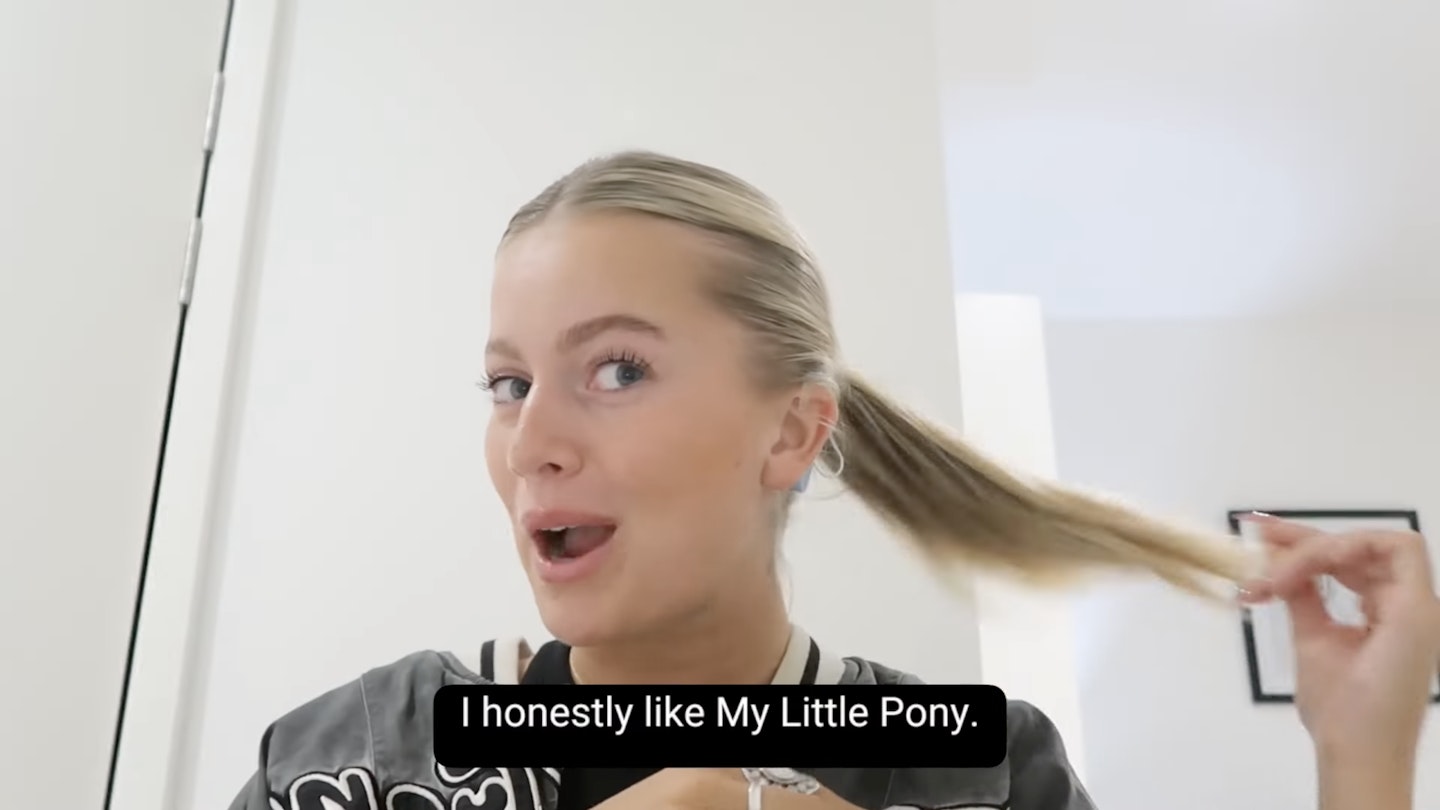 Tasha revealed, "I've taken my tapes out, so I'm going to have a break from my tapes for a while, because my hair is literally falling out and I feel so bald. Honestly, look at my little pony."
Consider us influenced.
Tasha Ghouri's platinum blonde bob
Back in October 2022, Tasha revealed that she had transformed her iconic blonde, beachy locks into something new, exciting and oh so 90s ahead of the National Television Awards and, frankly, we're still surprised she didn't pick up an award for this look. She'll just have to settle for our love, adoration, and SOULS.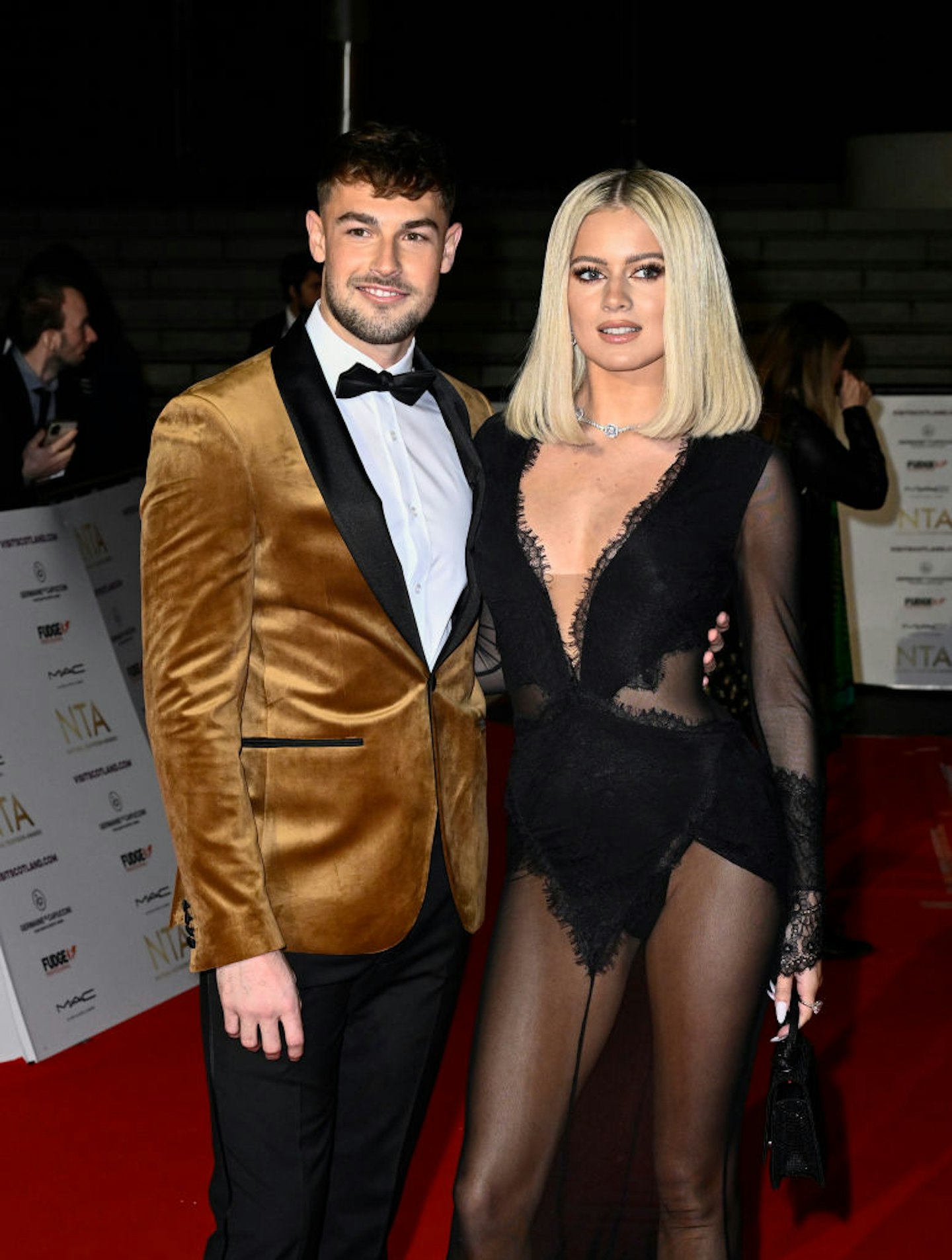 The Love Island 2022 star transformed her signature long blonde 'do into a stylish, platinum blonde bob with a fierce centre parting and it gave us SO many iconic vibes: 1997 Sarah Michelle Gellar, Demi Sims, and Dorit Kemsley from The Real Housewives of Beverly Hills.
Tasha Ghouri's full fringe
In September 2022, Tasha stunned fans by rocking a brand new fringe on Instagram. The Instagram photo's caption read, "Switch up 💇‍♀️", to which her boyfriend Andrew commented, "Sexiest girl on the planet 🔥🔥🔥."
Other season eight alumni were quick to notice her new look. Indiyah Polack said, "Tasha I'm DECEASED 😍😍😍😍😍" and Paige Thorne wrote, "No one drops it better 😍😍😍".
Tasha is also unrecognisable in an Instagram post from October last year, where she's sporting a black wig from Lullabelz.
Some fans praised the vampy look and wrote "Wow she looks so much like Maura here. Black hair really suits her!", whilst others commented "Pulp Fiction vibes".
Being you told you look like the Irish icon that is Love Island 2019 fan fave Maura Higgins is always an absolute win.
WATCH: 'You Never Admitted That!' Dami, Indiyah, Paige, Adam & Andrew Address Love Island Rumours