Love Island 2022 finalist Gemma Owen has got tongues wagging with her latest video and we need answers right this minute.
The former Islander was coupled up with Luca Bish during her time in the villa and the duo came in second place, losing out to the iconic Ekin-Su Cülcüloğlu and Davide Sanclimenti.
Gemma and Luca split at the end of last year; sharing Instagram stories announcing the break-up and both seemed to have been moving on swimmingly (y'know, because Bish still sounds like fish and he used to sell 🐟🐟).
While Gemma went down the predictable Love Island influencer route (to us, Gemma is very Molly-Mae Hague with a Tatler magazine subscription), Luca – who many believe was dumped by Gemma rather than it being an amicable split – seemed to have jumped straight back into the dating pool; because after all, there are plenty more fish in the sea (HE USED TO SELL FISH), aren't there?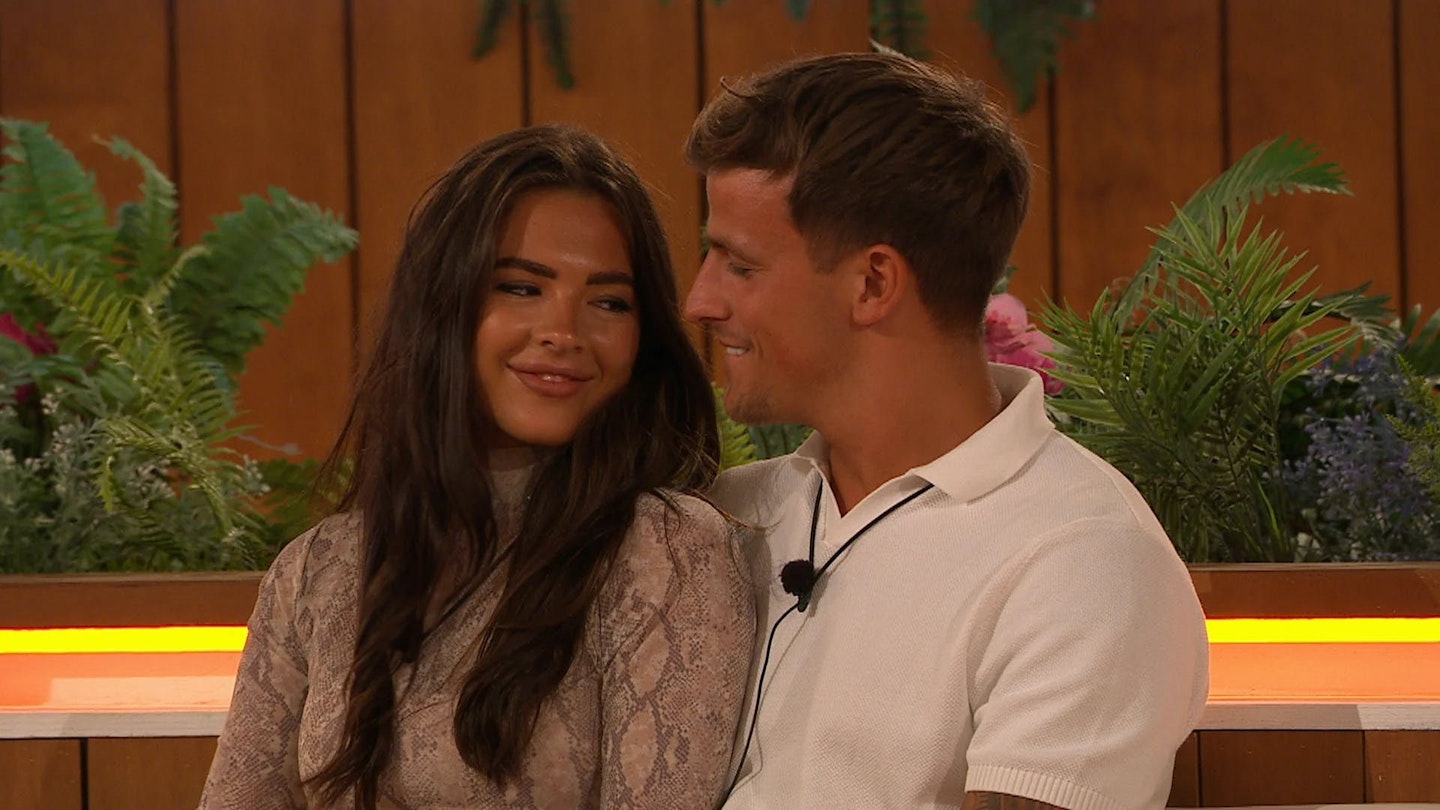 But fast forward to now and signs point to Gemma and Luca reigniting their fizzled out flame of a romance and we have to ask, what on earth is going on?
Maybe there aren't as many fish in the sea as people claim there to be and these two little fishies keep finding themselves in the same stream.
Okay, we'll stop with the fish puns now.
The speculation all stems from a five second TikTok Gemma posted and the smidgen of video clip has sent fans into overdrive. Oh, don't you just love the rumour mill?
Lip-syncing over the soundbite, "I like this man so much now he got me working on my attitude. What?", Gemma can be seen back in her Bentley alongside a mysterious person (probably her mum, but possibly Luca) driving her around.
This was enough for her followers to start questioning several things. Firstly, who is this "man" she speaks of? Secondly, is Gemma back with Luca? And thirdly, who does Gemma's eyebrows? Because the laminating is ON POINT.
Okay that last one is probably just us, but if you're reading this Gem let us know.
Within seconds the the comments section was brimming with thoughts and questions from Gemma and Luca stans.
"THEY'RE BACK TOGETHER," exclaimed one over the moon fan.
"Are they back together?" quizzed another, with someone else asking, "Are you dating someone new?"
People are so invested in the Gemma x Luca dynamic that they have even starting creating TikToks of their own about the potential recoupling and have labelled the couple, "So cute."
Fans and followers joined forces to try and make sense of the news with one writing, "You better not be tricking me" but another refusing to acknowledge the rumour, "Not believing it till I see it."
Whether or not it is true, Gemma and Luca have had one hell of a journey and we have attempted to put their drama-filled romance into words. There was a lot to digest and it took blood, sweat and lots of Googling fish puns. You're welcome.
When did Gemma Owen and Luca Bish break up?
In November 2022, the former couple both released fairly bog standard statements on their Instagram Stories (Gemma's was very clearly read and re-read by a team of PRs and her mum – we're guessing), announcing the news to their millions of followers.
But while Gemma's statement read as predictably robotic, Luca's statement packed a smidge more bite. That's our view anyway; see what you dolls think.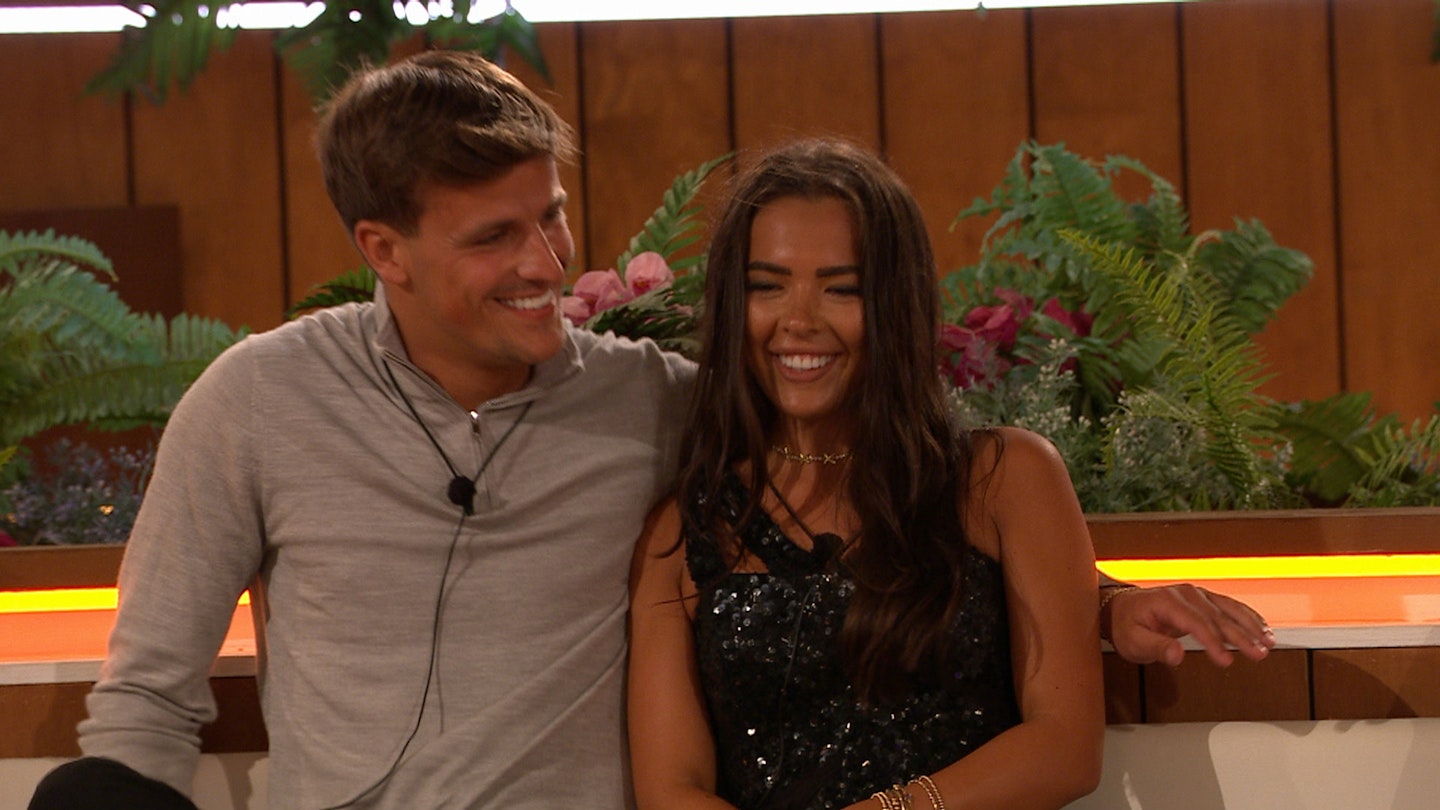 Gemma's statement read, "To all my followers,
"I wanted to let you know that Luca and I are no longer in a relationship. It wasn't an easy decision but ultimately this is what is best for both right now.
"Many of you have been on this journey with us from the very beginning, and I want to thank you for your continued support as we start new chapters.
"Love always, Gem x."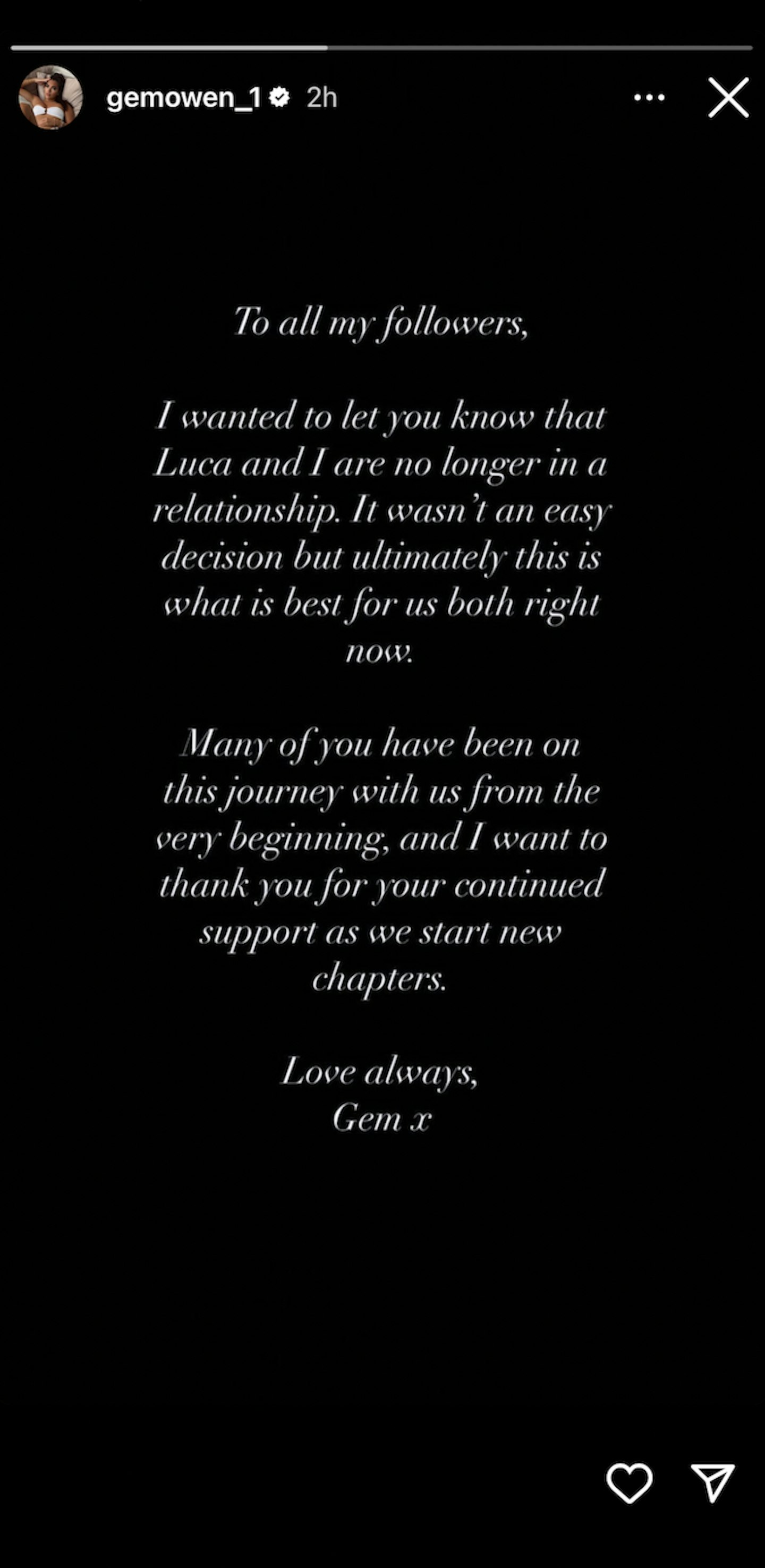 Naturally, Gemma's announcement shook social media – as well as showbiz editorial teams across the country – to its core. If you weren't talking about it or reading about it, your phone was probably dead or you were working away during your designated working hours. Good for you.
Within a couple of hours, news of the split was everywhere and everyone was having their say – except Luca.
By the evening, he released his own statement on the breakdown of the relationship and, being the expert shade sniffers we are, we can tell you a little shade was thrown in Gemma's direction (for releasing a statement to begin with, we're assuming) when he said, "I would've liked some time to process this privately but as you already now know sadly Gemma and I made the mutual decision earlier today to go our separate ways."
We can literally hear the RuPaul's Drag Race shade rattle going off.
Luca's full statement read as follows, "Switched my phone back on after taking some time out to clear my head after an emotional afternoon to thousands of messages and news articles about my breakup.
"I would've liked some time to process this privately but as you already now know sadly Gemma and I made the mutual decision earlier today to go our separate ways. We have been on such a journey together and have made some amazing memories which I will treasure. I can't thank everyone enough for their support for us as a couple during and after Love Island.
"We will remain good friends and I wish nothing but the best for her."
After reading that, we couldn't help but wonder (said in Carrie Bradshaw's voice, obvs), when IS the Bish n Chips Show podcast coming out?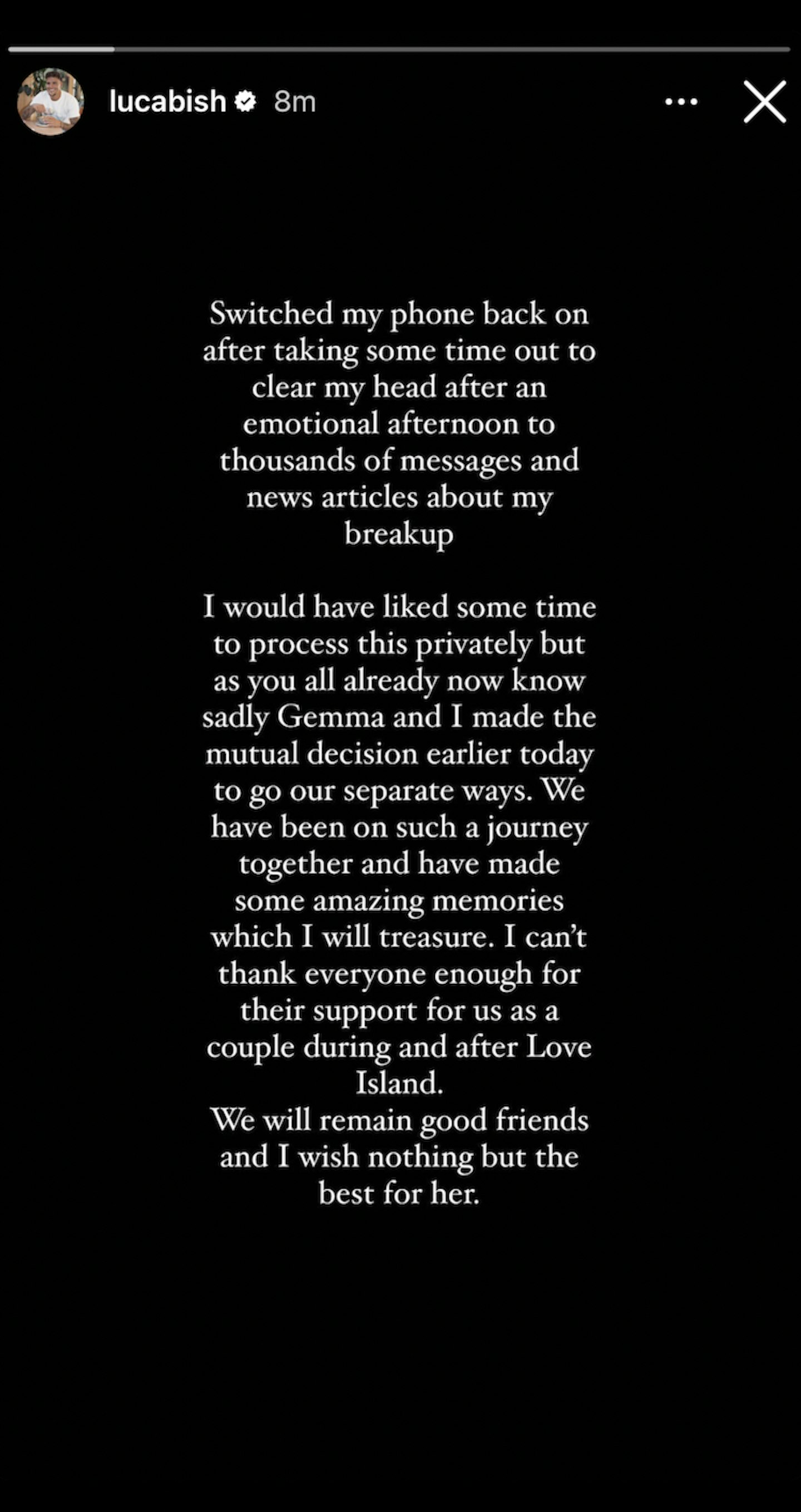 Gemma and Luca's split was all the more surprising as it came not even 24 hours after Luca gushed about her and even suggested they might move in together during a red carpet appearance at the ITV Palooza. Awks.
"Yeah, unbelievable," Luca replied when asked how his relationship with Gemma was going.
"She was on the phone before I stepped through here today and then I'm back up there tomorrow."
We're going to go out on a limb here and say he was NOT back up there the next day.
What happened after Gemma Owen and Luca Bish broke up?
Soon after the break up, in what is surely an act of war, Luca only went and UNFOLLOWED Gemma on Instagram. Gemma didn't feel the need to unfollow her ex (and potential new non-ex) on social media and, as we write this on 16 March 2023, those facts still remain true.
When the duo split it wasn't long before the Brighton-based Islander also dusted himself off, scrubbed himself up and hopped back on the dating train, admitting to his 1.5m followers that he was stepping out for a 'date night'.
He took to Instagram to post a video of a VERY romantic setting – with sexy af foliage and lighting – asking his fans who they thought he was off to enjoy a 'date night' with.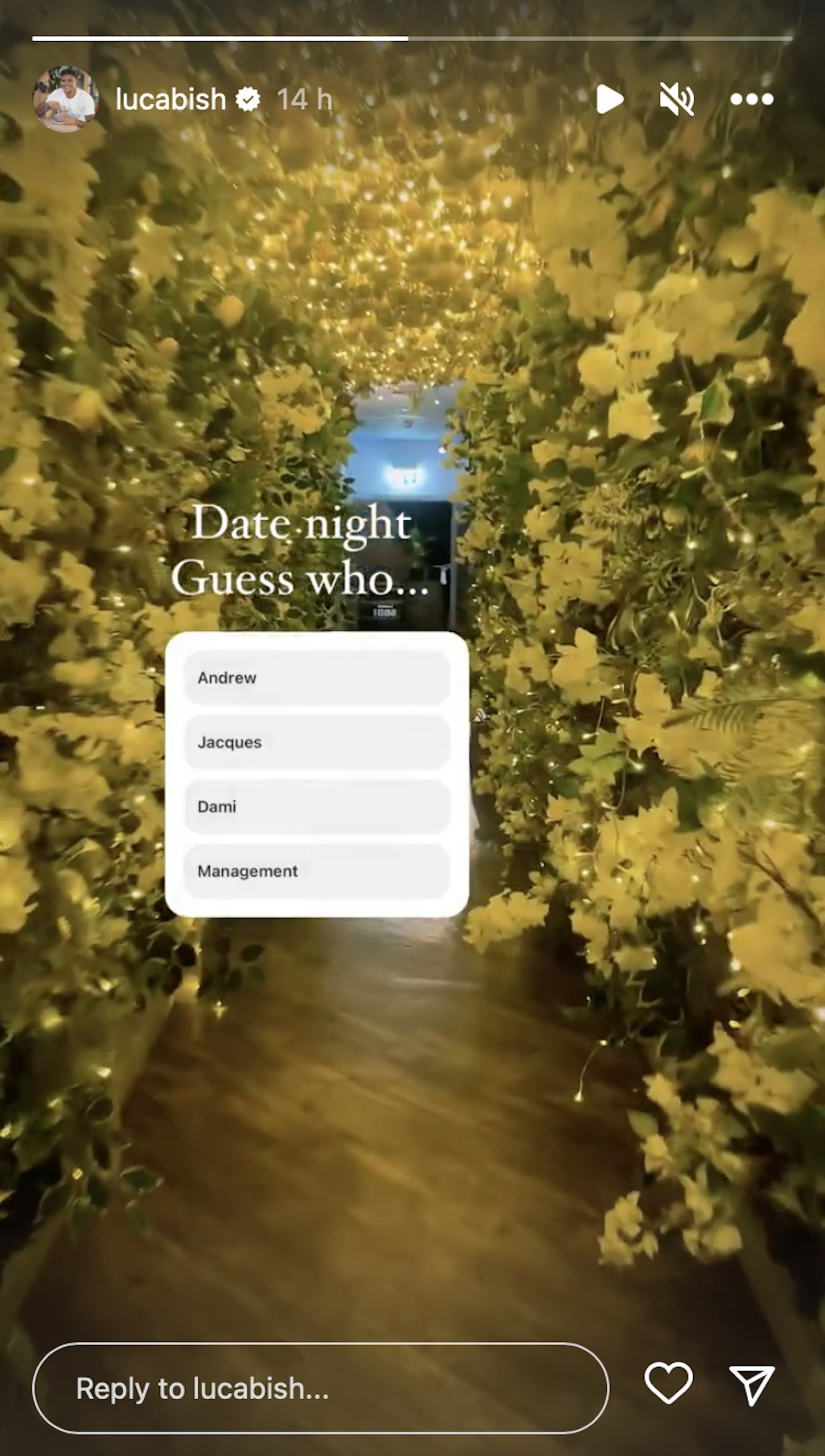 The tappable options being Andrew Le Page, Jacques O'Neill, Dami Hope, or his management.
It turned out Luca was just out on a mate date rather than anything romantic and to this day it doesn't look like Gemma or Luca have moved on with other people hence the speculation that they are back on speaking/flirting/kissing terms.
Over the years, a plethora of Love Island couples have exited their respective villas hand in hand only to break-up a few weeks/months down the line, and Gemma and Luca appear to be following the regular pattern of events; one, break-up amicably wishing the other the best on social media, two, show just how well you're handling it by flogging everything and anything you can put your name to on your Instagram Story, three, start throwing ever so subtle shade at your ex because you know you can't divulge the full story to the masses because you're trapped in a sticky PR/representation web/you know websites like heatworld will write about it. It's the circle of life for this lot.
Anyway, just days after the break-up – which many believe she initiated – Gemma seemingly arrived at step three, with Mother Owen in tow.
Gemma and mum Louise recently took to TikTok to act out a classic Kardashian convo in which Kourtney (Gemma) tells her mum (Khloe), "You take things really sensitively and that's fine, I just need to not make those jokes with you."
She continues, "Well to you it's rude, to me it's a joke, so I just won't make them to you, because you don't take it the way the I'm meaning it."
You don't exactly need a degree from the heatworld School of Sleuthing to sniff out who Gemma might be referring to here... As far as we're concerned, this is shots fired.
Strangely, there's not a single mention of Luca in the comments for this TikTok (NOT ONE SINGLE MENTION) – which we find downright suspicious, tbh, because there's absolutely no way we're the only Gemma stans thinking this is a passive aggressive dig at her notoriously over-sensitive ex boyfriend.
What happened when Gemma Owen and Luca Bish were on Love Island?
Back in September, Luca revealed how Love Island producers made every effort to keep him from pursuing Gemma in the early days of Love Island in a bid to keep their narrative under control (although according to Luca, it was to stop him from looking like a "player").
Luca told Jamie Laing on the Private Parts podcast, "From the start [producers] were like, Tasha, Paige, focus on them... Gemma's having a thing with Davide and Liam. And I was like, 'Yeah but, the public put me with Paige, Tasha pulled me for a chat... As much as they're both lovely, the one I actually want to chat to is Gemma."
He continued, "So, on the second night I said, 'I want to pull Gemma [for a chat]' and they were like, 'No, you're not allowed'.
Here's to reality 🥂
He added, "[Producers] were like, 'Well, Davide's come in, he's picked Gemma. You need to let them see what happens with Liam and Davide.' Obviously, there's a storyline there. Then I was like, 'No, no, no', I'm going to try again, so I pulled her for a chat.
Luca continued, "During out first chat she was like, 'Well, this is overdue'."
Luca explained to Jamie, "In my head, I was like, 'the more I hold off, the more she's going to get to know Davide or Liam."
According to Luca, the pair were kept apart for a few days in the first week. These imposed restrictions were seemingly completely culled from the show's edit apart from one line where Luca told Gemma they were "allowed to chat now".
In a twist of fate, this move by producers might've actually sparked Gemma and Luca's romance, as Luca admitted, "I think the more [producers] did it (kept them apart), the more me and Gemma wanted each other. I want this now, even more."
Absence makes the blah, blah, blah. Until it doesn't, of course.
Oh wait, or does it?
We can't keep up.
WATCH: 'I Really Felt For Lana' Olivia & Maxwell Clear Up Love Island Drama | Heat Dates