No matter how Love Island changes and adapts over time, three things are pretty much guaranteed to remain constant: the odd success story, a plethora of holiday romances and some colossal – no, seismic – break-ups.
It's never nice to sit back and witness the crumbling of a Love Island couple – or any couple for that matter – but no one can deny the drama that often comes from the deterioration of said relationships is often top tier (and we are heatworld, so that's kind of our bread and butter). Do we sounds like bitter singles? Oh well, facts.
One relationship from Love Island 2022 that we actually backed from day one was that of Paige Thorne (who recently announced a new controversial job venture) and Adam Collard.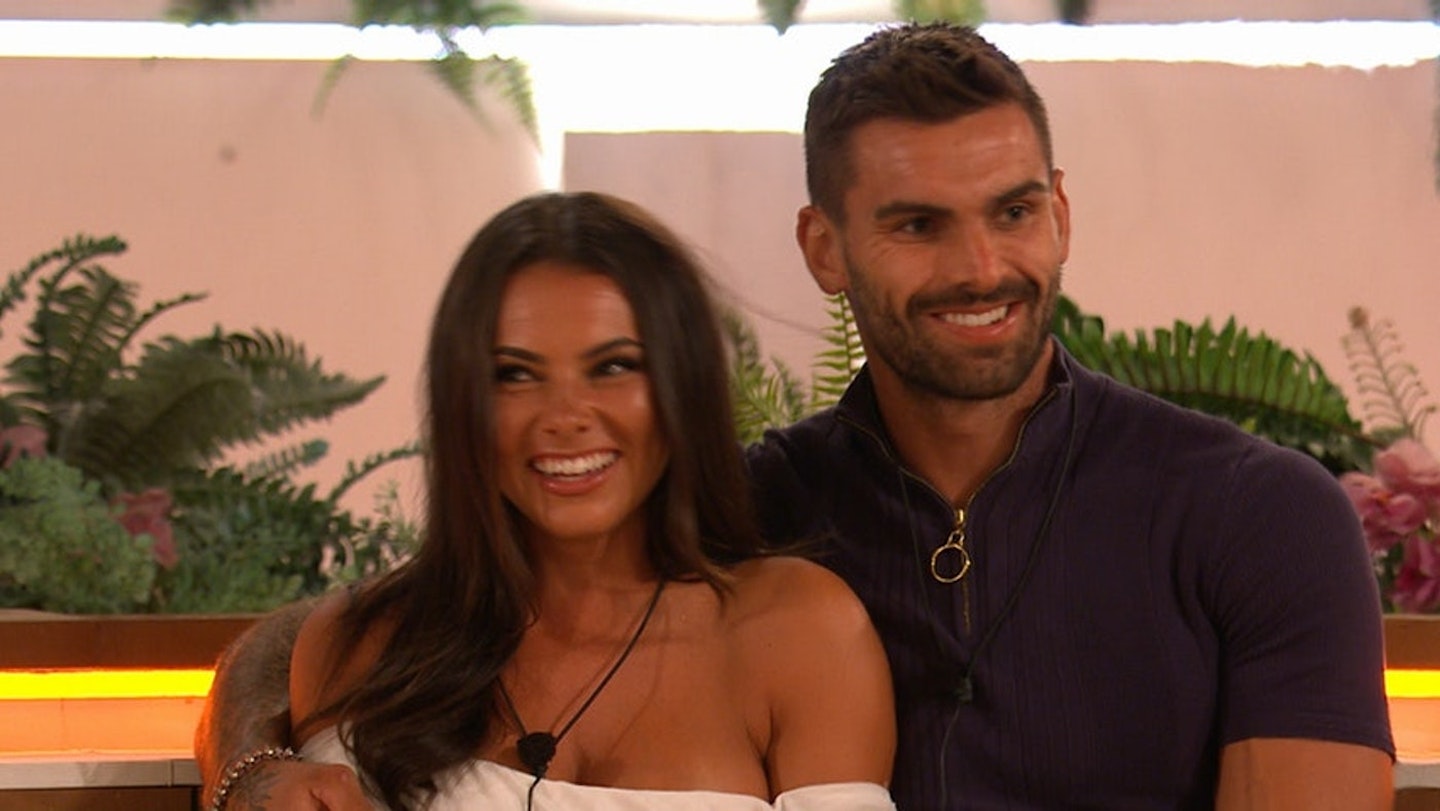 Hear us out; Paige – who lest we forget was the ultimate, relatable girl next door this time last year – really needed some villa loving after her issues with Jacques O'Neill, and there was something fairly wholesome about watching Adam Collard live out his Love Island 2018 redemption story on screens. They were sexy and wholesome together and that's what we like from our LI couples.
Of course, that all changed a few weeks after the show wrapped, after Adam got tangled up in 'nugget gate' (see below – and coined by us, btw) and was accused of cheating on Paige. Soon after the split became common news, fans noticed they had both wiped all traces of one another from their Instagram grids. A telltale sign that a realtionship is DONE these days.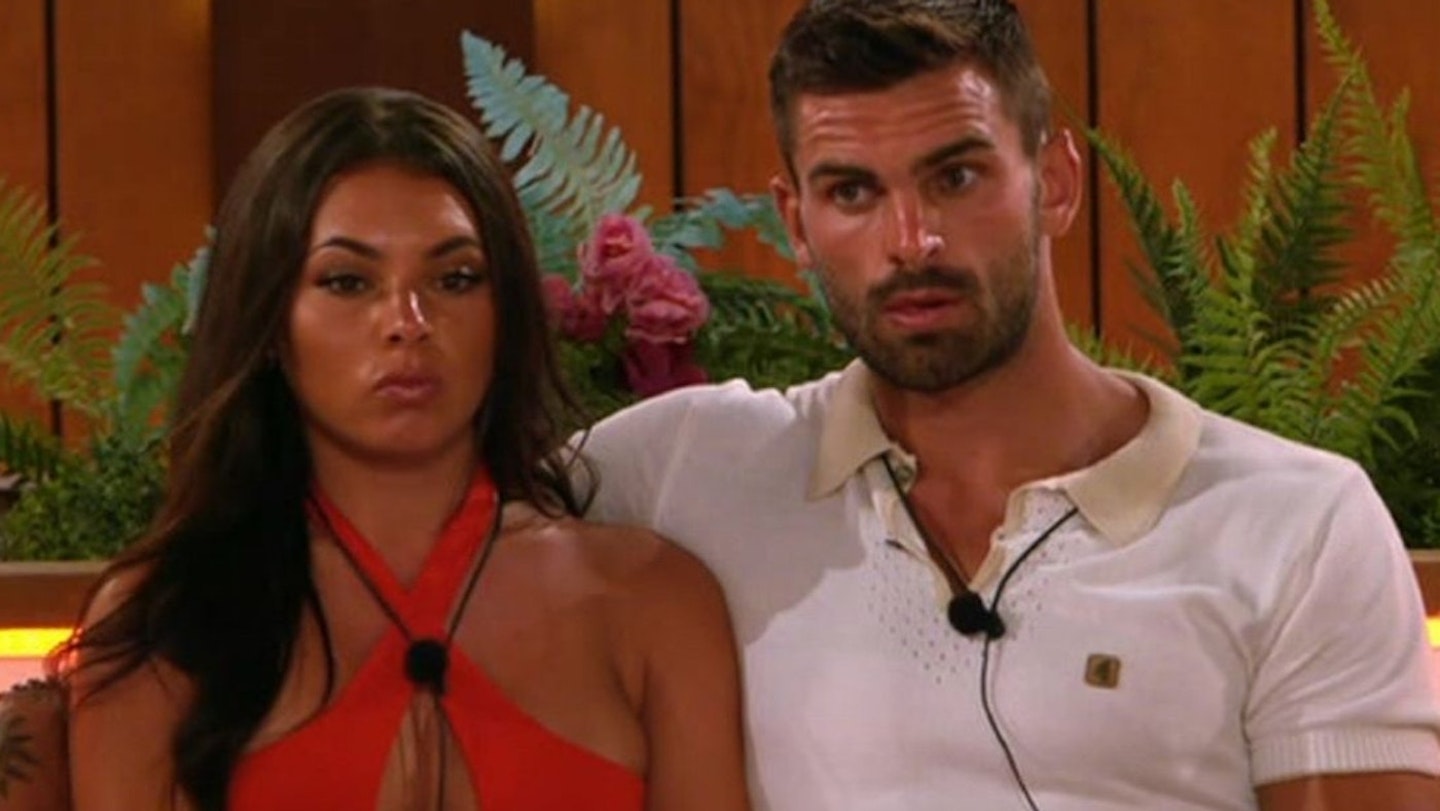 Aside from a few comments on red carpets and a podcast appearance or two, Adam has pretty much remained tight-lipped about the split, but a recent guest spot on Chloe Burrows' podcast Chloe VS The World saw him spilling the beans – and said beans have nothing to do with McDonalnd's chicken nuggets, apparently – on the 'stupid' reason the relationship never worked out.
Speaking about his ex on his Celebs Go Dating's co-star's podcast Adam revealed that a huge problem in his relationship with Paige was, in fact, the distance between their home towns of Newcastle and Swansea (roughly 350 miles).
He told pal Chloe, "I was with Paige. That didn't really last that long.
"You've got to think it's Swansea to Newcastle, as well. I can literally get to France quicker. It's stupid."
To be fair to Adam, long distance is hard AF. I live in London and I can't handle dating outside of my TFL zone.
Saying that, I can't help but feel Paige might find the need to add to this reasoning in due course, cause, well, we've all seen the McDonald's video, right?
Has Paige got a new BAE?
Earlier this year, Paige shared a cute pic on her social media story with the caption, "SOFA SUNDAY AND BAE👀", which of course we tapped immediately because we are mildly obsessed with anybody that took part in Love Island and Paige is no different.
We were hoping for a hard launch of Paige and her new fella or perhaps a soft launch featuring a handsome side profile or a blurred hand or something, but no.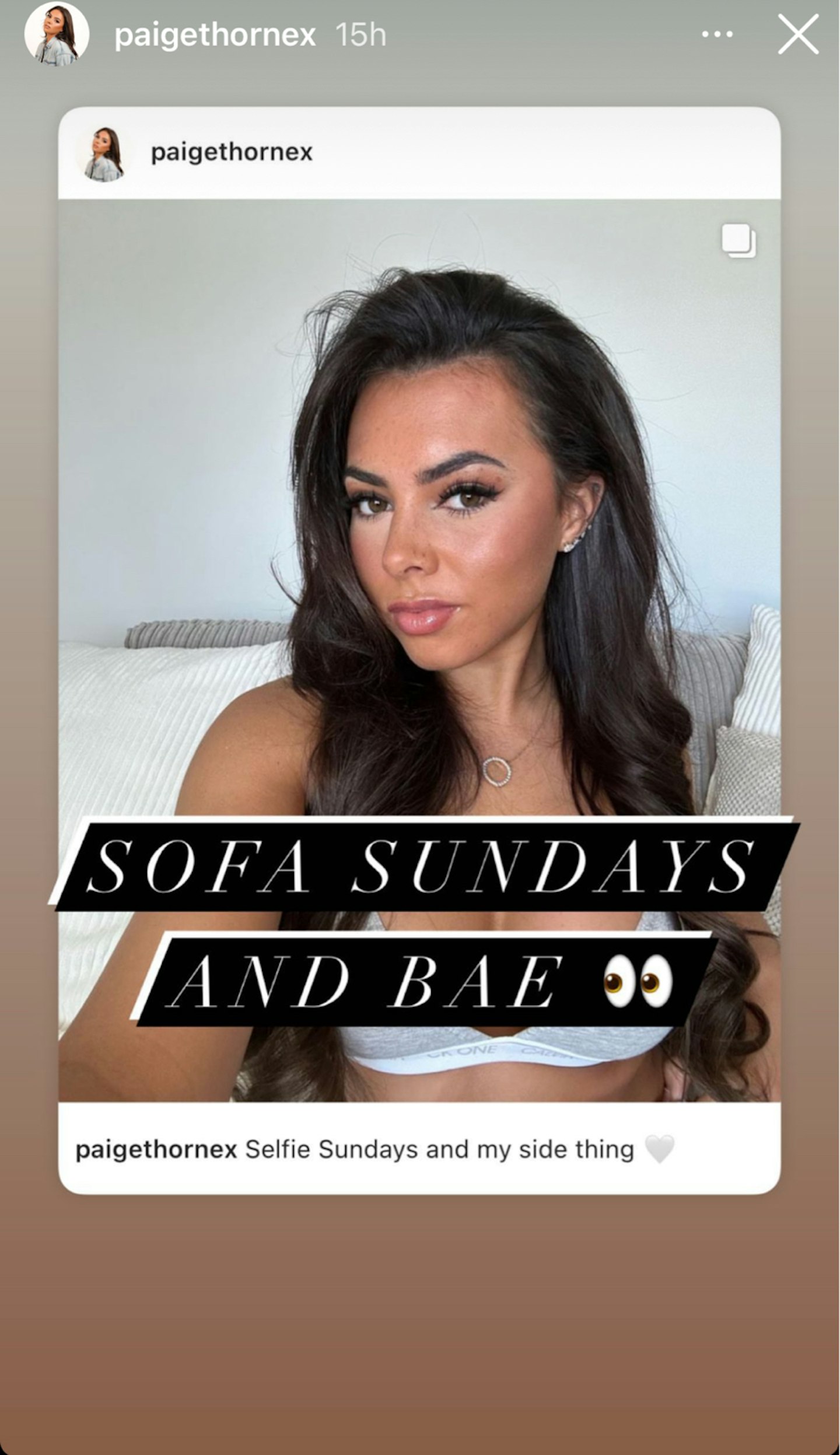 On the actual pic (so not her Insta Story), the caption read, "Selfie Sundays and my side thing🤍".
And Paige's 'side thing' was in fact her cream cuddly toy bear that she was snuggled up against in the Instagram photo.
Arguably better than a boyf, no?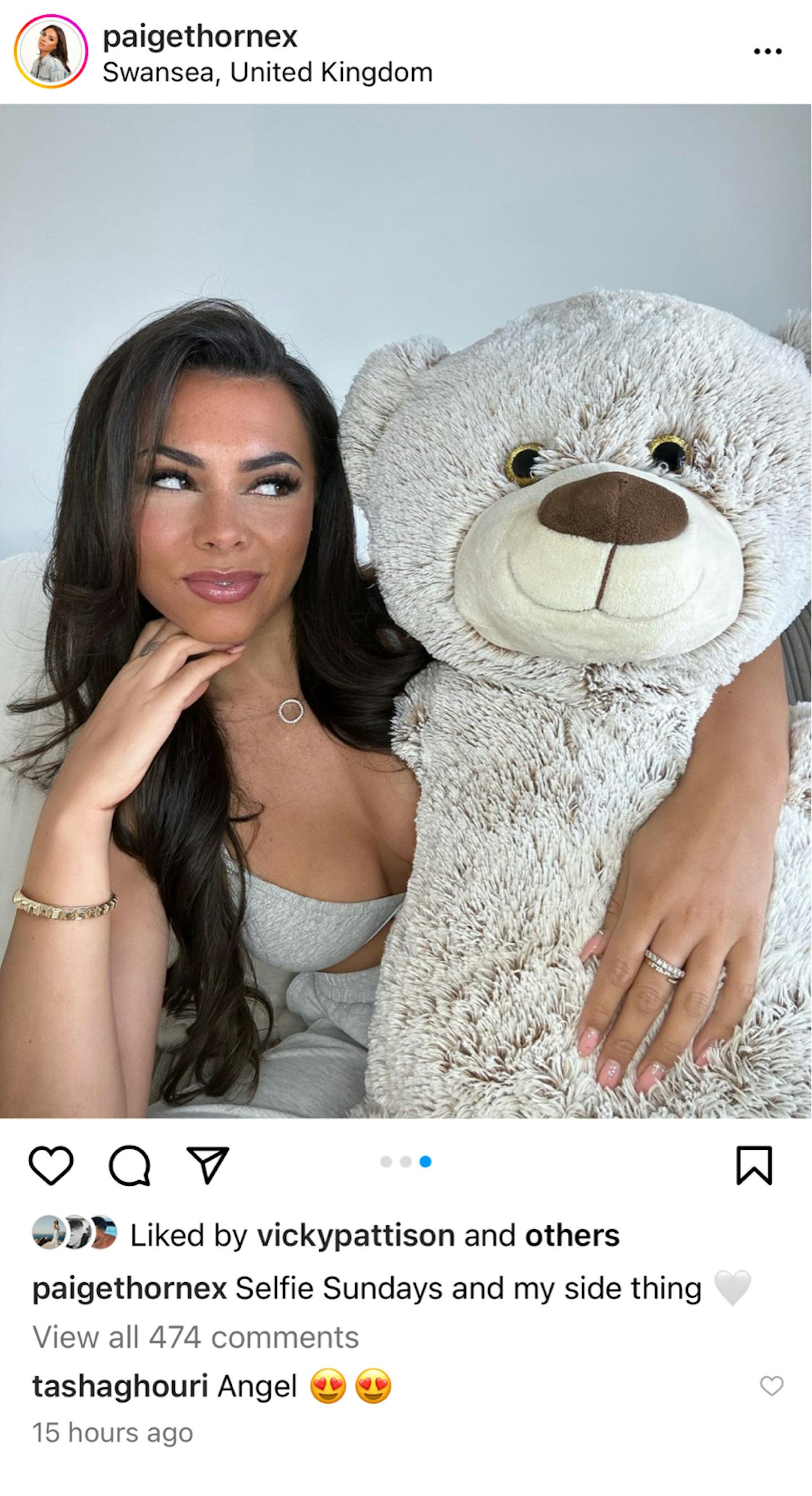 Paige and Adam split up in October last year after a video of him wrapping his arm around a mystery girl in McDonald's surfaced online and she later claimed she saw other videos that weren't made public, however Adam denied any wrongdoing.
Following on from their split, both Paige and Adam have been throwing themselves into work and she teased she was working on something fitness related in a move to rival personal trainer and gym owner Adam.
After posting a 'Day in the Life' video on TikTok, one of Paige's followers told her, "Need that workout routine sis!"
Hinting at her next career move, Paige replied, "Babes u got no idea what's coming 👀👀👀."
Hmm, what does her fitness guru ex think about then?
Well, Adam took to his Instagram Story to post about being "done dirty". Although, it wasn't Paige he was referring to - it was, err, the England football team.
He posted a photo of himself watching their match against Wales and told the England players, "Boy's don't do me dirty tonight of all nights."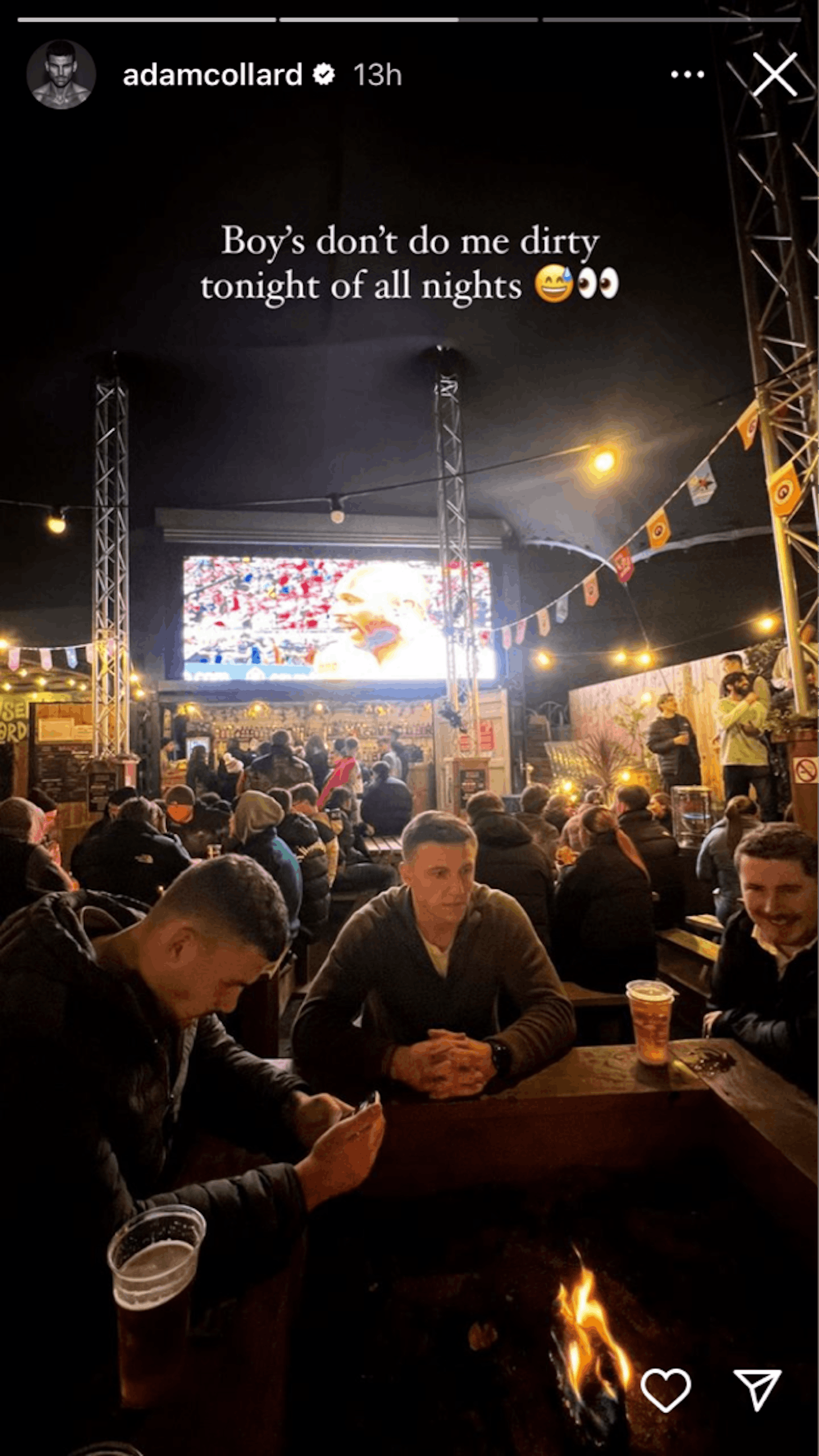 This all comes after Adam's appearance Paul Mort Talks Sh*t The Podcast, where he fired back at claims he'd cheated on Paige.
From the get go, Adam made it clear he was done keeping quiet about 'nugget gate' night, not to mention ex girlfriend Paige's cheating allegations, saying within the first couple of minutes, "I'm taking a little bit of time out from personal, sort of, endeavours with women because of recent events to be quite honest."
Naturally, host Paul Mort brought up the infamous night Adam was filmed looking particularly suspect with a girl in McDonald's following a personal appearance at a night club. He said, "I was in a takeaway the other night getting a kebab because I wanted a chicken wrap. And some girl's like, 'Why did you cheat on Paige with that blonde girl?' I didn't f**king cheat on Paige with this blonde girl. You've seen a f**king TikTok."
Yikes. Shot fired.
He continued, "The nugget thing. Mate, I've never had so much grief for wanting a McDonald's after a night out. Like, all my friends were laughing because the one saw how young she looked. What you don't realise is the video has been cut out and there's like three girls on the other side on a conveyor belt asking for photos.
"Out of 45 nights of nightclub appearances that is probably one of the four that I drank on; the reason I drank on these four is because I took my three best friends. So I, for the first time ever, was a little bit cuddly with the girls and I was like, 'Go on, get in the photo!' I do it with my friends, I do it with my family."
TEA. Contradicting tea, in fact; like, Paige spilled Earl Grey and Adam spilling scalding Peppermint.
He continued, "This time around, especially with the Paige situation with 'Did he cheat? Did he not?' You know, I've struggled. How do you actually prove yourself to everyone in the world when there's no proof? It's my word against hers. And to be honest, the girl ('nugget gate' girl) actually came out and had my back anyway. I did struggle with that more this time than I thought I would."
So if you clicked on this Paige in search of what really happened to rupture this iconic Love Island love story, we're sorry, we just don't know for sure. We're now officially more confused about the dissolution of this relationship than we were before.
Several weeks ago, Welsh beauty Paige revealed on Vicky Pattison's The Secret To podcast that she had a bad habit of spilling her inner most thoughts and feelings to people who come up to her on the street (which potentially means that a fair few of you know more about this Love Island queen than we do, which to be frank, unsettles us deeply).
Vicky asked Paige whether she found random members of the public approaching her for chats - you know, now she's a big time reality star and all – odd.
Paige admitted, "Do you know what? I will chat to anyone, right? It's part of my job as a paramedic, anyway.
"I will talk the back legs off of a donkey. I need to remember that I don't actually know these people; I don't actually have to tell them the ins and outs of my life."
Paige inadvertently went on to reveal that she had recently told an inquiring member of the public that she has recently multiple texts from "you know who" (who we're all assuming is Adam). She explained, "I was stood there the other day telling some random all about these texts that I was having off you know who, and I had to stop – I've overshared again."
She went on to talk about the support network that keeps her on her feet, following two unsuccessful relationships (one with Adam, the other with a guy she was engaged to going prior to the show) this year.
Paige said, "As long as you are surrounded by people who genuinely love and care for you, boyfriends can come and go as they please, because as long as you've got a good support system, 'Baby, do your worst!'"
She later added, "I'm just never picking boys for myself ever again, because I can't do it really".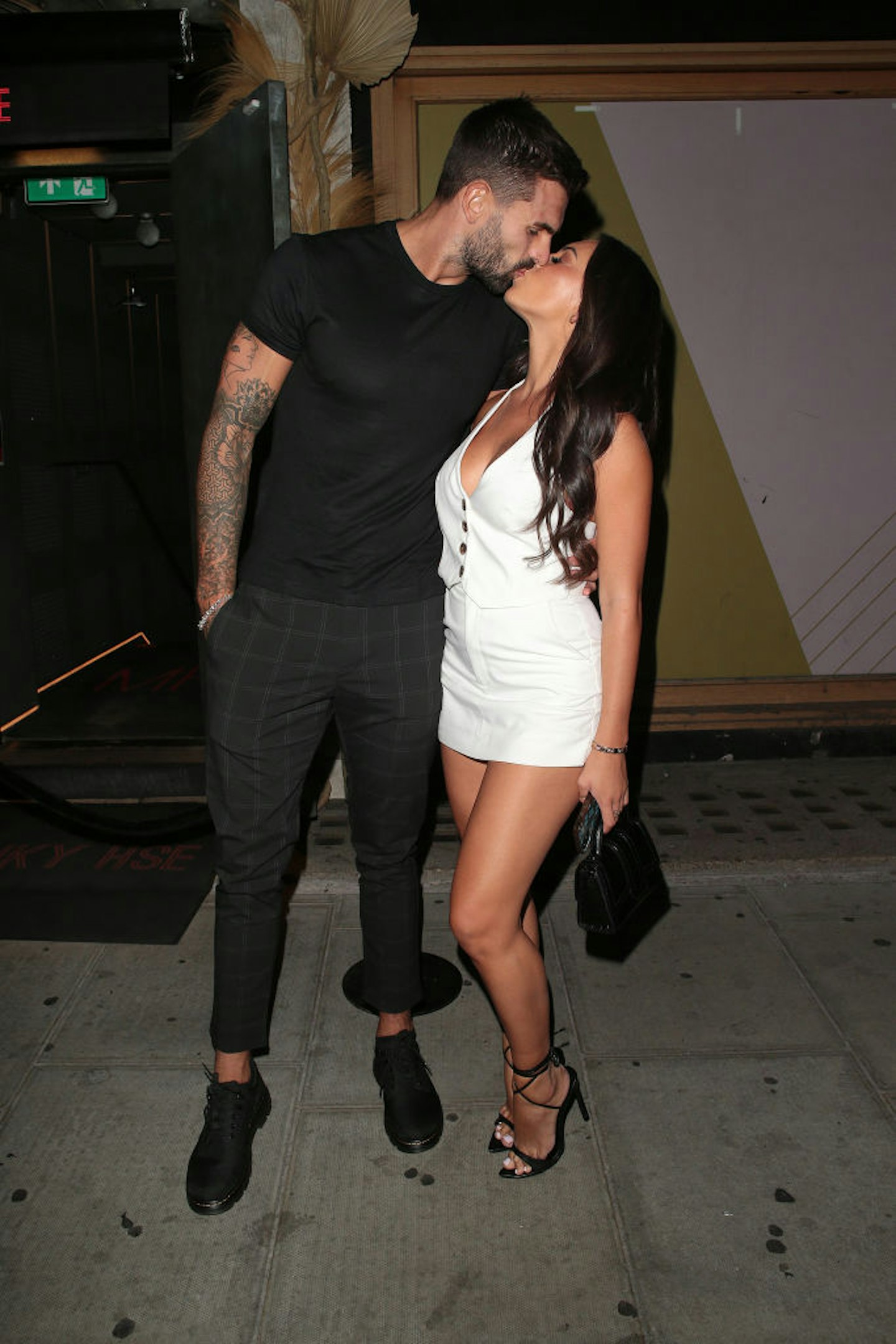 Why did Paige Thorne and Adam Collard split up?
Unless you've been living under Majorca-sized rock, you'll already know that Love Island couple Adam and Paige called it quits after several weeks together.
You'll also know that Paige guested on GK Barry's Saving Grace podcast and accused Adam of dalliances in "VIP toilets", which apparently was far worse than that 'nugget gate' video. heatworld contacted Adam Collard's reps for comment regarding these claims.
This was the first time that Paige publicly spoke out about the split and the alleged "cheating" and quite frankly, someone should win an award for that podcast episode.
In October 2022, reality TV royalty swarmed Wembley for this year's National Television Awards - including Adam and Paige (who attended the event separately).
In an interview at the awards ceremony, Adam was super shady when he was asked if he had any comment on recent reports that Paige and Casa Amor bombshell Billy Brown had been spotted getting cosy at Ekin-Su's epic Oh Polly launch party.
He told the Daily Star, "Billy who? That doesn't really phase us to be fair, he looks like a 12-year-old so I really don't think that he's going to be competition."
Not so much competition if you've already been disqualified, honey bun.
Adam then launched into a rant about his Love Island 2022 boys, saying, "I feel like the boys in series eight, the boys weren't like the boys in series four, it's a lot more timid these days.
"Those boys weren't half of the drama as they were in series four; Jack Fincham, Josh Denzel, Wes Nelson, Sam Bird, all of those boys I love but they made the show a lot more.
"It's not any disrespect to the boys in series eight, but it wasn't half the show as series four."
He continued, "Love life wise, I'm actually going to turn gay because it's easier than going out with women right now.
"I'm stumped right now, but I'm fully single. I would go on Love Island every year if they put us in to be fair. I think they actually lost out last season because they actually put on someone I liked because I was meant to be in there as a 'jack in the box'.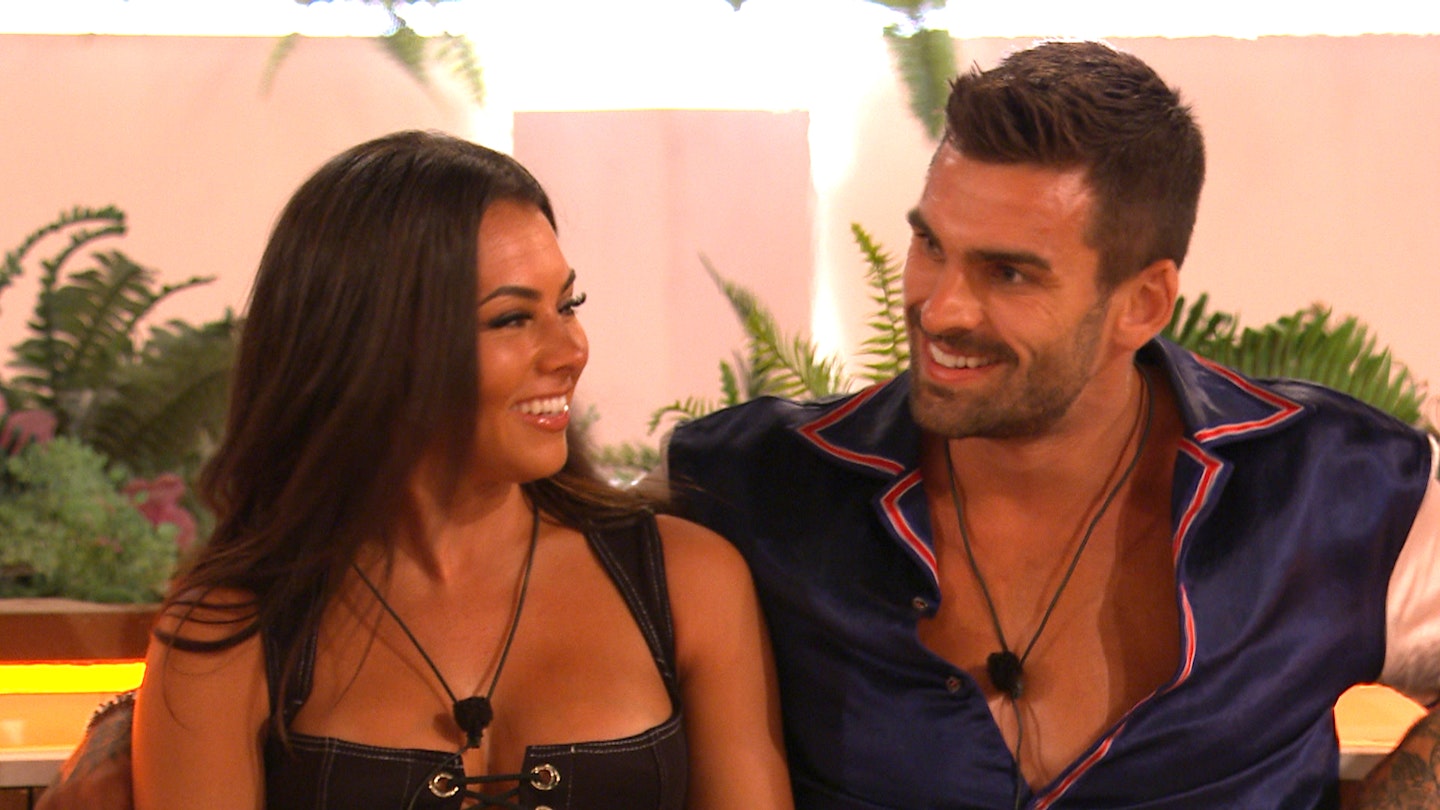 "Am I gutted? Maybe part of us is gutted but part of us is like it's for the right reasons. I don't know ask us in a year."
On the red carpet of the NTAs, Adam confirmed that him and Paige had split, telling The Sun, "We're not together. Things happen. But I mean she is a great girl."
It really echoes Curtis Pritchard telling Amy Hart, "you're a great girl, a fantastic girl" while ripping her "I was coming here to tell you that I loved you" dreams to shreds.
"It is what it is," Adam added, speaking to OK!.
Still grim.
What is 'nugget gate'?
Adam was labelled a "cheat" in September when he was pictured with his arms around a mysterious blonde in a McDonald's after a night out in a scandal we've dubbed 'nugget gate'.
Adam's reps said, "Adam understands how this video looks but wants to state that he left the restaurant with his friends and a box of 60 nuggets (with nothing or no one else) with the intention of getting home safely."
Ekin-Su Cülcüloğlu– who won Love Island alongside boyfriend Davide Sanclimenti and recently signed up for the next series of Dancing on Ice – subsequently confirmed that Adam and Paige had split, saying, "It's over. It's done.
"I think Paige can do better, that's all I can say."
WATCH: 'You Never Admitted That!' Dami, Indiyah, Paige, Adam & Andrew Address Love Island Rumours