Love Island legend aka Adam Collard first graced our screens in 2018 as the ultimate bombshell (well, Megan Barton Hanson is up there as well).
He then left the nation shook during Love Island 2022 when he entered the villa again as a bombshell.
And now? Well, the Newcastle native has decided to do the one thing furthest away from Love Island by entering IRONMAN UK which is essentially a whole lot of running, swimming, cycling and just general torture.
The triathlon takes place in Bolton and according to the British Triathlon website features, "a 2.4 mile swim in Pennington Flash, a 112 mile bike ride through Lancashire and a 26.2 mile marathon to the finish in Bolton town centre."
That will be a hard no from us.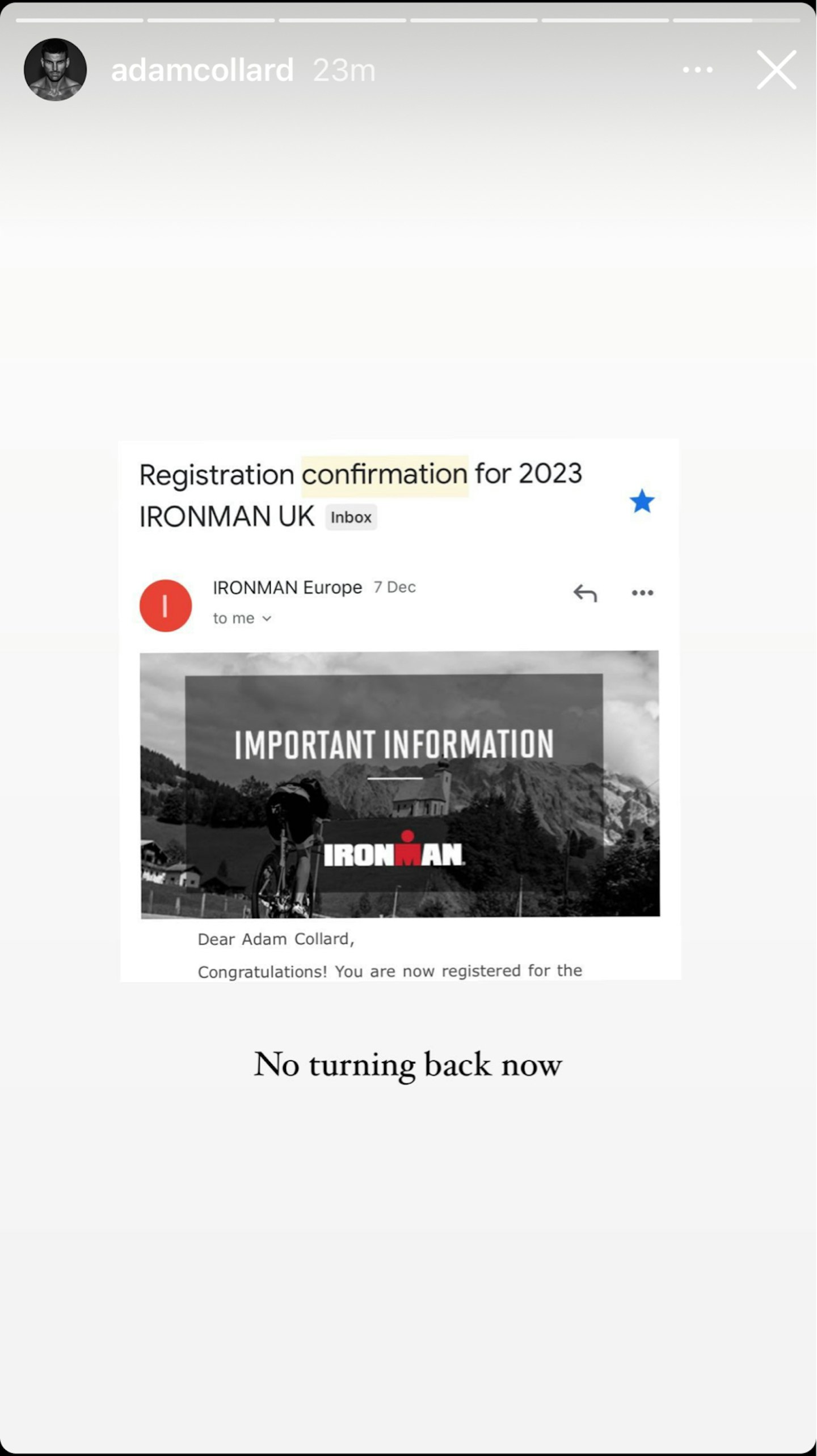 We know that Adam is a Love Island love rat but who has convinced him that he deserves this sort of punishment?
To be fair, Adam has always been a bit of gym bro and currently works at Sculpt Fitness so perhaps he finds joy in this kind of thing? We don't get it, but you do you Adam.
Why did Adam Collard return to Love Island in 2022?
In the summer of 2022, for the first time in Love Island history, legendary bad boy Adam returned to the villa to "find love".
Adam was revealed as a bombshell about halfway through the 2022 series and his unexpected comeback sent social media understandably WILD.
Even Adam's fellow 2018 Islanders were absolutely shook over his return, pretty much all predicting carnage which, given the Newcastle lad's behaviour on series four, was hardly a surprise.
"It's demon time 😂," Josh Denzel wrote on Instagram, while Laura Anderson commented, "I screamed at the tv 🙈 this has never happened 😂😂."
However, the award for best reaction has to ex Zara McDermott, who dated Adam for eight months after they met in the villa in 2018. Her reaction was caught on camera by current boyfriend Sam Thompson (awkward) and shared on Instagram.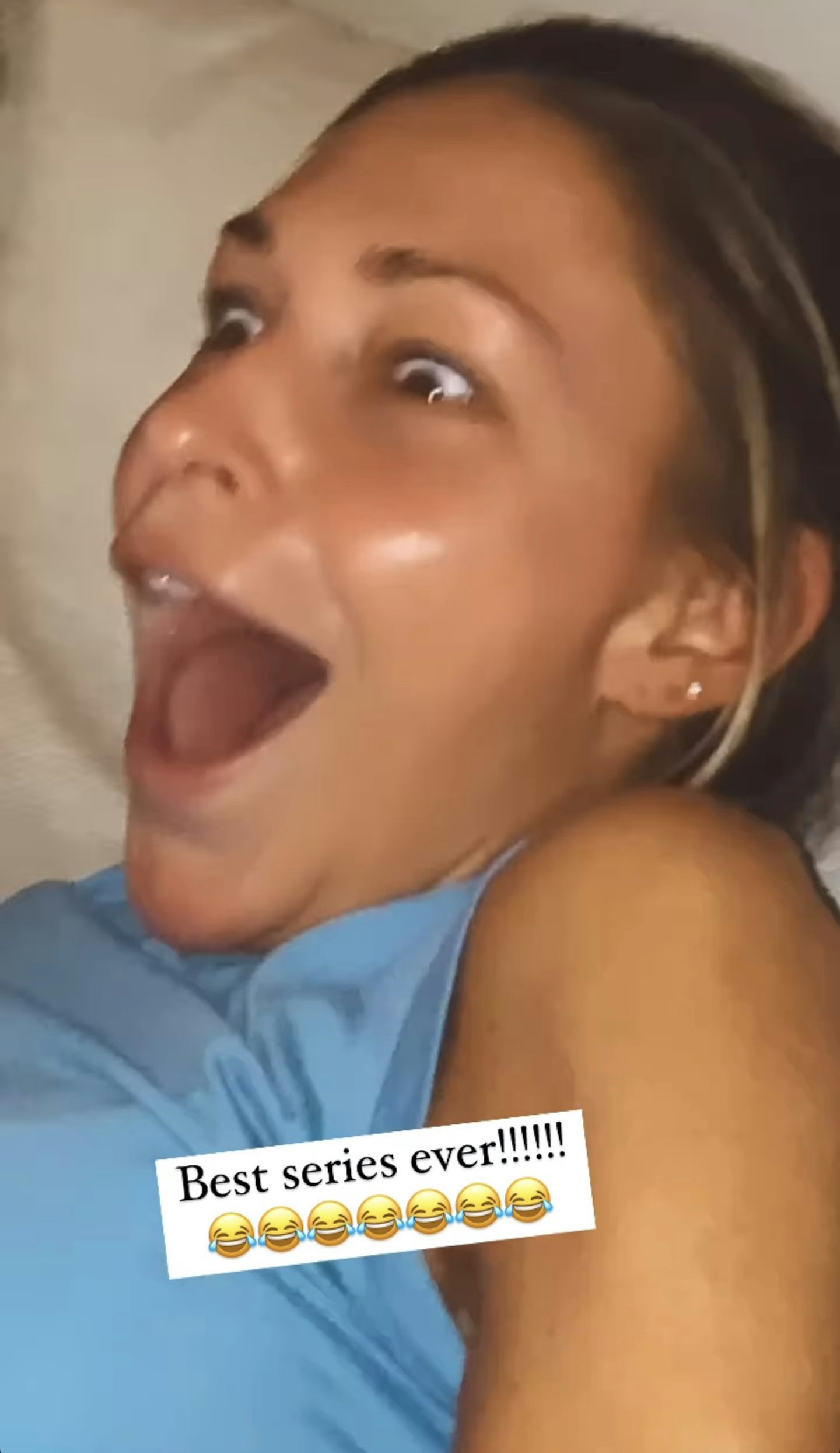 In the clip, Sam could be heard saying, "Oh my god, abs and pecs! Wow, he's jacked! Who is this guy? Who is this absolute animal? It's your ex-boyfriend! No way!" before the camera panned to a clearly gobsmacked Zara who screamed, "No! You're f--king joking!"
Here's everything you need to know about the history-making Islander... although we can't help but feel we've done this before.
Who is Adam Collard?
Adam is a personal trainer and the founder of fitness program and website Sculpt Fitness. He's best known for appearing on the 2018 and 2022 series of Love Island.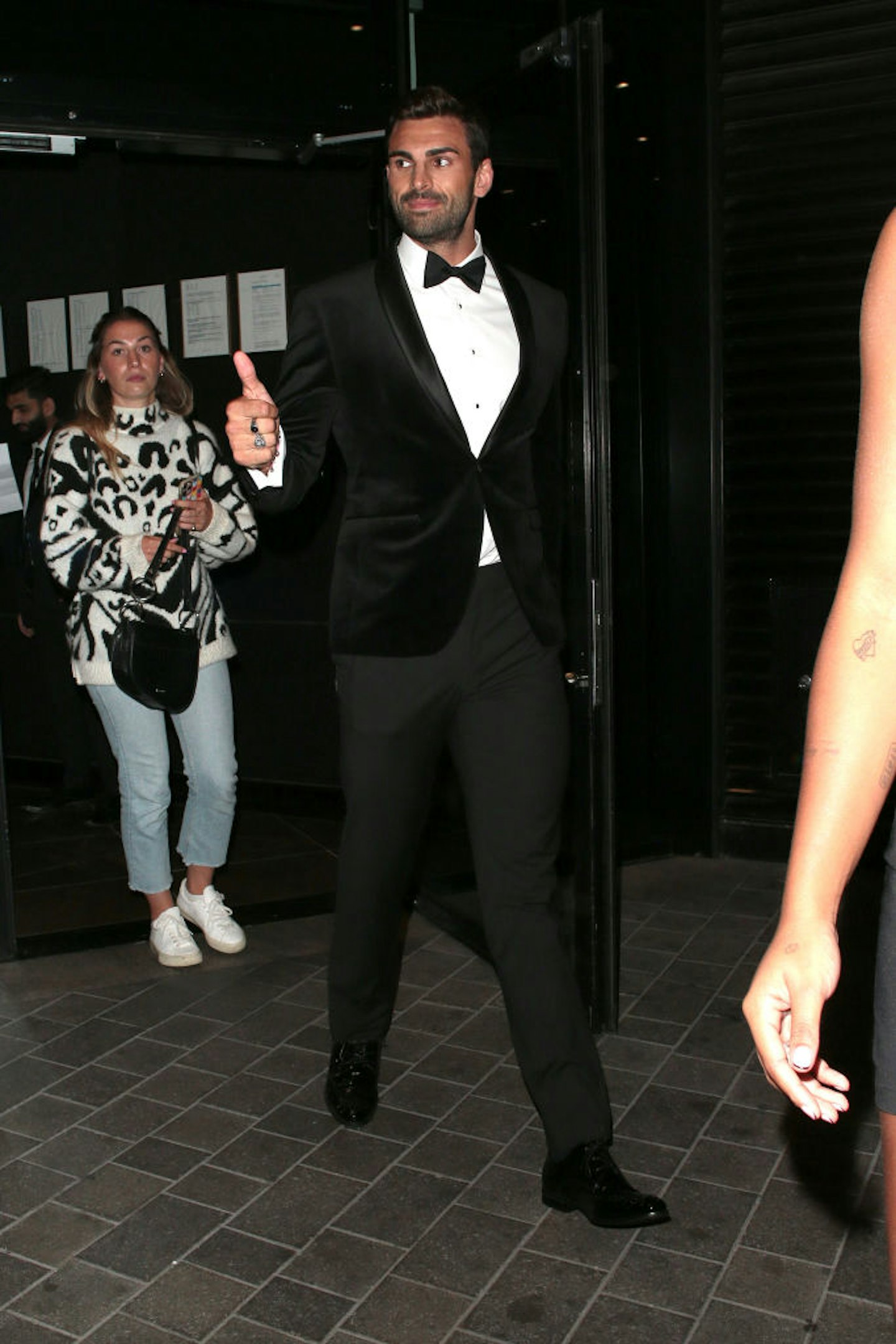 How old is Adam Collard?
Adam is 27 years old. He was born on 26 October 1995, making him a Scorpio.
Where is Adam Collard from?
Adam is from Newcastle.
How tall is Adam Collard?
Adam is 6ft 5 inches.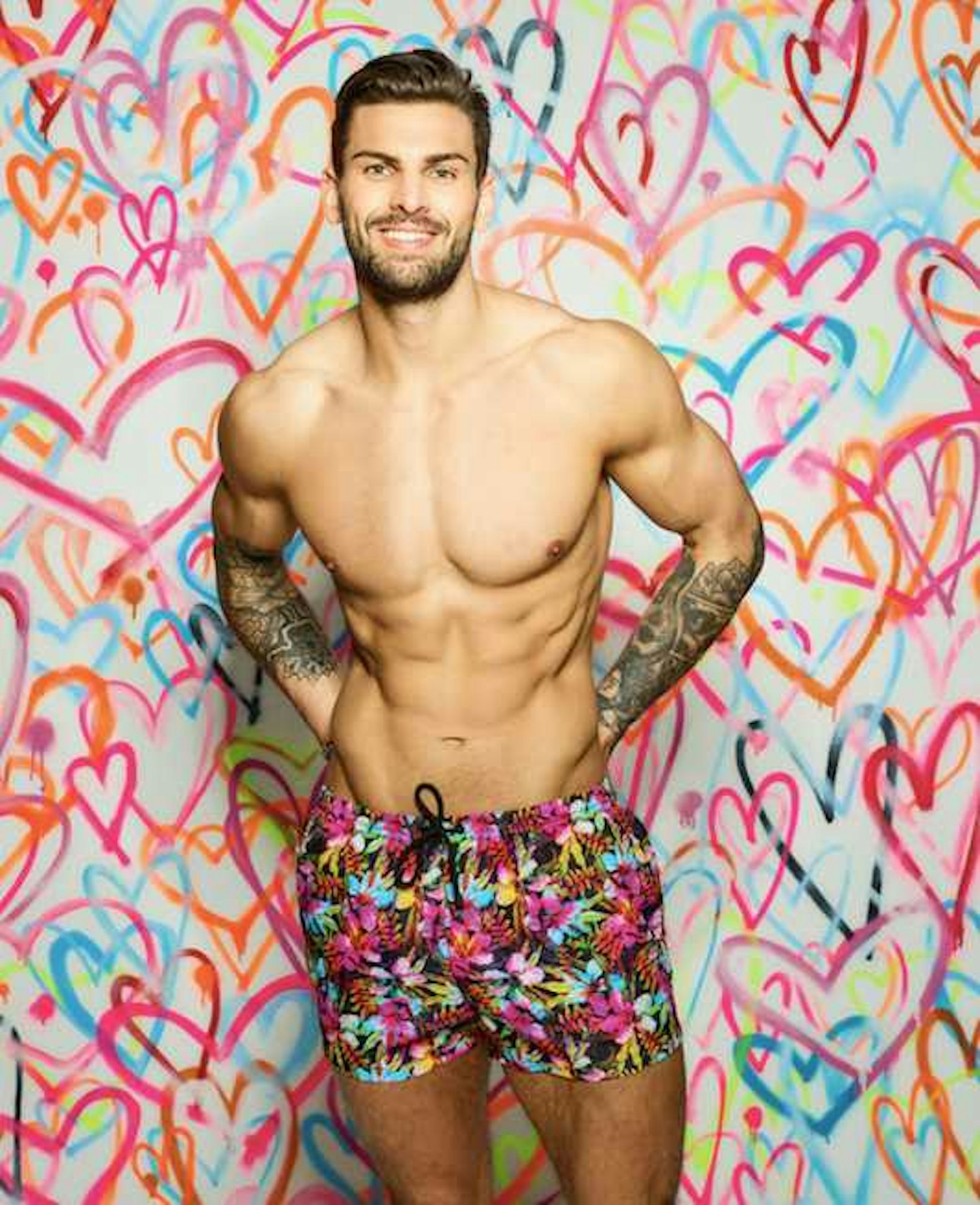 What's Adam Collard's relationship history?
Before entering theLove Island villa, Adam had a couple of serious relationships, lasting a year and a half – and he did admit to cheating on a partner.
He said, "The one before last which was when I was younger, I did mess her about and cheat on her which caused a lot of arguments but I was a lot younger. The one I was with last, I genuinely thought at the time that I was in love with her and I was completely loyal. I still got a lot of attention but I genuinely didn't cheat."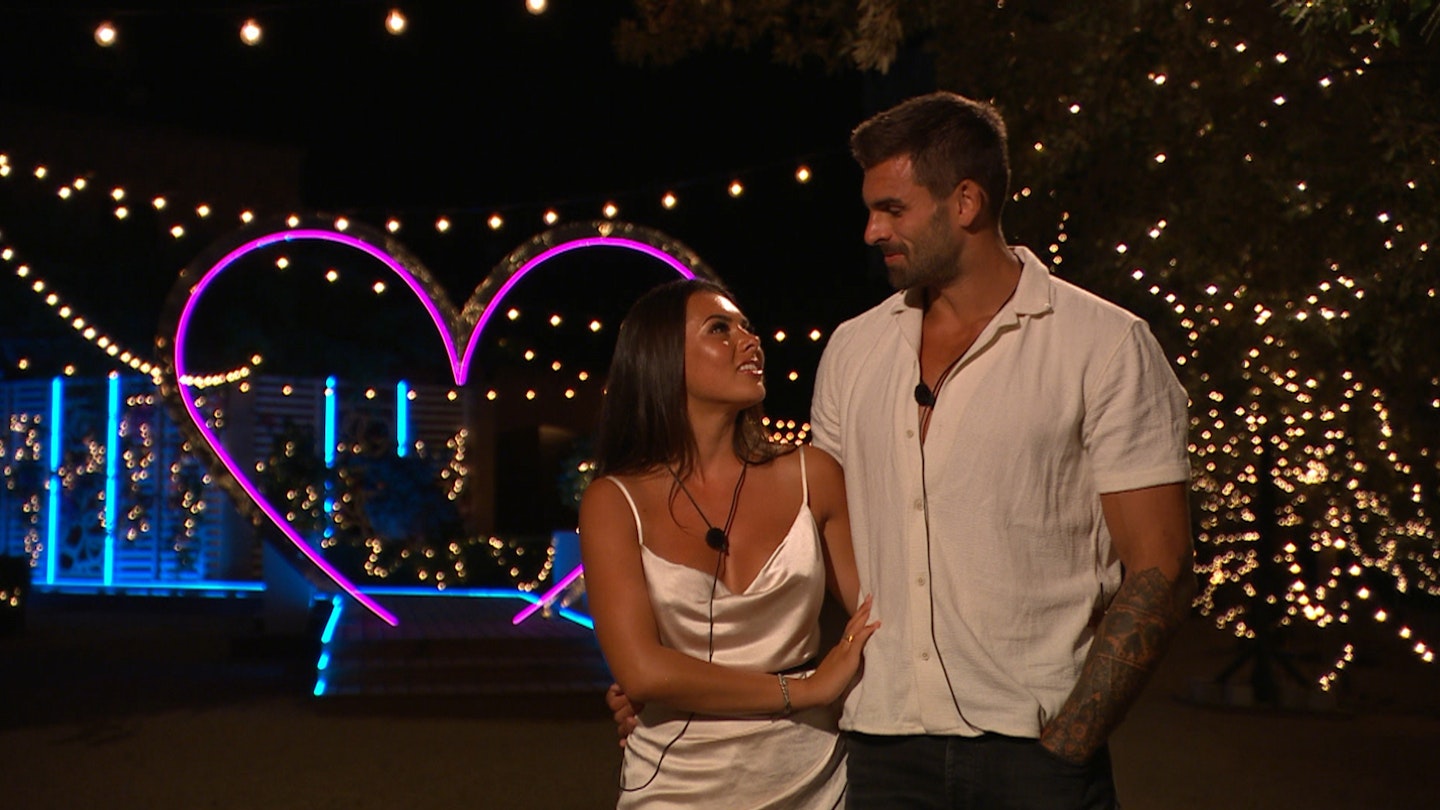 During his time in the villa in 2018, Adam originally coupled up with Kendall Rae Knight before dumping her for bombshell Rosie Williams. History repeated itself when Zara entered the villa as a bombshell and Adam dumped Rosie in favour of coupling up with the newbie.
They were torn apart when Zara was dumped from the villa but they rekindled their romance in the outside world and dated for eight months. Adam's also dated influencers Andrea Belver and Sarah Godfrey.
During his second stint on Love Island, Adam of course coupled up with Paige and that was, erm, interesting.
What happened with Adam Collard and Paige Thorne?
Really? Have you got three hours? Saying that, lucky for you lot, we do this full time, so we've actually got about seven or eight hours to tell you the tragic/iconic love story of Love Island's Adam and Paige.
After a brief – albeit emotional – dalliance with bombshell Jacques O'Neill (who just happened to be Gemma Owen's ex), producers chucked Love Island's very own big bad wolf Adam into the villa for a second go of it.
Following Jacques' sudden departure, Adam and Paige grew visibly close, and soon enough, they shacked up, and came in fifth place, just missing out on the grand final.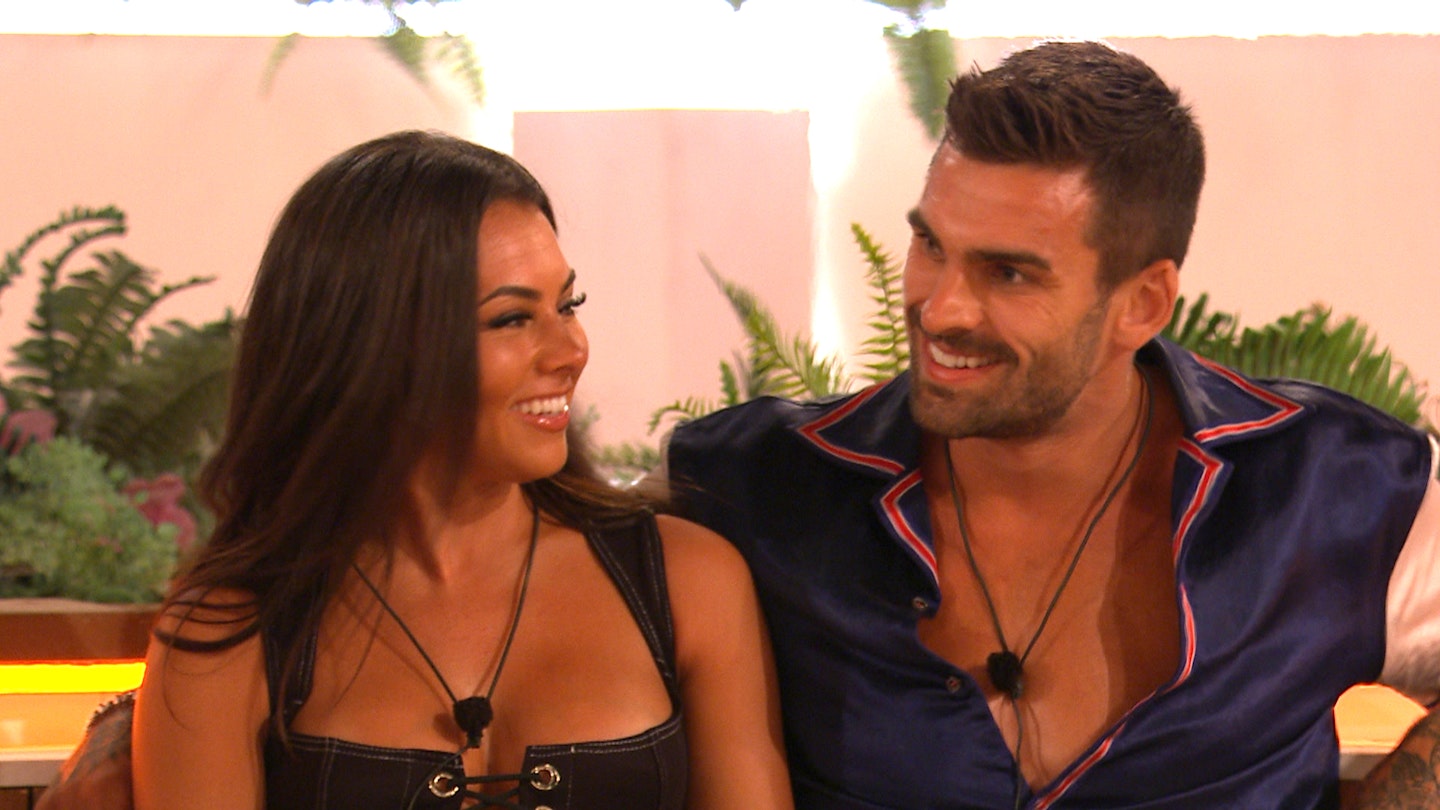 But what's £50,000 when you've found true love?
The couple returned to the UK and played the post-Love Island game as best they could; doing interviews together (they even appeared together on heat's Under the Duvet), adding cringey couple posts to their Instagram grids, filming loved-up TikToks, walking red carpets hand-in-hand, and going on mini-breaks together. You know, work.
Footage of Adam and a fresher in McDonald's after a personal appearance started doing the rounds online in early October. This was swiftly followed by Paige and Adam culling each other from their individual social media pages. Naturally, the split rumours began to roar.
While Adam made a few digs online, and other Islanders piped in because the power had clearly gotten to them (cough cough Ekin-Su), Paige remained dignified and silent – until she went on GK Barry's podcast, Saving Grace, and spilled enough tea to put Whittard out of business. On the podcast, not only did Paige confirm the BRUTAL details behind the split (the words 'cheating' and 'VIP toilets' were uttered), she also revealed which Love Island 2022 couple she thought was the fakest.
Adam then opened up further on the red carpet at the NTAs and took to Instagram for a sweary message that seriously confused us.
The pair are now painfully single, but no doubt that pain is lessened thanks a new life full of millions of followers, tonnes of freebies, glamorous events, and sponsorship deals. They'll be okay.
What happened with Adam Collard and Zara McDermott?
Despite acting like a bit of a lothario in the first couple of weeks, Adam was tamed and seemed completely smitten in the villa when Zara entered. Zara was then dumped on Day 25, and Adam's head turned when the new girls entered Casa Amor.
Although Adam tried it on with Darryl Sargeant, as Zara watched on at home, things fizzled out, and Adam was later dumped on Day 35. He then met up with Zara when he arrived back in the UK, and the pair dated until February 2019.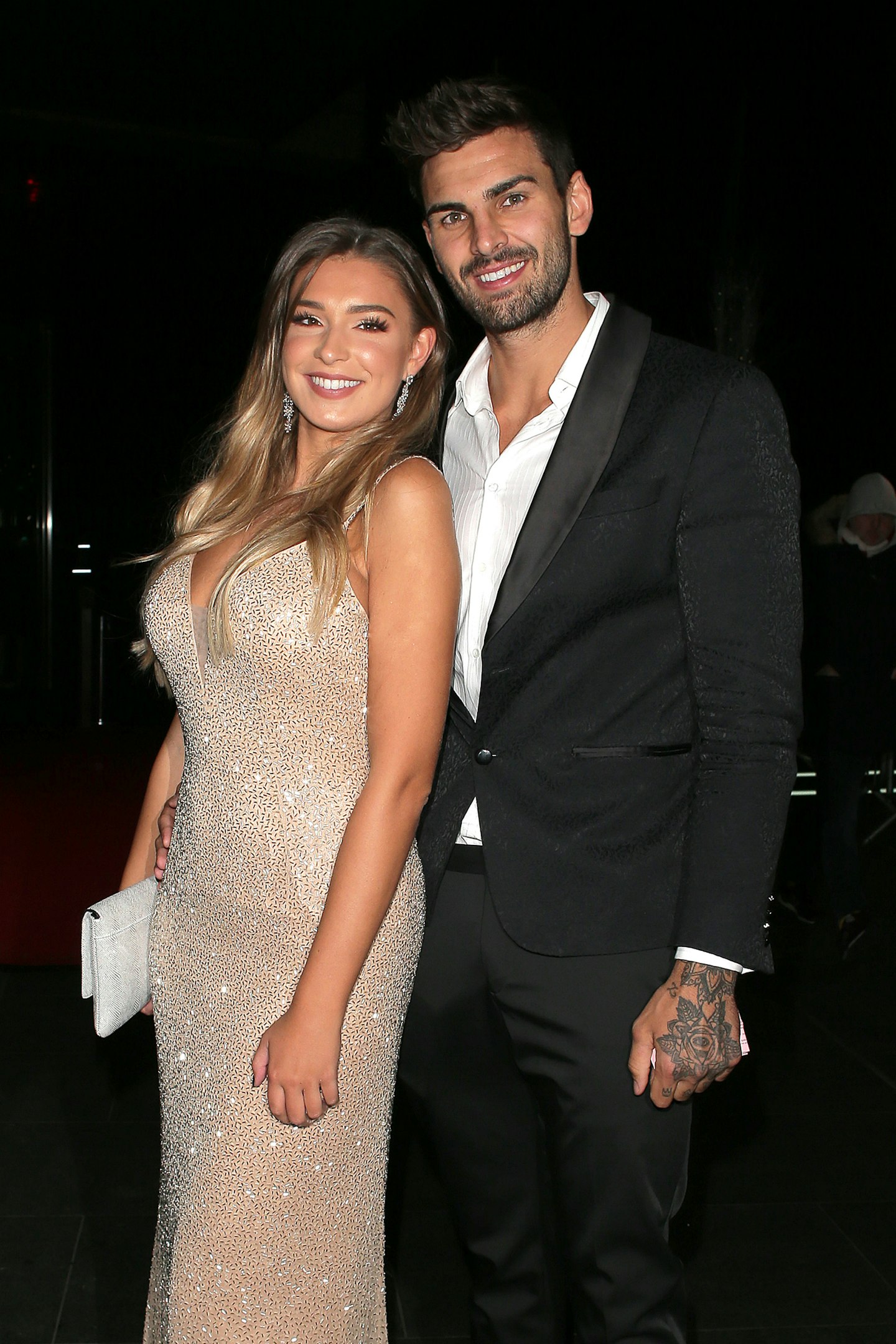 Despite moving in together and seeming very happy on social media, Adam and Zara announced they'd split on Valentine's Day in 2019.
Posting a statement on her Instagram story, Zara announced, "I am heartbroken to announce that Adam and I have parted ways. I love him very much and will always have a special place in my heart for him & our time spent together.
"I have tried so hard to be the best person I can possibly be and to make it work. Sometimes in life, you just aren't enough for someone; no matter what you do for them or how much you try to be. For everyone asking if I'm ok, I don't know that I am.
"But I know that soon I will be. I will be strong and prove to myself that I can get through this. Love, always, Zara x"
What is Adam Collard's tattoo?
As you will all remember, Adam had a 'Z' tattooed on his hand weeks after he left the villa, showing his love for Zara McDermott at the time.
Following their split, Adam said goodbye to his tattoo, and got it covered up during a trip to Las Vegas with fellow Islanders Wes Nelson, Sam Bird and Jack Fowler. Adam seems to have had the Z cunningly transformed into an N and added an I and another N.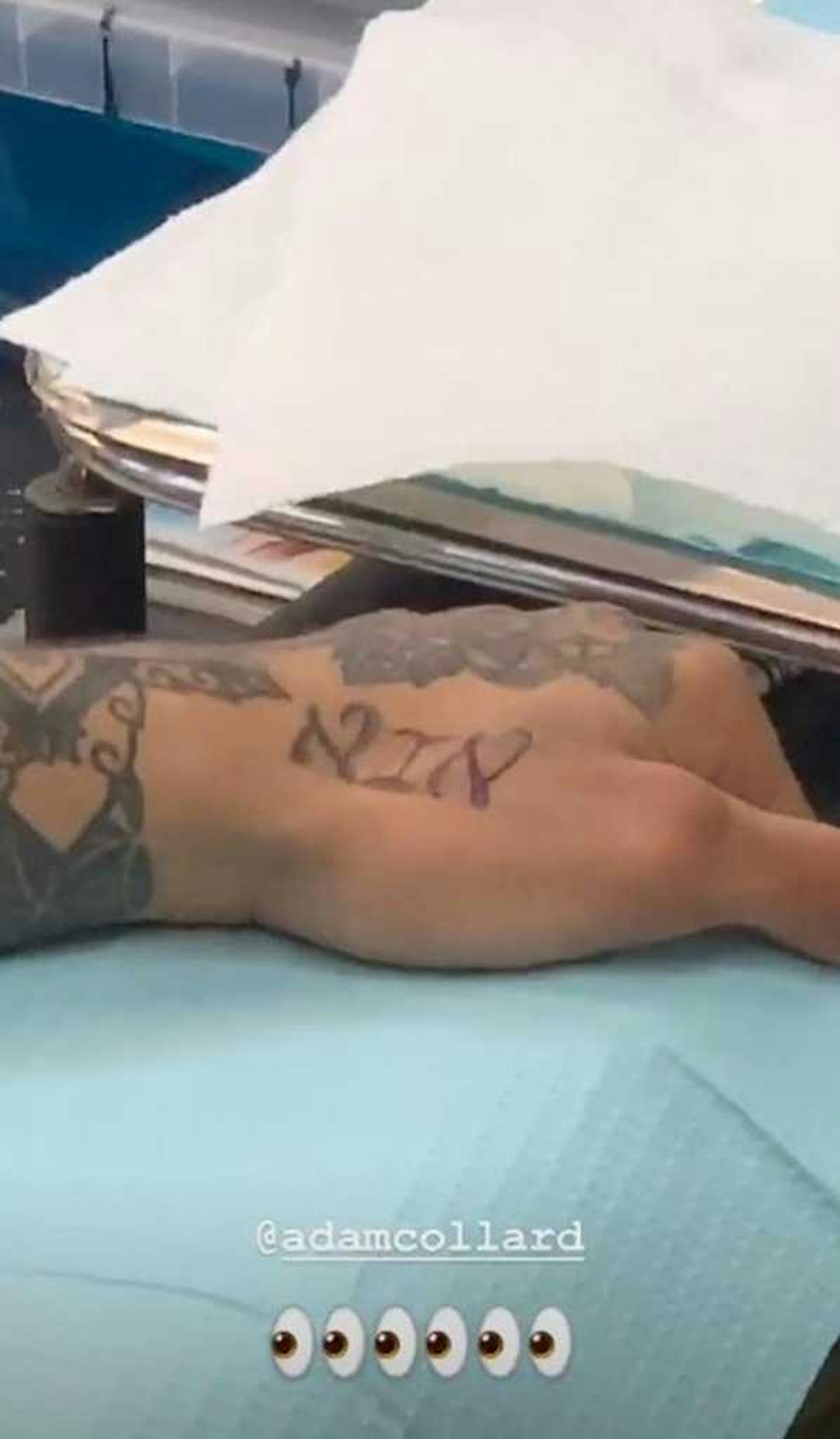 Was Adam Collard on Geordie Shore?
He sure was. During his time in the Love Island 2018 villa, it came to light that Adam not only starred on Geordie Shore but he snogged half the cast.
Then in 2019, it was reported that Adam would be joining the cast of Geordie Shore, however on heat's Under the Duvet, the fitness hunk revealed this was false.
Adam said, "No I'm not. When I was 18 or 19 I auditioned, it was good craic."
Does Adam Collard have Instagram and TikTok?
Adam Collard Instagram: adamcollard
Adam Collard TikTok: adamcollard_
Check out: Love Island 2018 cast - where are they now?
Love Island series 4 - where are they now? - Slider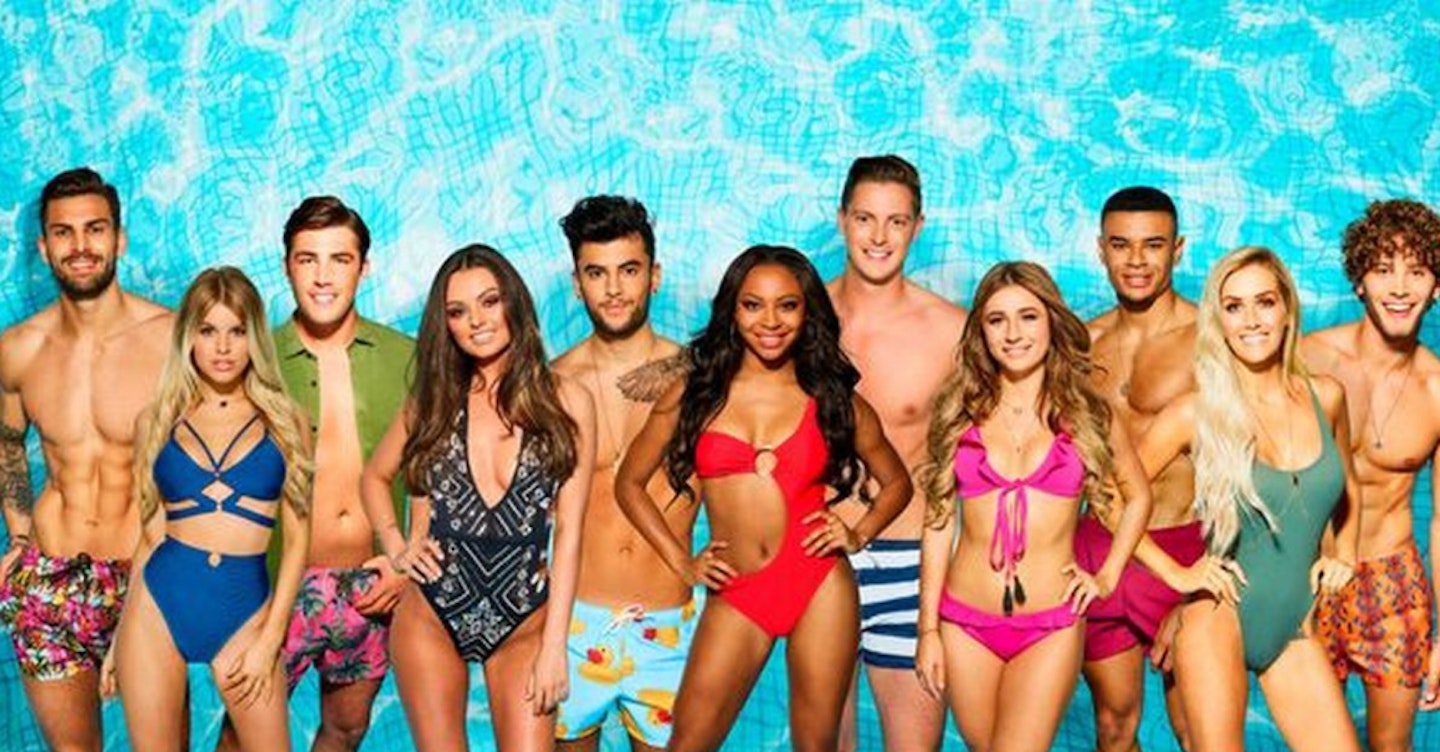 1 of 35
CREDIT: u00a9 ITV Pictures
Swipe through to see what the Love Island 2018 cast are up to now: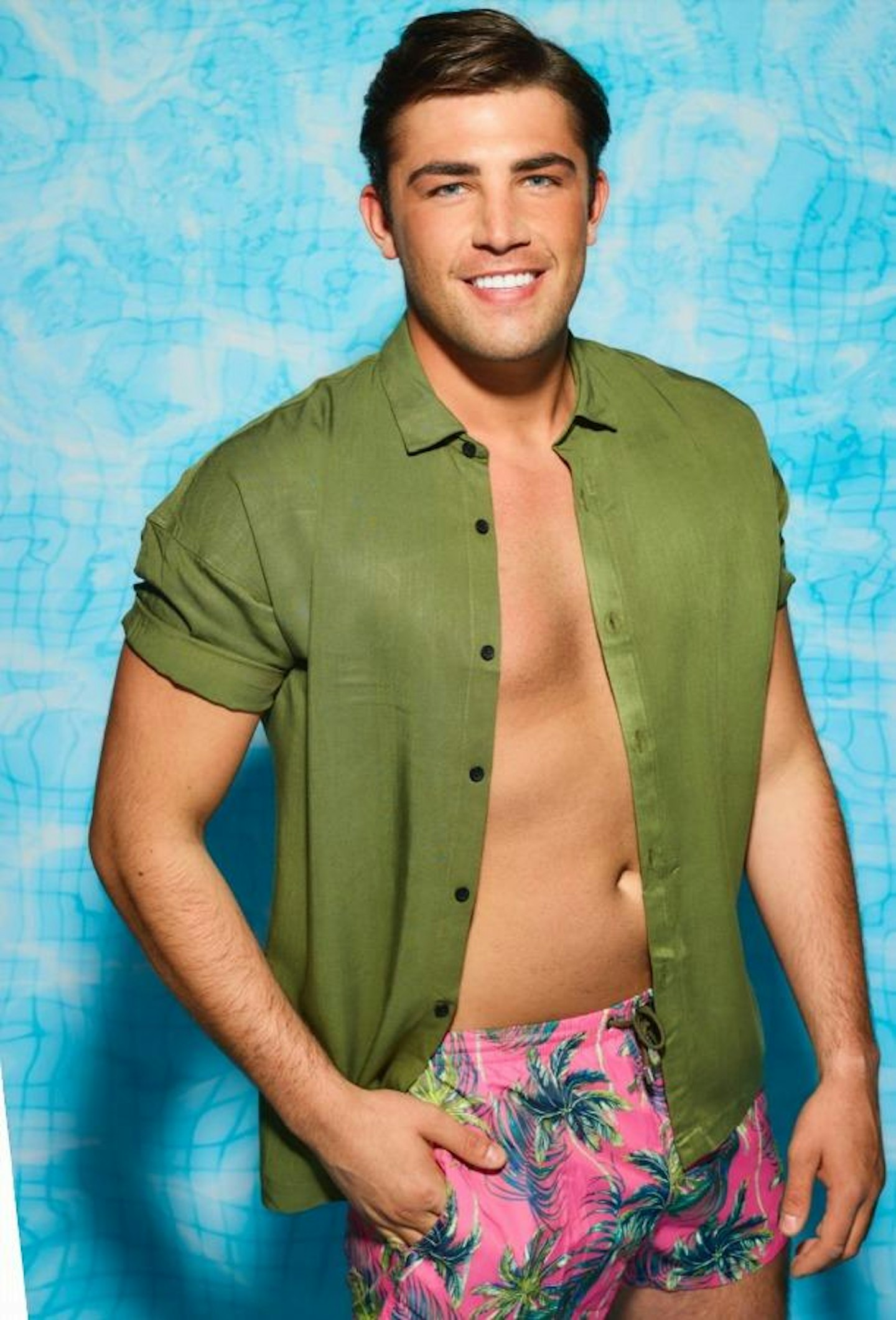 2 of 35
CREDIT: u00a9 ITV Pictures
Jack Fincham
Pen salesman Jack Fincham won the show in 2018 alongside Dani Dyer, the pair coupled up together in the first show and the rest was history.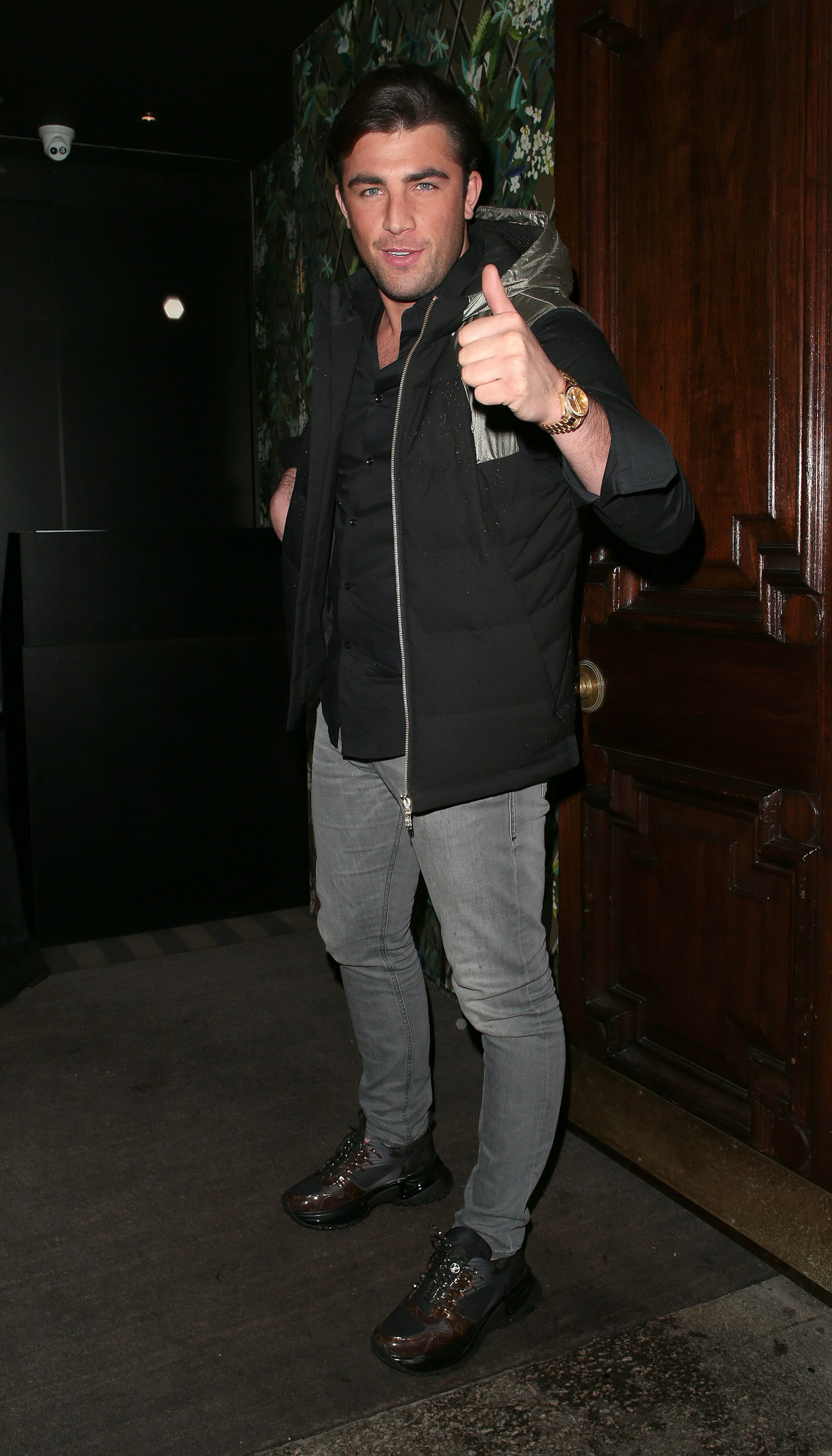 3 of 35
CREDIT: u00a9 Getty Images
Jack Fincham
After leaving the villa, Jack landed himself a TV show alongside Dani Dyer, appeared on the Celebrity version of Gogglebox and even hosted the NTA red carpet with Dani. After the pair split up in April 2019, Jack has gone on to be involved in a number of sponsorship deals, as well as attending various events. He also recently appeared on The All New Full Monty.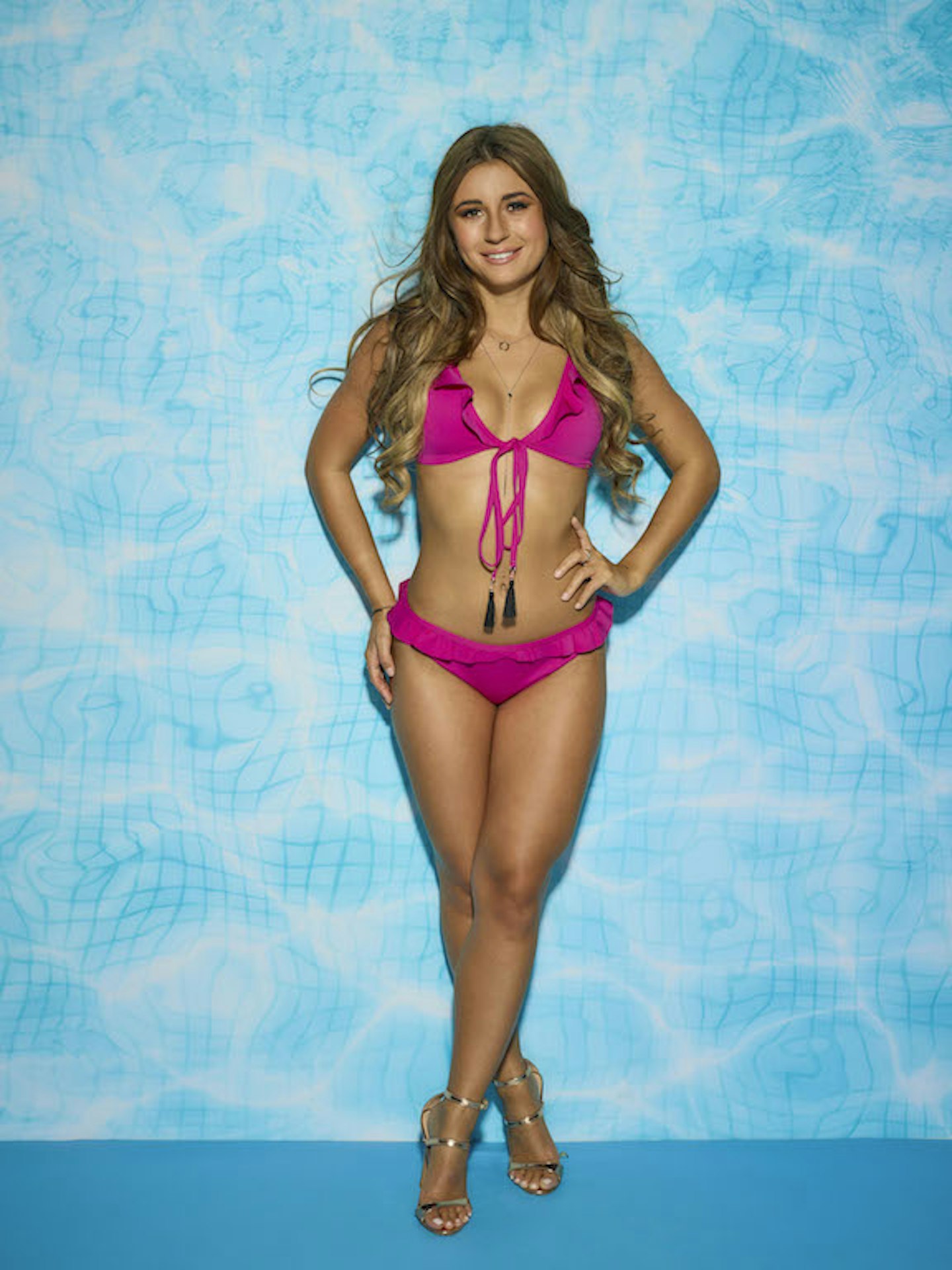 4 of 35
CREDIT: u00a9 ITV Pictures
Dani Dyer
Despite already having some fame (due to her famous dad, Danny Dyer) before entering the villa, Love Island certainly catapulted Dani into the limelight when she won the show with Jack Fincham.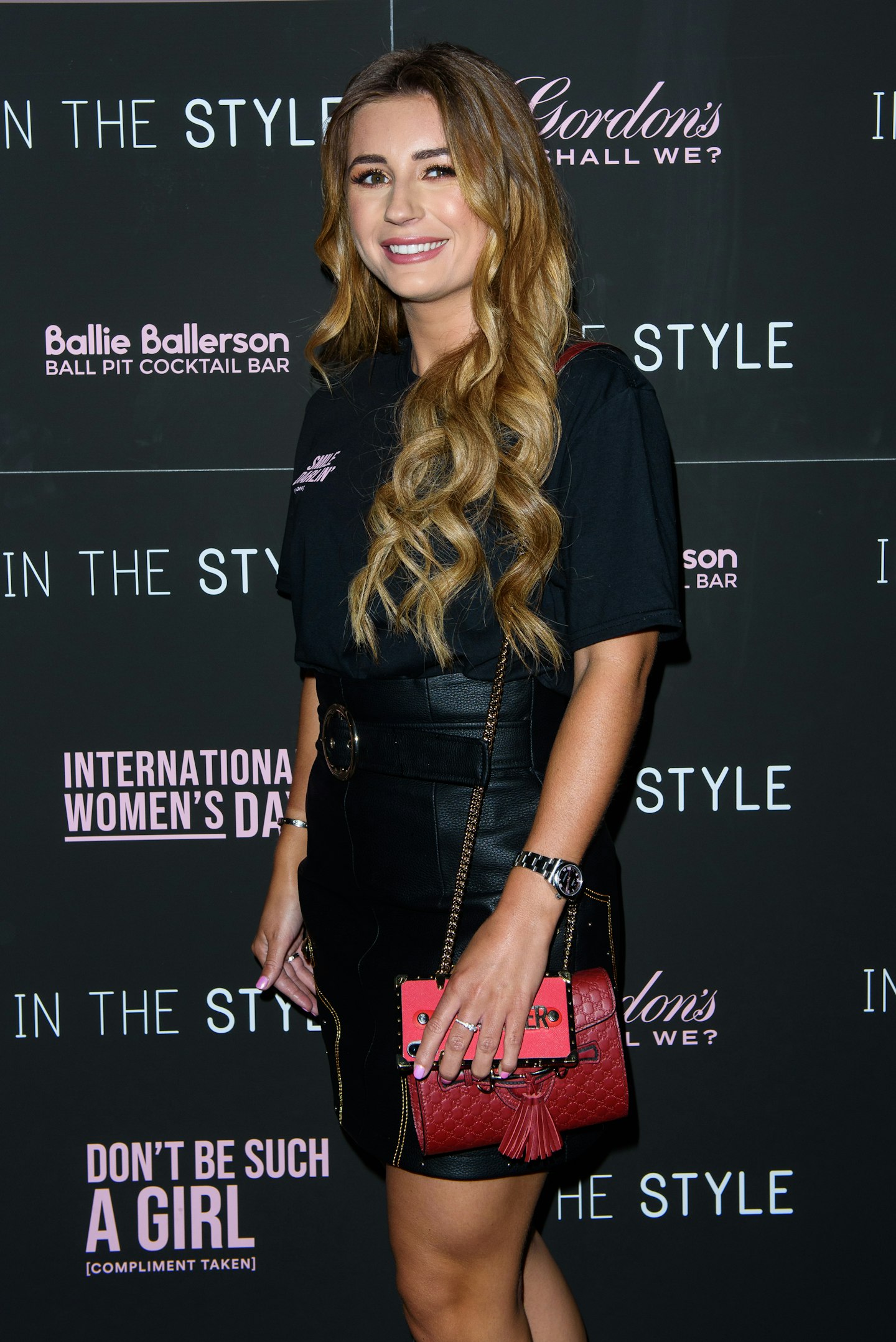 5 of 35
CREDIT: u00a9 Getty Images
Dani Dyer
After leaving the villa, Dani was in demand, landing her own clothing brand with In The Style, climbing Mount Kilimanjaro for Red Nose Day, and releasing her own book. Following her split from Jack, Dani was accused of 'cheating' with her ex-boyfriend Sammy Kimmence however, the Love Island winner totally denied the rumours
but did go onto to have a baby with him. They split when he went to prison and Dani is now dating footballer Jarrod Brown.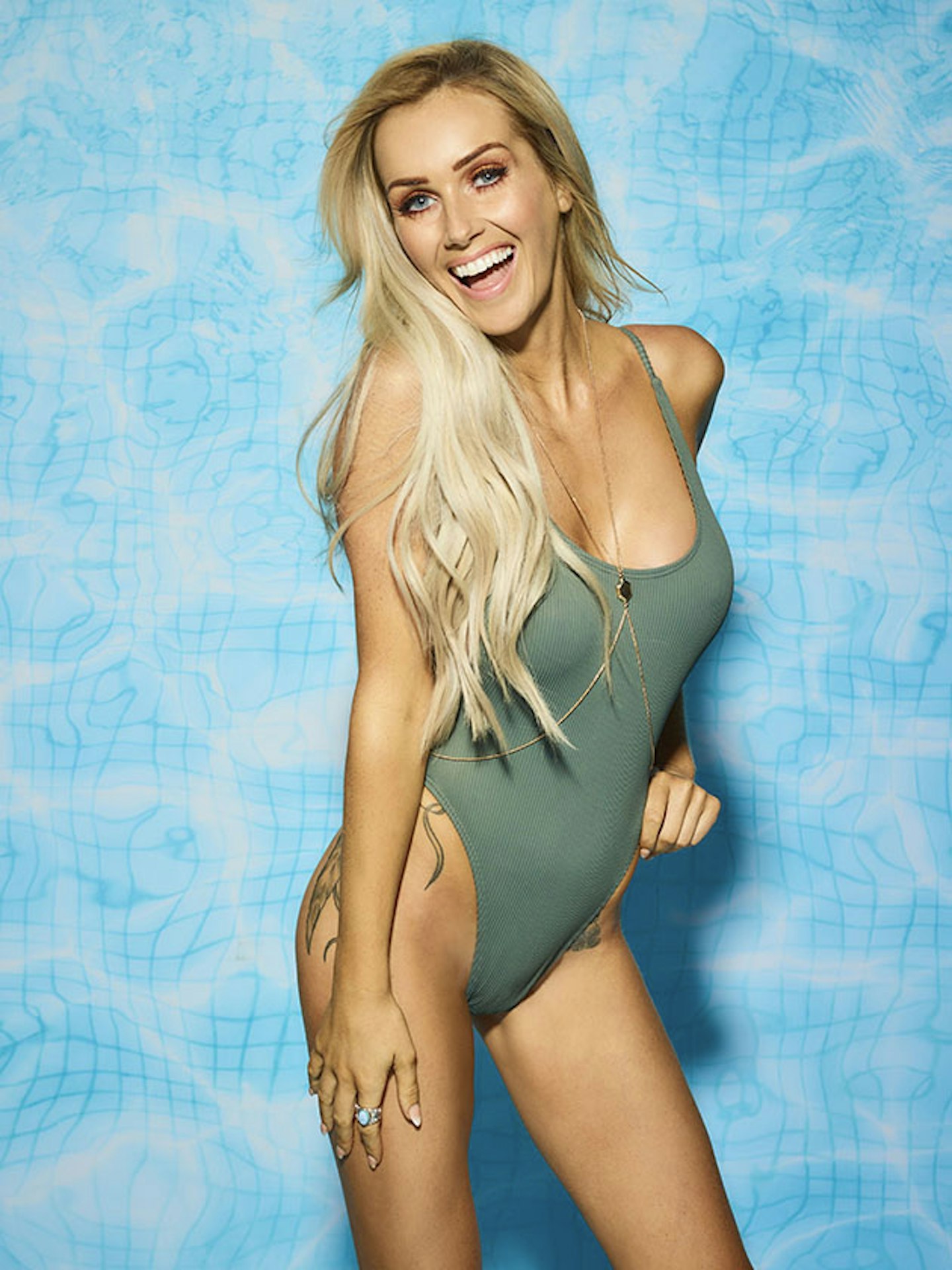 6 of 35
CREDIT: u00a9 ITV Pictures
Laura Anderson
Despite her turbulent time in the Love Island villa, Scottish beauty Laura Anderson finished in second place with hunky model Paul Knops.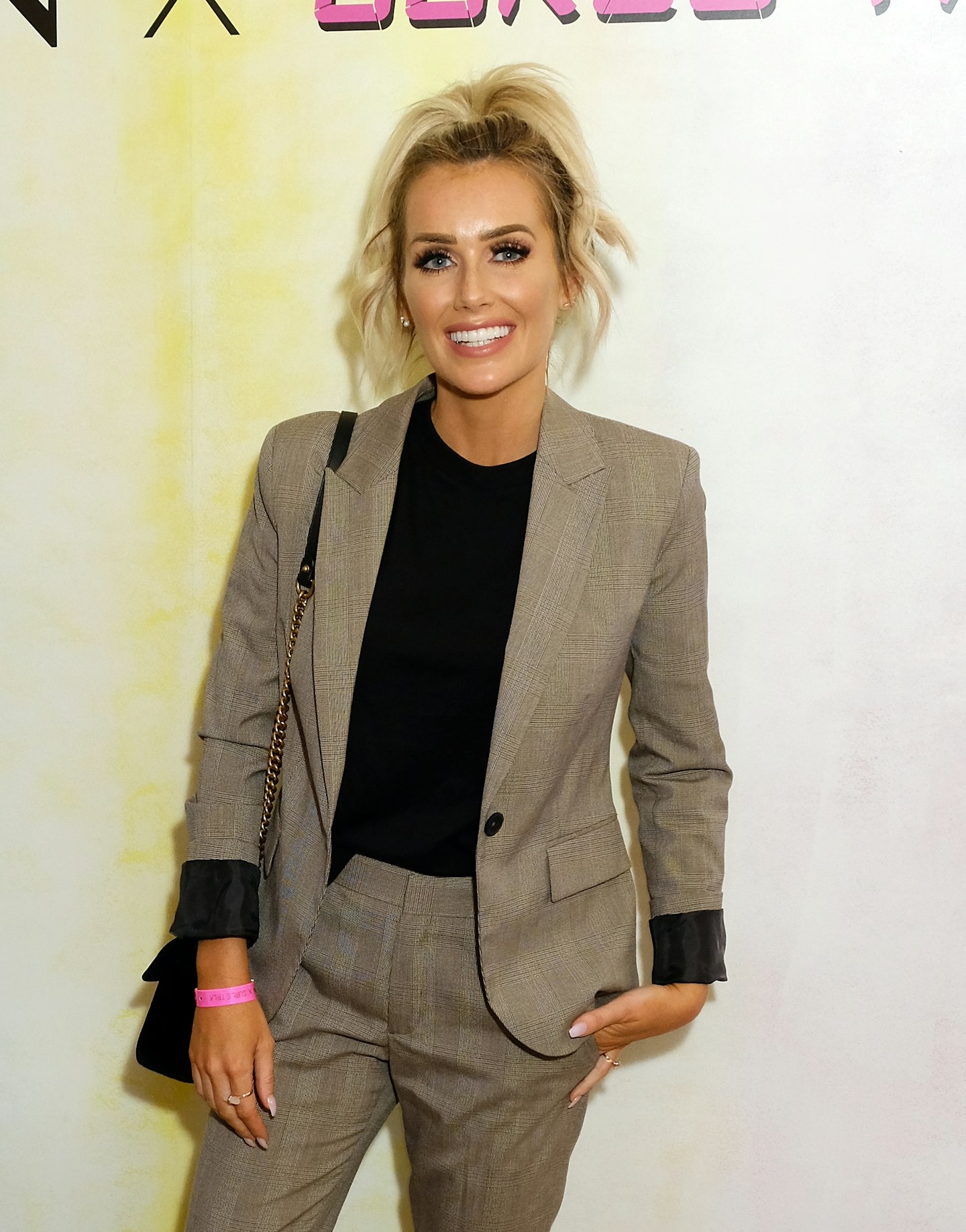 7 of 35
CREDIT: u00a9 Getty Images
Laura Anderson
Despite her relationship with Paul not lasting, Laura has kept herself busy and she recently launched her own fitness and lifestyle website called So-LA. Oh, and her Instagram is also filled with clothing deals from various brands.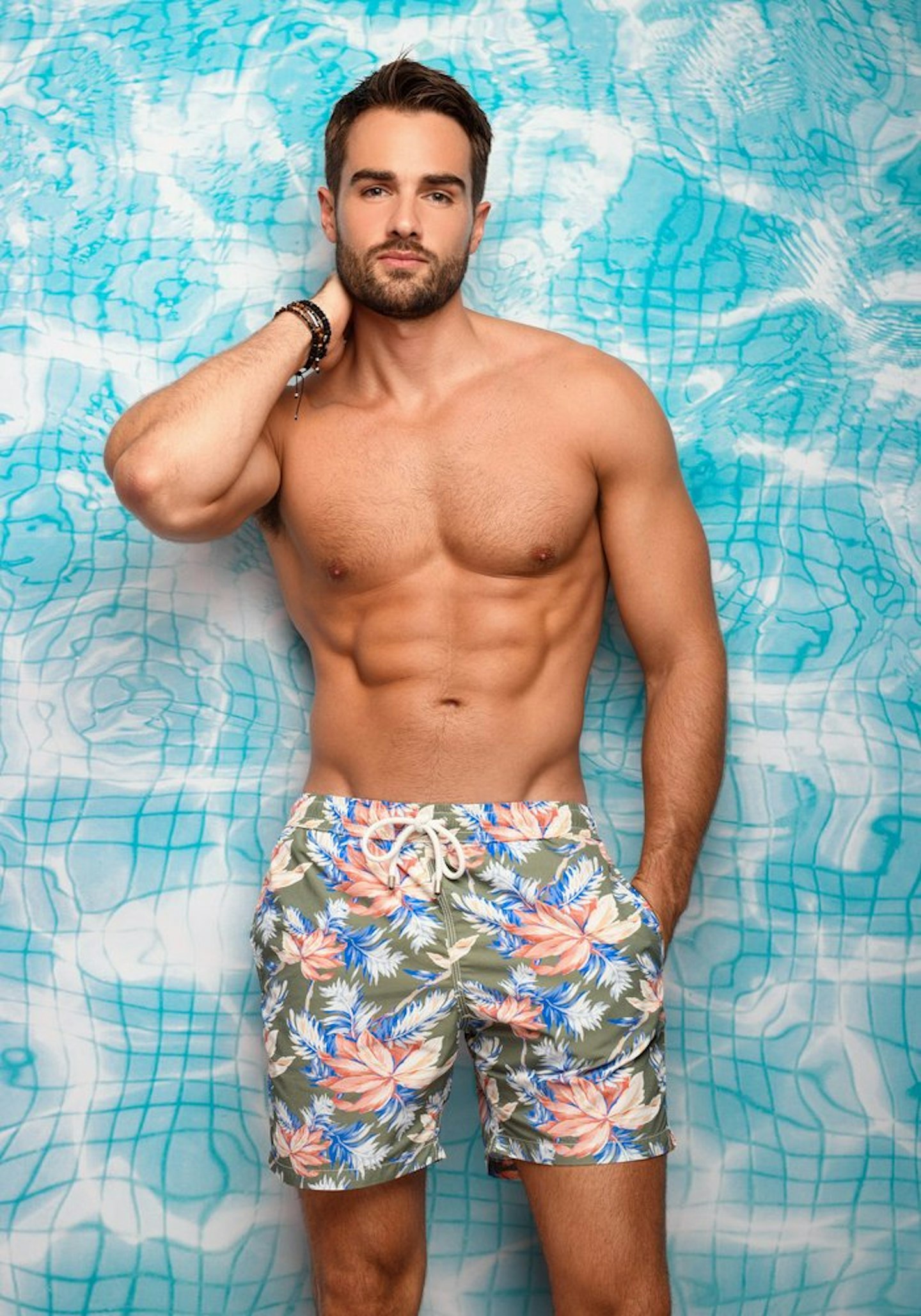 8 of 35
CREDIT: u00a9 ITV Pictures
Paul Knops
He was VERY popular with the ladies when he was a late arrival into the villa (probably due to fact he'd appeared in Britney Spears video), but it was Laura Anderson who he coupled up with finishing in second place.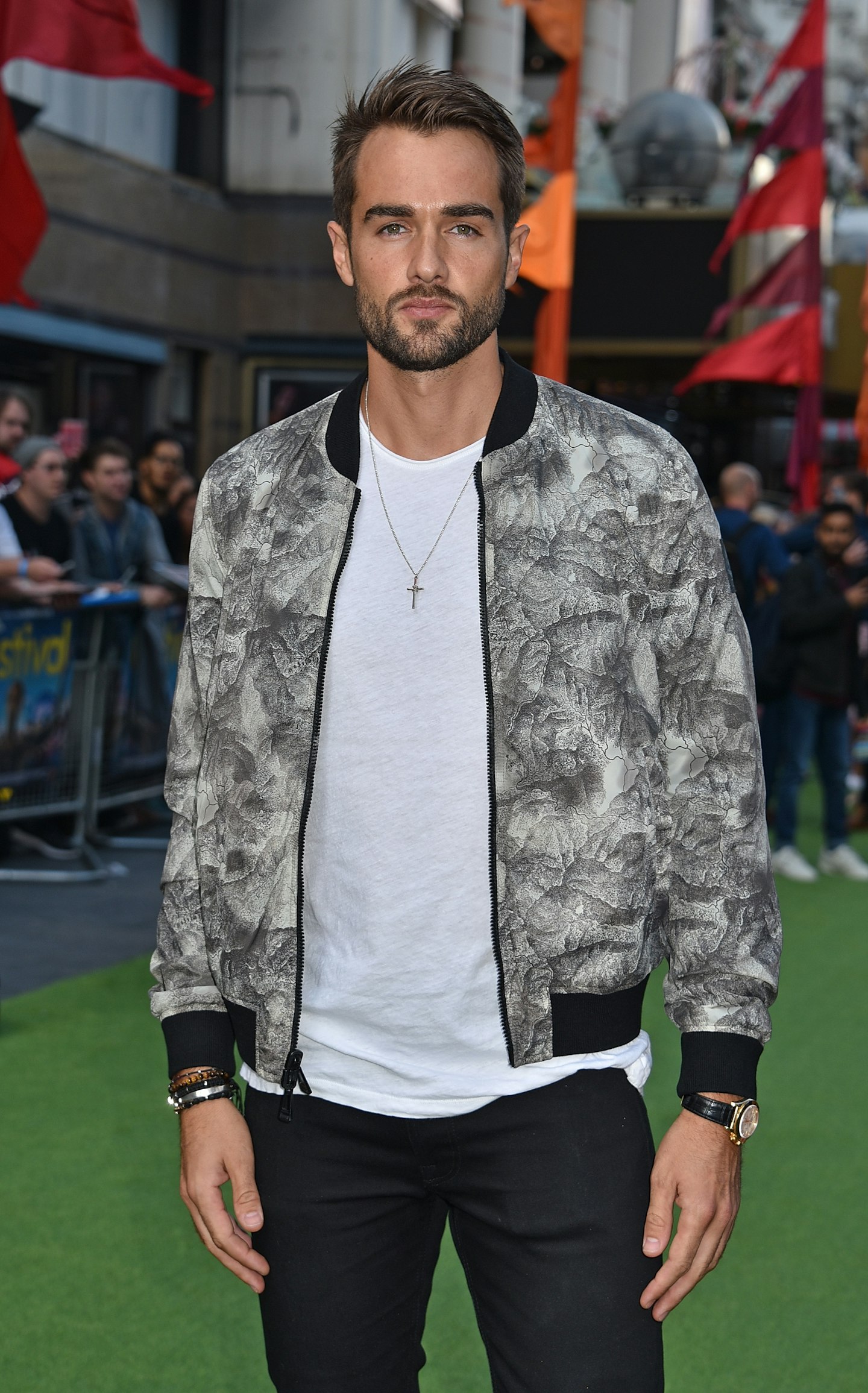 9 of 35
CREDIT: u00a9 Getty Images
Paul Knopps
After splitting with Laura just weeks after leaving the villa, Paul has continued to work as a model, showing off his good looks on his Instagram page. We wonder if he features in any more of Britney Spears' music videos?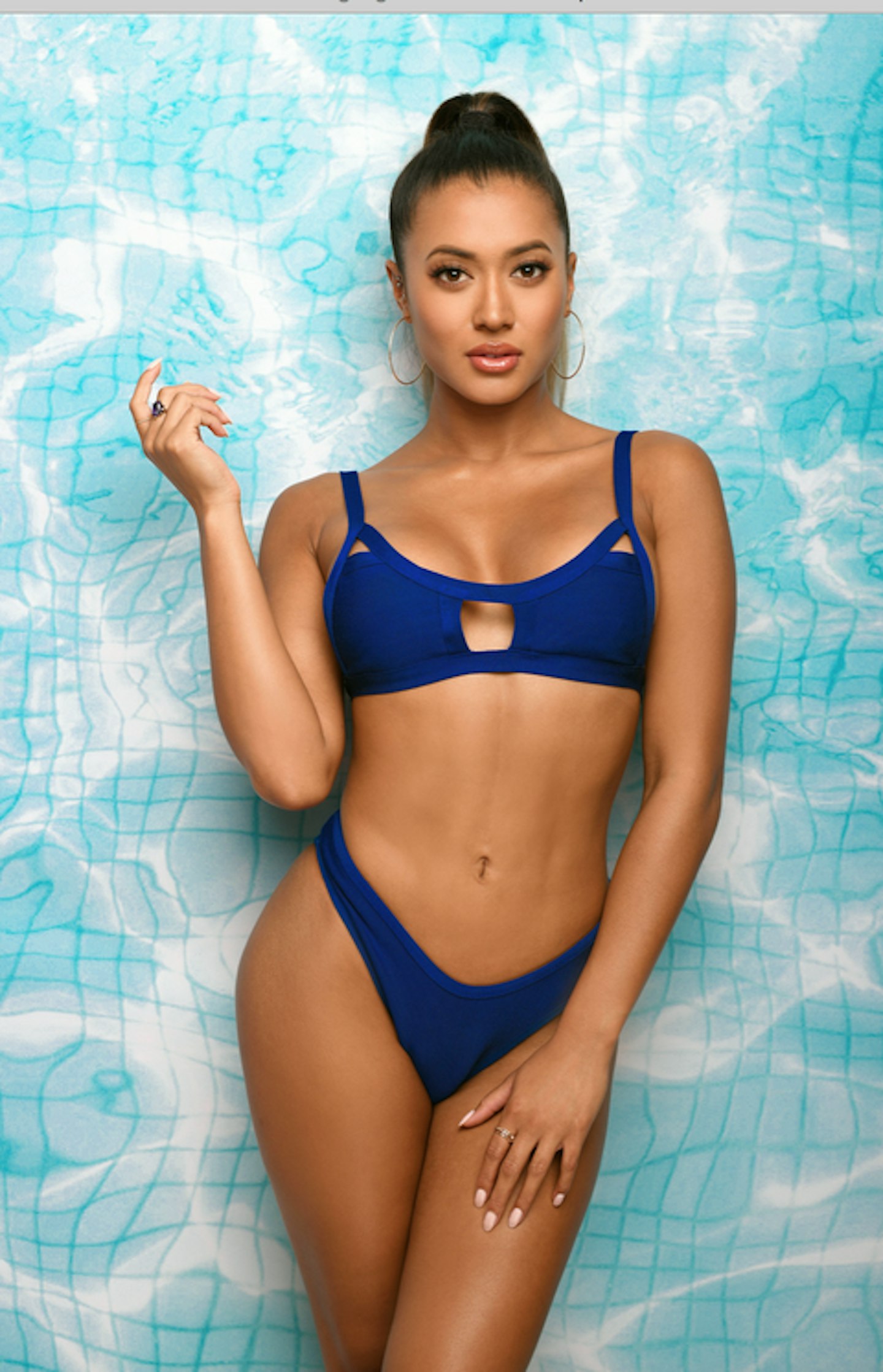 10 of 35
CREDIT: u00a9 ITV Pictures
Kaz Crossley
After coupling up with Josh Denzel on the show, Kaz made it all the way to the final, with many fans wanting the couple to win ahead of Jack and Dani.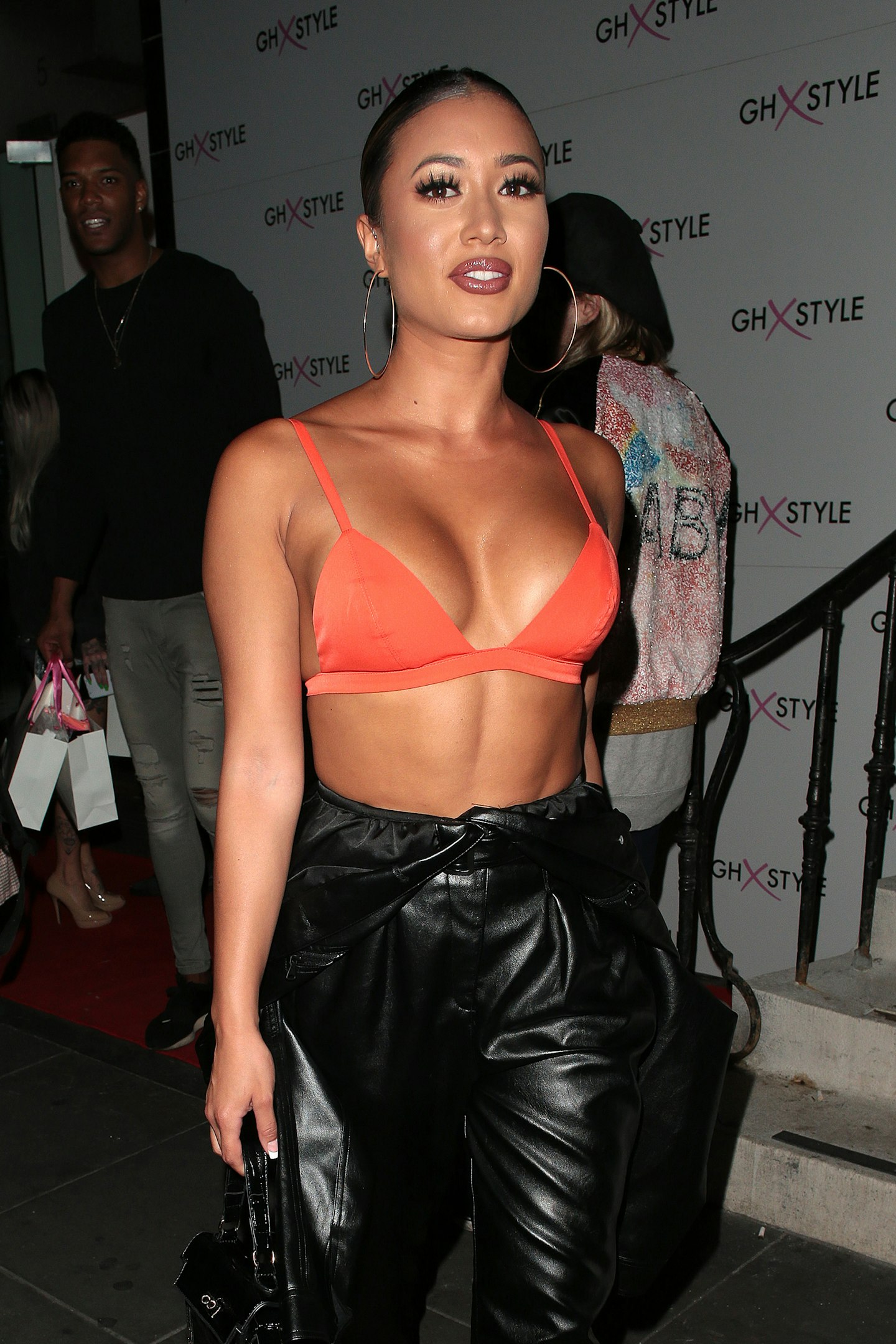 11 of 35
CREDIT: u00a9 Getty Images
Kaz Crossley
Following her split from Josh, Kaz is well and truly living her best life, touring the world on modelling and clothing shoots. Just check out her Instagram to make yourself VERY jealous of her lifestyle. In April 2019 it was announced she's dating Love Island star Theo Campbell
but they also split.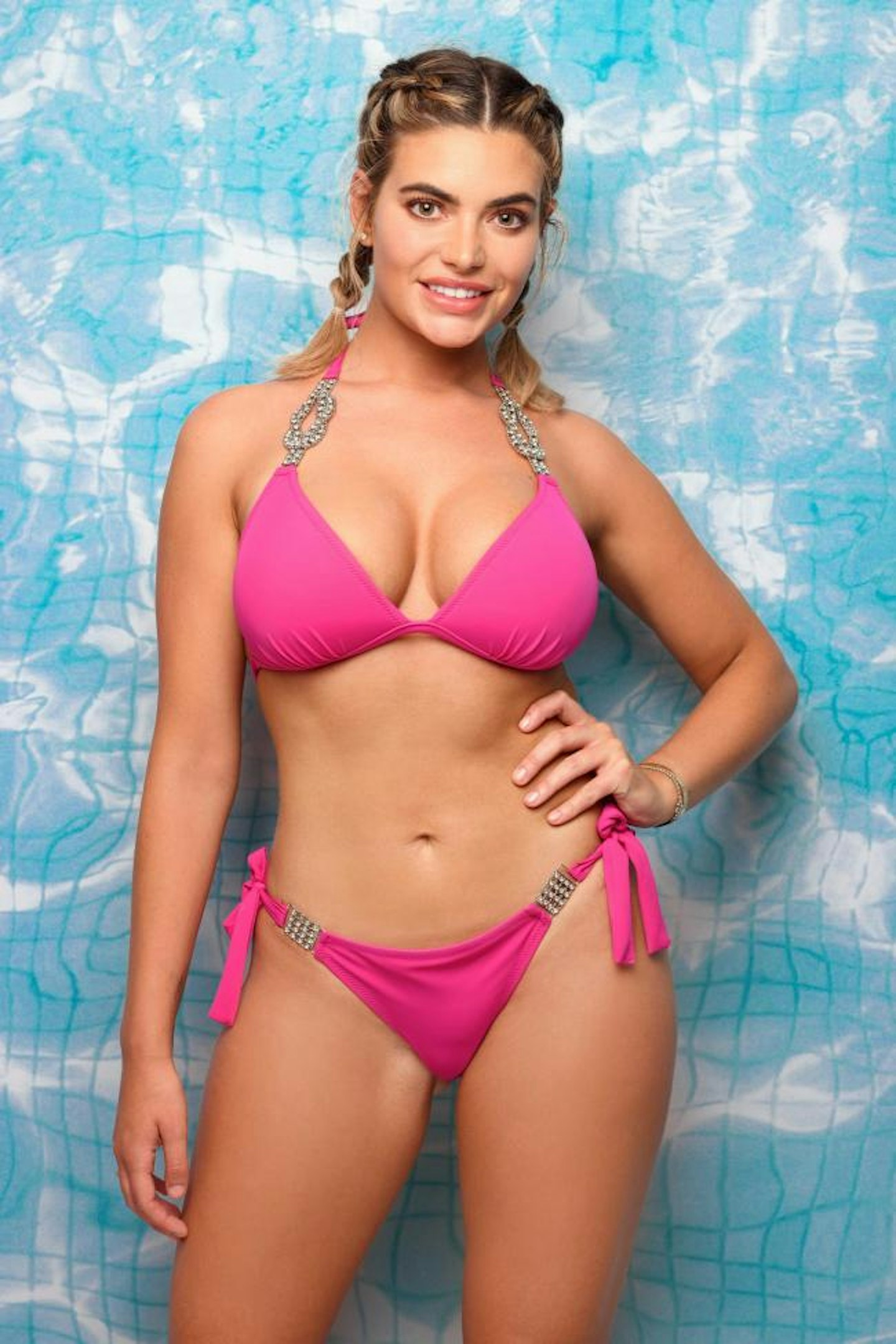 12 of 35
CREDIT: u00a9 ITV Pictures
Megan Barton-Hanson
Despite being very unpopular when she first entered the Love Island villa, Megan was able to turn public perception around, leaving as one of the favourites alongside Wes Nelson.
13 of 35
CREDIT: u00a9 Getty Images
Megan Barton-Hanson
She's now a single lady after splitting from Wes, and released one of the best break-up statements of the decade.Megan is now a brand ambassador for Pretty Little Thing, and she took part in ITV's The All New Full Monty.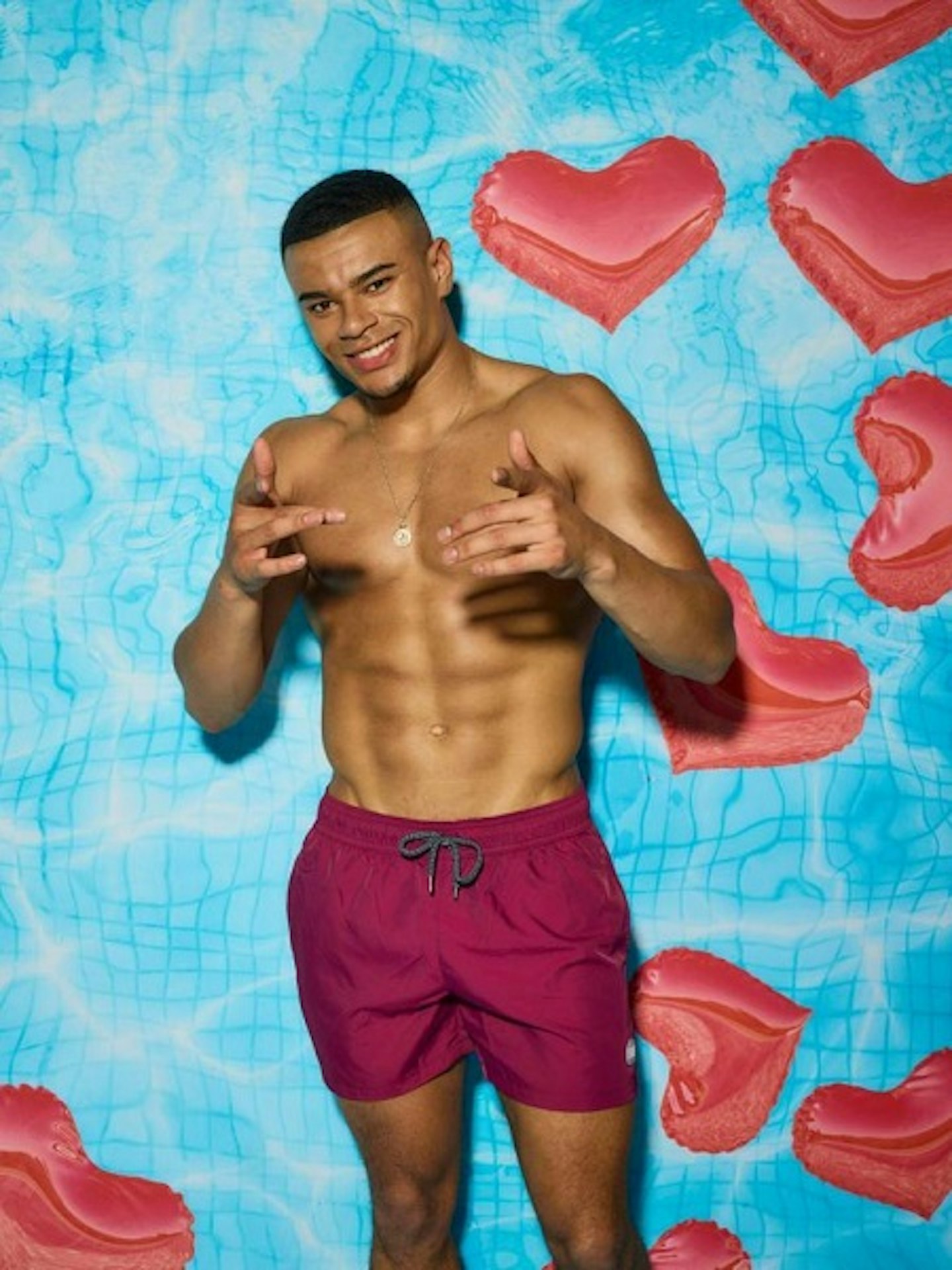 14 of 35
CREDIT: u00a9 ITV Pictures
Wes Nelson
It took him a while to settle during his time in the villa, but he eventually seemed smitten when he coupled up with Megan Barton-Hanson, with the pair making it to the final.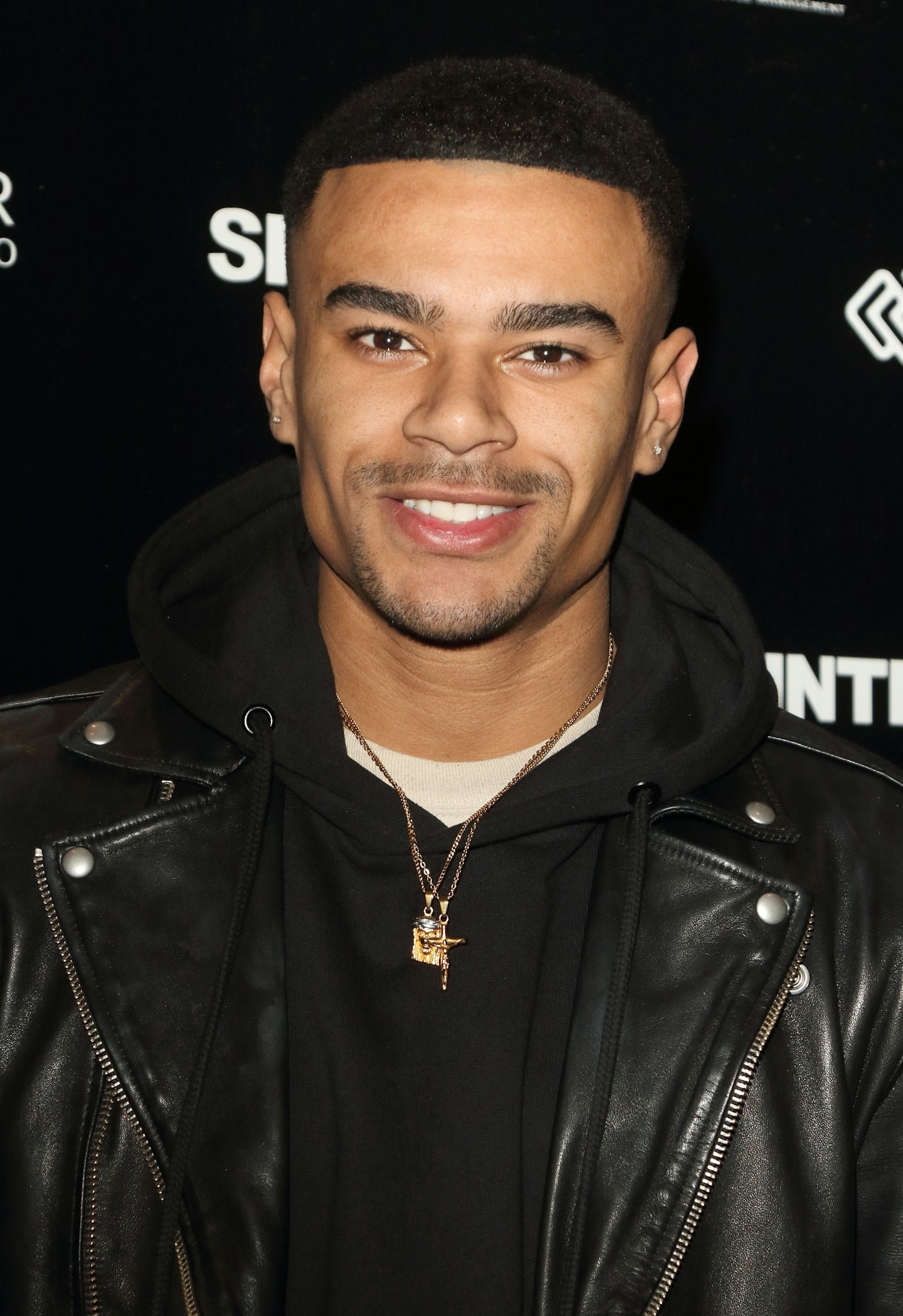 15 of 35
CREDIT: u00a9 Getty Images
Wes Nelson
Wes was in demand when he left the Love Island villa, landing a spot on Dancing On Ice in January 2019. Despite impressing with his moves (and being linked to his partner Vanessa Bauer following his split from Megan), the star finished in second place.Wes is now living life to the full as a single man, landing clothing deals, attending events and even supported N-Dubz on their reunion tour.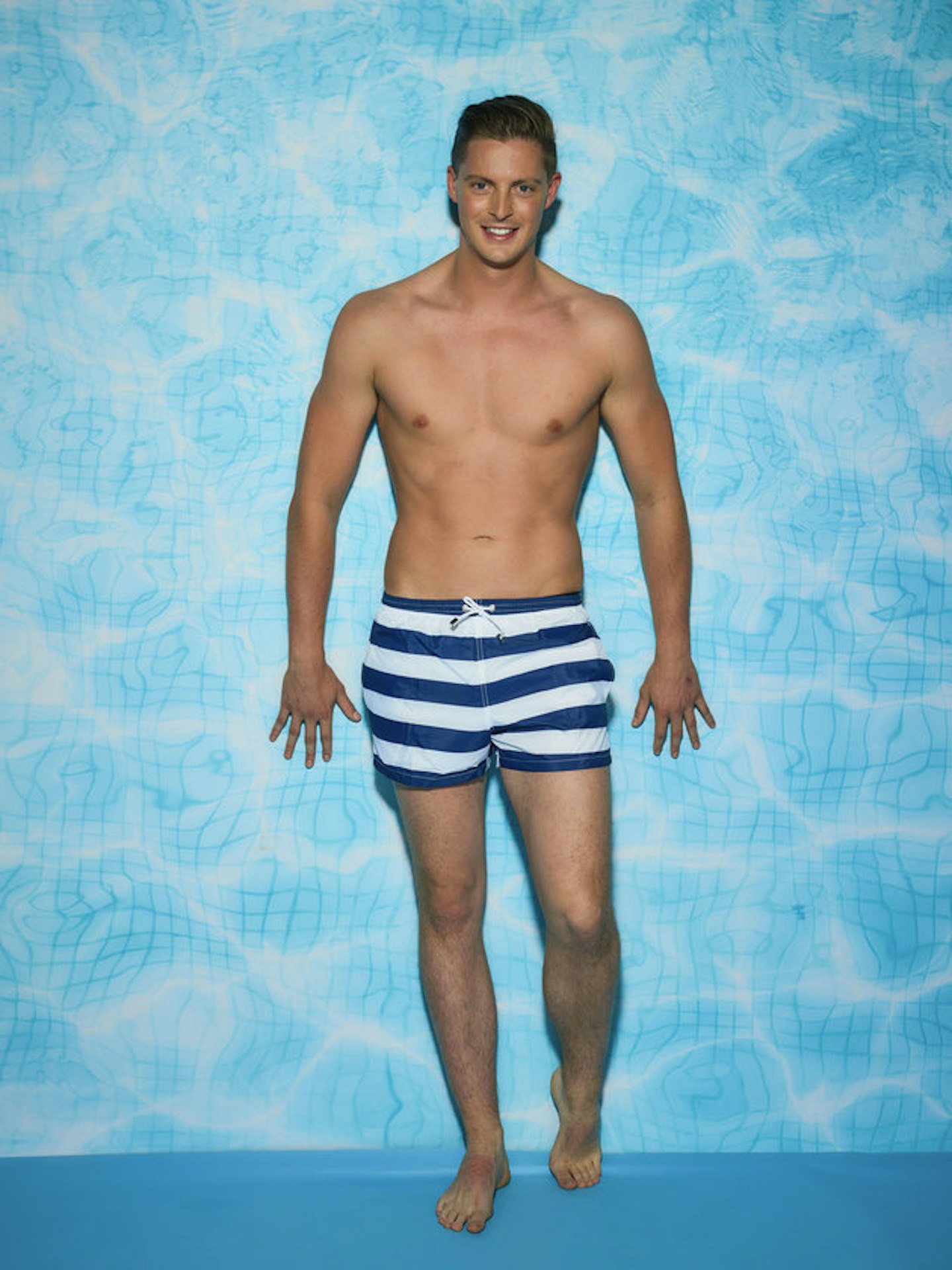 16 of 35
CREDIT: u00a9 ITV Pictures
Dr Alex George
Aww, Dr Alex! He stole the nation's hearts when he tried and continued to be pied in the villa, ending in him leaving the show as 'friends' with Alexandra Cane.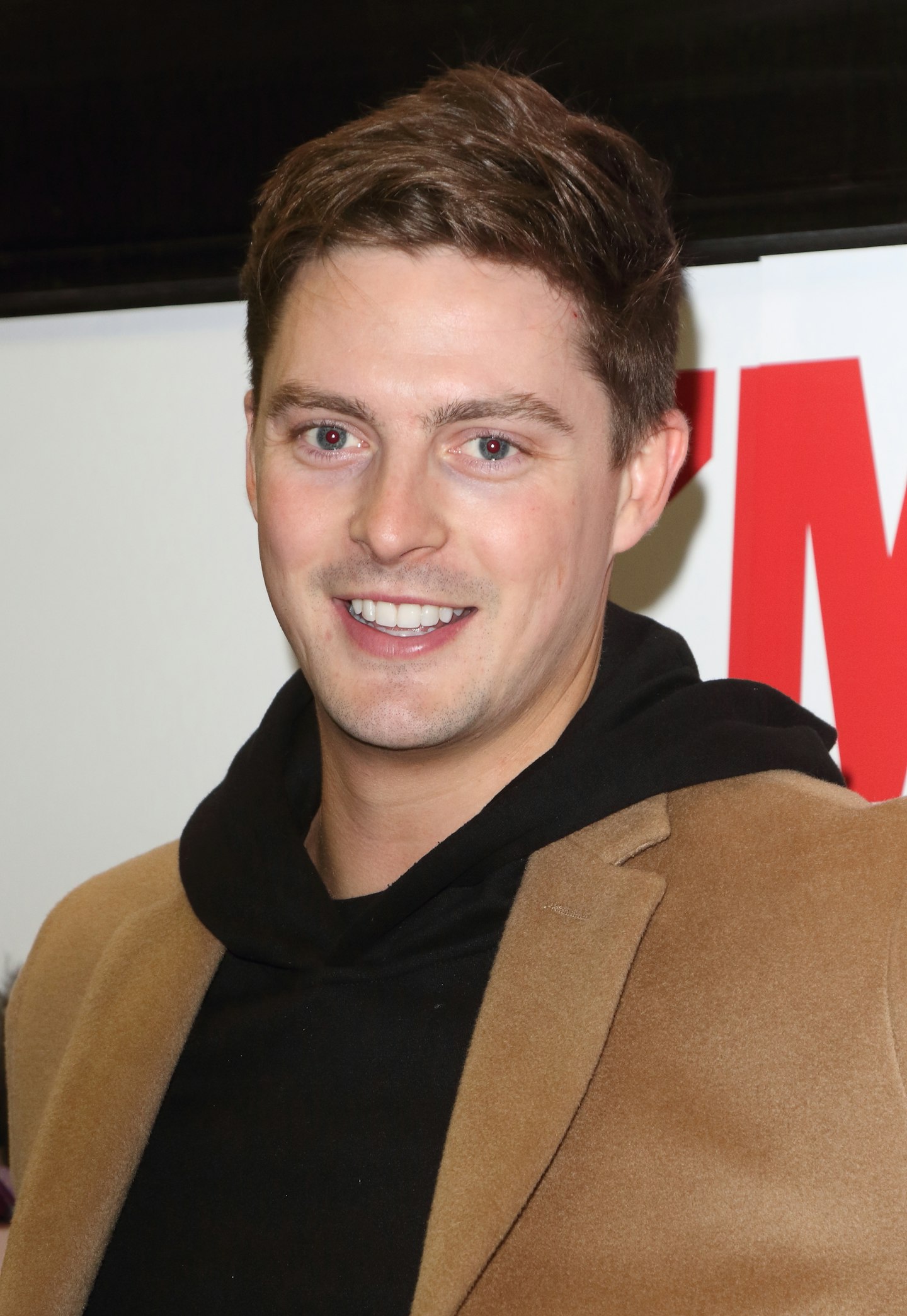 17 of 35
CREDIT: u00a9 Getty Images
Dr Alex George
Despite this, Dr Alex certainly had the last laugh. After appearing on shows like Lorraine and This Morning to give medical advice, Dr Alex returned to his job at a hospital, saving lives every day
.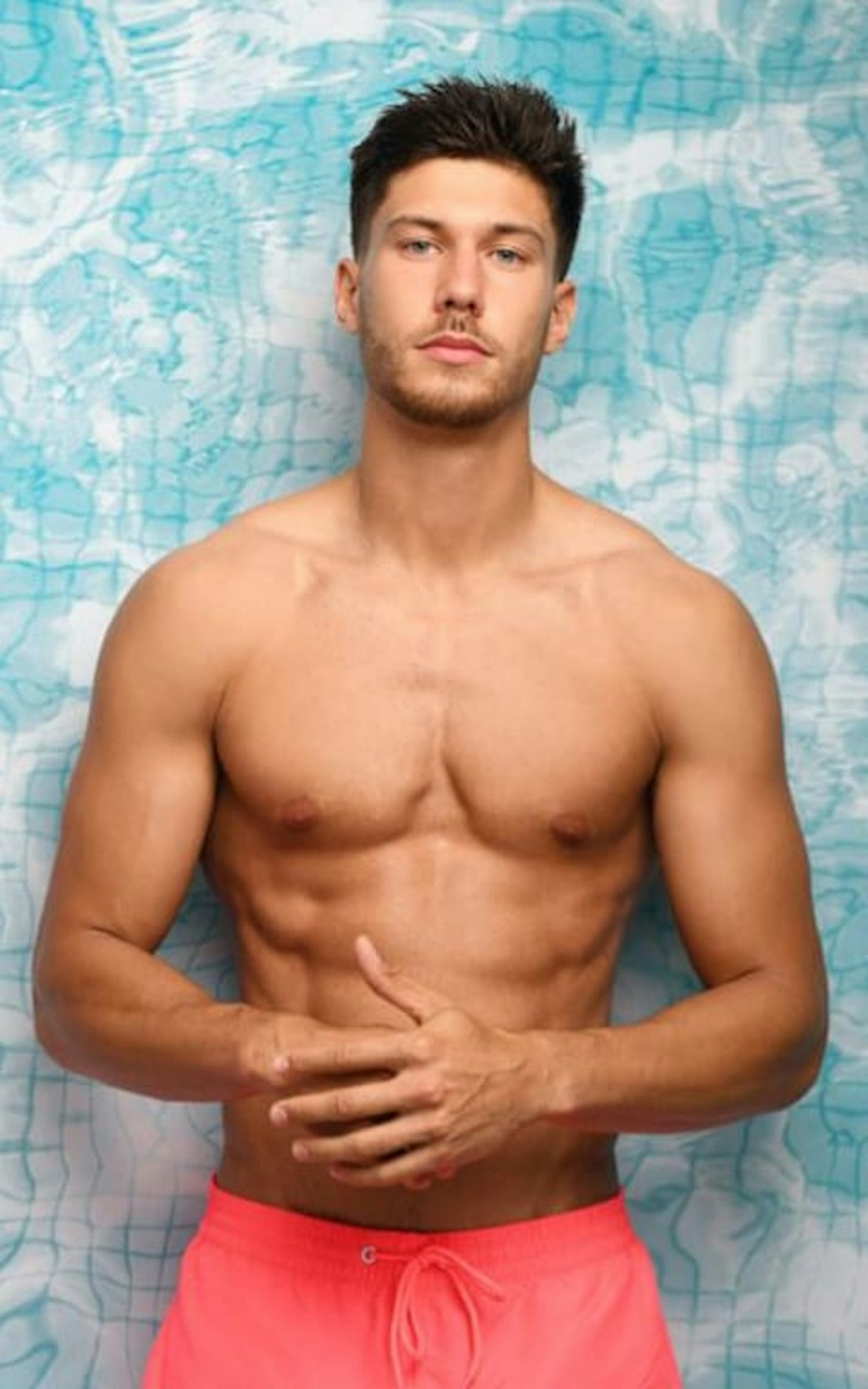 18 of 35
CREDIT: u00a9 ITV Pictures
Jack Fowler
Despite leaving the villa with surfer girl Laura Crane, things fizzled out very quickly when they returned to the real world.
19 of 35
CREDIT: u00a9 Getty Images
Jack Fowler
Jack appeared on Celebs Go Dating earlier in 2019, and despite fans loving his date Kate, nothing materialised between the two. Most recently, Jack has been on holiday to America with his Love Island pals, and he often models for BooHooMAN.
20 of 35
CREDIT: u00a9 ITV Pictures
Georgia Steel
She was like Marmite on the show, and eventually left the villa with Sam Bird, before their very sour split just months after the show ended.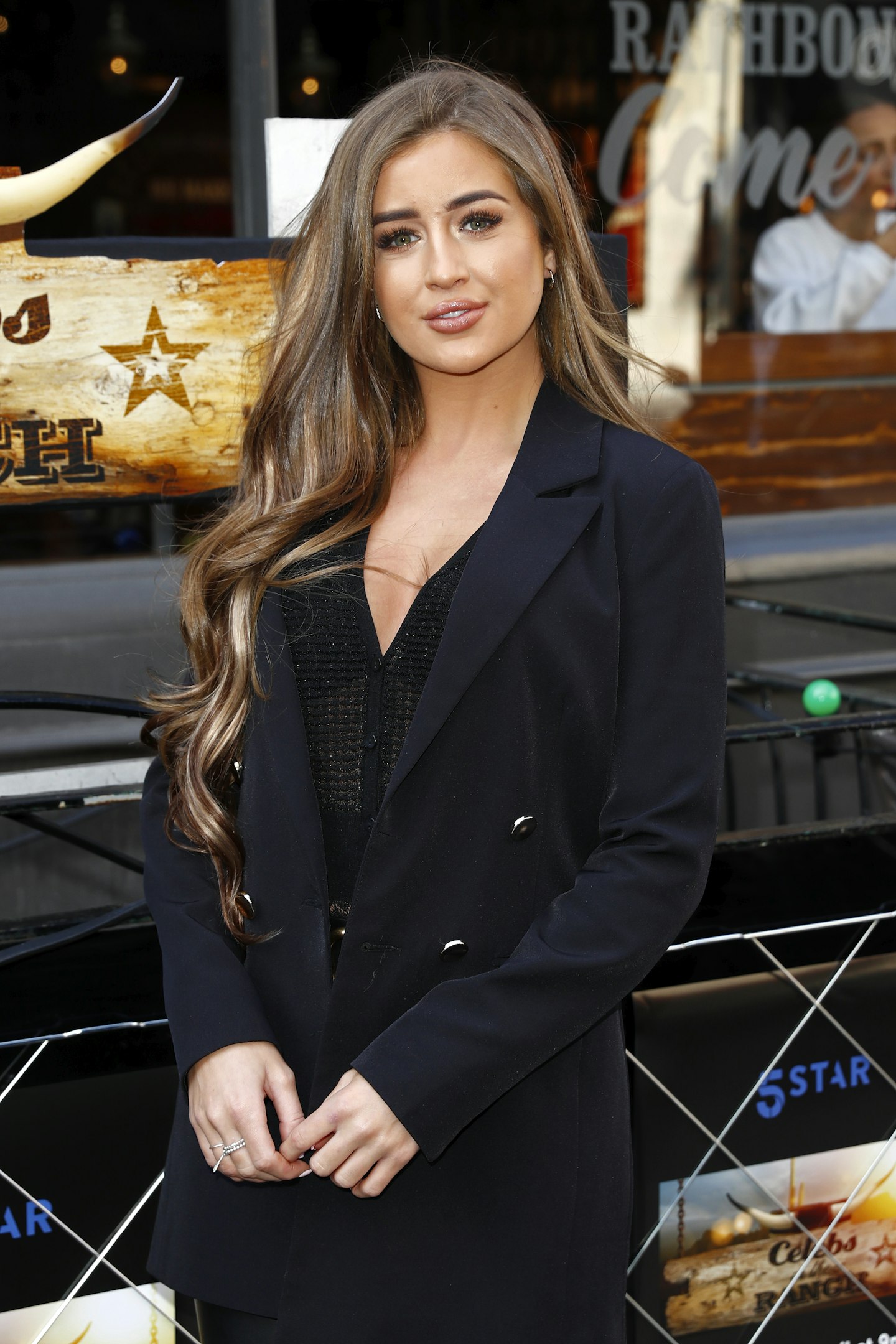 21 of 35
CREDIT: u00a9 Getty Images
Georgia Steel
After her sour split from Sam Bird, Georgia signed up to Celebs Go Dating (on the same series as Jack Fowler). Despite taking a very handsome man to the final show in Tenerife, nothing seemed to happen after the show. She's now modelling and is involved in a ton of endorsement deals on her Instagram page.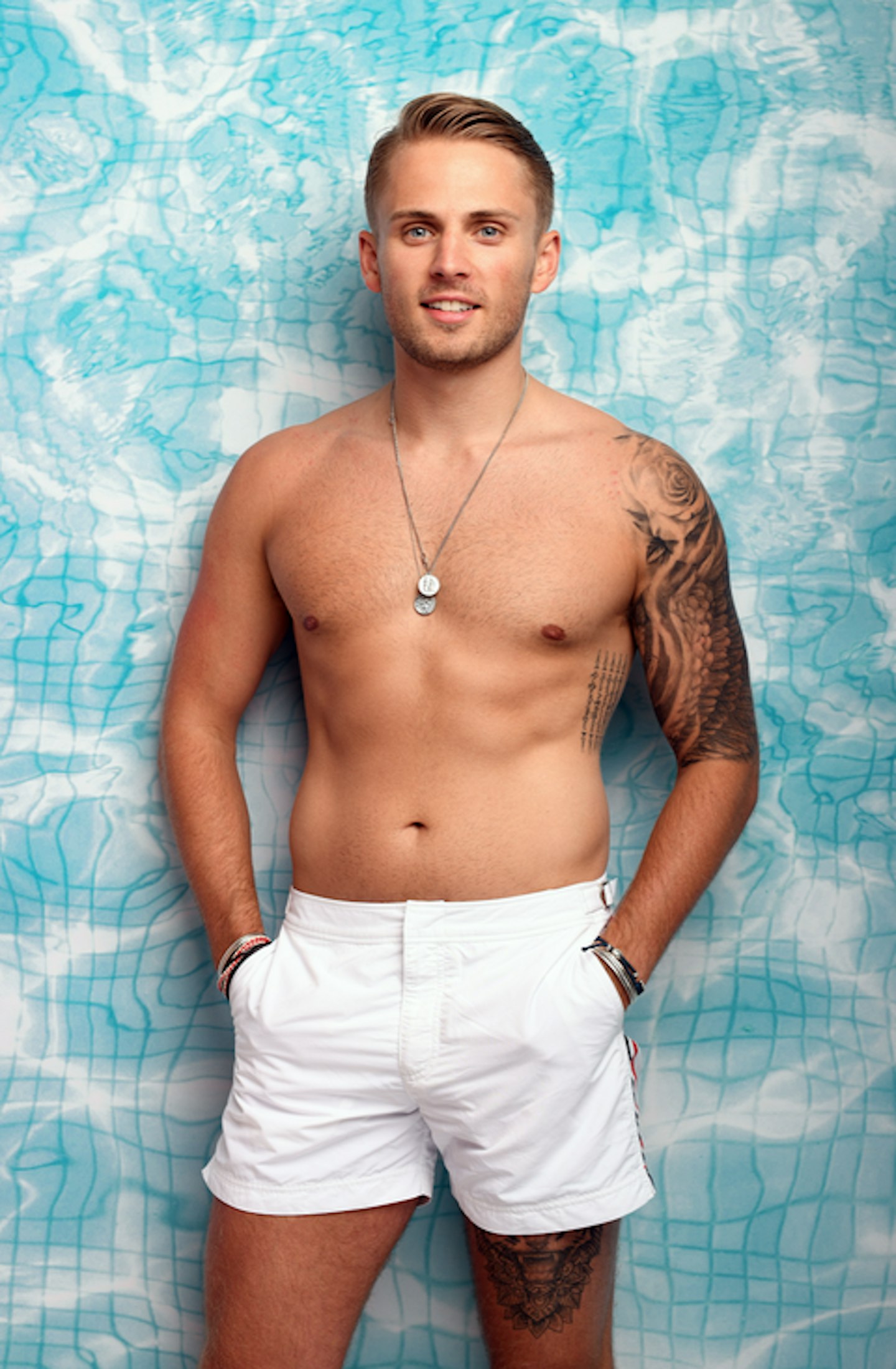 22 of 35
CREDIT: u00a9 ITV Pictures
Charlie Brake
Millionaire Charlie Brake swept Geordie girl Elilie Brown off her feet during his time in the villa, with the pair enjoying a number of luxurious holidays in the months following.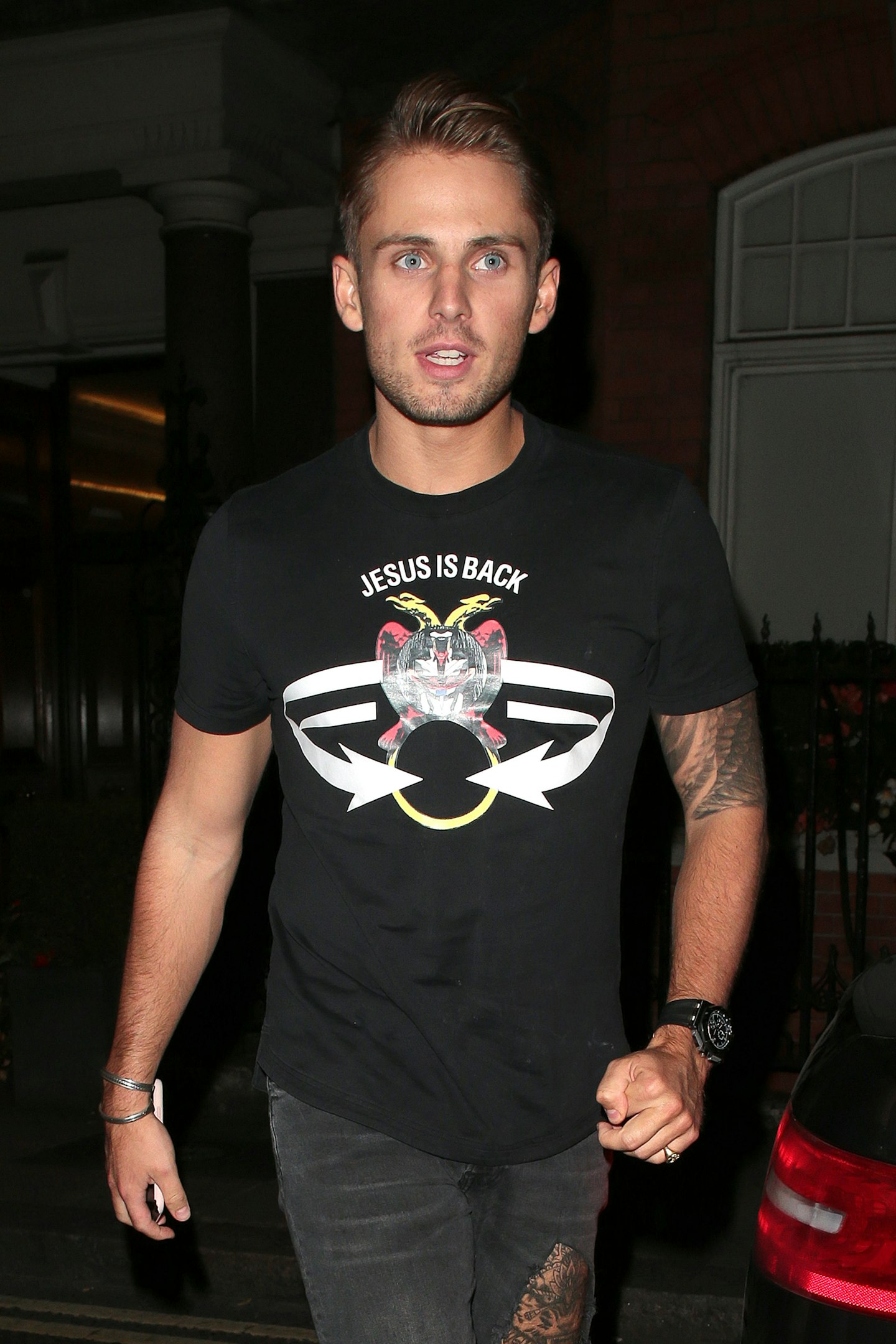 23 of 35
CREDIT: u00a9 Getty Images
Charlie Brake
Just months later, Charlie was accused of 'cheating' on Ellie, and he's since been linked to former TOWIE star Ferne McCann and Dan Edgar's ex-girlfriend Amber Davies.In other news, he's still a millionaire.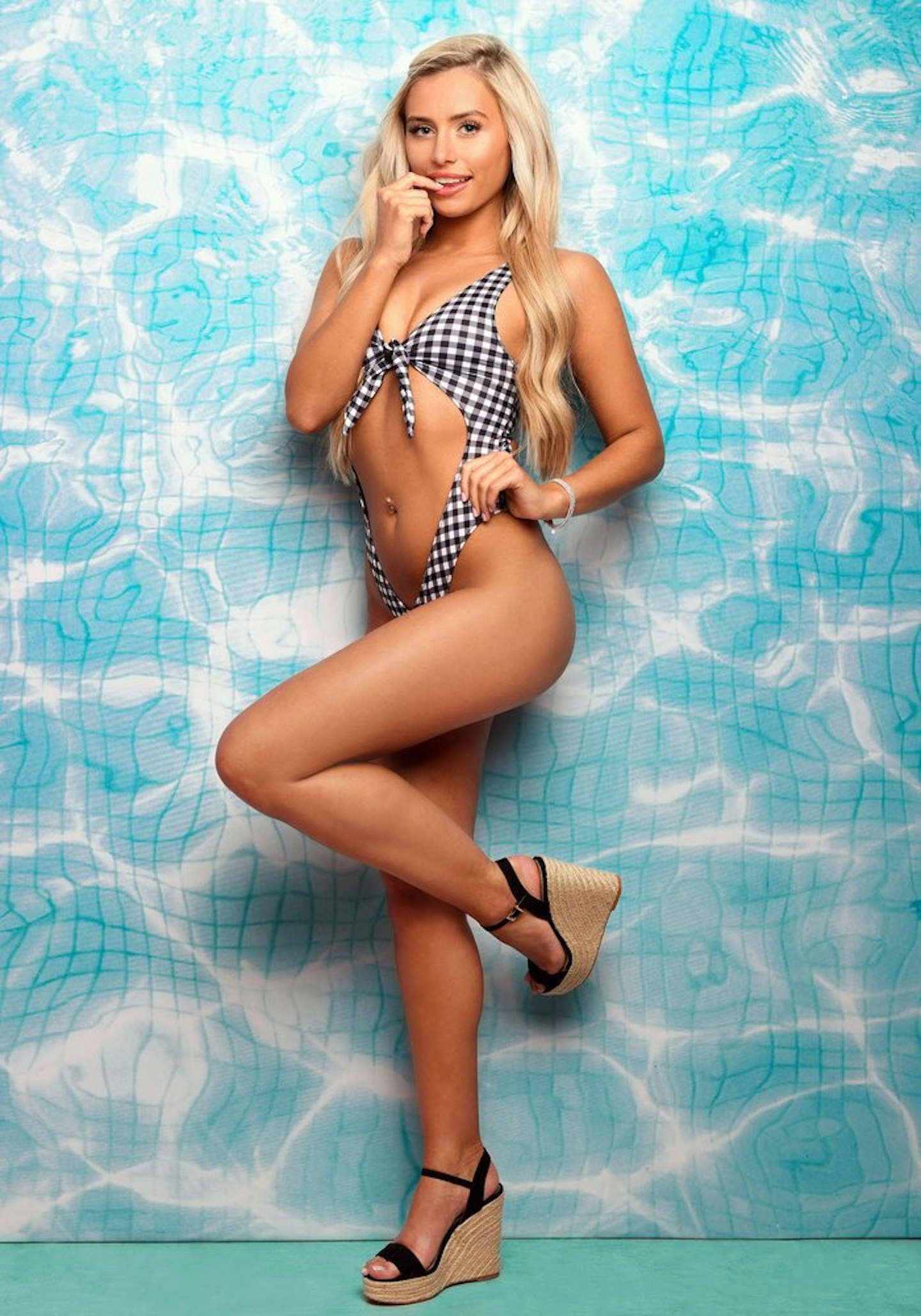 24 of 35
CREDIT: u00a9 ITV Pictures
Ellie Brown
Following her heartbreak after her romance with Charlie ended, Ellie found comfort in her Love Island besties, including the likes of Zara McDermott, Adam Collard and Kaz Crossley.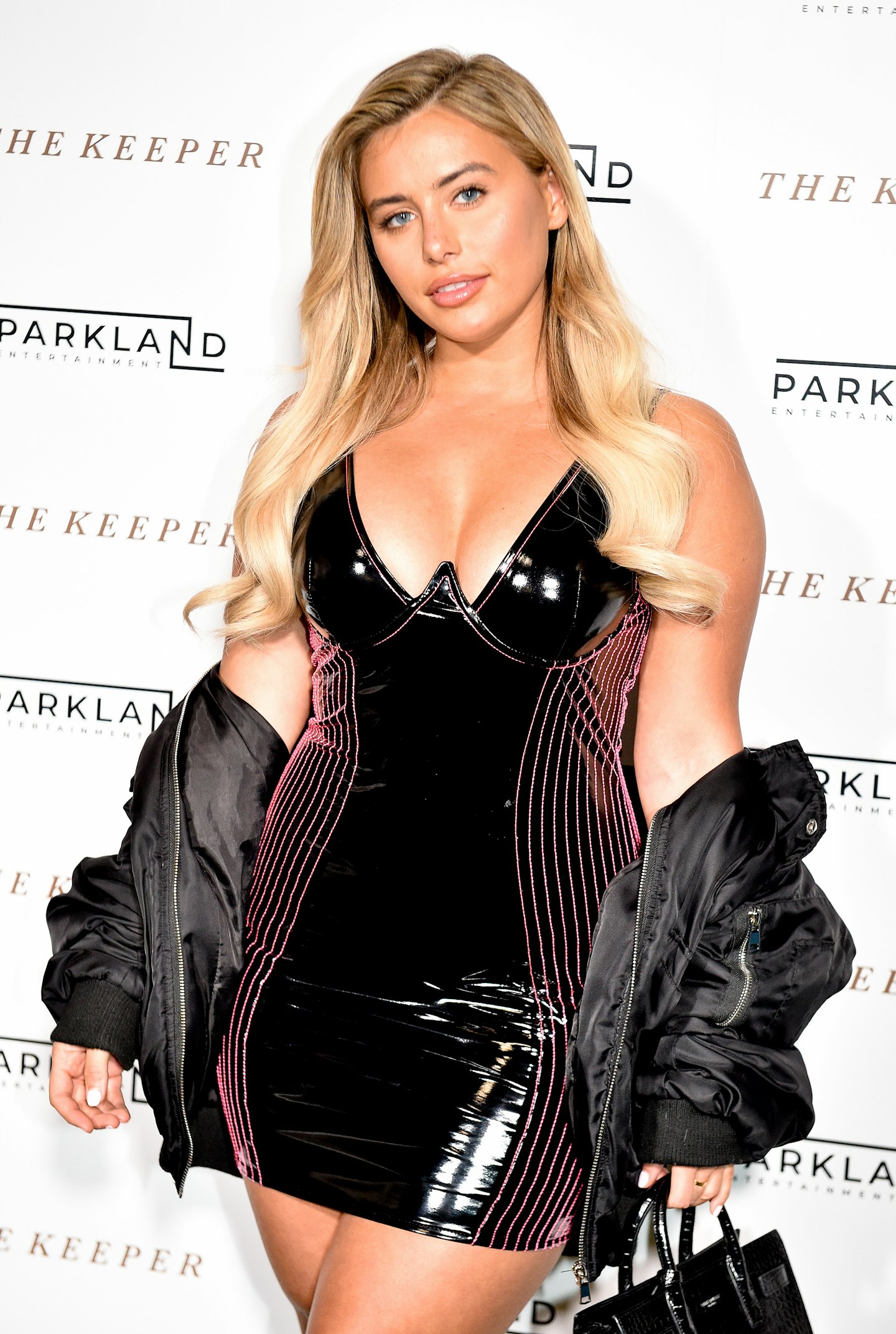 25 of 35
CREDIT: u00a9 Getty Images
Ellie Brown
She's now involved in a number of endorsements on her Instagram page, as well as attending events with her co-stars.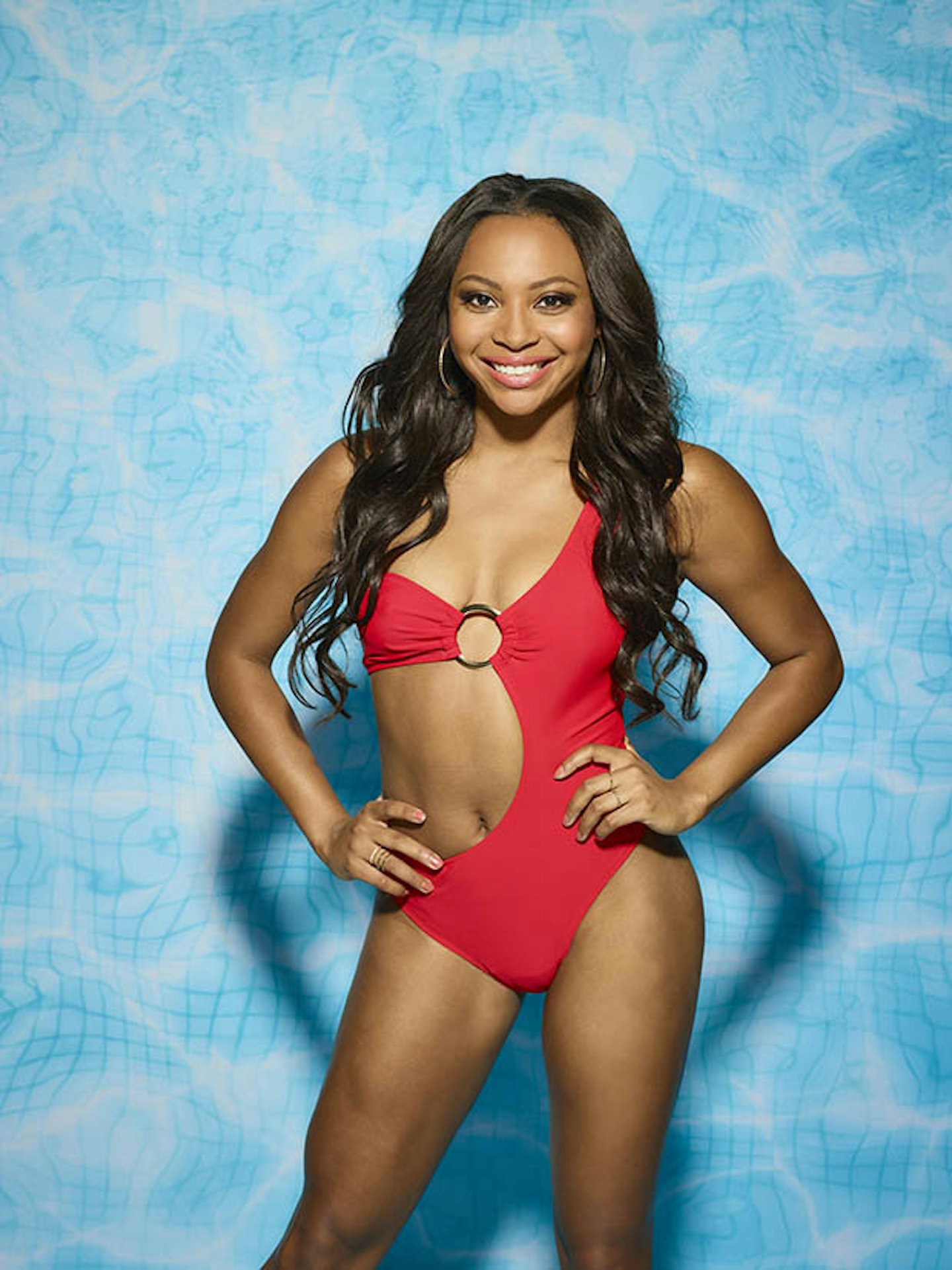 26 of 35
CREDIT: u00a9 ITV Pictures
Samira Mighty
It took her a few weeks, but eventually Samira Mighty seemed to find happiness with late arrival Frankie Foster, with Samira leaving the villa after her man was dumped from the show.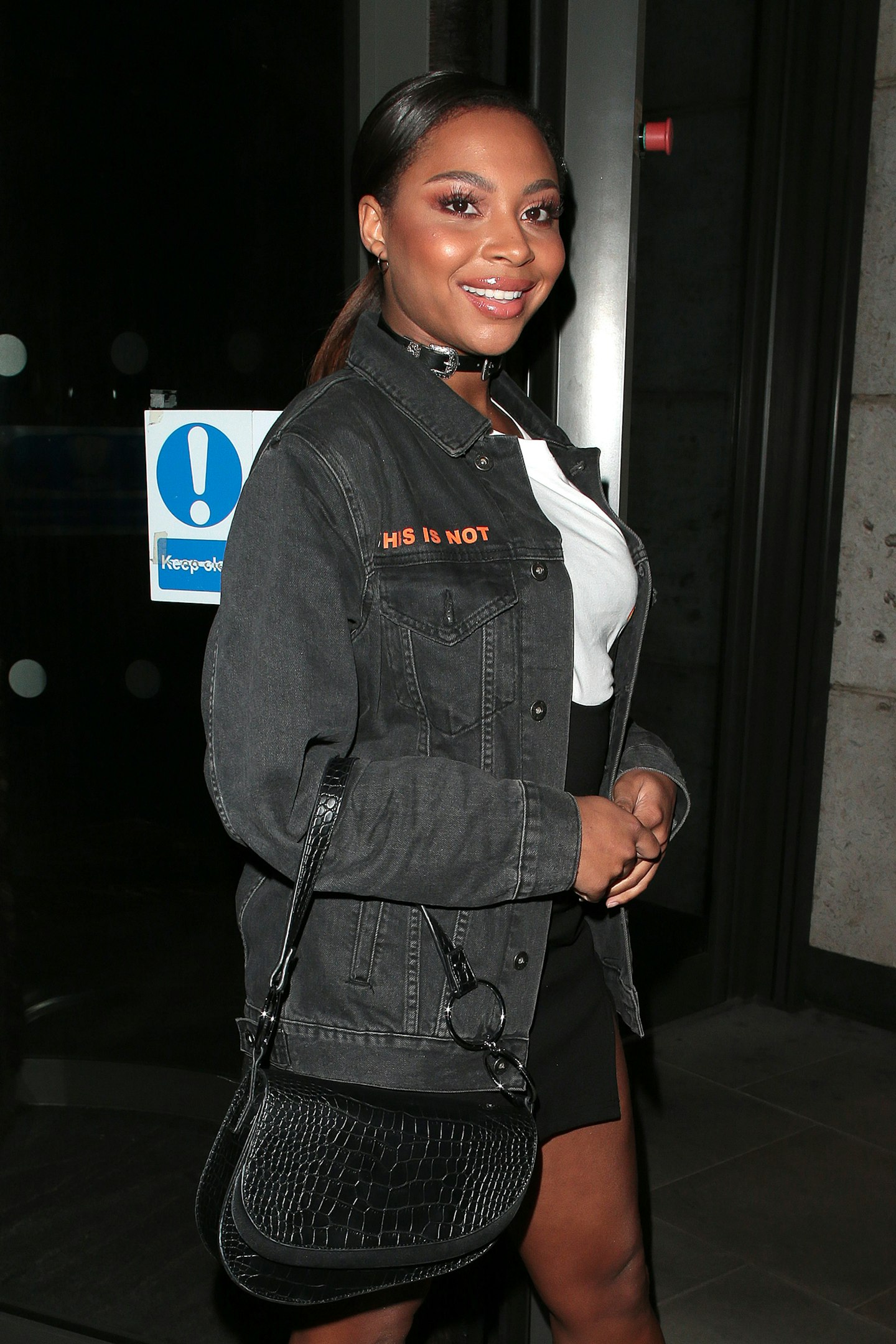 27 of 35
CREDIT: u00a9 Getty Images
Samira Mighty
Despite this, just weeks later, Samira dumped Frankie after he was caught cheating on her.Now, Samira is still best friends with a number of her co-stars including Adam Collard and Dani Dyer, and she often posts super sizzling snaps of herself modelling on her Instagram page.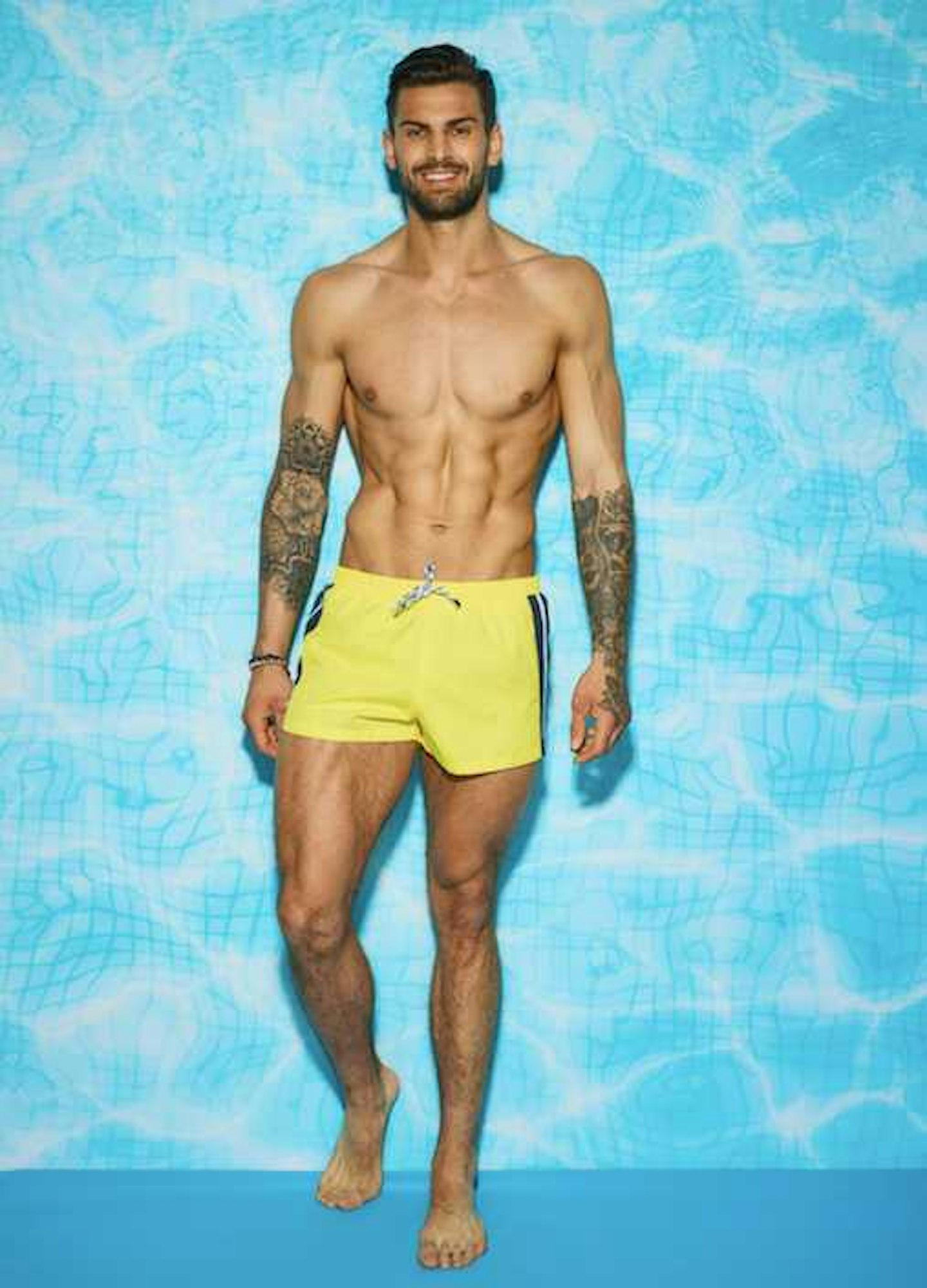 28 of 35
CREDIT: u00a9 ITV Pictures
Adam Collard
He was the heartbreak kid at the beginning of the series, gaining the 'player' title, but the public's view of Geordie boy Adam Collard soon changed when he turned smitten with Zara McDermott.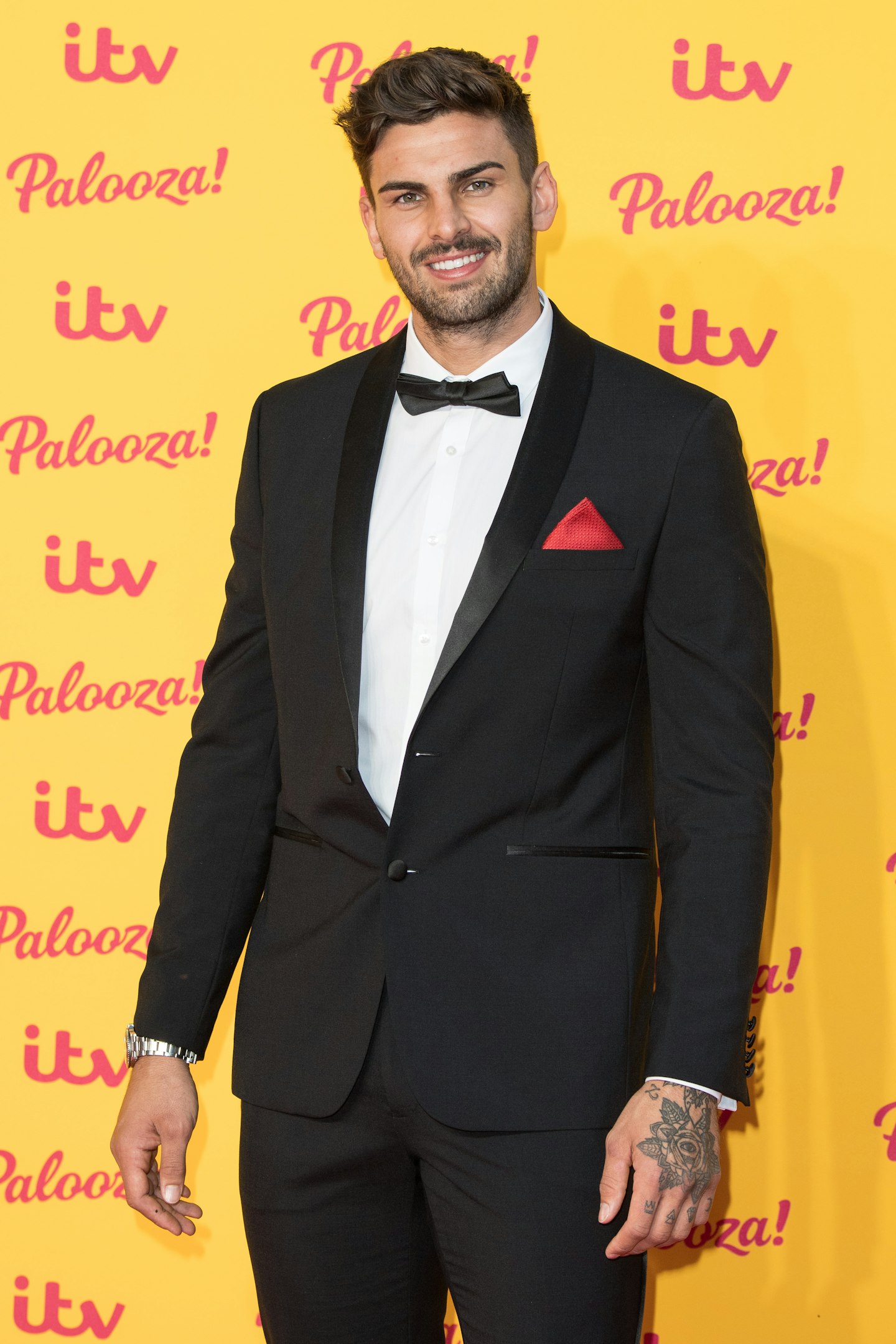 29 of 35
CREDIT: u00a9 Getty Images
Adam Collard
Although they lasted nearly a year, Adam and Zara announced they'd split on Valentine's Day (brutal). The PT has been linked to a number of other woman since, including Harley Brash and Delilah Belle Hamlin – and, of course, he briefly dated his Love Island 2022 co-star, Paige Thorne – but he appears to be single right now. Adam is keeping himself busy on modelling shoots at stunning destinations across the world, as well as promotional deals and his PT business.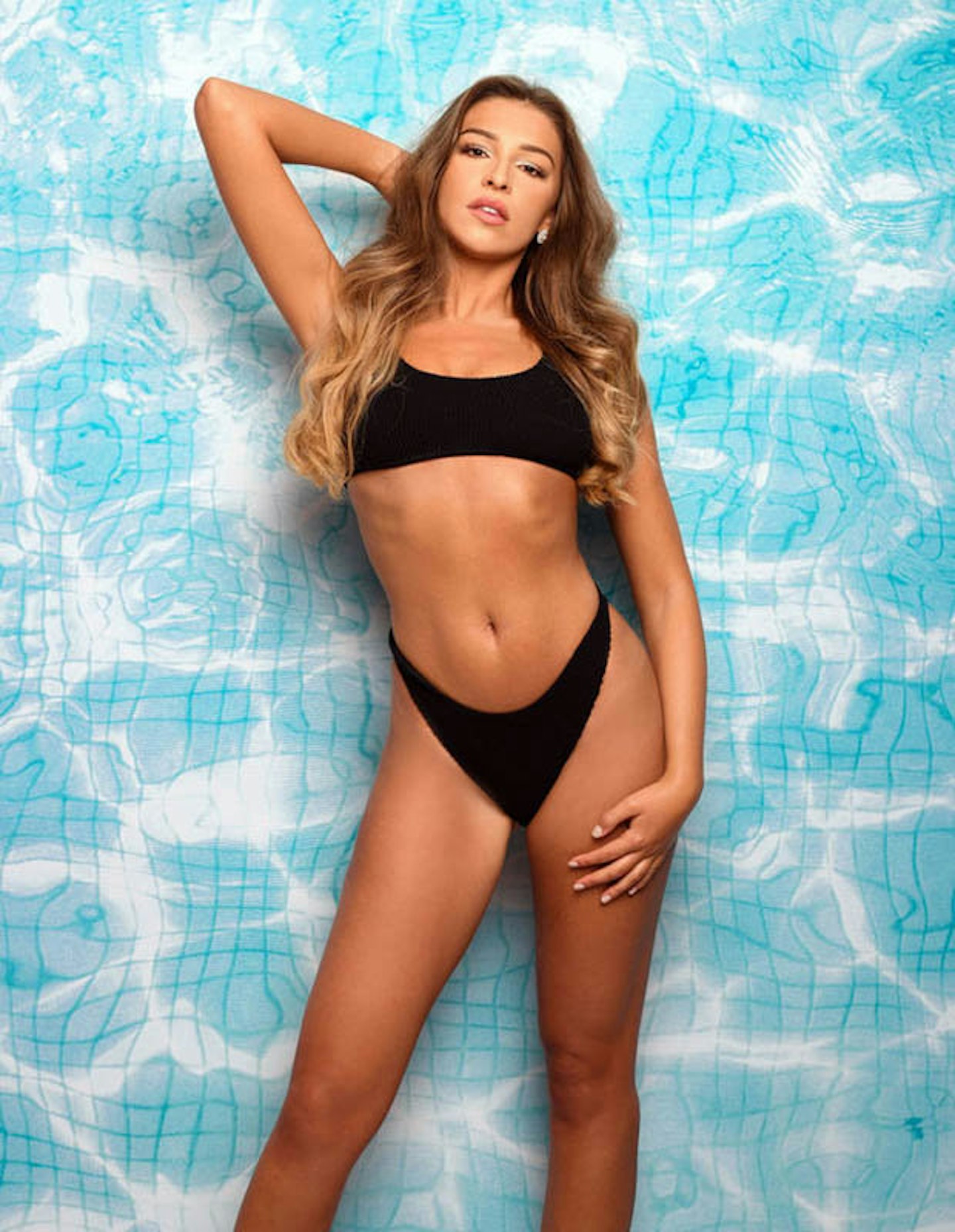 30 of 35
CREDIT: u00a9 ITV Pictures
Zara McDermott
She was the one girl who seemed to 'tame' Adam when she arrived in the villa, and despite leaving before her beau, Adam and Zara reunited when he left.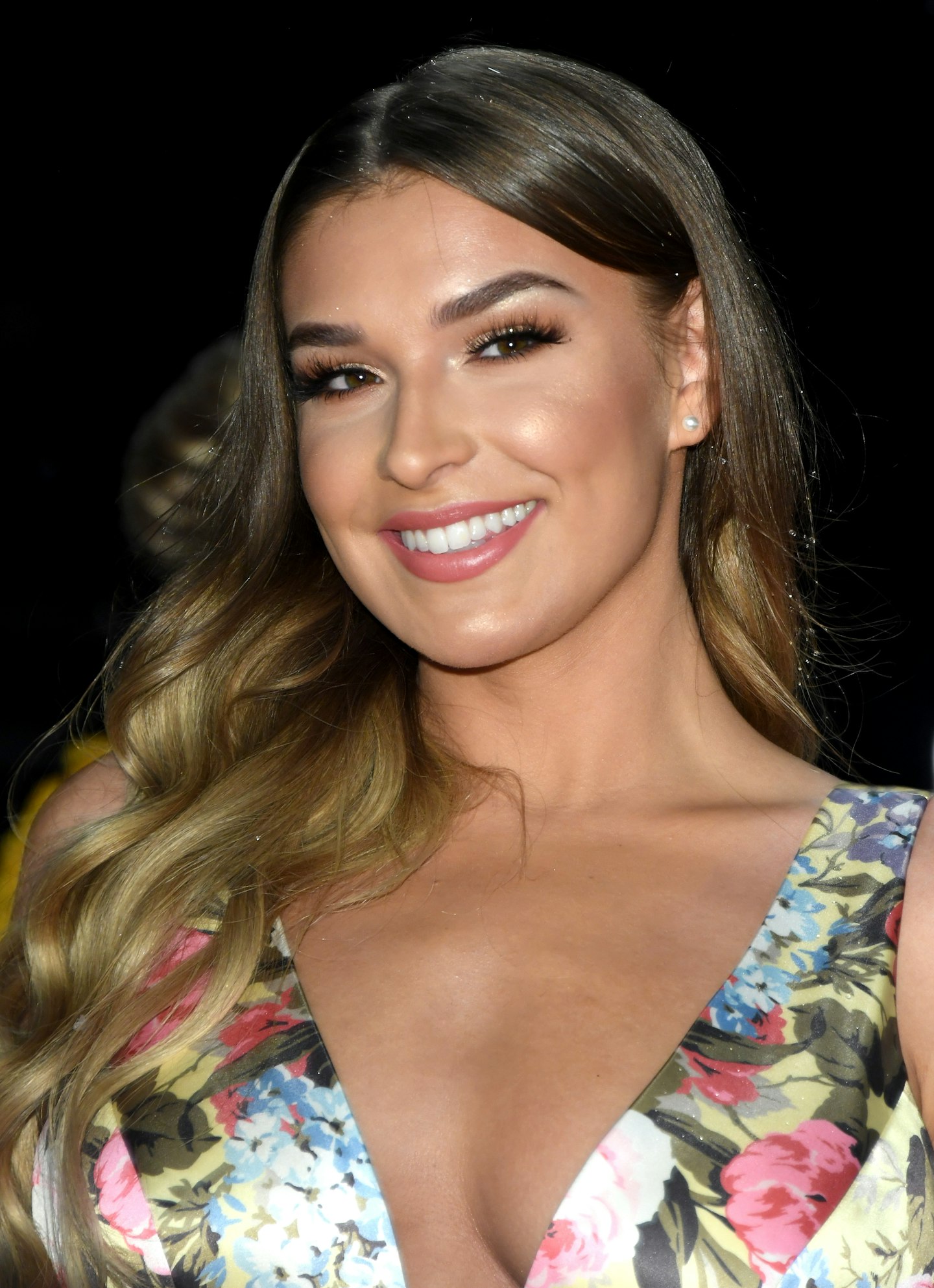 31 of 35
CREDIT: u00a9 Getty Images
Zara McDermott
Zara is very active on her Instagram page, landing clothing deals with the likes of Missy Empire, AX Paris and Lasula. She is also dating Made in Chelsea fave Sam Thompson.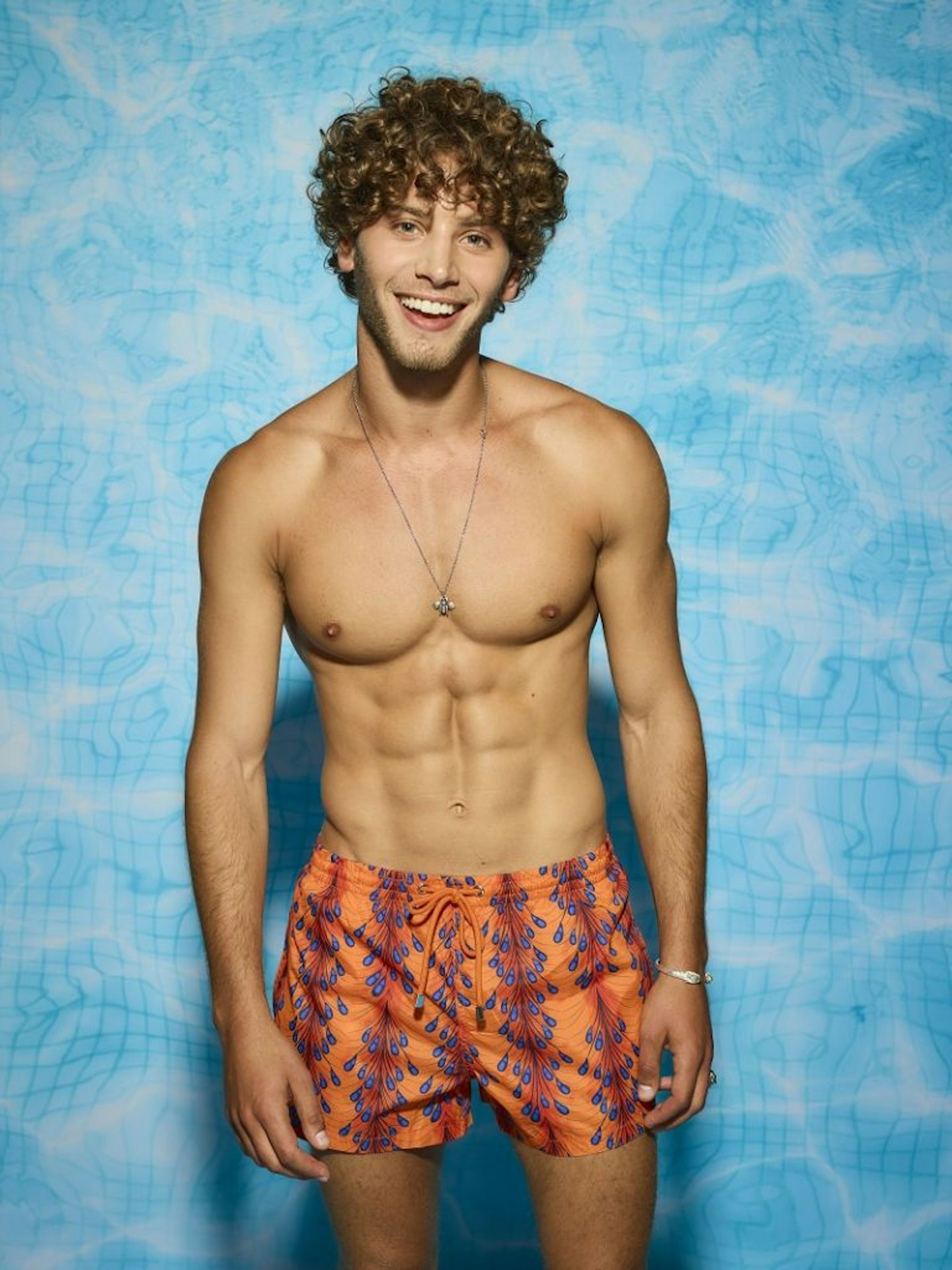 32 of 35
CREDIT: u00a9 ITV Pictures
Eyal Booker
Despite having one of the best haircuts to ever grace the Love Island villa, poor old Eyal left the show without finding love.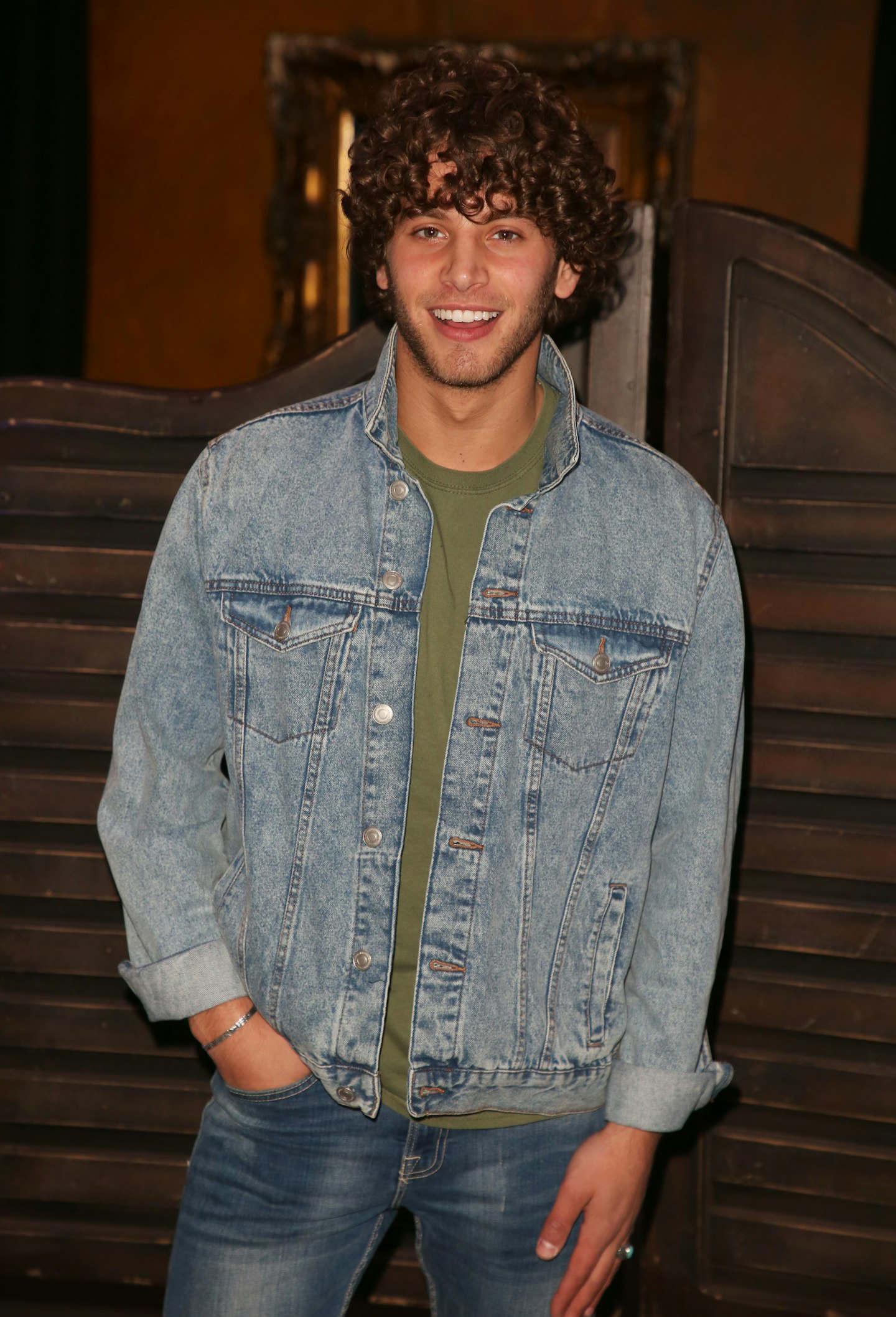 33 of 35
CREDIT: u00a9 Getty Images
Eyal Booker
Don't feel too sorry for him though, as well as THAT snog with Kendall Rae-Knight at the Love Island Christmas reunion, Eyal appeared on Celebs Go Dating and he's now dating American model Delilah Belle Hamlin. Work-wise, Eyal continues to use his handsome face and unreal physique to his advantage, picking up modelling deals left, right and center.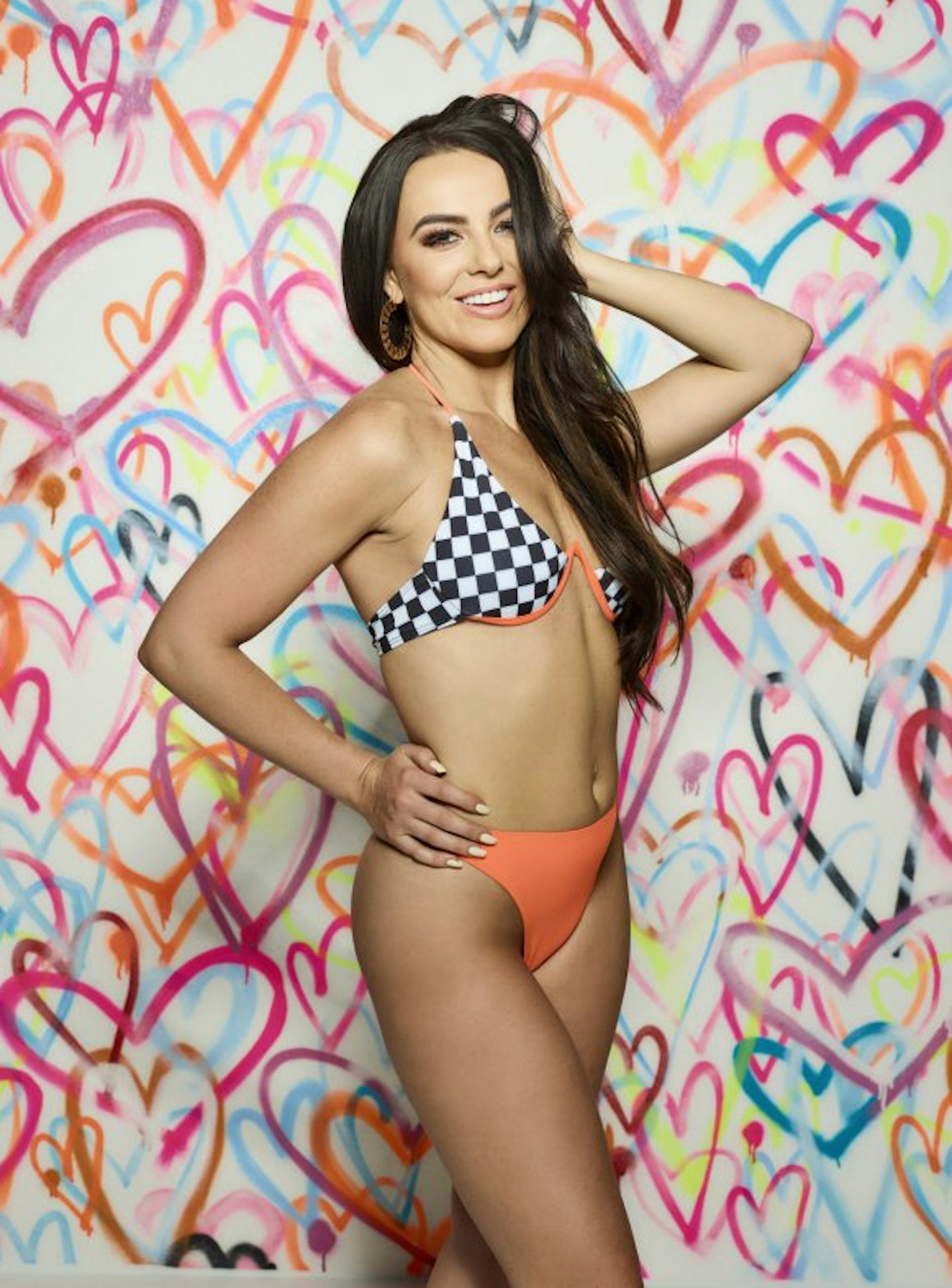 34 of 35
CREDIT: u00a9 ITV Pictures
Rosie Williams
Poor old Rosie Williams had her little heart broken by Adam Collard in the villa, resulting in her being dumped from the show far too early.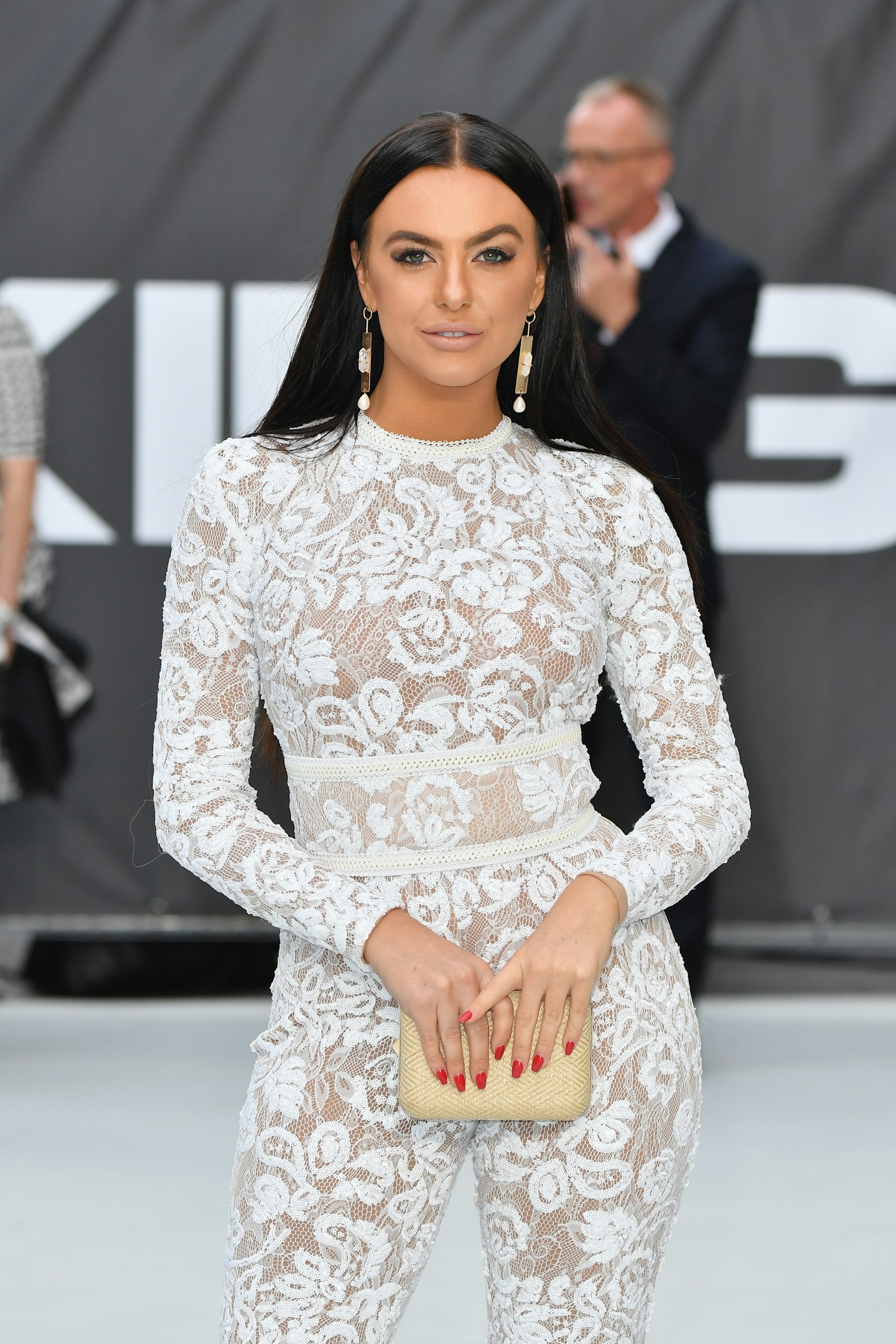 35 of 35
CREDIT: u00a9 Getty Images
Rosie Williams
Rosie recently revealed to fans she'd been editing her photos 'too much' after Love Island left her feeling 'rubbish'. However, the former Islander later told fans how she's been working with her family and friends to come up with ideas of how to recreate her Instagram, to bring back the 'sassy' Rosie her fans know.
WATCH: 'You Never Admitted That!' Dami, Indiyah, Paige, Adam & Andrew Address Love Island Rumours