Huns, don't let your hair be a flop - literally - grab yourself a shampoo for fine hair and watch your hair go from fine to voluminous in no time. We don't know about you, but having fine or thinning hair can leave a mark on our confidence. Don't let that be the case, as there are plenty of beauty solutions for getting more volume and buoyancy to your roots, one being the trusty shampoo. Grabbing the best shampoo and conditioner for your thin hair can do wonders, leading to shinier, thicker hair that you've been dreaming of.
But where to start? Well, you're going to want to get a fine hair shampoo that is customised to your particular problem. Some fine-haired gals want a thickening or volumising formula, some want one that builds proteins on the strands, leading to less breakage. And some just want to grab an effective bottle without spending a ton. Whoever you are, and whatever you're looking for - we've got the ultimate shopping guide below.
heat's best shampoos for fine hair, at a glance:
Editor's Choice: Living Proof Full Shampoo, £29 on John Lewis
Best shampoo for thickening fine hair: Kérastase Densifique Bain Densite, £27.15 on LookFantastic
Best budget shampoo for fine hair: Pantene Sheer Volume Shampoo, £2.75 on Tesco
With a mix of high-end brands such as Kérastase and L'OCCITANE, and high-street knockouts like Pantene and OGX, we've researched and rated the best shampoos for fine hair that actually make a difference. As well as this, we've got an FAQ section on how to distinguish your type of fine hair, and how you should style it to create more lift and volume.
SHOP: The best shampoo for fine hair, to boost volume and thicken strands
Editor's Choice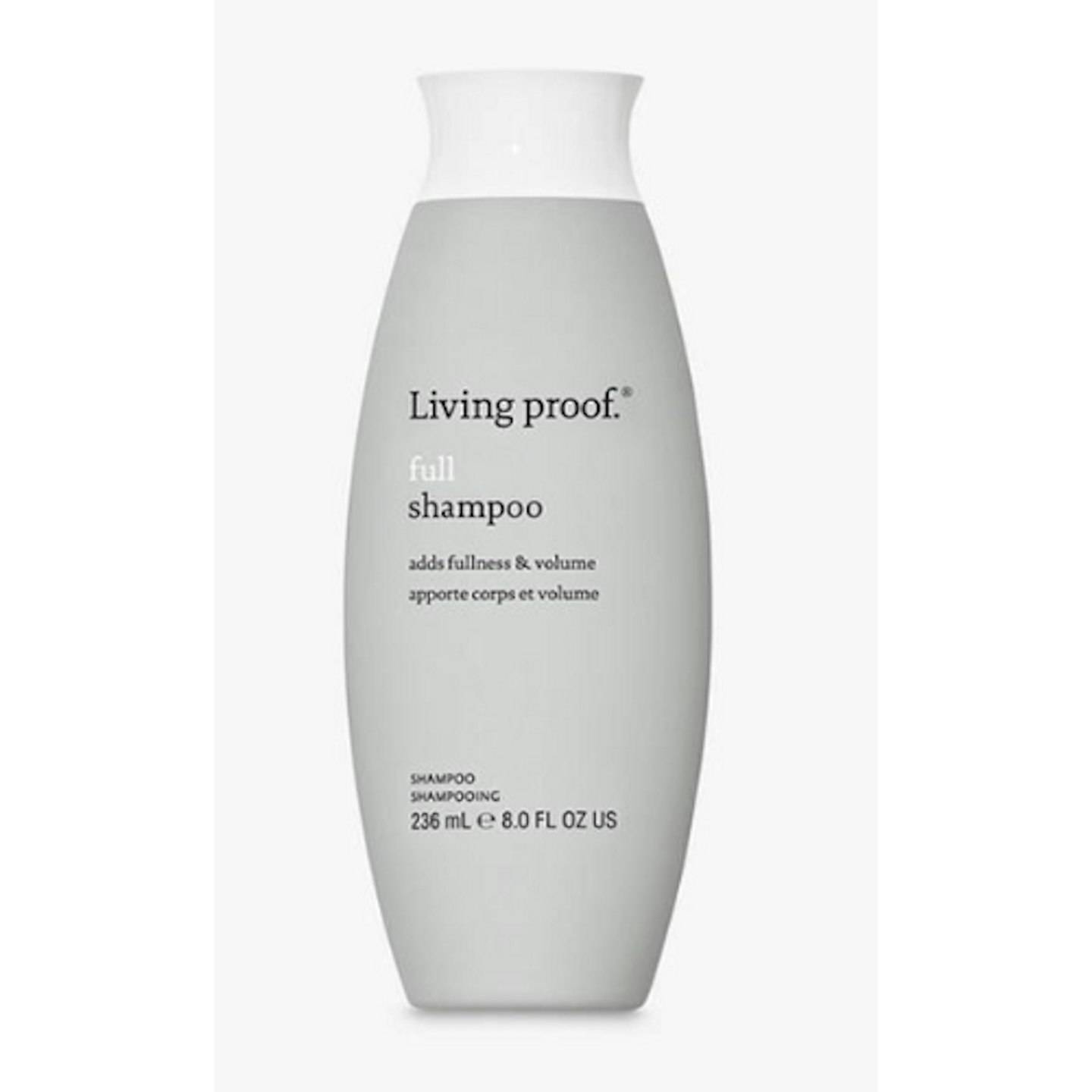 john lewis
Description
If you want va-va-volume, then the Living Proof Full Shampoo is our top pick. Specially designed
Pros
Gives hair two times the volume (based on laboratory testing of Full Shampoo + Conditioner vs. untreated)
Removes dirt, sweat, oil, pollution, and product build-up
Formula is pro-vegan, pro-nature and pro-ocean
Best shampoo for thickening fine hair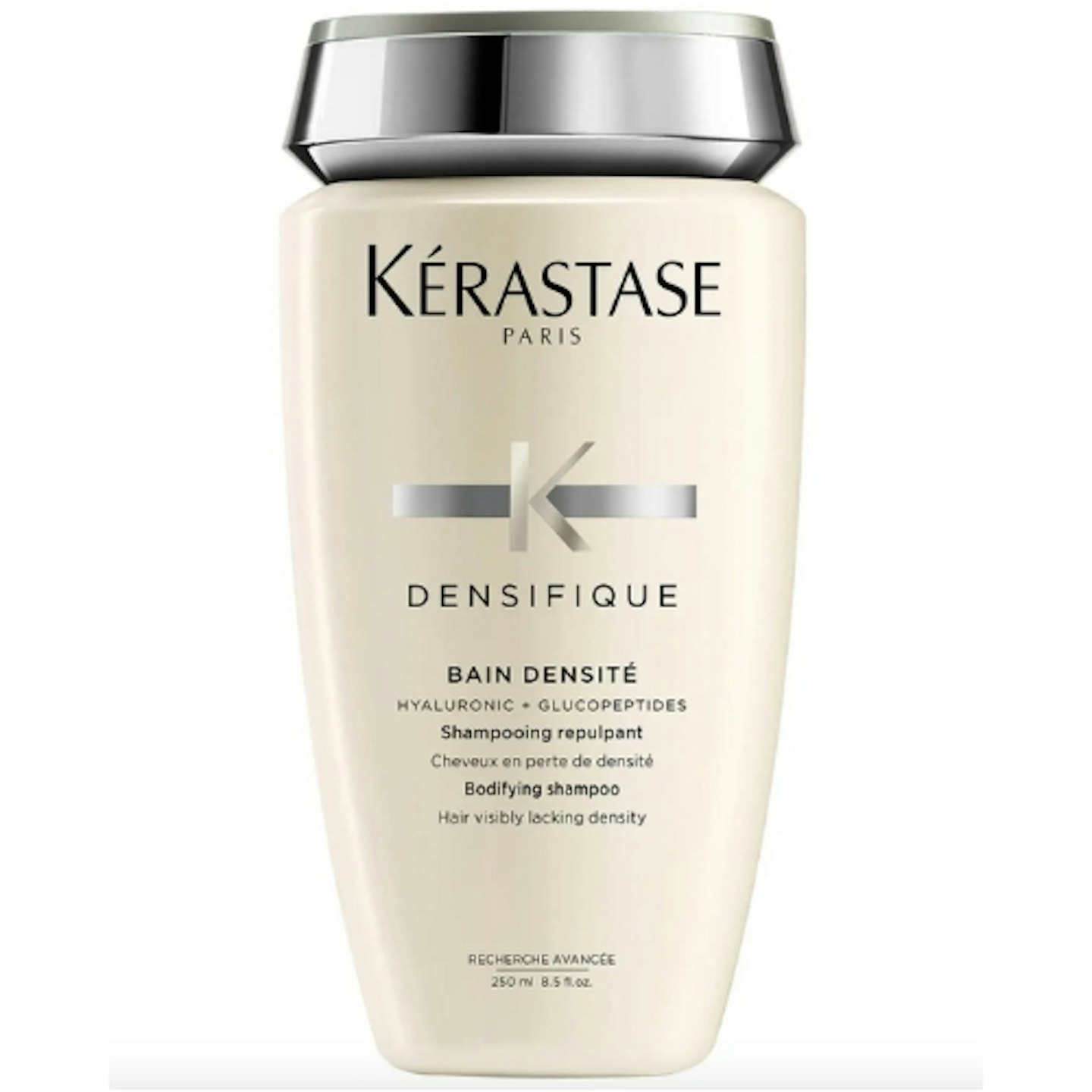 lookfantastic
Description
Having trouble with thinning hair? Don't let your confidence be diminished - Kérastase is here to
Pros
Expertly formulated for thinning hair
Stemoxydine® and hyaluronic acid replenish strands with moisture
Gluco-peptide and ceramides encourage a thicker-looking appearance and shine
Cons
Need to wait two weeks to see results
Best budget shampoo for fine hair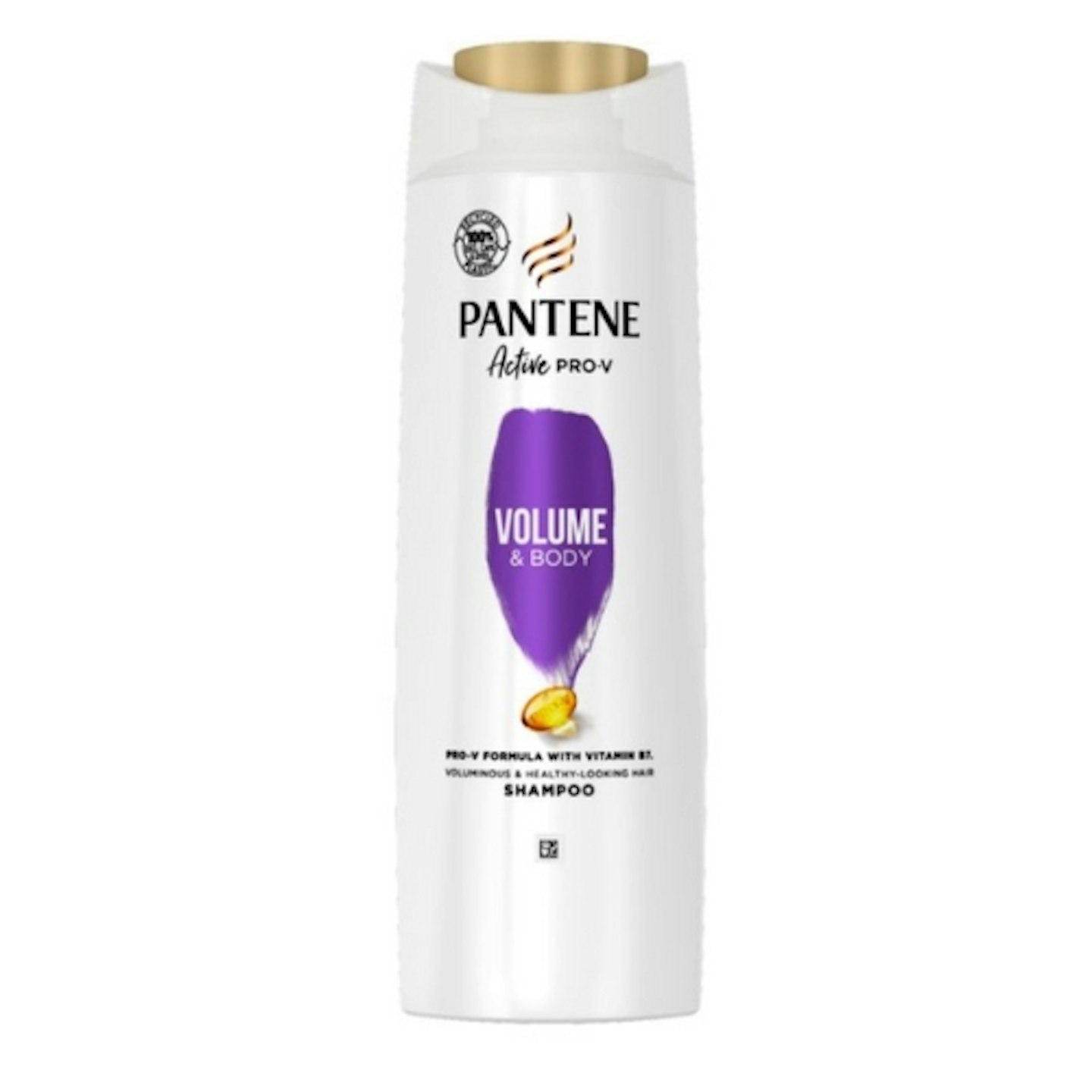 tesco
Description
Using the Pantene Sheer Volume Shampoo is an affordable way to help fortify fine hair to its full
Pros
Under £3 for a large 400ml bottle
Micro-boosters fortify fine hair
0% silicones, 0% mineral oils, 0% colorants and recyclable bottle
Cons
May struggle to get all product out of bottle
May cause oily-skinned people to get spots around hairline
Best organic, sustainable shampoo for fine hair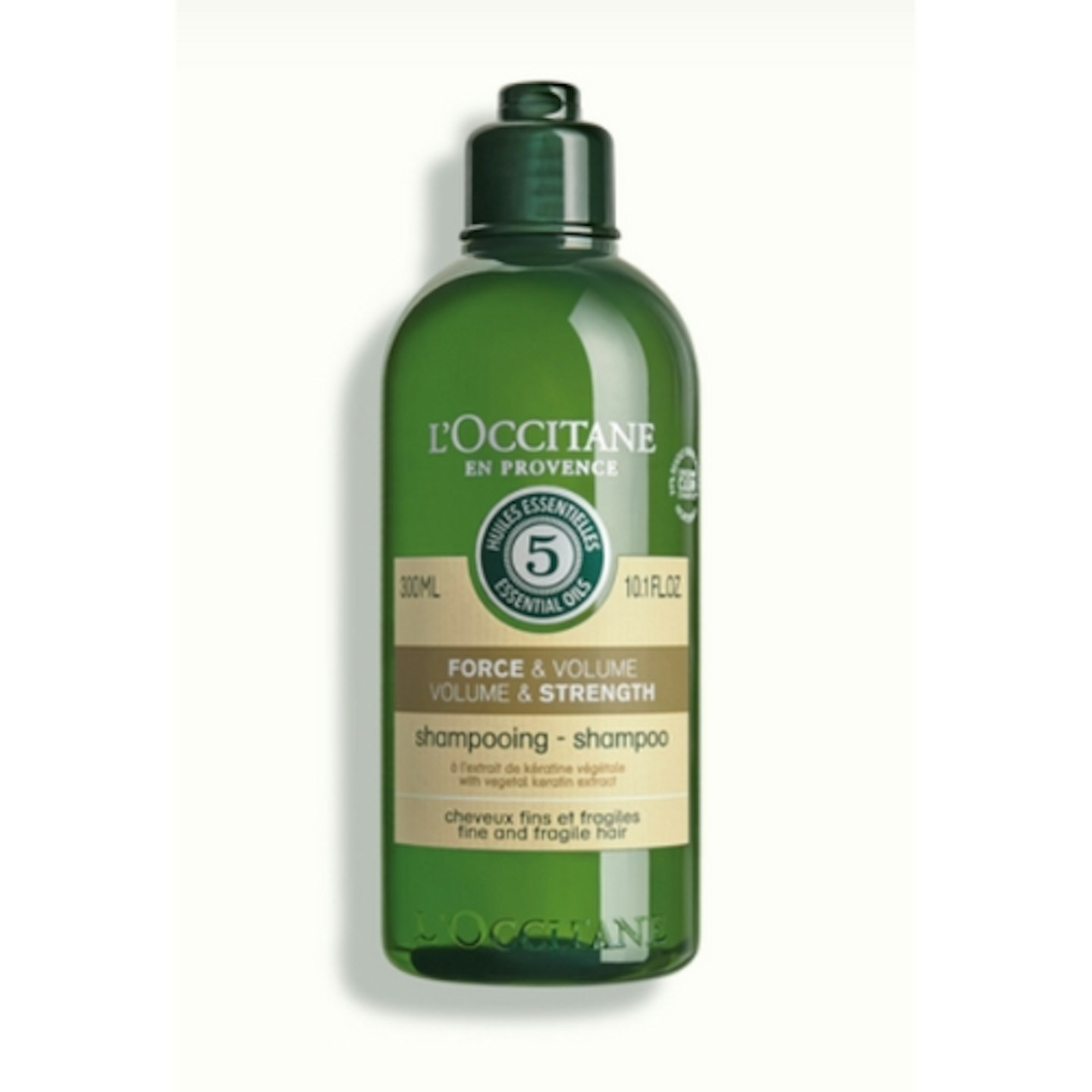 L'OCCITANE
Description
Want to do your bit for the planet? The L'OCCITANE Volume and Strength Shampoo is luxurious,
Pros
Made from 99% readily biodegradable ingredients, silicone-free
Rosemary, Lemon, Juniper, Ylang-Ylang, Cedar oil and vegetal keratin help increase the volume of the hair fibre
Available in different sizes, including travel, and a refill pouch
Cons
May cause very sensitive scalps dryness
Best shampoo for fine hair, for weightless volume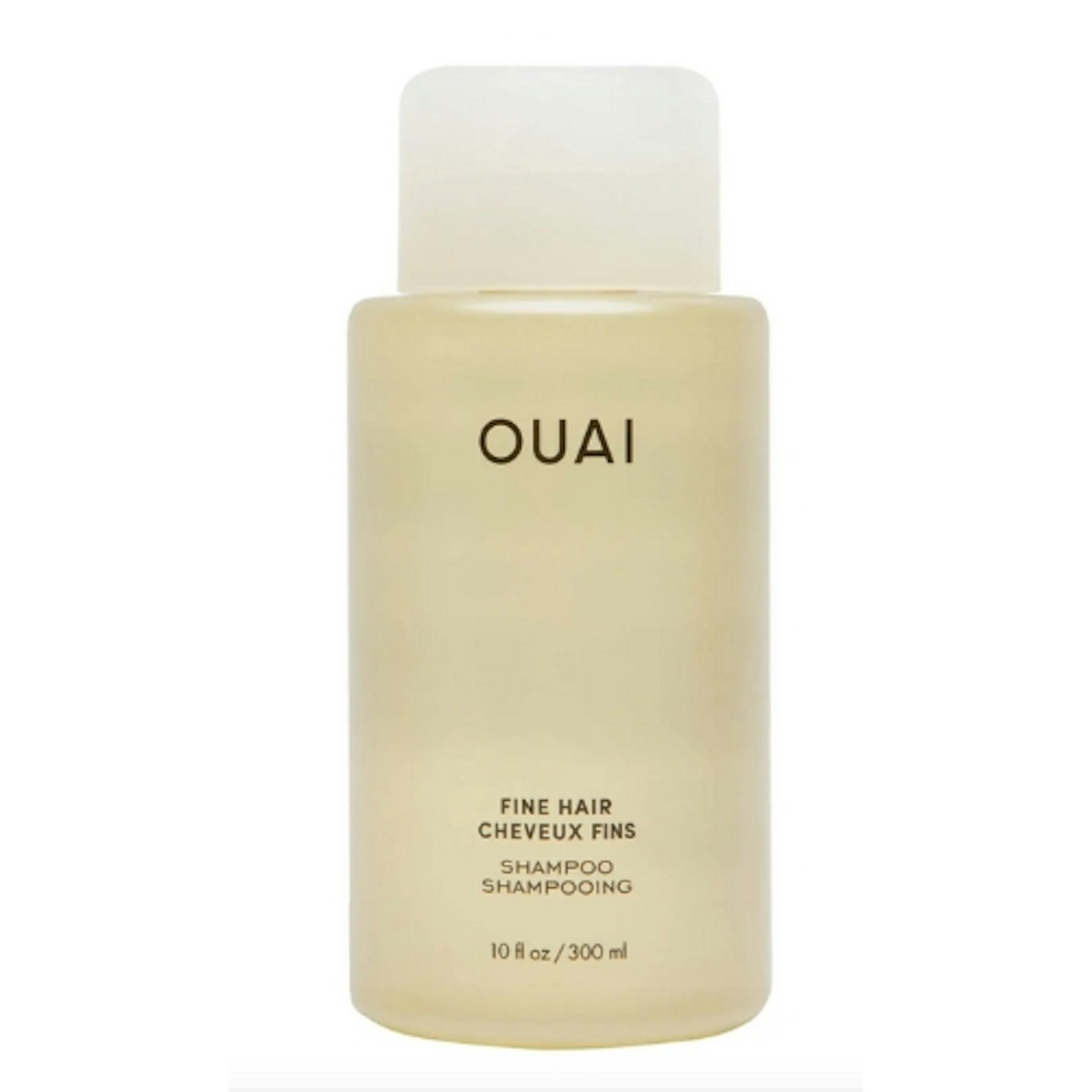 cult beauty
Description
Getting proper volume into your hair can take quite a bit of work - dry shampoos, hair sprays,
Pros
Infused with hydrolysed keratin plus biotin to promote thick, frizz-free lengths
Hemp seed extract and chia seed oil grants lasting, weightless hydration
Iconic 'Mercer Street' fragrance (orange, peony, magnolia, jasmine and musk)
Cons
Those prone to eczema may react with dry patches
Best anti-frizz shampoo for fine hair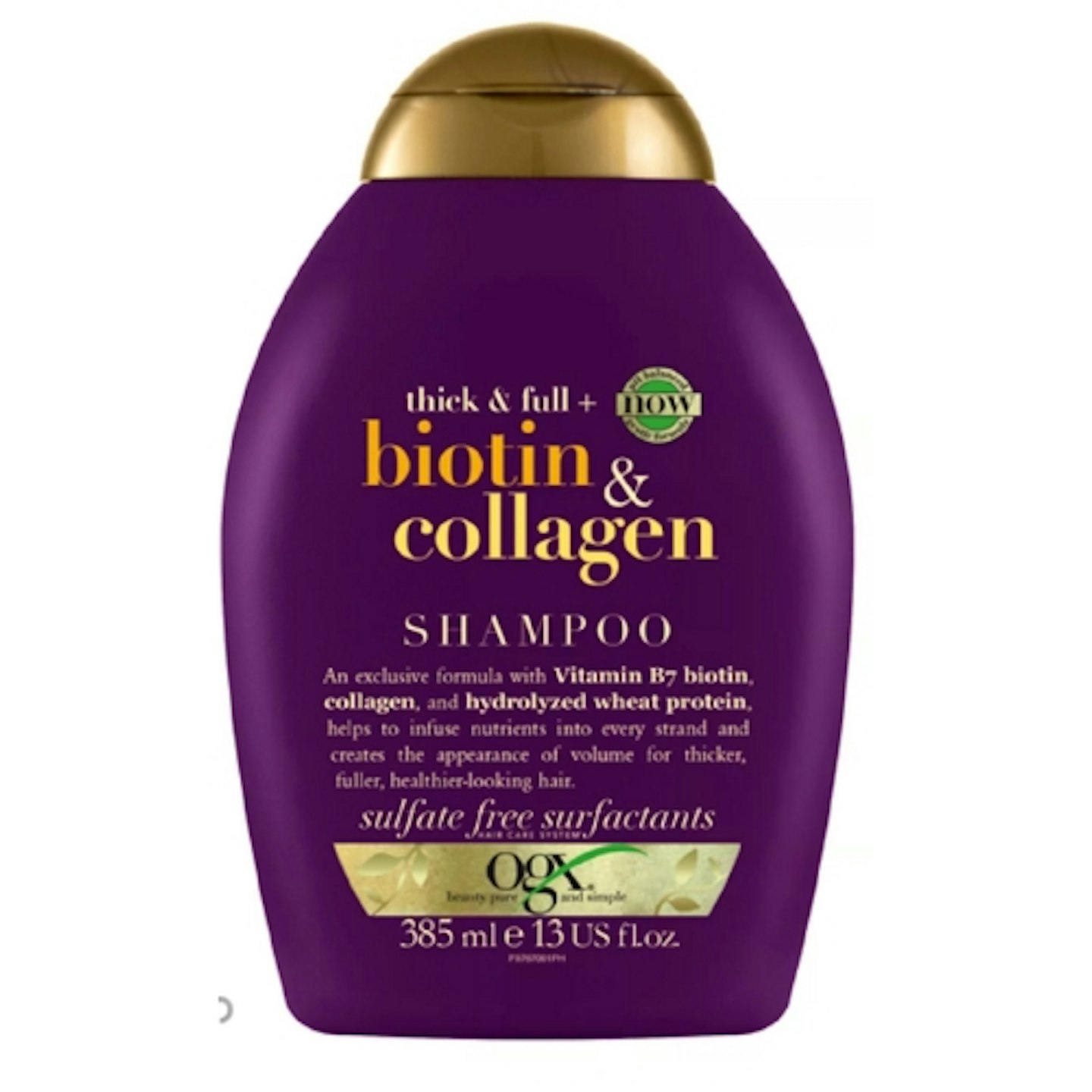 boots
Description
We can all agree that the worst part of fine hair is the frizz. The FRIZZ. Banish it forever
Pros
pH-balanced formula for gentle cleansing
Biotin and collagen infuse nutrients and create the appearance of thicker, fuller hair 
Thick, jelly texture that lathers well
Cons
May need to use stronger shampoo intermittently to clarify scalp
Best anti-breakage shampoo for fine hair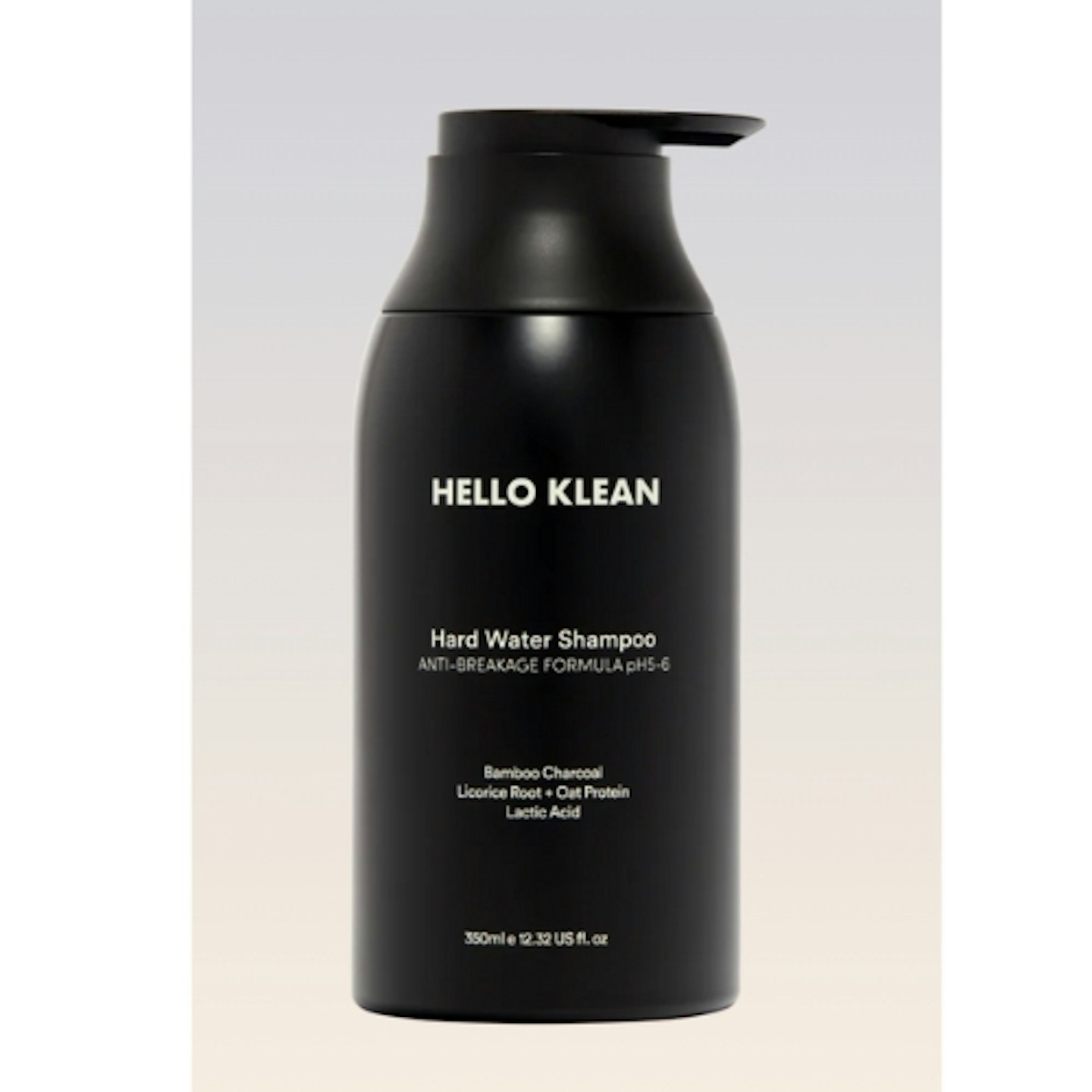 hello klean
Description
Those of us in the south of England know the joys of hard water (AKA little limescale bits in your
Pros
Bamboo Charcoal and Vitamin C draw out minerals and metals in the hair shaft
Lactic Acid builds hydration and boosts strength
Licorice Root helps stimulate growth
Oat Protein adds softness and shine
Cons
Not suitable for those with dry or dandruff-prone hair
Best shampoo for fine, coloured/bleached hair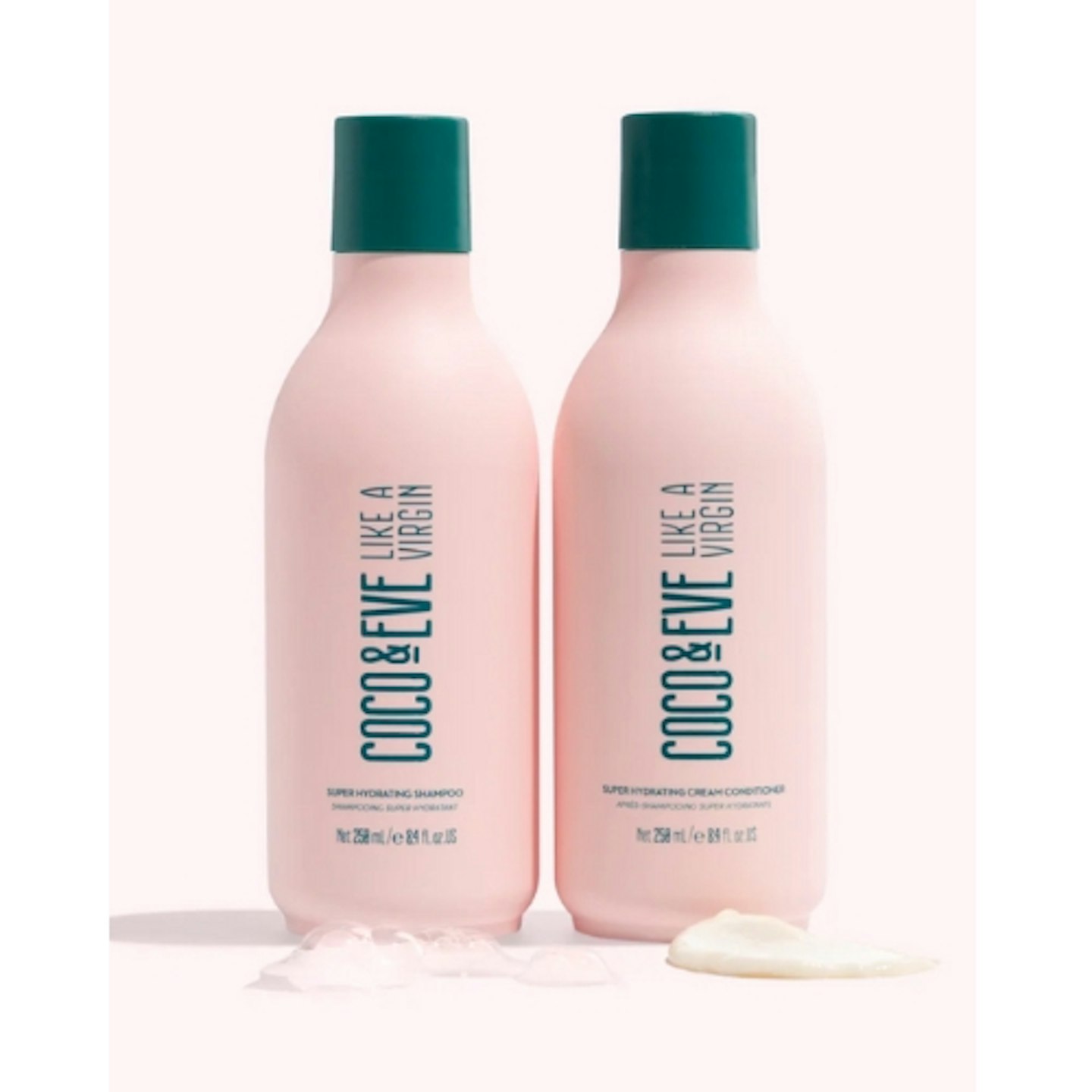 coco&eve
Description
Those of us who have messed around with bleaching and colouring in the past know the heartbreak of
Pros
ResistHyalTM Hyaluronic Acid technology hydrates 26 times more
No silicones or sulphates
Infused with fruit enzymes for a super clean wash 
Do I have fine hair?
You can have fine hair no matter your texture, whether that be curly, wavy, coily or straight. The problem with fine hair is, because it is so lightweight, you can struggle to get volume. That's why you should be using a shampoo for fine hair, as listed above. But first of all - how can you tell if you have fine hair?
Haircare aficionados Redken define fine hair as the following: "If you can barely see the hair or feel it between your fingertips, then you have fine hair. If the hair strand looks thick and appears to be textured, then the hair is coarse. If your hair is somewhere in-between, then you have a moderate or medium width." To find out as such, you can "start by taking a single strand of hair and laying it flat on a table" and then define it as above.
What type of fine hair do you have?
Laura Elliott, head stylist and educator at Neäl & Wølf, the home of professional haircare specialists, comments: "The first step in creating the perfect haircare routine is to figure out your hair type, whether this is coarse curly hair or fine straight hair, knowing this is key to achieving happy and healthy tresses and ensuring you're using the right products." Check out the Hair Habituals table below, to discover what type of fine hair you have. You can of course use their products, or the products listed above or online that fit into the same descriptors.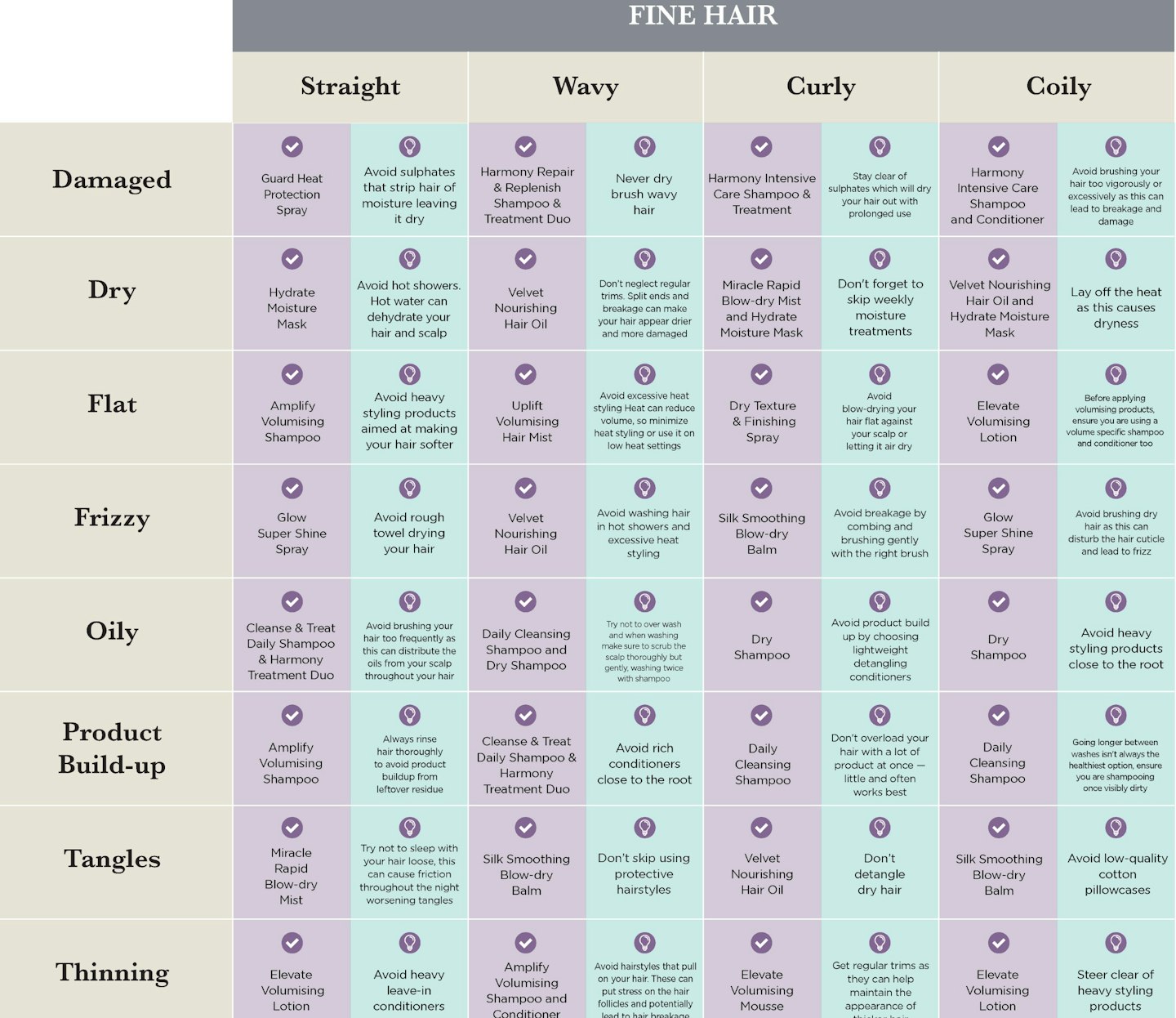 What's the best haircare routine for fine hair?
Laura continues "There are a lot of misconceptions about fine and thin hair, most believe they are the same hair type but this is wrong. Fine hair refers to the hair strands themselves and thin hair refers to the density. The good thing is the perfect haircare routine for both hair types stays the same.
"The main goal when caring for thin or fine hair is to nourish strands, limit damage and add volume."
To add oomph to your hair, incorporate a volumising shampoo into your routine that's formulated with hair-strengthening ingredients to give extra body and shine to fine tresses (see our guide above to the best shampoos for fine hair!)

Follow with a lightweight conditioner. Fine hair is prone to tangling easily so adding in a moisturising conditioner will help hydrate and make brushing easier. If you still struggle with knotty hair try Neäl & Wølf's Miracle Rapid Blow Dry Mist to help reduce frizz and static when drying.
Ruby Barry is a Product Writer for heat, specialising in fashion and beauty. The team has nicknamed her "dupe queen", as there's not a product in the world she can't find a cheaper alternative for.