The latest series of Made in Chelsea may have come to end, but we don't have to say goodbye to the guys and gals of SW3 just yet as the cast have already filmed another series in Bali and it begins TONIGHT (Tuesday 20 December).
The cast have all been promoting the new series on social media but it turns out some of the stars of MiC aren't happy with the way their pictures have been edited.
The drama all started when Ollie Locke shared a promotional image of the cast posing in front of a pool on the Indonesian island. Among those commenting on the picture was Ollie's co-star Emily Blackwell, who wrote, "This photo… I can't 😂 whoever edits these is doing us dirty."
Ollie then replied, "I know right.. looks like I'm in a prison headshot! Lol."
Fans of the show were also quick to point out the shoddy editing job, with one writing, "Why do you all look like cabbage patch kids 😂."
Another added, "Can confirm this is the worst editing I've ever seen in my life 🫠 they did you all proper," while a third remarked, "You all look like you've been on an episode of 'Banged Up Abroad' 😂."
One more simply said, "The editing is so odd 🤣."
Ahead of the new series, Emily opened up about the "stressful" experience of filming the show with her ex-boyfriend Harvey Armstrong during a recent appearance co-star Miles Nazaire's podcast Playtime.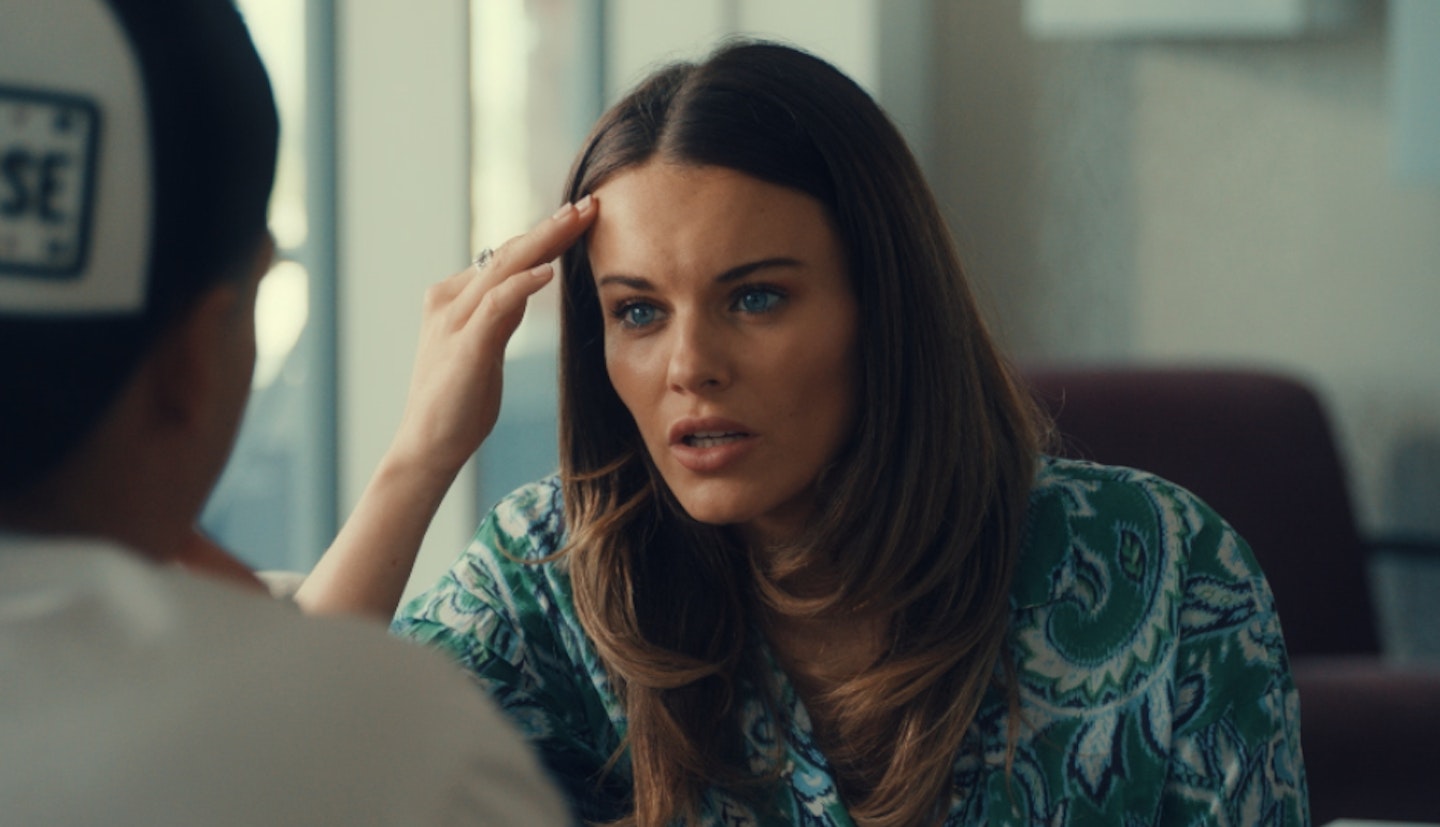 As Miles' best friend, Emily opened to him and his co-host Charlie Radnedge (of Love Island 2022 fame) and gave listeners her truth. She said, "I went with the intention of being very nice and friendly with Harvey and then - you guys will watch it - it doesn't quite end that way which is sad."
While we won't know exactly what happens between Emily and Harvey in Bali until the show airs, she continued, "There is no need for me to engage with Harvey anymore. That was the final straw for me. I wanted some answers. He didn't understand it and that's fine and we'll leave it at that really."
Damn, now we are even more intrigued to see what happened on the Bali special.
In the past, we've seen our fave well-spoken reality stars film specials in ultra-glam locations like New York City, LA, the south of France, Ibiza, Croatia, Buenos Aires, and most recently, Mallorca all in the name of work. Now, we'll see the squad living it up on the Indonesian island.
When does Made in Chelsea: Bali start?
Made in Chelsea: Bali premieres on E4 at 9pm on Tuesday 20 December and airs every night this week.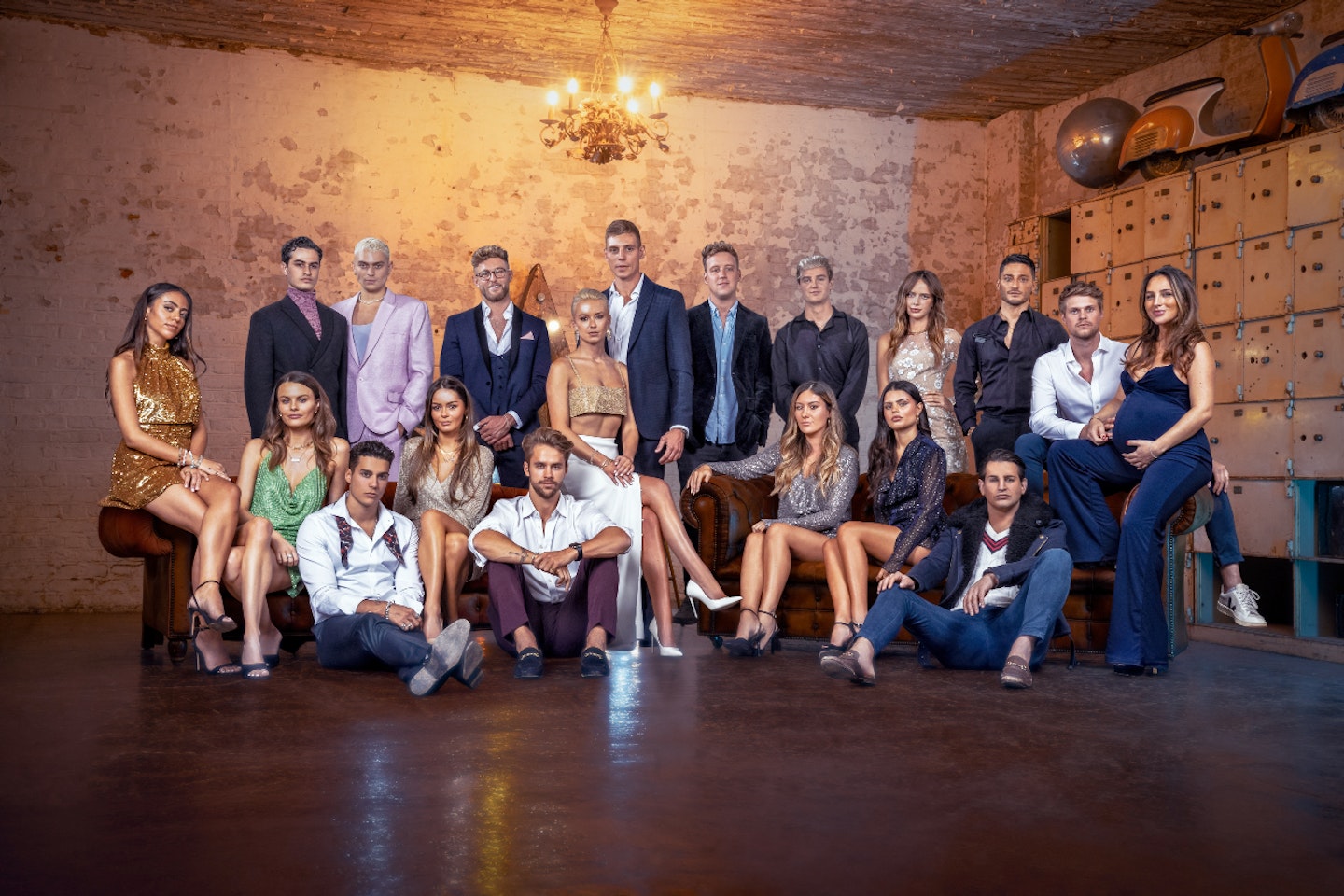 Who is on Made in Chelsea: Bali?
The usual suspects including Miles Nazaire, Julius Cowdrey, Melissa Tattam, Emily Blackwell, Issy Francis-Baum, Sam Prince, Inga Valentiner, Harvey Armstrong, Ruby Adler, Ollie Locke-Locke and his husband Gareth Locke-Locke.
There are also set to be a few new faces joining them like Ruby's new love interest Charlie Wicks, Julius' girlfriend Georgia May Salamat and Ekin-Su's pal Lily Ludovici Gray.
But we're also hoping for a surprise appearance from none other than Ella May Ding. The Married at First Australia star had an... interesting relationship with Miles when she was on the show and she was recently seen holidaying in Bali at the SAME TIME as the MiC lot. Coincidence? WE THINK NOT (Although we don't actually know for sure so don't take our word for it).
What happens on Made in Chelsea in Bali?
Gosh, where do we start?
After Emily's revelation about Harvey, "He's going to the grave with the some of things he's done," the exes are for sure going to clash and we can imagine that'll be a catalyst for one hell of a row.
Also, if Ella is going to rock up we can only imagine the chaos that will ensue, especially seeing as Miles was seen getting suspiciously close to Ruby. Also, rumour has it this is when Melissa reunites with an ex - and that's just the goss we've heard.
It'll be interesting to see if they also feature the drama around Miles Nazaire and his "f-ck you rant," which as it turns out was all down to the infamous 'Bali Belly.'
What was Miles Nazaire's "f-ck you" rant about?
Various members of the cast have already moaned about jet lag, long filming hours, and sunburn, since arriving at their Bali villa, but it seems now that virtually the entire cast has been struck down by 'Bali belly'. 'Bali belly' is another phrase for travellers' diarrhoea; it can be caused by consuming bacteria found in contaminated food and water. For us run of the mill folk, it means you get the sh-ts for 24 hours or so.
And it seems 'Bali belly' has placed a curse over the MiC cast, who clearly have not adapted well to the local food and drink.
After a day or so on the toilet, Miles Nazaire took to his Instagram to share the gruesome details with his 309k Instagram followers, in a towel we might add (still fit af).
He said, "So, Bali belly started yesterday morning for me. I'm not going to talk to you about how many times I went to the toilet, but let's just say most of the morning I've been in there." He panned his phone round to show us which toilet took the brunt of the damage, because reality.
He finished by saying (still in a lucky towel), "But yeah, Bali belly I did not think I was going to have. I've got a strong immune system, which I actually really do. I'm the last person to get it out of the villa, so I've been strong. But, I'm going to be stronger by saying 'f-ck you' to Bali belly. I'm still going to get on with it and get the day going."
Miles continued, "Now I've got a bit of a blocked nose, I've got a bit of a fever... but, we're going to power through. I've had a hot shower. I'm going to get a coffee in me, we're going to have some eggs, some bacon, just get some food in me, because I've literally just had ramen all day yesterday - I've just had broth."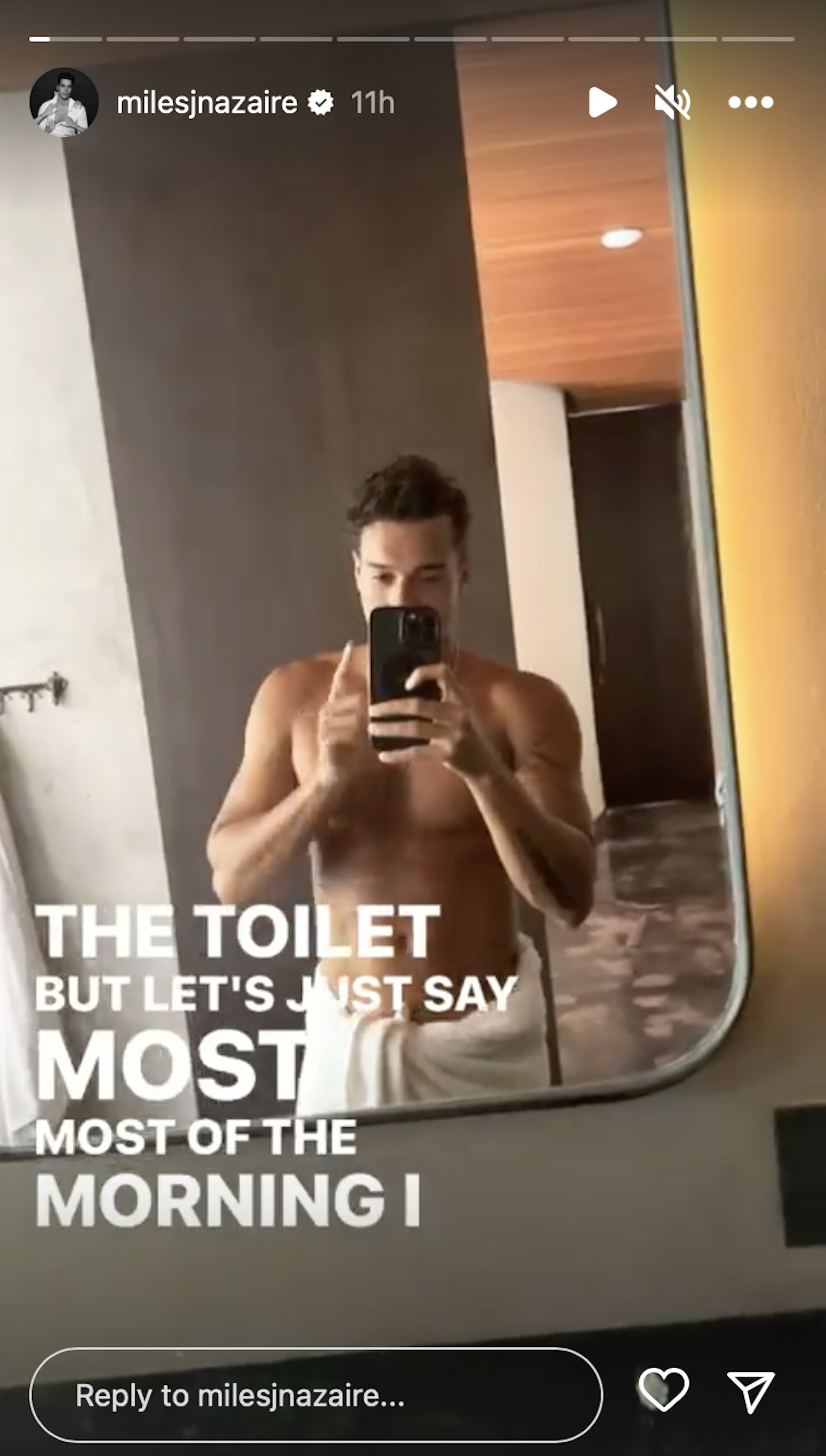 We can't help but wonder whether this outbreak of 'Bali belly' will get brought up on the new series, after all, this is supposed to be reality telly. Saying that, even that Made in Chelsea filter can't make mass diarrhoea look Royal Borough decadent.
Feel better, all. And don't worry, you'll be back in Chelsea dining on pheasant, lobster, and Verity Bowditch's Clean Kitchen in no time.
Stay strong, SW3.
WATCH: Habbs, Maeva & James are faced with their most cringeworthy Made in Chelsea moments
LISTEN to the latest episode of the heat 7 podcast