They may have split nearly a year ago but that doesn't mean a certain Love Island couple are on good terms, in fact it is quite the opposite.
Just when we thought the dust and had settled between Chloe Burrows and Toby Aromolaran, Chloe's appearance on the most recent series of Celebs Go Dating has left the semi-pro footballer a bit rattled. Eeek.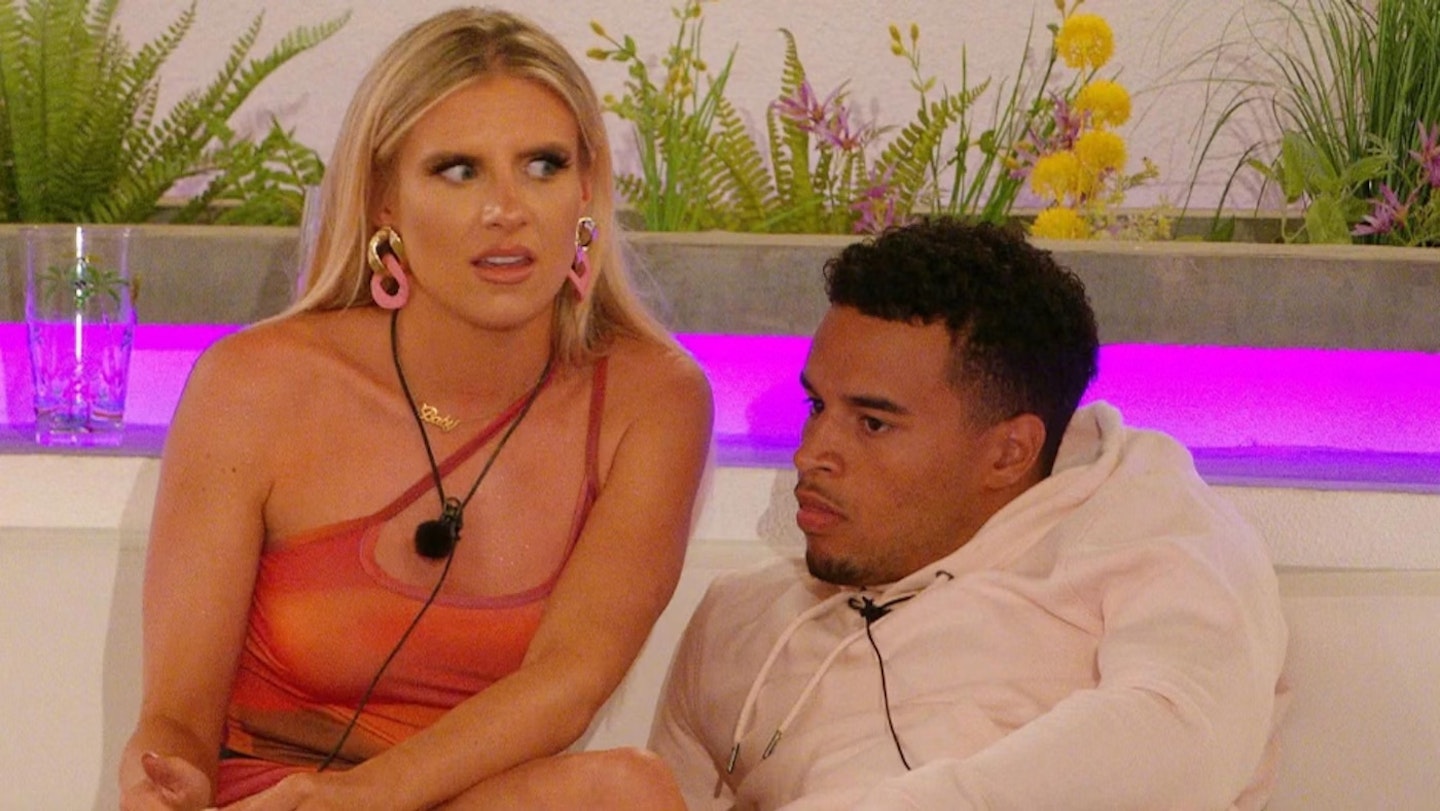 Chloe recently opened up about just how hard she found her break-up with Toby, who she met during her Love Island 2021 stint, with the Celebrity Dating Agency's relationship experts when she began to break down in tears.
"When he said like, 'This is, it's not working', I just kind of said okay and I was really heartbroken for months. Things were going well and then they just kind of fell apart a bit. We both knew," Chloe emotionally explained.
"But he went away and we hadn't seen each other for like a month and I think we both just kind of knew. I'm not going to be someone to stay for me. At the time I didn't [want that relationship to end]. It is what it is and I kind of had to accept it and I just wasn't ready for it to end then."
Fans sent Chloe love and support via social media but around the same, Toby posted a photo on his Instagram story of rapper Central Cee looking less than impressed and added the caption, "Wait you guys actually think it went down like that."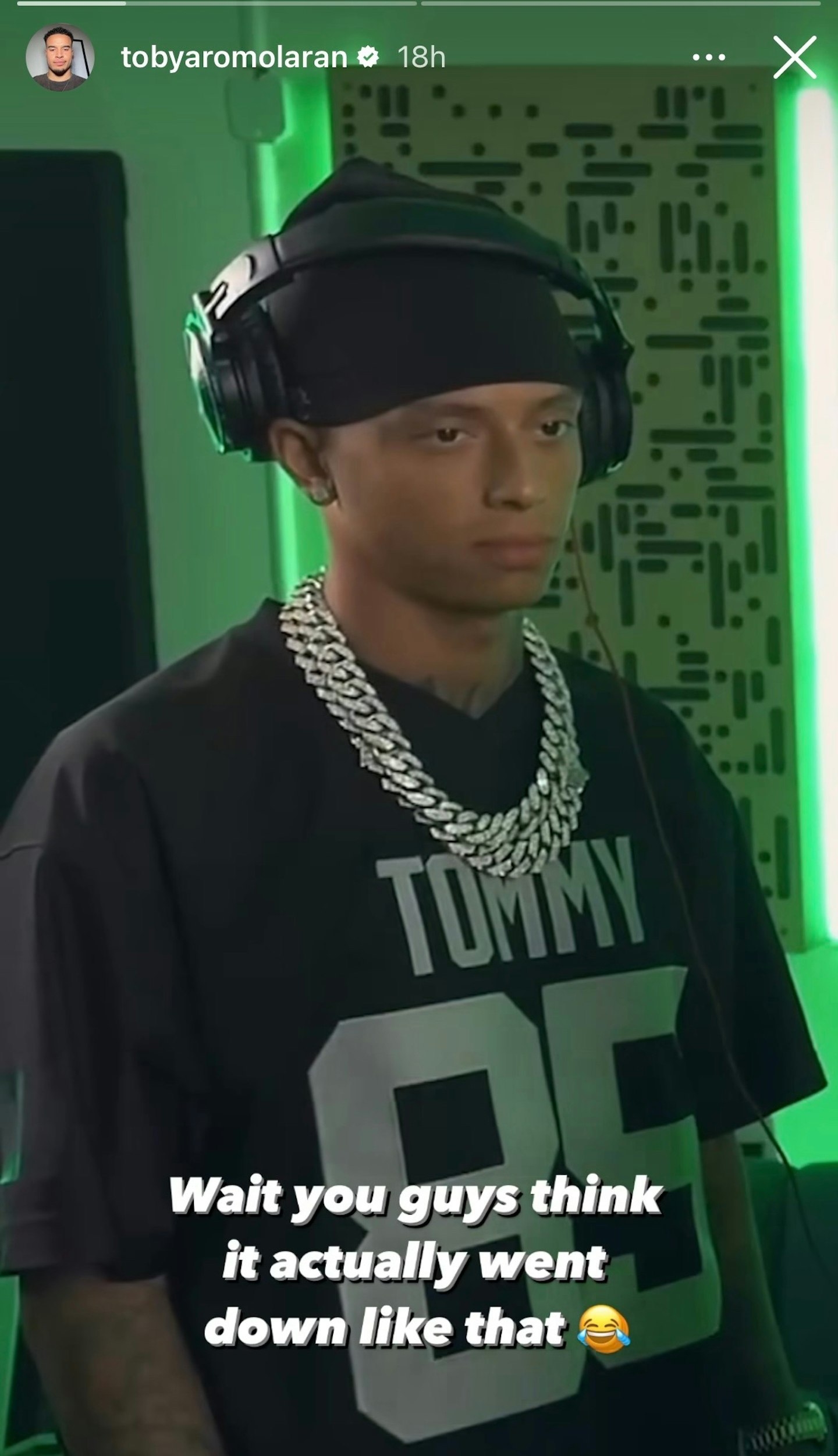 Now, we're not saying that Toby's story was aimed at Chloe but was also saying it wasn't not aimed at her....
So what the hell happened between the Love Island finalists and how come they couldn't pull a Millie Court and Liam Reardon and rekindle the romance?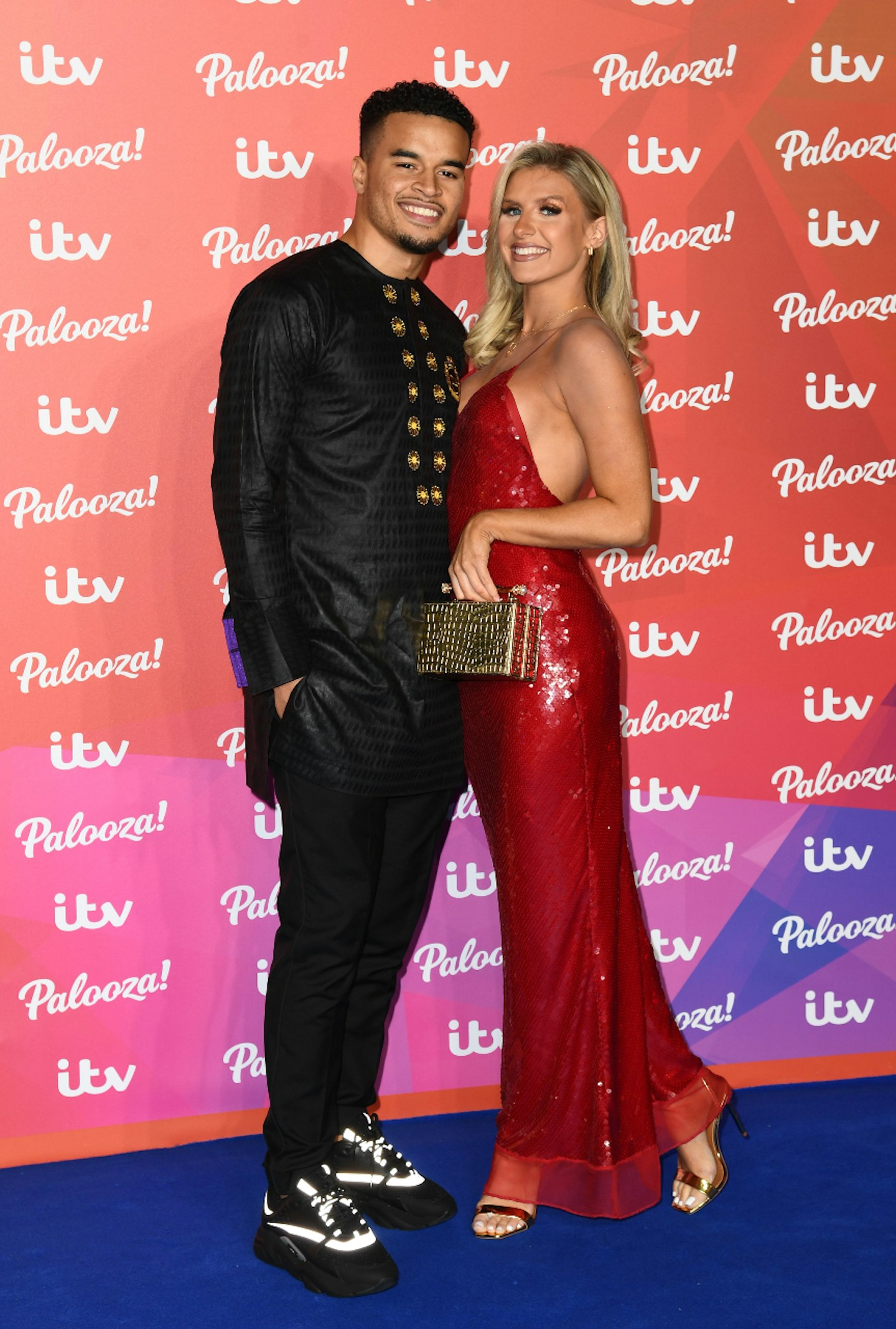 Chloe Burrows and Toby Aromolaran on Love Island
Chloe was an OG Islander and first coupled up with Aaron Francis and then Hugo Hammond, but she had her head turned by Toby and they chose to couple up instead.
As always, Casa Amor was a trial for them both but they ended up getting back together and lasted all the way to the final where they came in second place behind Chloe's best bud Millie and her fella Liam.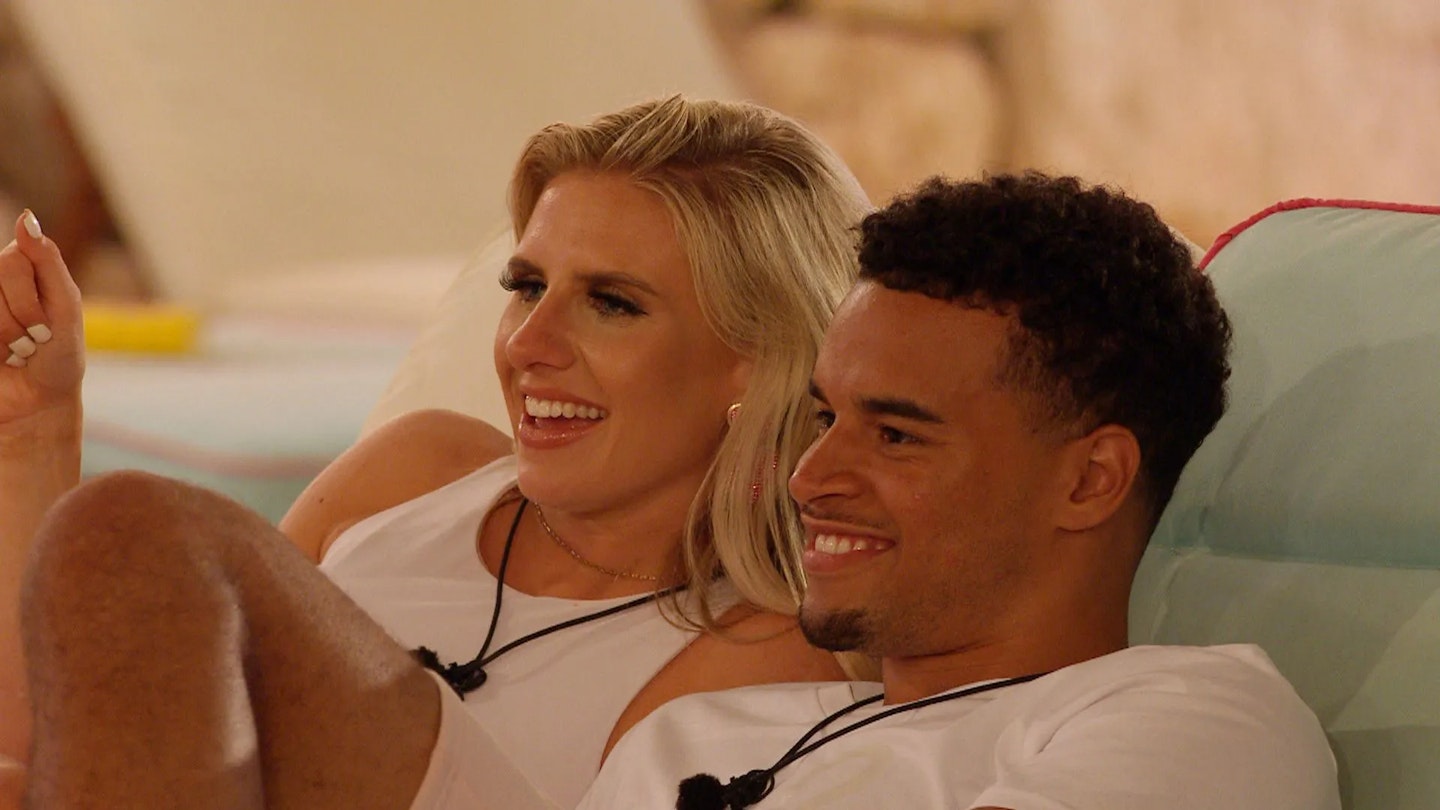 Chloe Burrows and Toby Aromolaran break up
Although they tried to make a go of things out of the villa, Chloe and Toby broke up in October 2022, after nine months together. To be fair that's pretty long in the world of reality TV.
Neither of them confirmed what the hell happened or who broke up with who and for a while they both remained quiet about the end of their love affair.
Chloe Burrows confirms Toby Aromolaran split on the Staying Relevant podcast
Fast forward to May 2023, over six month they split, and Chloe guested on the Staying Relevant podcast (hosted by our very own Sam Thompson and Pete Wicks.)
In addition to talking about her time on Love Island, as well as top secret TV projects, Chloe finally spilled some serious beans on her break-up with Toby.
Chloe confirmed that Toby, in fact, ended the relationship, not her, and went in to fresh detail as to why...
The iconic Islander revealed, "Well, it wasn't my decision. Yeah, I got dumped."
Explaining why the relationship dissipated, Chloe revealed, "It felt like it was the best thing. We're just very different people. Like, I'm a bit nuts. I like to go out".
Speaking of Toby and how things are between the pair at that time, Chloe told the boys, "He's a lovely boy. If I ever saw him I would say hello. There's no bad blood, but I think we both knew that we were so different. It just wasn't going to work and then I think he was like, 'Yeah, you're f**king dumped'."
Ouch.
Chloe summarised by adding that the pair don't talk anymore and although she's happy being single these days, at the time of the break-up, she "cried for about three days" at her mum's house.
Toby Aromolaran opens up on Chloe Burrows on the Fancy a Chat? podcast
Prior to Chloe's candid appearance on Staying Relevant, Toby had his say on his split from Chloe in an episode of his podcast Fancy A Chat? as he and fellow Islander Faye Winter spoke out about their respective break-ups (ICYMI, Faye split from Teddy Soares earlier this year).
The pair were speaking about the Love Island 2022 final couples when they joked about those rumours that the couples are made to sign a contract to stay together for a certain amount of time.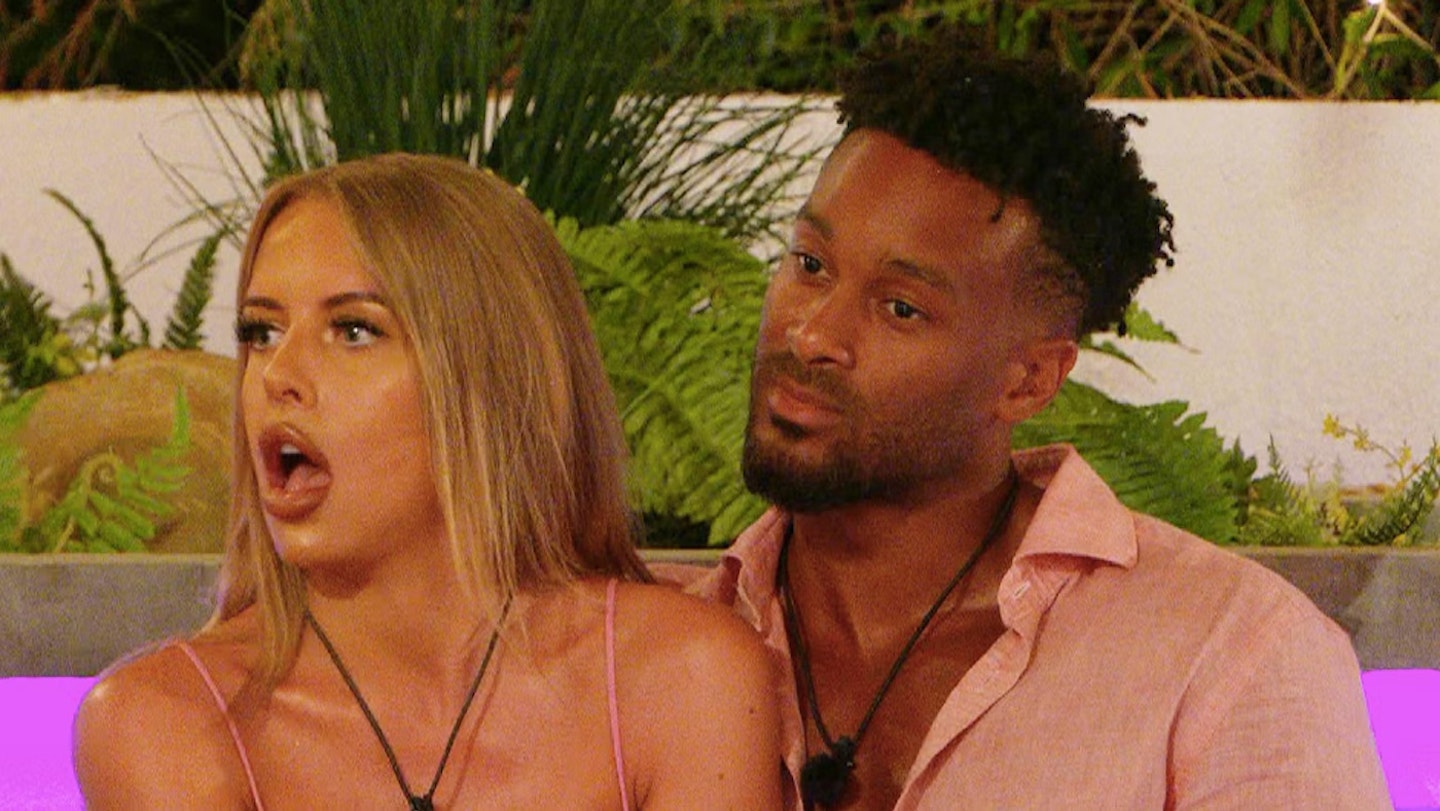 "They're all going very strong. They haven't hit the year mark yet though, that's when shit gets serious," Faye said, to which Toby replied, "There's something wrong about the year mark, innit? It's weird. I dunno what happens after the year mark.
"Everyone just starts breaking up after a year, I don't know why. How? After a year, it's just stupid. Everyone starts saying, 'The year contract's up.'"
Faye joked, "What, did you not get paid for your relationship? I got paid a bob. No? Just me? Sorry guys, you all missed out," then Toby laughed, "Oh, we can't speak about that. Cut it out, cut it out."
Of course, the pair were only joking and the contracts are very much NOT a thing but this isn't the first time Toby and Chloe both spoken up about why they split.
Chloe Burrows opens up to Millie Court
If there was one person who Chloe was going to talk to about her break up it was BFF, Millie Court.
Chloe revealed a little snippet on her show Chloe vs The World as she had her bestie Millie as a guest. Chloe reflected on the day her relationship came to an end and confirmed that she was the dumped and NOT the dumpee.
"Remember when I called you crying? And I was like 'I don't know what's gonna happen, I've been dumped,'" she told Millie.
Poor Chloe, but it's not all bad as she revealed that Millie stepped up like only a real BFF would, "You were like 'Just live with me', and then I called you crying a few days later and you were like 'I've booked Morocco. I was like 'Wow, I love this girl.'"
We wish our mates would take us on holiday when we get dumped rather than a few shots down at the local pub.
Millie added, "You were in a sad place and the only resolution I could think of was go on holiday."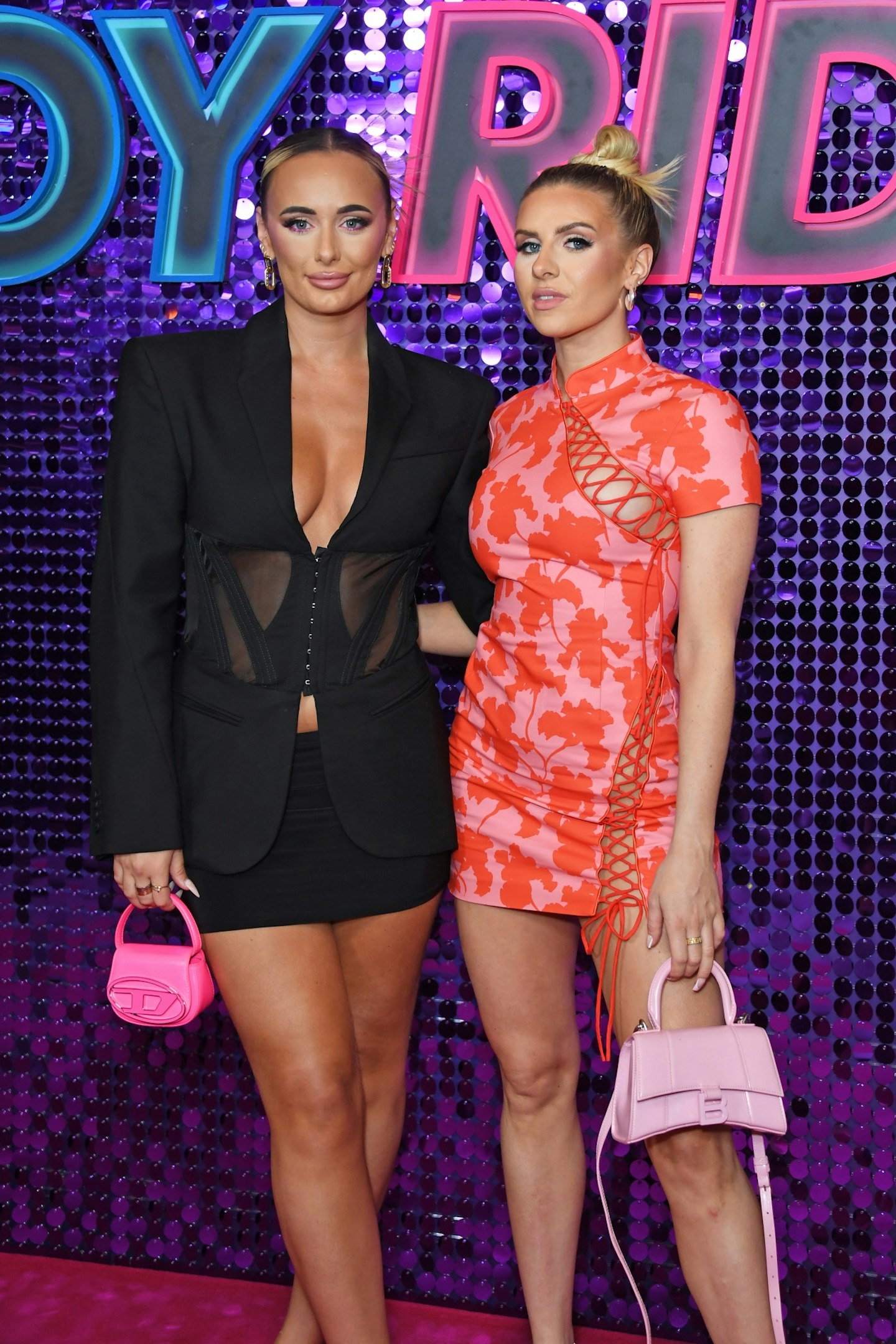 Chloe Burrows reveals reason why she split from Toby Aromolaran on TikTok
Chloe previously hinted at a reason for the break up when she shared a TikTok of herself dancing around in her Juicy Couture sweats and singing (we use the term very loosely) Gnarls Barkley's Crazy with bestie Millie. The comments naturally popped off, with one particularly brutal follower commenting, "Why did the fellas leave again ladies? 😏."
The absolute cheek.
Luckily – and true to form – Chloe responded back jovially, appearing to share the reason for her split with Toby.
She commented, "Probably our singing".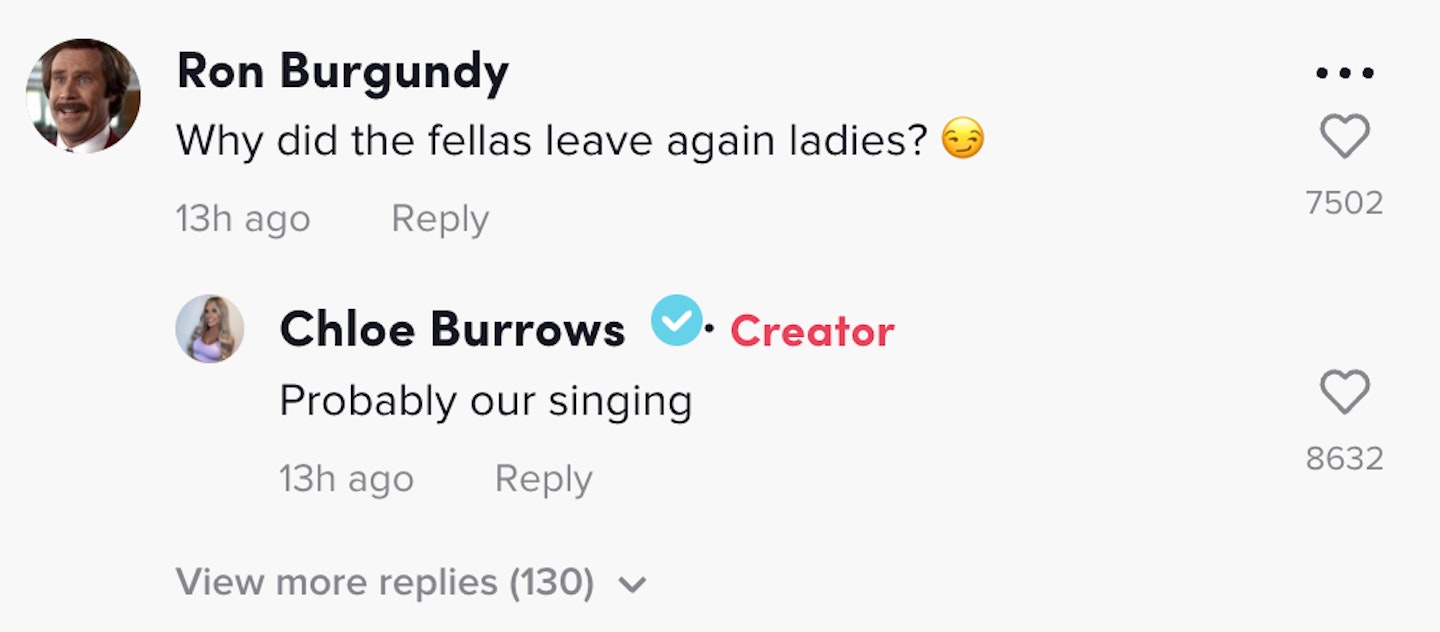 Oh, it's a joke. Saying that, that rendition of Crazy was particularly offensive. We think we'd rather Luca Bish serenaded us with another High School Musical banger before hearing that again. That's a lie, actually. No, we wouldn't.
Aside from a couple of subtle/not-so-subtle 'digs' on social media and a revenge trip to Marrakech with Millie (that's Chloe, not Toby - imagine), neither Love Island star had spoken out about the reasons behind the split.
Toby Aromolaran shade Chloe Burrows on TikTok
Toby, however, did find himself in hot water with some fans branding him "muggy" when he posted his own TikTok Toby just 24 hours after the split was made public.
The 2021 Islander posted a video hinting at his break-up with Chloe less than a day after the news broke and it's safe to say it didn't go down well.
Toby took to TikTok to share a video of himself which featured the text, "I don't need a BeReal. I need to BeSingle." The clip was captioned, "Arhhh shiiiii here we go again…"
Not cool, Tobes. Not cool.
Fans were quick to share their thoughts in the comments section, including one who wrote, "No whey, that's a violation - that's very muggy."
Another commented, "Babe Chloe was the best thing to happen to u remember that king," while a third added, "My man woke and chose violence today."
One more even tagged Chloe in the post and said, "@chloeburrows PERSONALLY I wouldn't let that slide….."
So there we have it folks, all the drama that went down between Chloe and Toby, the Love Island romance that wasn't to be.
WATCH: Who was the smelliest?! Chloe and Toby Spill the Tea